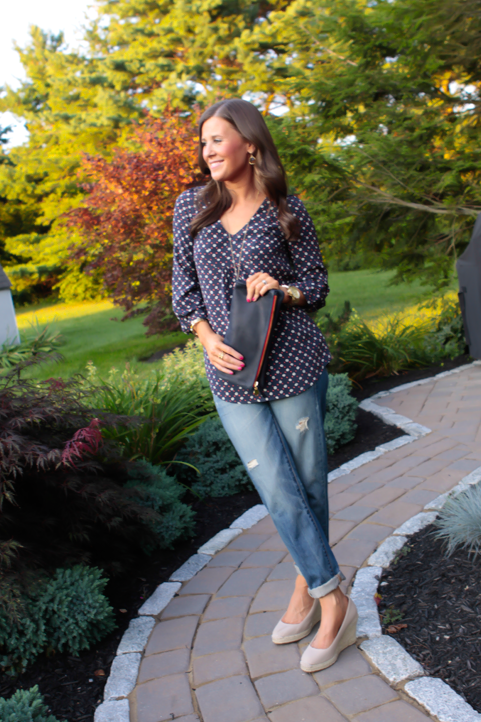 Hi.  My name is Maureen and my obsession with fall is at an all time high.  Sorry, but I'm not sorry.
I kid, I kid…  But, the evening sun in this picture is really looking like some fall foliage is hitting that tree right behind me and while it's not, it really worked nicely with my outfit here!  I randomly stopped into Fossil this week because there was a dress on display that caught my eye and I'm really glad I did!  They have some pretty cute stuff in there so if you haven't checked it out yet, I highly recommend!  I'm slightly obsessed with this blouse, which I found on sale (yesss!), and if they had more than the two I picked up, I probably would have stocked up.
As for the jeans?  Have you stopped in the Gap lately?!   Um, their sale right now is worth a quick trip since mostly everything is 40% off, including some regularly priced items as well as all of the sale.  I bought these jeans a month or so ago and paid full price…today I bought them in the darker wash for about $20.  Winning all over the place, kids.  Winning.
I have a few more pictures below!  Thanks for stopping by today and happy dreaming of fall!
 Fossil Blouse (on sale in stores!), similar here or here / Boyfriend Jeans, similar here or here / Wedge Shoes, similar here / Leather Clutch, or here / Watch, similar on sale! / J.Crew Fireball Necklace, similar here / Banana Republic Earrings, similar here