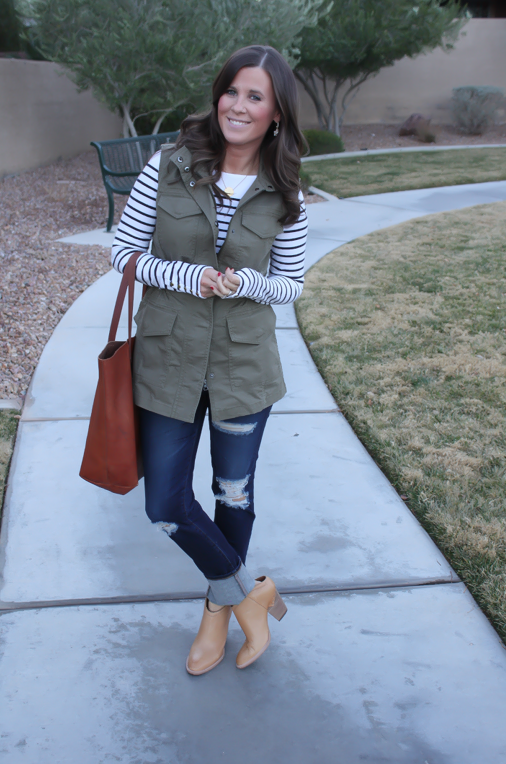 Alright – who's snowed in today?!  I'm totally jealous!!  We got a little bit of rain today and to be honest, I'm surprised that didn't make headline news.  Living in the dried climate imaginable has made me appreciate even the smallest bit of precipitation.  Rain, snow, we take what we can get!  Ava, on the other hand, has adjusted just fine to life in Las Vegas.  She practically melts(down) even when it so much as sprinkles here.  I need to get this girl in the middle of a southern-style thunderstorm, asap!
Today's look brings out of my favorites, a utility vest.  You might remember the one I bought this past fall at Anthropologie that I wore quite a bit!  It was so flattering and I love how it cinched at the waist to keep my figure in place.  This most recent vest that I grabbed is a little bit different in that while you can still make the waist smaller around your hips, the strings to do so are hidden inside the jacket.  This vest is also a little bit longer and it doesn't have the oversized collar around the top.  Either way, I think they both offer great layering options for your outfit and seeing how quilted vest aren't going to transition too well into the spring and summer, this is a great alternative.
I've gotten a few questions about these booties/mules that I bought a few weeks ago and how the sizing runs.  I guess a few reviews online have mentioned that they run a little bit big and as you can kinda tell in today's picture that there is a little bit of room by my heels.  For me, though, because the toe is narrow I know I couldn't size down without having my foot cramped in the bottom or my heels hanging off the ends.  Shoes that look too small are a small pet peeve of mine so that's my reason for always going up instead of down.  I hope that helps!
Have a great Tuesday, everyone!
Banana Republic : Vest  |  H&M : Tee, super similar here  |  Piperlime : AG Jeans  |  Dolce Vita : Mules  |  Madewell : Tote