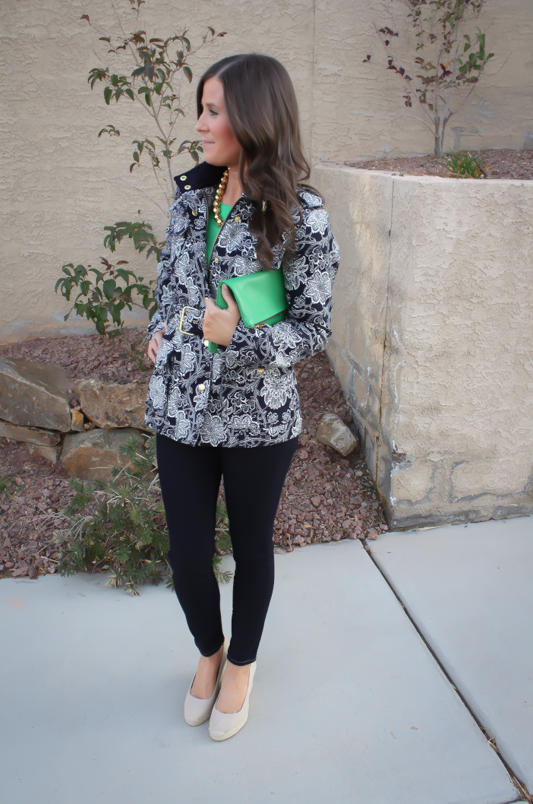 A few weeks ago, I shared this adorable floral printed jacket in the hopes that you would see how perfect it is for spring…and take advantage of the 50% off sale that was happening that day!  Did anyone else jump on that amazing deal?  Well, I'm still in love and wanted to share it again just styled slightly differently.
I know I mentioned this the last time I posted it, but this jacket is such a great transitional piece from winter into spring.  It's not super heavy, but not all that light either.  It's a soft, thicker cotton and it feels amazing.  I can definitely see myself wearing this jacket even as it gets a little bit warmer outside but with my favorite chino shorts so I can adapt from the chilly mornings and nights around the warmer part of the day.
Nothing beats the navy and green color combo and you see it here on The Northeast Girl all the time.  I just love it THAT much.
So tell me, is anyone else happy they picked this jacket up as well?
Have a great day!
Banana Republic : Floral Jacket / J.Crew : Green Crewneck Sweater, similar here, here / Gap : Denim Leggings / J.Crew : Wedge Espadrilles, similar here, here / Clare Vivier : Green Clutch 
If you follow me on Instagram, a few weeks ago I shared a picture of these insanely "MUST HAVE" pair of plaid heels and trust me when I tell you, I've been stalking J.Crew daily waiting for them to be released.  Well, folks, the wait it finally over and these beauties should be here come the weekend.  I'm am SO EXCITED.  Also, take a quick look at the shimmer linen wedges.  Nicely done, 'crew, nicely done…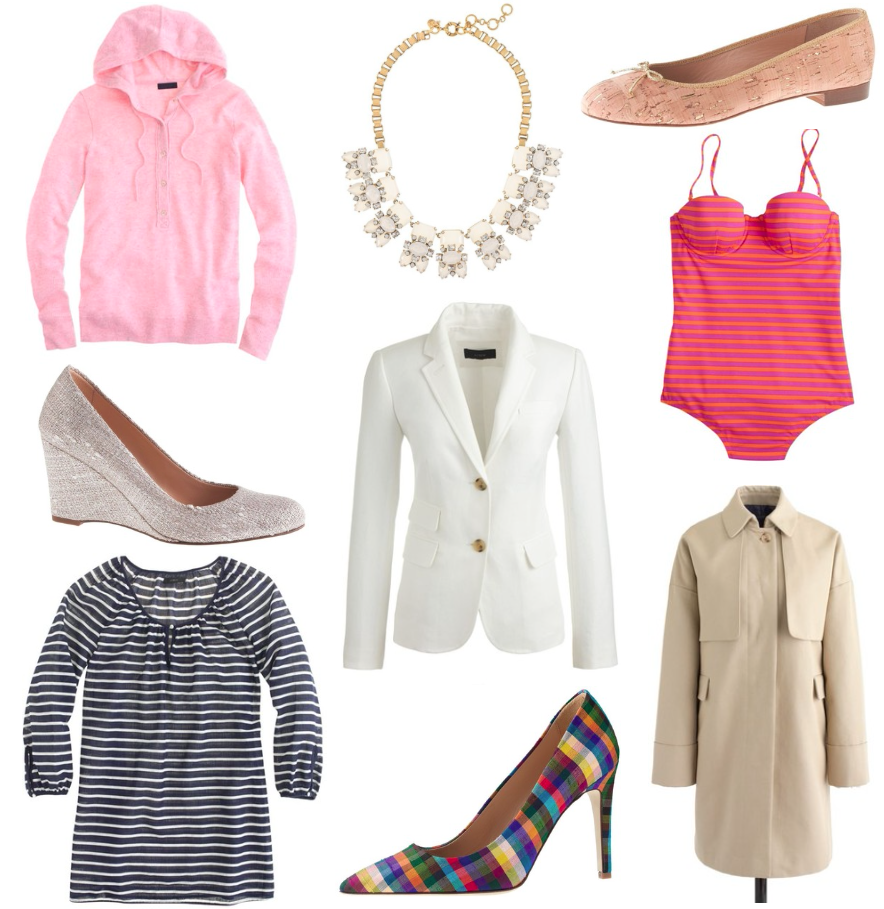 Pink Cashmere Hoodie / White Stone Necklace / Cork Flats
Shimmer Linen Wedge / Linen Blazer / Striped Swimsuit
Navy Striped Tunic / Plaid Heels / Swing Trench