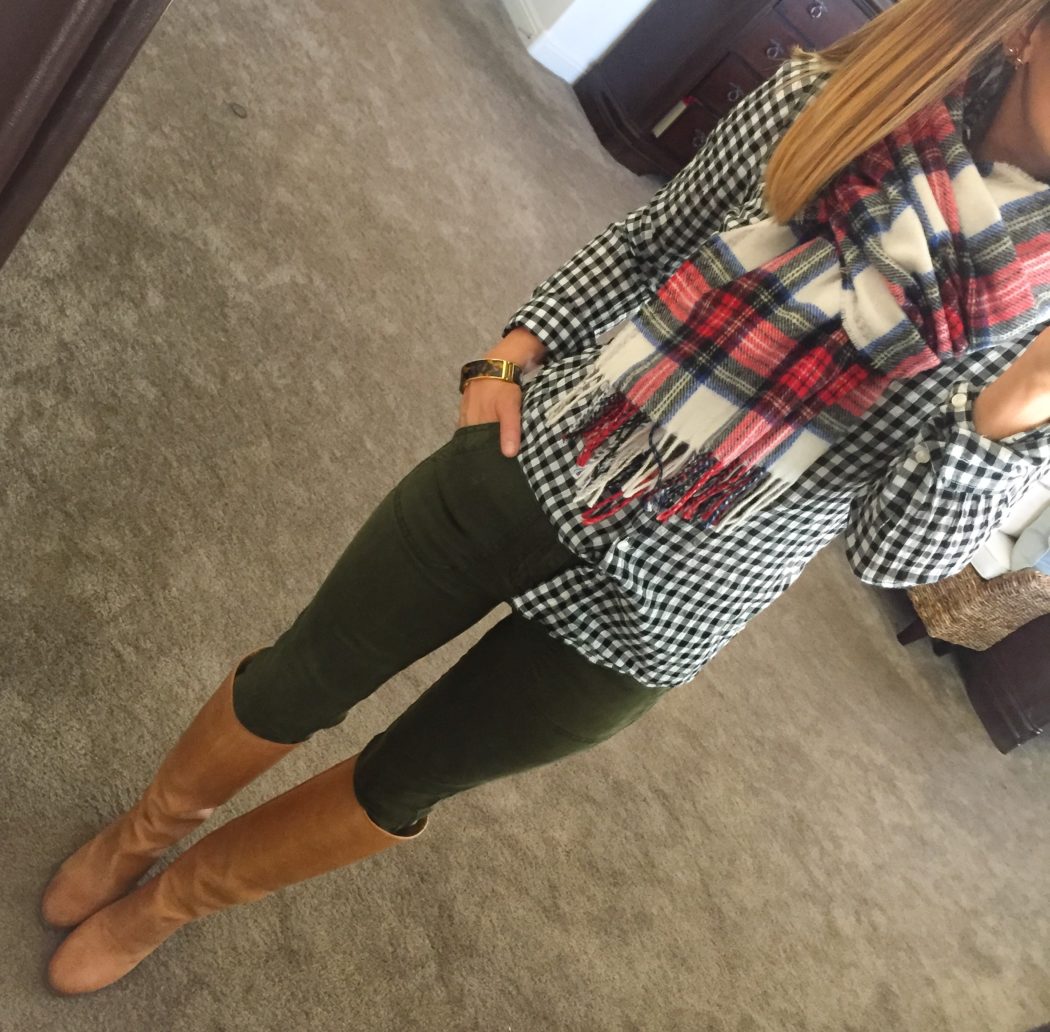 J.Crew: Scarf, Pants (TTS, I'm wearing a 26 Regular)  |  J.Crew Factory : Perfect Shirt, gingham here  |  Maison Margiela : Boots, similar here, love these tall suede pair here  |  Banana Republic : Earrings (super cute bows!)  |  J.Crew : Tortoise Bangle
Hello, friends!
Coming back today with a quick post sharing a new pair of army green skinnies (pants, not jeans) that I just picked up recently and to give a quick update on what I've been up to lately.
This past month was pretty much an unplanned break from my blog so apologies for falling off the grid.  To be honest, between the two girls, a busy husband, and the fact that it's still close to 90* here every day left me in a creative dead end with little time left over to break through.  Every day I would tell myself I would "do it tomorrow!" and then life just got in the way.  My priorities shifted a bit when it came to how to utilized my time and while I have missed my daily posts, I had to focus my attention where it needed to be at the time.  It's also been feeling like summer, and while it is finally getting cooler, the ideal of sweaters, boots and scarves is just laughable where I live.  But, in defense of Phoenix, I can understand why people like to relocate here in the winters.  It's absolutely beautiful this time of year and the next few weeks, it's going only be in the 70's during the day so you can bet your bottom dollar I'm really excited for the change!
I've honestly been living in tennis shoes and gym clothes on the regular the past few weeks out of pure comfort and the fact that I'm so over the heat.  My girls are still on the go, too!!!  Grace is 15 months and if you turn around for 2 seconds she will pull all of my clothes out of the bottom drawers and then run for the hills to avoid "being caught".  She's sassy, feisty, and so lovable.  She couldn't be more opposite than Ava if she tried.  And, Ava?  Ava loves her school, plays with friends all the time, dances 3 days a week and the other day I looked at her and she just looked so grown up to me.  Ahhh, the days can be long but those years are far too short.  Curt is doing really well, too, and busy at work so we try and make time for each other as much as we can these days.  We laugh but I think one day, we'll be those retired couples that never stops when they kiddos are grown and off on their own.  Just travel and see the world.  For now, it's business as usual and I have no complaints.  Life is so good.
Aside from my family, I've also been really logging a lot of time with my girls who I work with every day in my Rodan + Fields business.  While I wasn't sure what I wanted to do when I signed up to be a consultant, it's quickly become a really big part of who I am and what I love to do every day.  I'm a product of the product, I use a little bit of it ALL every day, and I love the freedom it gives me but still offers the benefits of a job.  Military life can be unpredictable and keeping a full time career while we're constantly moving is a bit of a circus so I'm glad I took a chance both on The Northeast Girl and with Rodan + Fields.  In early October, I went to Las Vegas for our annual convention and it was SO MUCH FUN.  Ahhh, I wish I were better about taking pictures and sharing the experiences over here and I supposed I will do a recap over time but I just love working for that company so much.  I'm surrounded by some pretty impressive and incredible women so it's hard NOT to LOVE!
So, thanks for visiting today!  Now that the weather is starting to cooperate (kind of…), I hope I can share a few more things here and there over the coming weeks!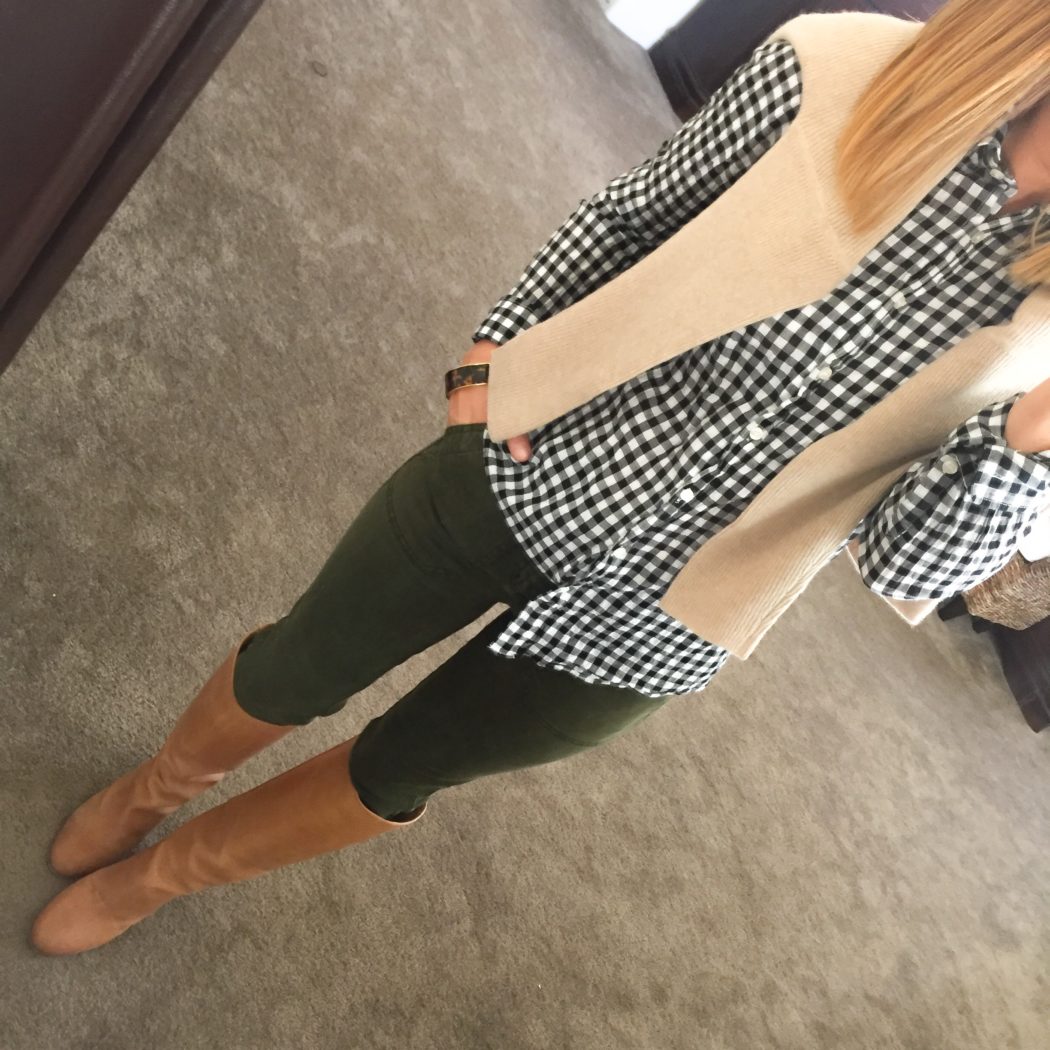 Swapped out the scarf for one of my favorite layering cashmere sweaters from J.Crew.  I also love a class cable knit for layering that you can check out here.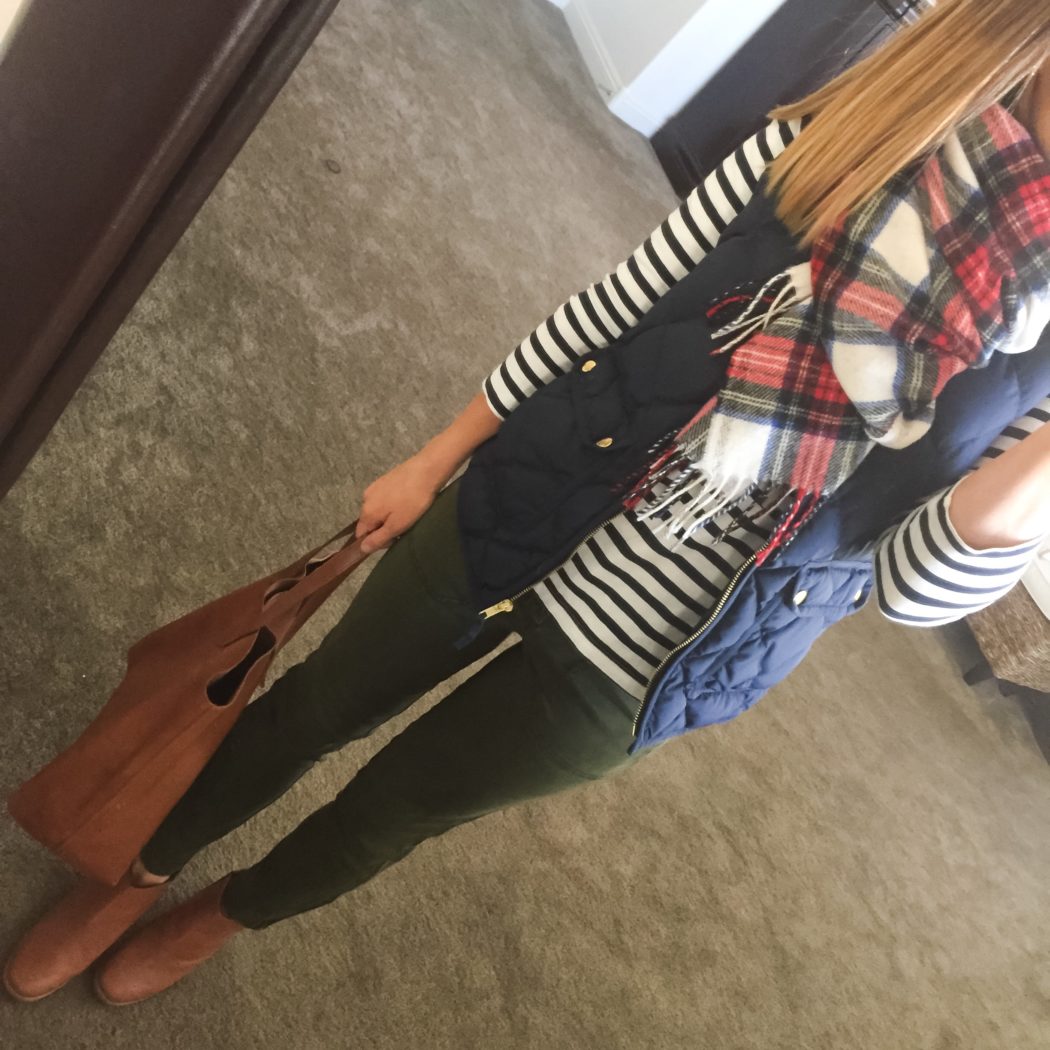 Added a J.Crew Vest, (Factory version here) Stripes, updated with fringe here, and Rachel Comey Booties, similar here, with matching Madewell Bag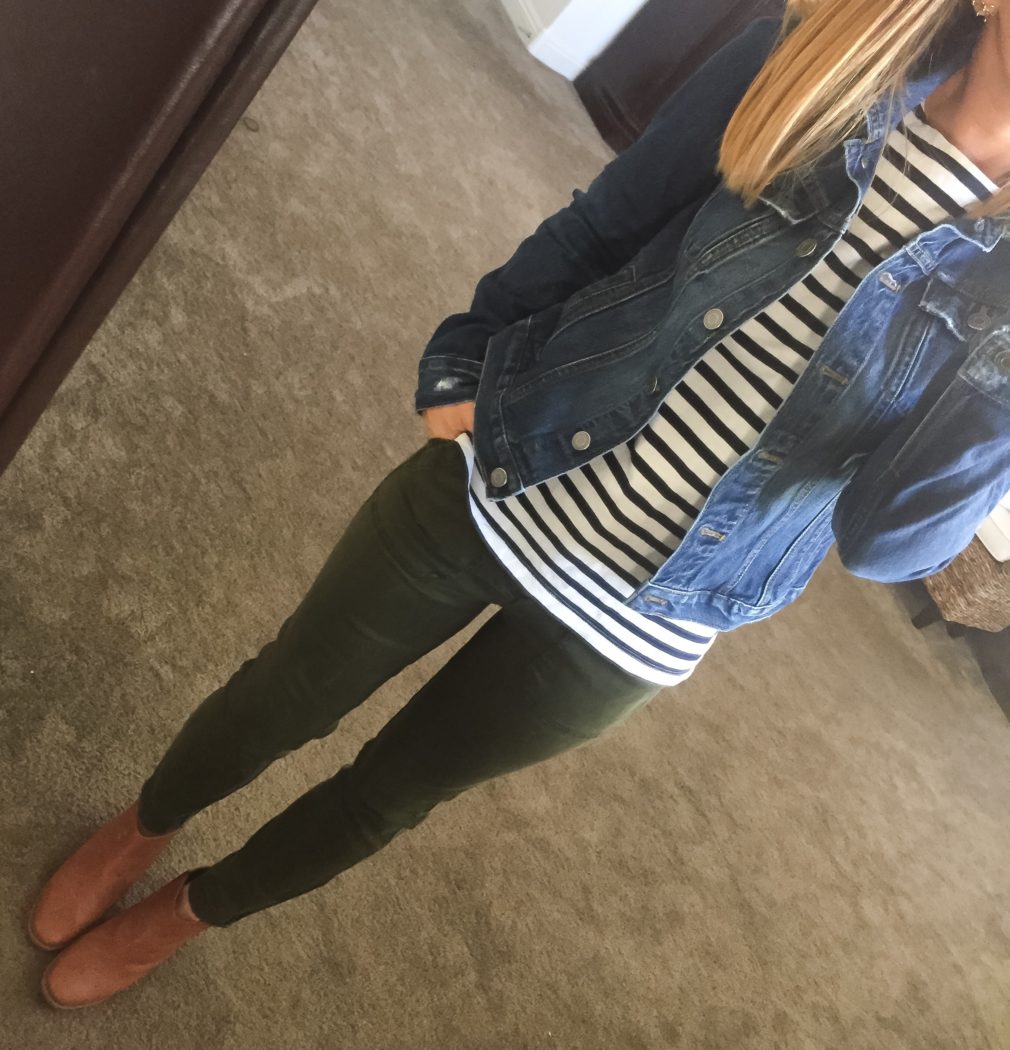 A little less busy with just a Banana Republic denim jacket.  Similar here.
Before you GO!  I have a fun promo going on over at my Facebook page that I would love to extend to my readers for our newest product Lash Boost.  The latest addition to our Enhancements Line, Lash Boost is packed full of nutrients for you lashes so they are longer looking, fuller looking, and darker looking…and with the holidays coming up, it seems like a pretty great time to get started, right?!
Right now, we have a promo online where you can get your Lash Boost + A Mini Eye Cream + A Cosmetics Bag (as as Preferred Customer**) for $135.  As  "Thank You", the next 3 orders that come from The Northeast Girl, readers will get an addition $20 off their order.
**As always with Rodan + Fields, you can try anything for 60 days and if you're not happy, send it back for a complete refund.  Our Preferred Customer program is as flexible as it gets and you can delay to your hearts content and only order when you need to (always 10% off and always free shipping) so don't ever feel pressure or commitment.  
ALL THINGS LASH BOOST!
WHAT IS THE DIFFERENCE BETWEEN LASH BOOST AND OTHER 'LIKE' PRODUCTS ON THE MARKET?
1. You don't need a prescription to get it.
2. It's in a tube like mascara so it's not the multi brush drop application.
3. It has no eye color changing side effects.
4. It's available at a great price point (1 tube lasts 2-3 months)
5. Possibly the most important, is that it's based on a multi med therapy system, following the concept of the other #RodanandFields regimens
6. Lash Boost is not drug based. It is cosmetic based.
SO HOW DOES LASH BOOST WORK?
1. First, it MOISTURIZES the eye lash with sodium hyaluronate!
2. Next, Lash Boost provides NUTRITION to the lash through 3 different amino acid peptides!
3.Lastly, Lash Boost PROTECTS the lash from breakage and brittleness with biotin and keratin!
STATISTICS :
Out of 500 people who used Lash Boost for 8 weeks…
63% experienced Darker Looking Lashes
85% experienced Longer Looking Lashes
90% experienced Fuller Looking Lashes
✨6 ophthalmologist safety tests

✨easy nightly application

✨can be used on brows

✨safe for contact lens wearers

✨ALWAYS our 60-day, empty-bottle money-back guarantee, 100% Natural, 100% Yours!
Please email me if you'd like to try it out!thenortheastgirl@gmail.com
Down below is the current promotional bag and prodcuts!  Cute, right?!