Is anyone else sitting around wondering how in the world it's already the week of Thanksgiving?!  Oh my gosh – Ava's my little holiday alarm clock and she's been in countdown mode for some time now so while it might seem like time is crawling for her, I'm wondering if I'll need that Christmas miracle to get it all done in time.  I love how excited she gets during November and December and can we blame her?!  Oh man – to be 7 again!  I'd go back in a heartbeat!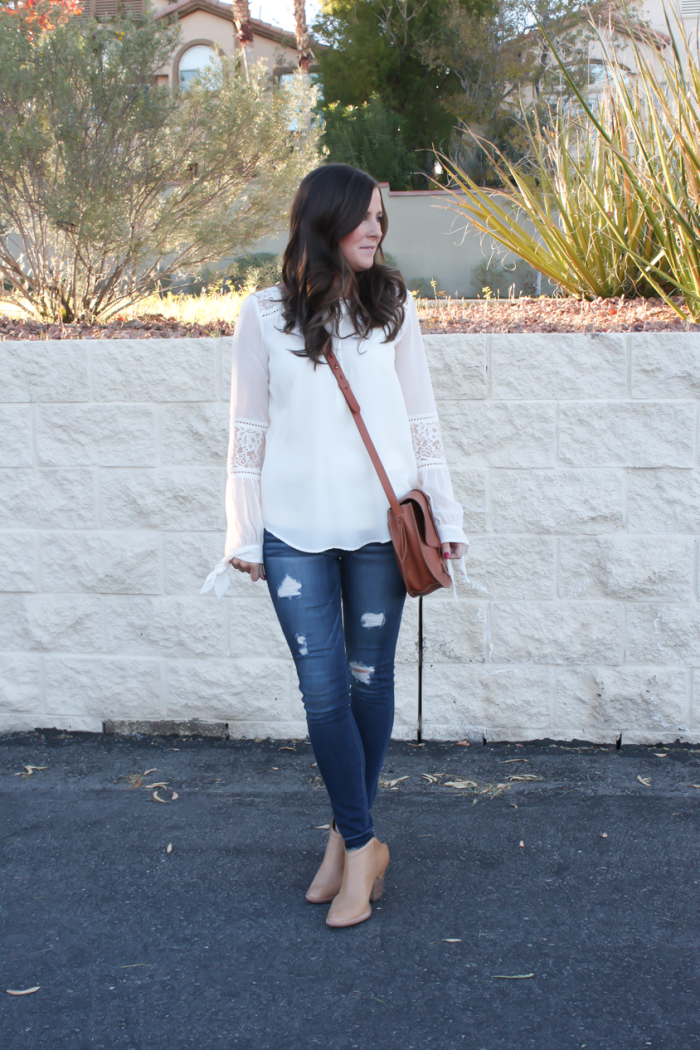 As we close in on what is clearly the busiest retail shopping weekend of the year, I'm excited to share with you a new and exclusive brand to JCPenney that will make some of your holiday shopping (for you and the lovely ladies on your list!) a little bit easier and it just so happens to be pretty affordable without sacrificing any quality.  Wins all around.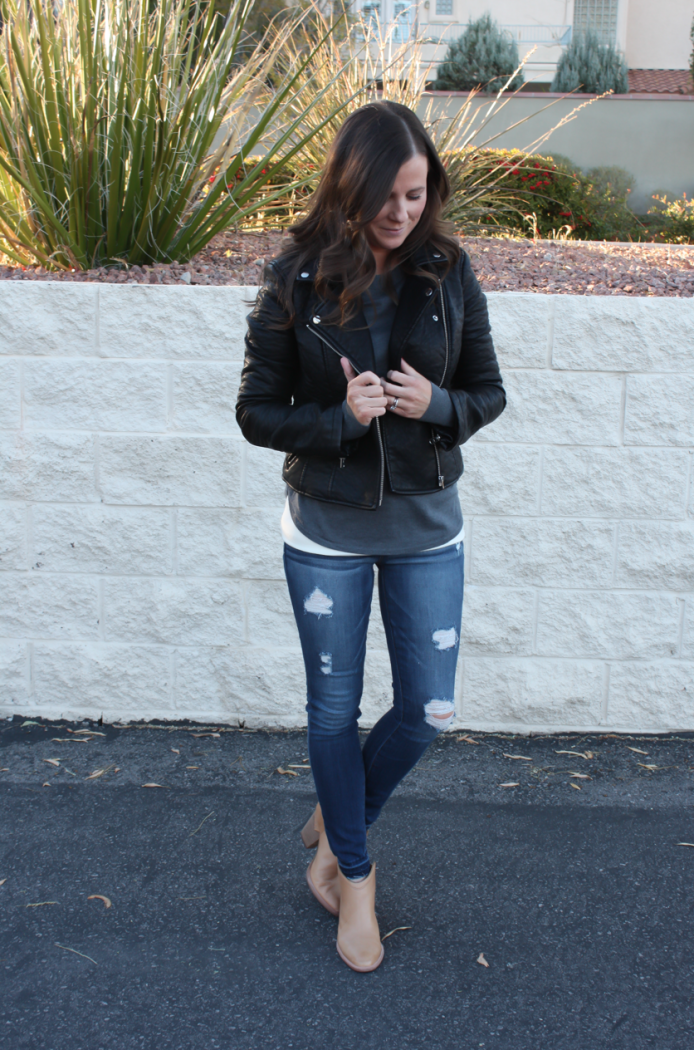 Belle and Sky has a great, well-rounded line of pieces that were fun to shop and also on trend for the season.  Pretty blouses (swoon!), fringe jackets, printed dresses, distressed jeans (have, love…), faux fur, leggings, tunic sweaters, rockstuds, fun statement pieces (need!)…it's all there.  For me, I went ahead and grabbed a few of my favorites that I know I can wear right now into the holiday season but then again throughout the year.  You know me – I love a little versatility when it comes to shopping new things for my wardrobe.  Well, minus the faux fur, that's really just for now but I can never turn down the faux fur!
Since this was a new brand to me, I was really eager to see how everything turned out when it was delivered to my house and friends, I was pretty happy with what I picked!
First off, I was overall really impressed with the quality of the clothes!  The jeans fit like a glove and even after we snapped some photos, I wore them around the house while fixing dinner and tending to the girls.  They have the perfect amount of stretch, the rise hits not too high or too low, and to be honest, they just felt great.  The wash is a slightly distressed medium rinse and if you look closely, you can see the frayed edges along the hem – which is really popular right now!  I really liked them a lot – and we know I can be a little high maintenance when it comes to my denim.  They're ridiculously affordable and they honestly rival many of those high end premium denim jeans that are on the market right now.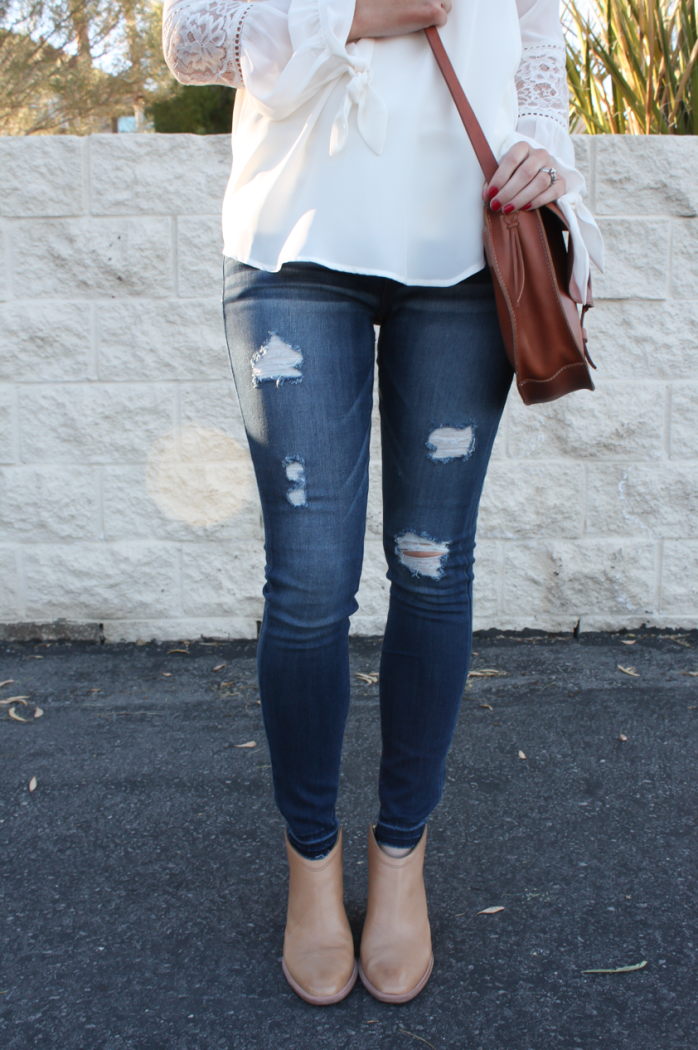 The two blouses I chose were what I was most excited about because I love a little boho, romance when it comes to blouses because they can be dressed both up and down.  The ivory blouse, to me, is just so pretty with the little tie details around the wrist and the lace insets on the arms and around the shoulders.  Again, I loved the silky soft material.  I'm so impressed with the cost in relation to the quality.  While I definitely had to steam to the blouses before I wore them, they didn't crumple up and wrinkle the minute I put them on, which I love.  There's nothing worse than pressing your clothes only to have them look like you slept in them after wearing them for 20 minutes.  This blouse wore beautifully and I'm already thinking it's going to look so pretty with a pair of leather pants I just grabbed recently for a fun holiday look.  Highly recommend!
I also couldn't resist the pretty black and lace blouse, too, because as soon as I saw it I knew I wanted to layer it with that fun fur vest!  With the option to dress it up or down, I kept it somewhere in between.  I love the lace, the semi-sheer sleeves and the elastic cuffs around the sleeves.  I know that's kind of random but I really liked the way it made the look of the sleeves a little billowy…  It's the small things, I guess.  Again – loved the overall look, quality, feel, and wear of this blouse!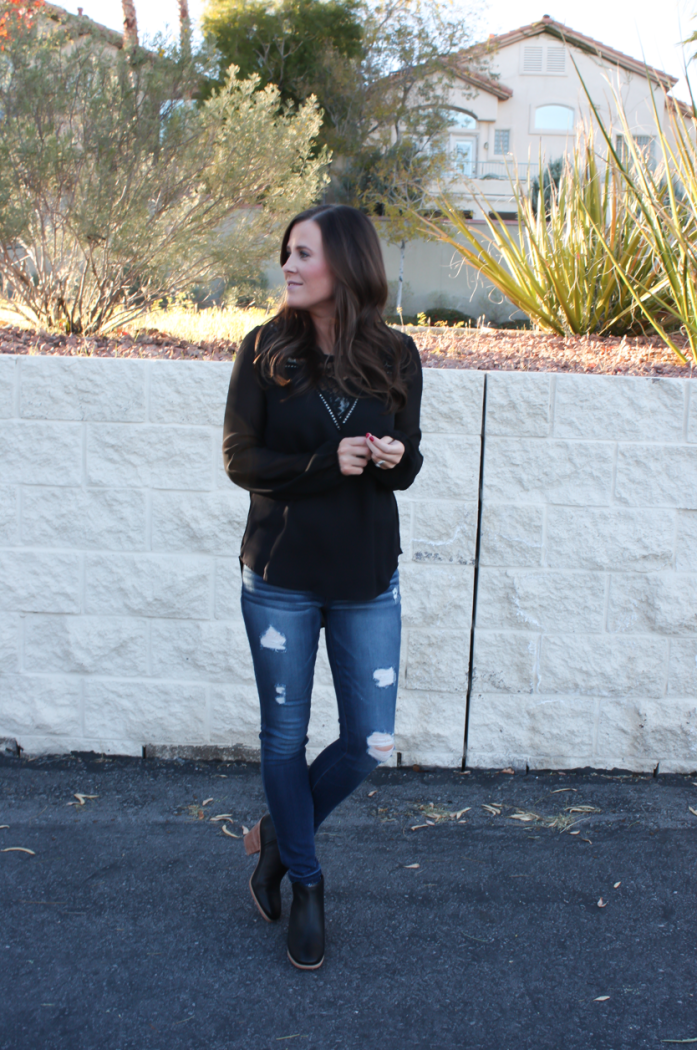 The last piece I chose was a fun and slightly edgy black faux leather jacket.  In my never ending quest to find and share all the leather (faux and real) jackets that I come across this season, I knew this was one I didn't want to pass up.  This jacket, unlike any I've tried on this season or have hanging in my closet, is a great fall and winter piece.  Slightly thicker than anything I already own, it's great for layering up on those chilly days that need more than something lightweight before you head out the door.  I also really liked the the silver hardware and cropped look which, to me, make it a true moto jacket.  I think it was styled online with a seriously cute hot pink skirt that is definitely worth recreating!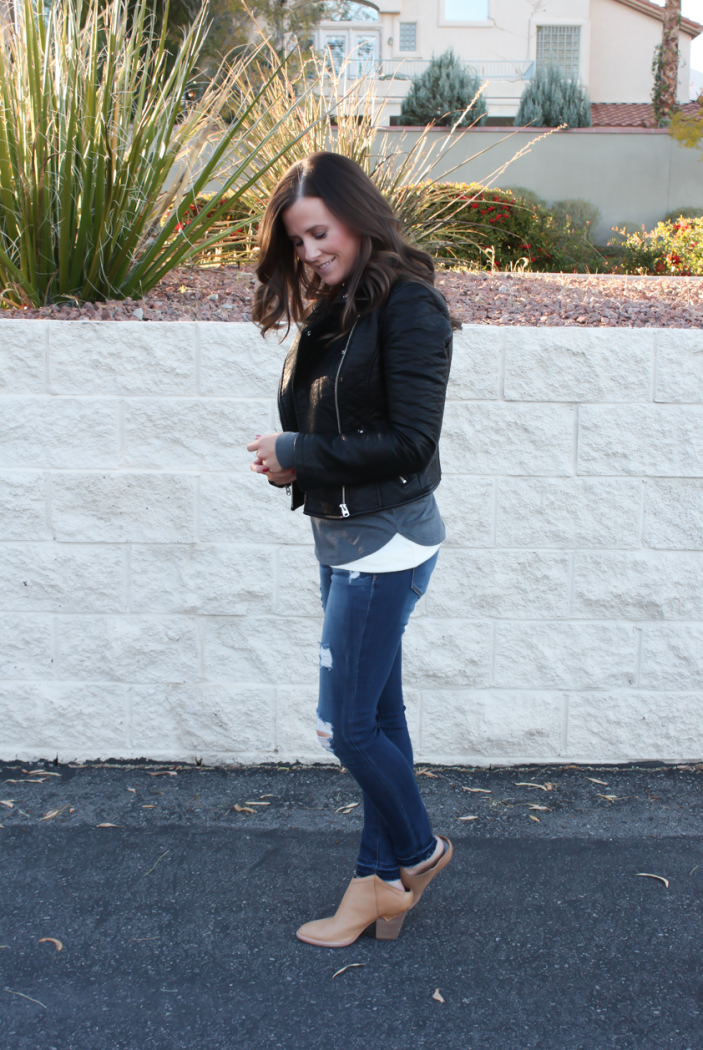 Like anything, faux fur can be a hit or a miss for me.  I generally like them to feel super soft and just have an overall pretty color that can be worn casually or dressed up.  What I really liked about this particular vest is that it's slightly more fitted (size up one from your normal size for a slightly more relaxed fit) and just based on my height, I think it's a little more on the cropped side in length.  Again, it's personal preference but I like my vests, especially faux fur which tend to be on the bigger side in overall appearance, to be a little more fitted side so I don't look too bulky.  I really liked this piece a lot and it's just a fun little vest to add a little something extra to your outfit this fall and winter!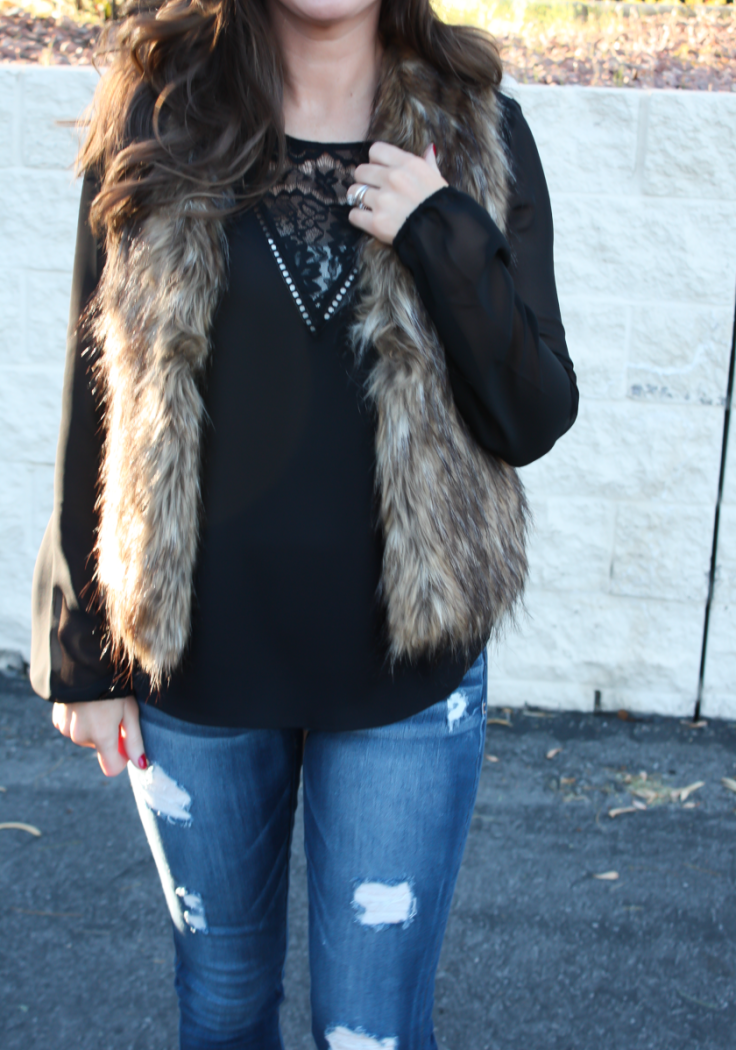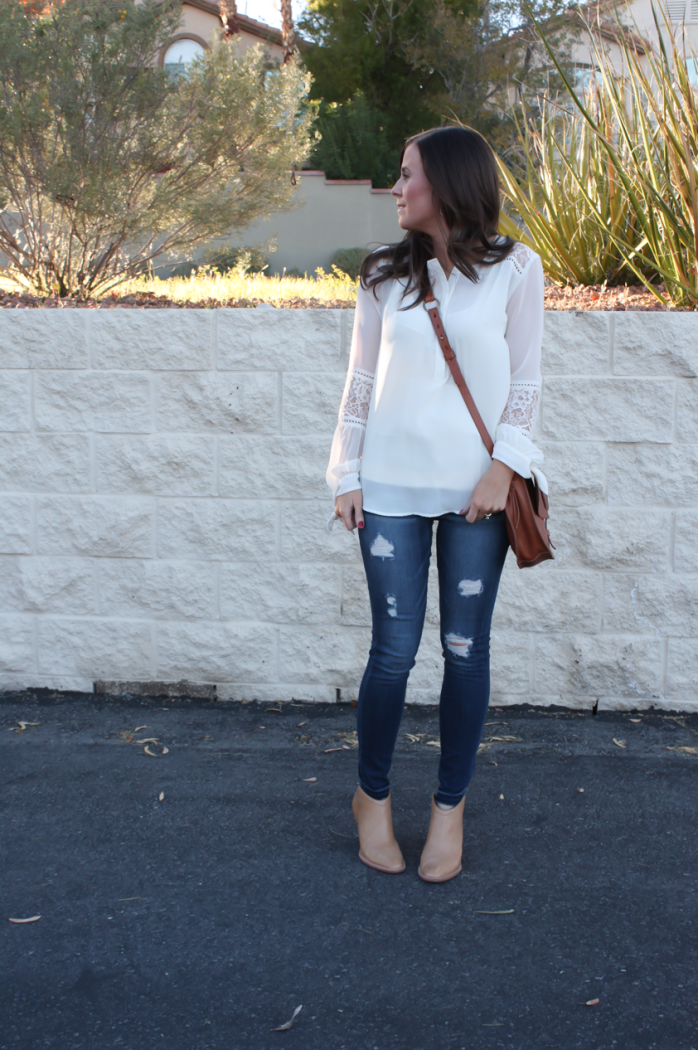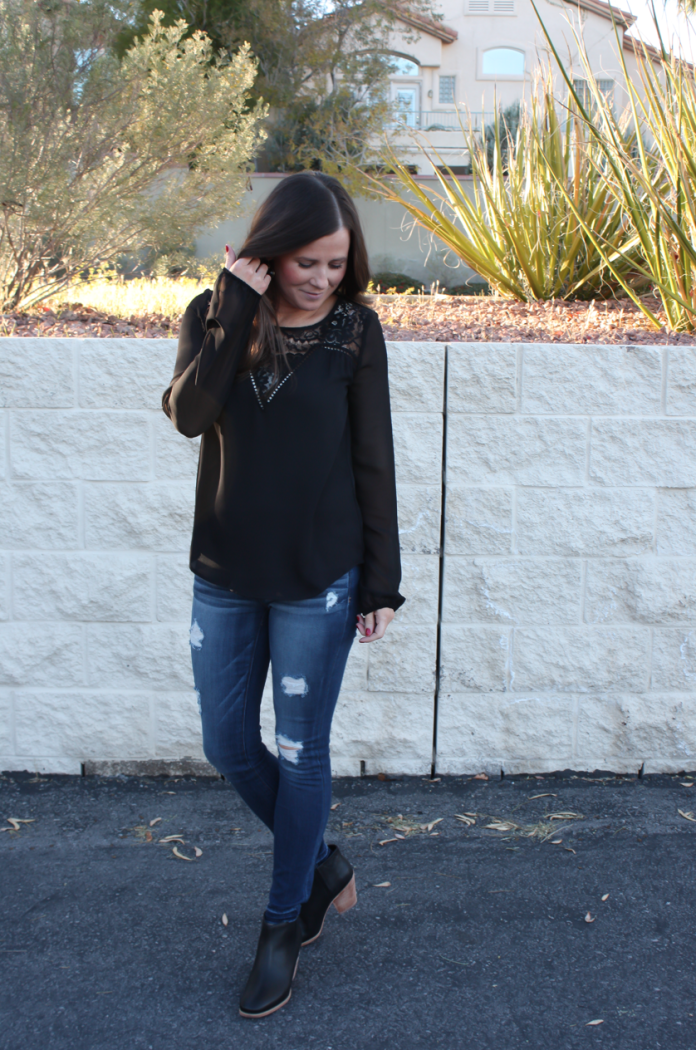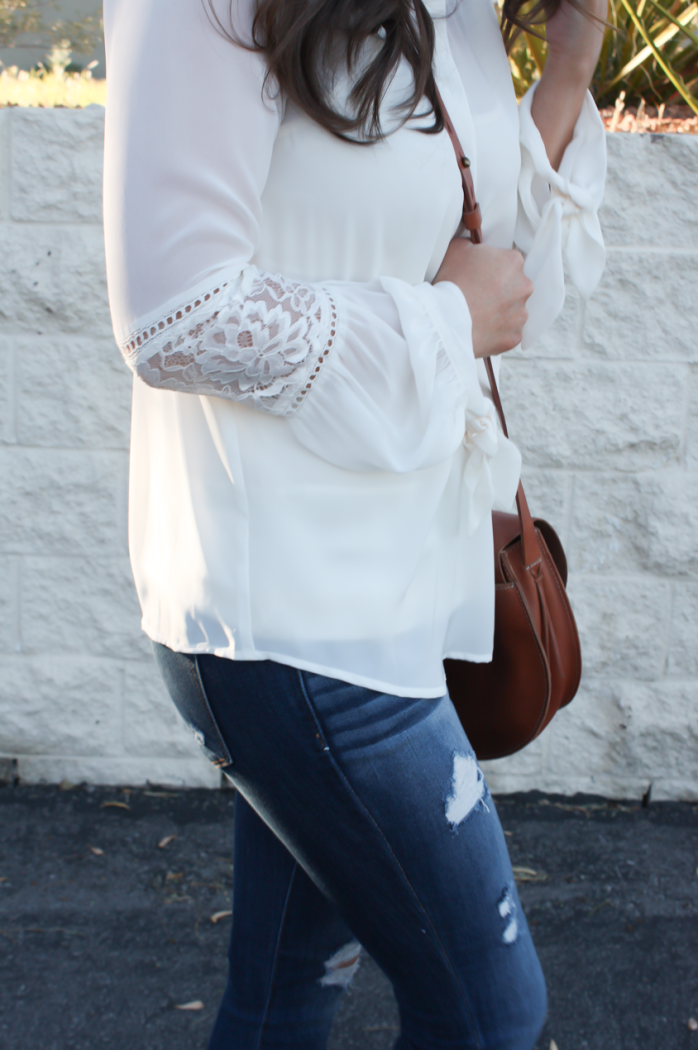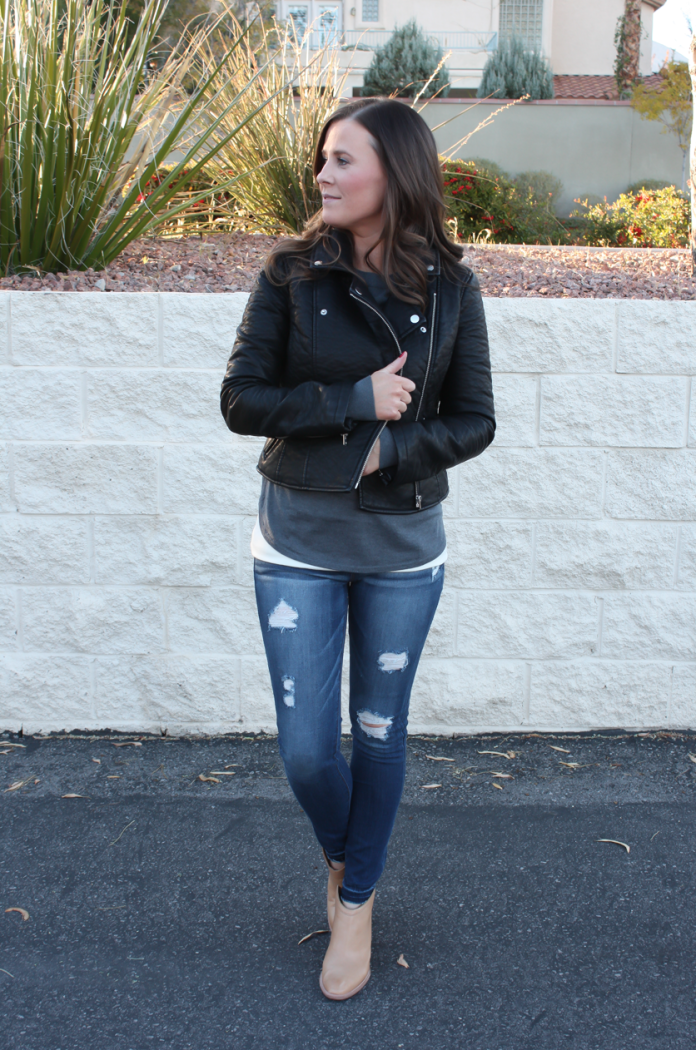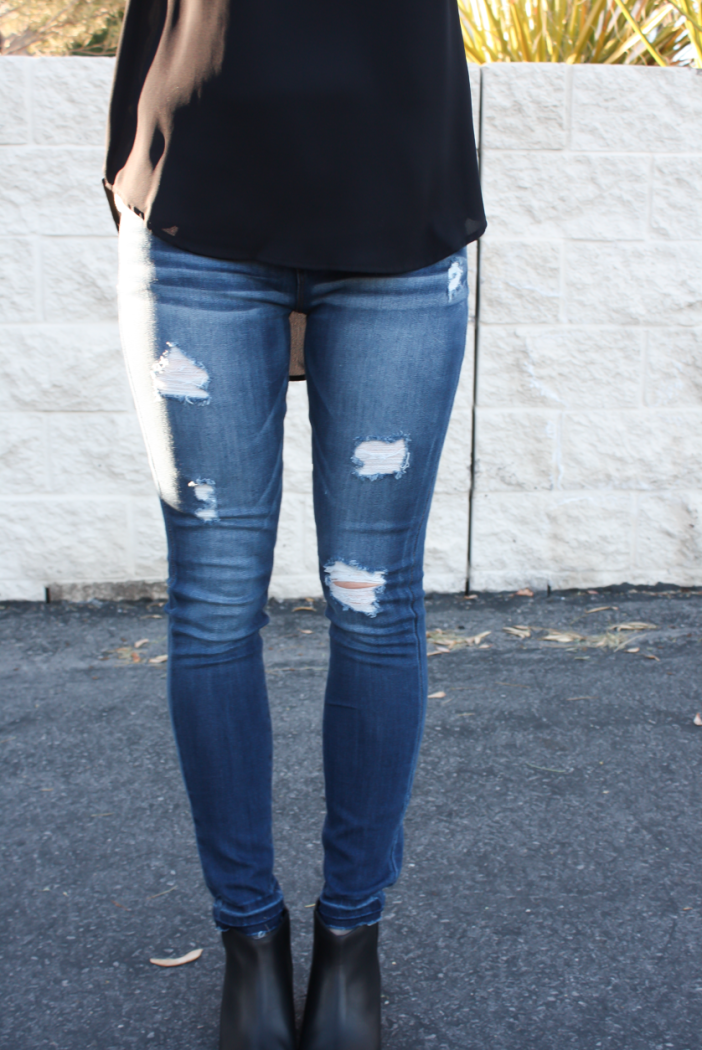 I had a lot of fun shopping this new brand and while I know I mentioned it already, I'm excited to share and see what you think!  When you're in search of some new pieces to wear this season, definitely give Belle and Sky a go!  You'll find ways to grab a little something for you AND all the style-loving girls on your holiday list without breaking the bank.
Featured Pieces and Sizes:
Faux Leather Jacket (XS)  |  Ivory Blouse (S)  |  Black Blouse (S)  |   Distressed Jeans (26 – size up for a more relaxed look)  |  Faux Fur Vest (XS)
Most of this line is on sale (up to 40%+ off!) AND use the code "VIP43" at checkout for an additional 20% off! 
Stay tuned to my Instagram today for more Belle and Sky!
Today's post was sponsored by JCPenney and ShopStyle.  All opinions are my own.