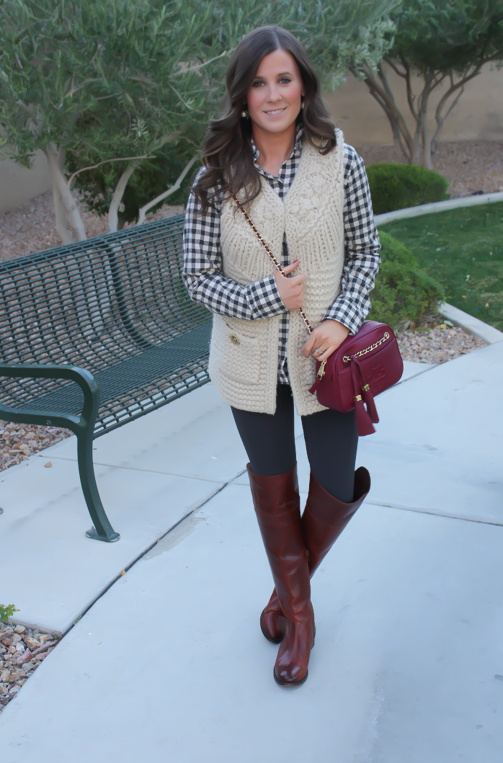 At some point last year, I wrote a post sharing one of my most favorite pairs of leggings I ever got my little hands on…and they were awesome.  The problem is that they were, of course, never in stock and as of now, pretty much fallen off the face of the earth.  Even worse, I've literally worn them into despair.  On the days that I physically can't find them, I swear, they're hiding from me.  And because I couldn't replace them with a fresh new pair or have multiples waiting as back-up's, the search for a new favorite pair commenced.
Friends – I have found them.  And they're under 30 bucks.  #yesplease
Just a few things about these leggings before I share a few more photos.  I'm HUGE into a wide waistband.  Why?  Well, because I'm a mom and my mid section isn't quite as, um, toned as it used to be…  We'll ignore the fact that my daughter is SIX, but just know that I've carried a baby for 9 months and my tiny tummy is long since gone.  That being said, a wide waistband is meant to smooth and eliminate any unsightly lines that might show up where the waistband stops and possible creates the enemy. #muffintop  These leggings are extra snug, they don't move, loose shape, or fall down when you're moving around because of the amazing waistband that holds them in place.
These leggings are also made from a super stretchy, spanx-like material that conforms to your body. (They were MADE by the creators of Spanx!)  HOWEVER, because of the nature of this material, they actually help smooth out your skin and make your legs appear more toned.  When I was trying them on, the fitting room had those lovely angled mirrors that show your front and backside as you're getting undressed (ugh!) and I kid you not, my backside was looking preeeeetty awesome once I put these beauties on.  I think that was my, YAYYYYY!!!!!!, moment.  Because really, once you make my problem areas not only become hidden but actually look better, I'm taking them all.  (…and I did.)
Another great feature is that these leggings are seamless along the outer part of your leg so you don't have weird lines moving around as you walk and there's a flat panel, if you will, where you might be afraid of any unsightly wardrobe malfunctions.  Please understand what I mean as I refuse to use a more accurate term for the area I'm referring.
Moving on…
Ladies, these leggings also won't fade like regular black cotton fabric does over time and if you wash and care for them correctly, it will be the best $30 you've spent this year. They're also not sheer, even when you pull, stretch, bend, move…they keep everything appropriately covered.
How much do I love them?  Well, I've been wearing them for 3 days straight.  I'll also wear these with a tunic and boots, a pair of tennis shoes and my favorite North Face fleece, or even around my house with some Uggs.  So, basically, all day…everyday.
Get them.  Get them now.  #yourewelcome
Oh – and I know I just shared this adorable sweater jacket last week and clearly I'm loving it so when I was getting dressed, I wondered what it would look like if I cuffed the shoulders under to make it more like a vest and while I think it's cute, I meant to take some photos with them uncuffed to show the true style.  I may have forgotten to do that…  But you can catch the original post here!
Anthropologie : Sweater Jacket, last seen here  |  Banana Republic : Gingham Flannel  |  Frye : Boots, try these, these  |  Tory Burch : Bag
Target : Leggings  (I bought a size SMALL.  I'm also wearing the "Smoky Charcoal" and I have no idea WHY they look so light in color online.  The stock number I have on the box is #2045, just like the pair online, so you can be sure they'll be this dark and not as light as the image online. I obviously also bought the black.)
Here they are in black from Instagram, but I'll be sharing them in a full post this week!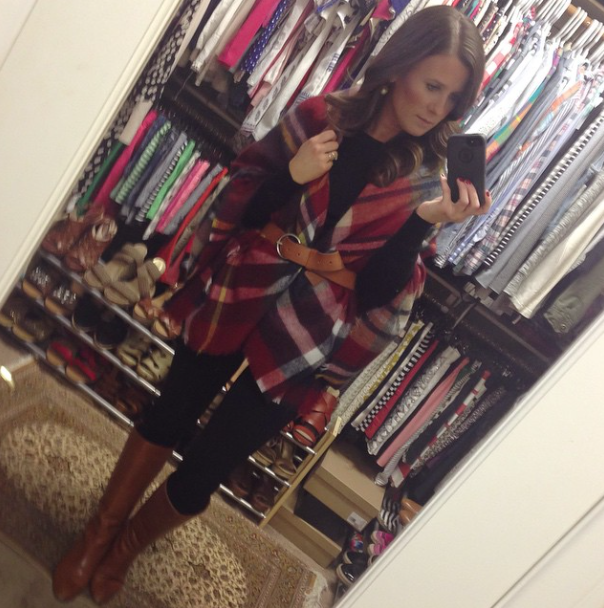 Zara : Blanket Scarf, get it here, here, here, here  |  Banana Republic : Tunic Sweater  |  Target : Leggings  |  Loeffler Randall : Boots, try these, these  |  Gap : Belt, try this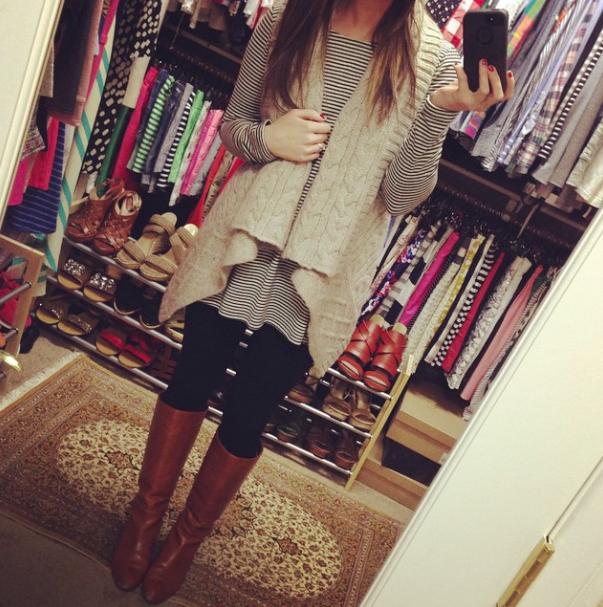 Loft : Sweater Vest, try this, this  |  Anthropologie : Tunic, current version here  |  Target : Leggings  |  Loeffler Randal : Boots