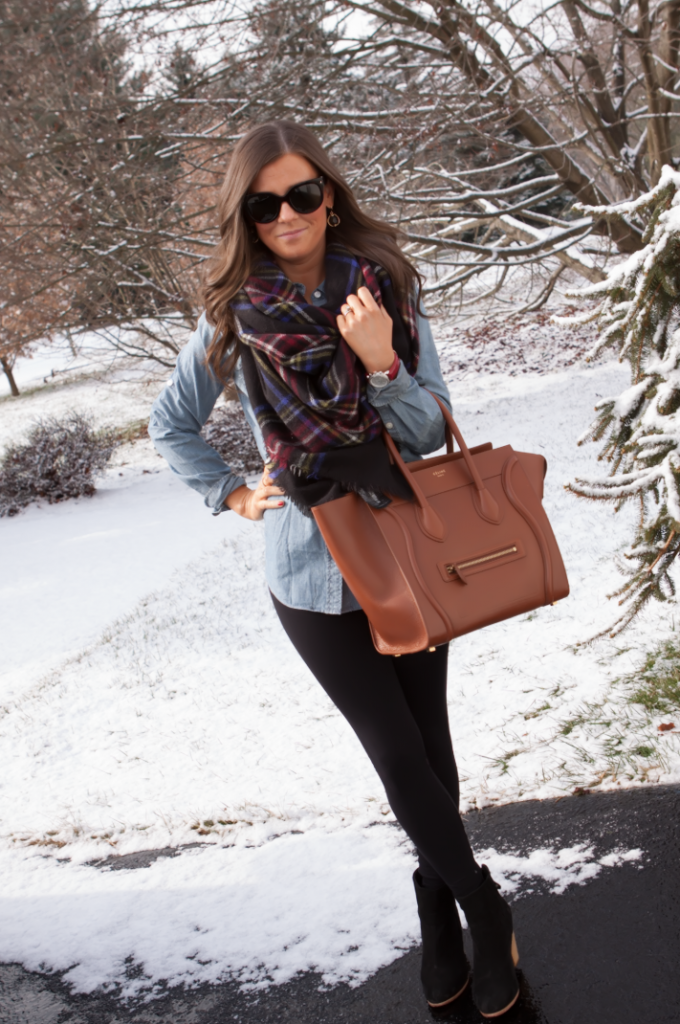 I absolutely loved that we got to see just a little bit of snow yesterday but you'll start to notice that even in the small amount of time it took for me to take a few pictures, it started to all melt away!  Oh well, beggars can't be choosers…  It was beautiful and fun while it lasted!
This scarf has officially reached cult status and if you're smart you'll grab one ASAP before it up and disappears again!  It's so soft and truly lives up to the blanket scarf name as it's huge and and will keep you so warm and toasty.  I used it on the plane this past week and I was so glad I had something to wrap around my arms when it was chilly.  LOVE.  You need it.  I promise…
I'm finally starting to use this beautiful bag that I bought a few weeks ago!  I just love it so much I was practically keeping it locked up for safe keeping…but what fun is that?!  I did notice that the leather can be quite delicate but after doing some research and chatting with fellow owners of this similar bag, they swear to me it's much more durable that I assumed.  Hmmm….to be continued!  I'll keep you posted but just know that it's out of hibernation and I'm STILL obsessed.
Oh – and since I've been chatting about these Prada suns for the past year (or longer?!), I am happy to say that I'm finally a proud owner.  I be lovin' them, too…
Have a great Friday everyone!
Checked Blanket Scarf / Chambray Shirt / Leggings / Booties / Celine Bag, similar style here / Watch / Sunglasses