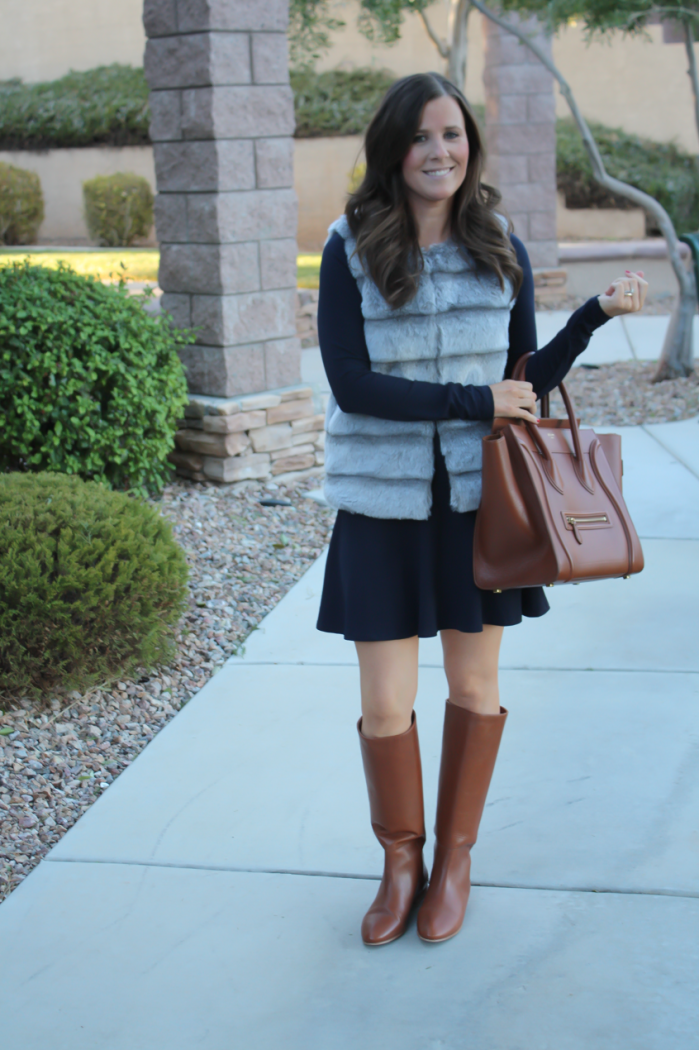 While some days it might come easier than others, confidence is something we are all striving to achieve.  Confidence can be tricky to conquer as we all have our own self doubt, but taking a moment to stop and think about how amazing each and every one of us really are is a pretty powerful thing.
For me, I feel most confident when I'm surrounded by the ones I love.  My husband makes me feel like a million bucks no matter how I feel (or look, for that matter!) and my girls are there each and every day to remind me that our love for each other is simply unconditional.  My family has always supported and loved me for who I am and, in fact, they're always encouraging me to believe in myself even on the days when I feel like nothing is going right.  Because of this amazing support system I have rallying in my corner day in and day out, I am confident in who I am and who I strive to be.
Today and tomorrow (the 8th and the 9th), I'm donating 10% of my total sales to Dress for Success and ShopStyle is going to match my contribution, dollar for dollar, 100% of my contribution!  Dress for Success empowers women to achieve economic independence by providing a network of support, professional attire, and the development tools to help women thrive in work and in life.  I couldn't be more proud to spread the word and support such an incredible organization. 
Being a Stay at Home Mom and a gal who runs a business or two out of her home, it's very easy for me to get stuck in a rut where I don't take the time to care for myself.  Trust me, I've been there!  Some days I just get tired, unmotivated, and honestly – it can effect my overall productivity.  Because I've spent the last 10 years raising my girls and teaching elementary school, when I look to Dress for My Own Success, it doesn't necessarily look like I'm headed to a board room for a big meeting but more like a young (busy!) mom who cares about how she presents herself to the world.  Some days I feel like a million bucks in my LuluLemon,or maybe a pair of distressed jeans and tee, and other days I want to wear a fun dress with a few statement pieces to really pull it all together.
Today's look couldn't be more ME when it comes to something I would love to wear and feel confident while doing it.  You've heard me rave about long sleeve dresses, drop waist dresses, and overall comfort more times than I can count and this little navy piece fits all my favorite features to have in a dress!  I added my top layering piece of the season – the faux fur vest and grabbed the always appropriate, tall brown leather boots.  This outfit, right here, is who I am.  A little bit of classic with a little bit of trend.  I stay true to who I am and what I love and, for me, getting dressed every day helps to give me the confidence I need to feel motivated and empowered.
What makes you feel the most confident?  How do you Dress for Your Own Success?
Thank you so much for supporting this amazing organization!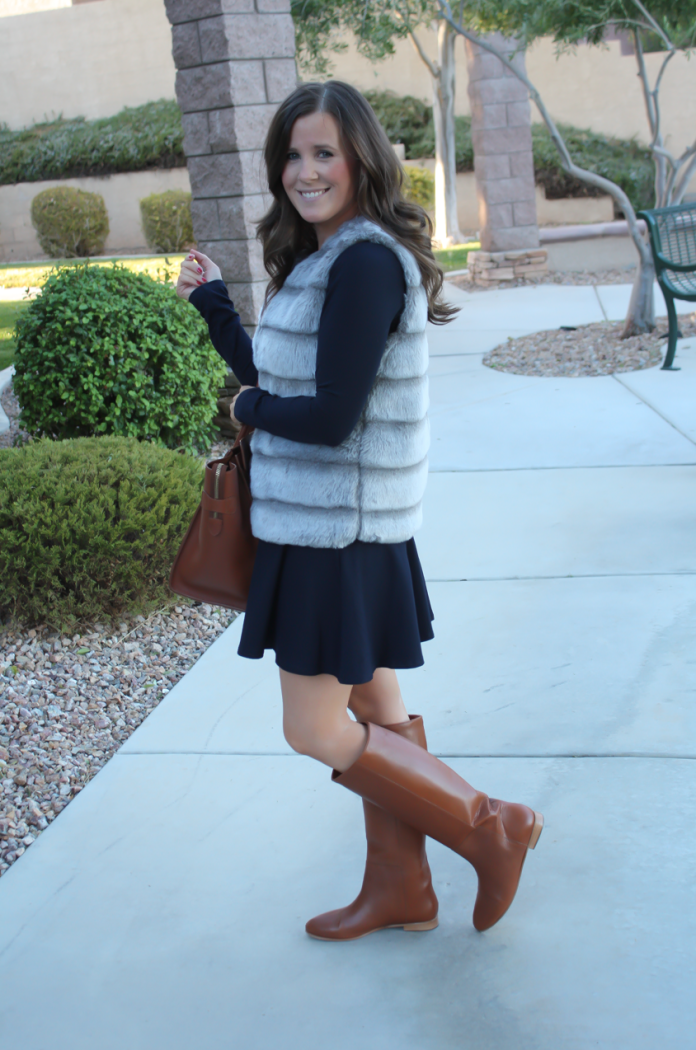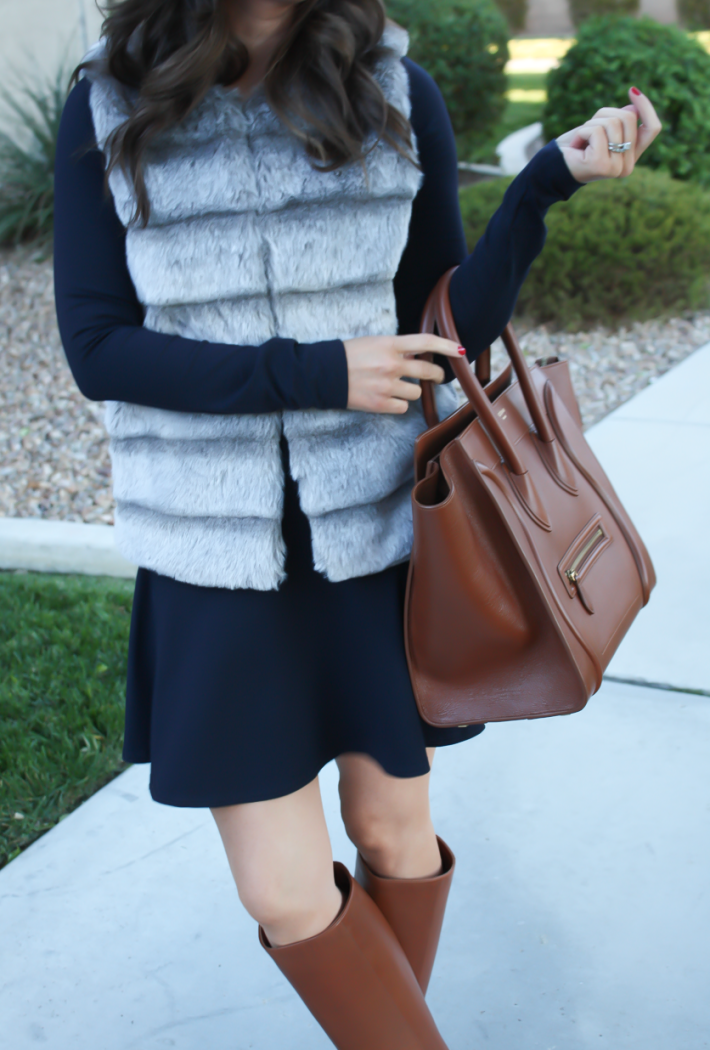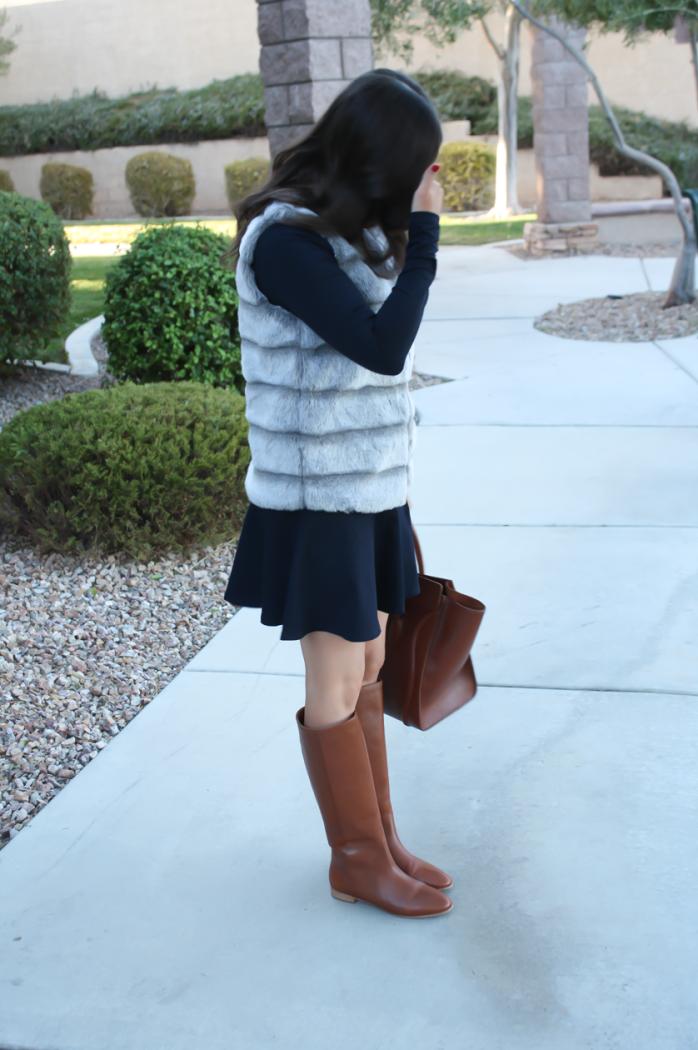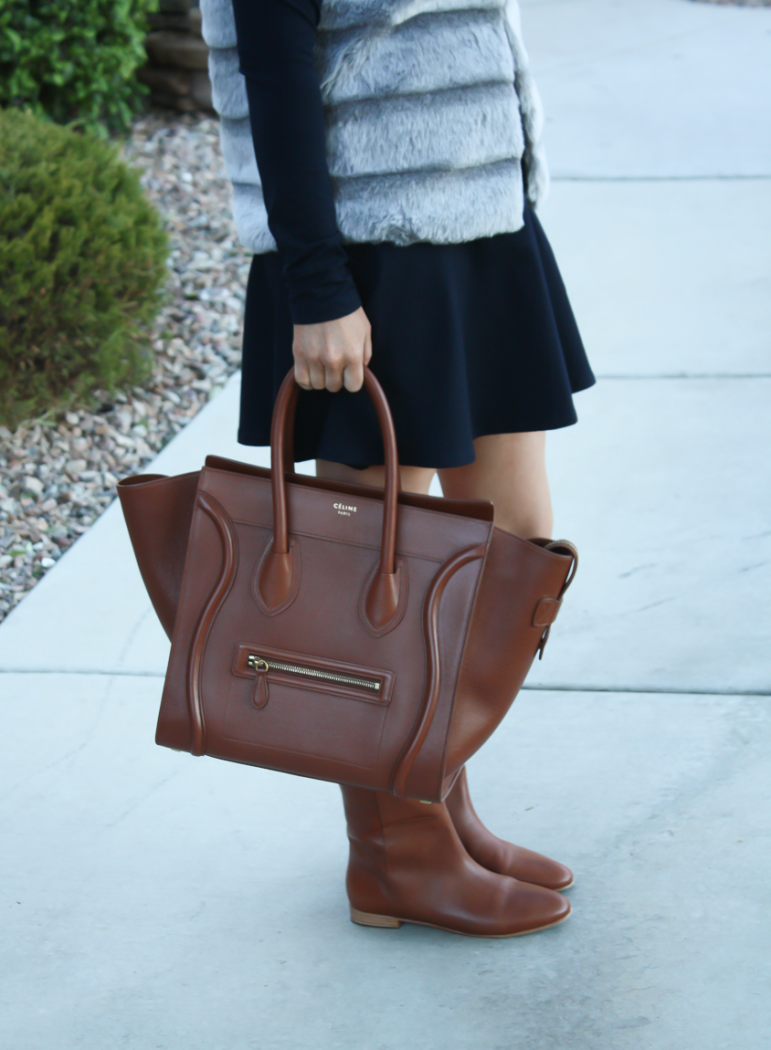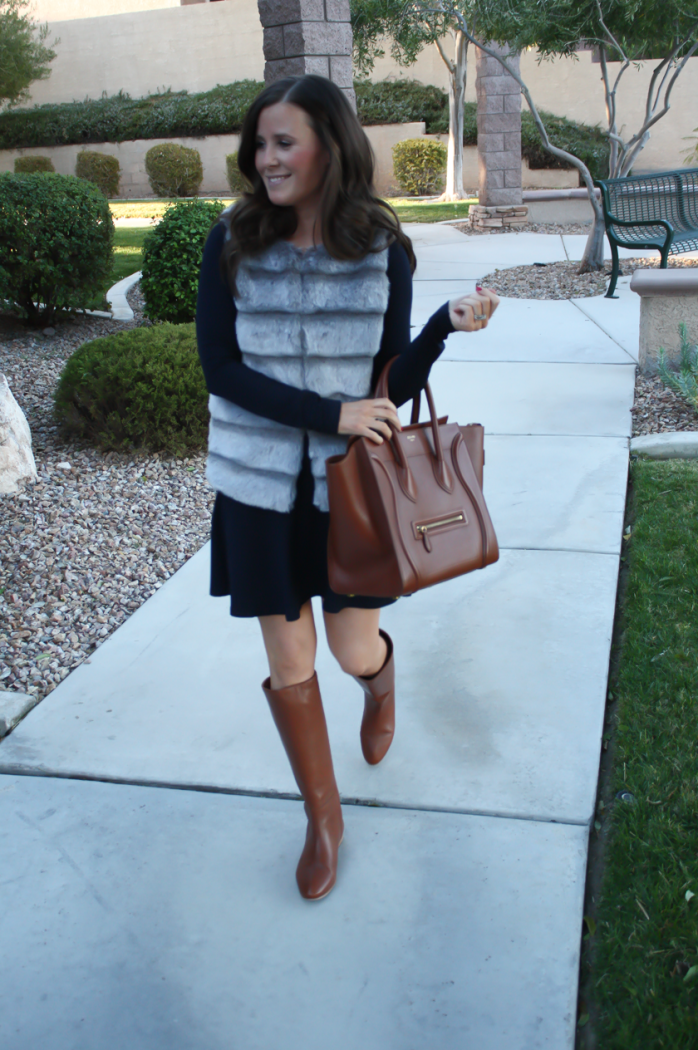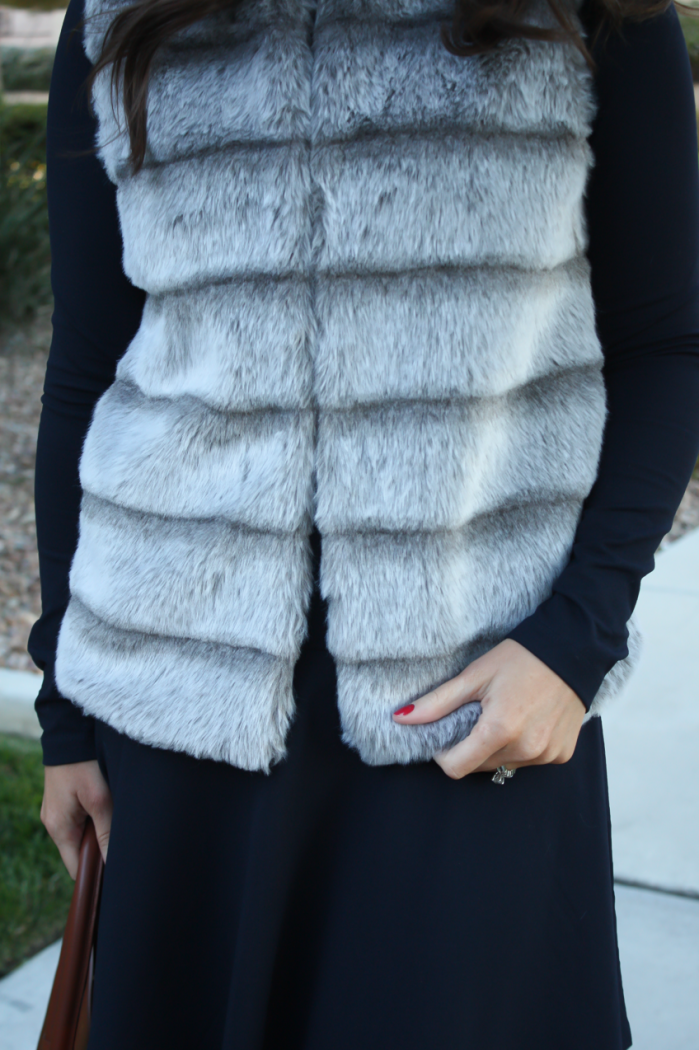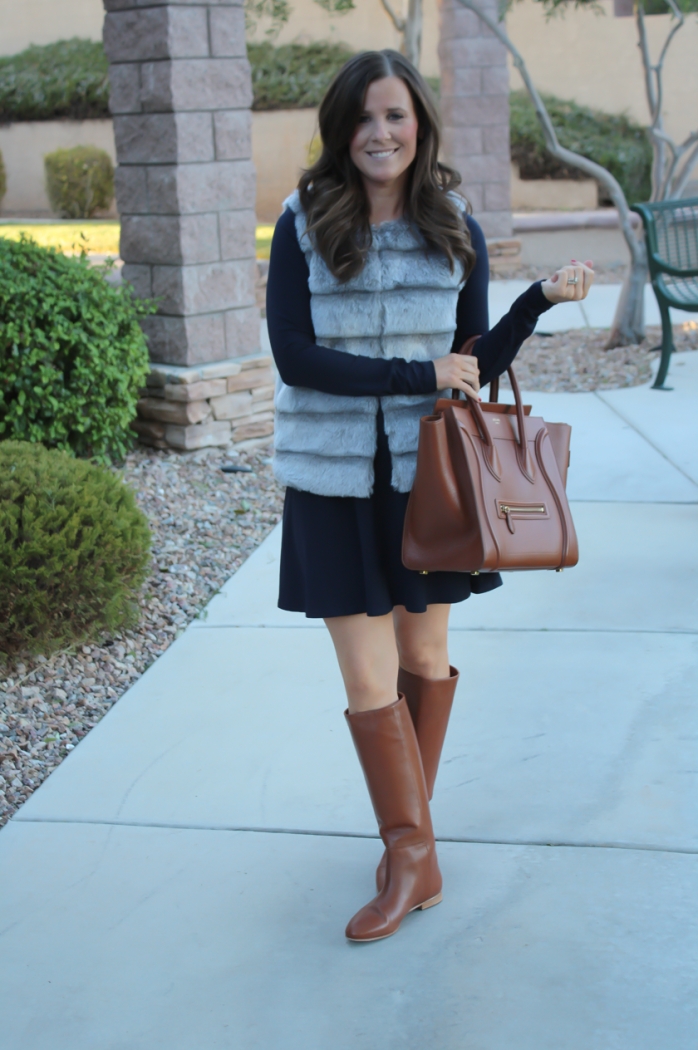 Susana Monaco : Dress (I'm wearing a size Small – it's fitted around my waist!), here (25% 0ff using code "HOLLYJOLLY")  |  Joie : Vest (Sale!  I'm wearing an XS)  |  Loeffler Randall : Boots, try these (Sale!!), these (Sale! – love the wedge heel!)  |  Celine : Bag, try this, this