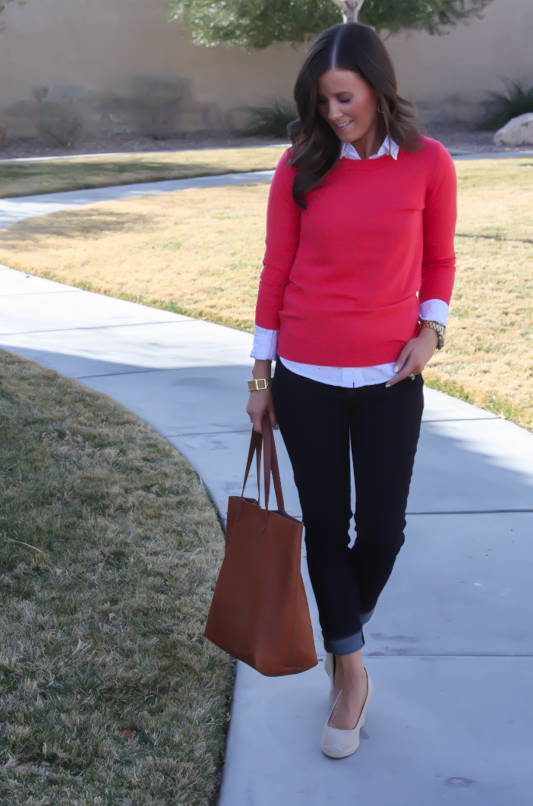 Is there anything more polished than a crisp, blue oxford shirt?  There's something eternally preppy about a collared shirt that I will always feel comfortable wearing.  While I have a fleet of oxfords hanging in my closet, the tiny little coral colored polka dots on this particular shirt were too adorable to ignore.  I immediately knew when I saw it that I would pair it with this perfectly matching crew neck sweater.
Let's chat about these denim leggings, shall we?  I've been looking for a few weeks now for a pair of super stretchy, super dark denim leggings and ladies, I found a pair that I'm really excited to share.  A few weeks ago I bought a pair of premium denim boyfriend jeans (seen here, here) that I really love and am still really happy with the purchase.  Because I didn't want to drop another $$$ on new jeans, I wanted to find a pair that were within the budget and seeing how I've been loving Gap denim for the past year or so, I figured it was a great place to start.  I think what I love most about these jeans (aside from the affordable aspect) is that they hug and feel snug in all the right places, and they have a great stretch factor.  There's nothing worse than pulling up sagging jeans as the day rolls on.  I bought these in a size 26 (2) but in the "short" length because I wanted them to have a slight cropped look and definitely not be touching my shoes.  Later on this week, I'll share them again and you can see what they look like uncuffed.  For the record, I'm also 5'3".  I highly recommend these jeans and if you're still unsure, take a look at the 100+, 5-star reviews on their web page of everyone else that sang their praises.
Have a great day, everyone!
J.Crew : Crewneck Sweater / Gap : Polka Dot Oxford  / Gap : Denim Leggings / J.Crew : Wedge Espadrilles, identical pair on sale at J.Crew Factory /  Madewell : Tote, similar here, here / Michael Kors : Gold Watch / J.Crew : Cork Bangle, loving this
And before I go…haven't y'all heard?!  Navy is the new black!  (…with a side of army green, of course.)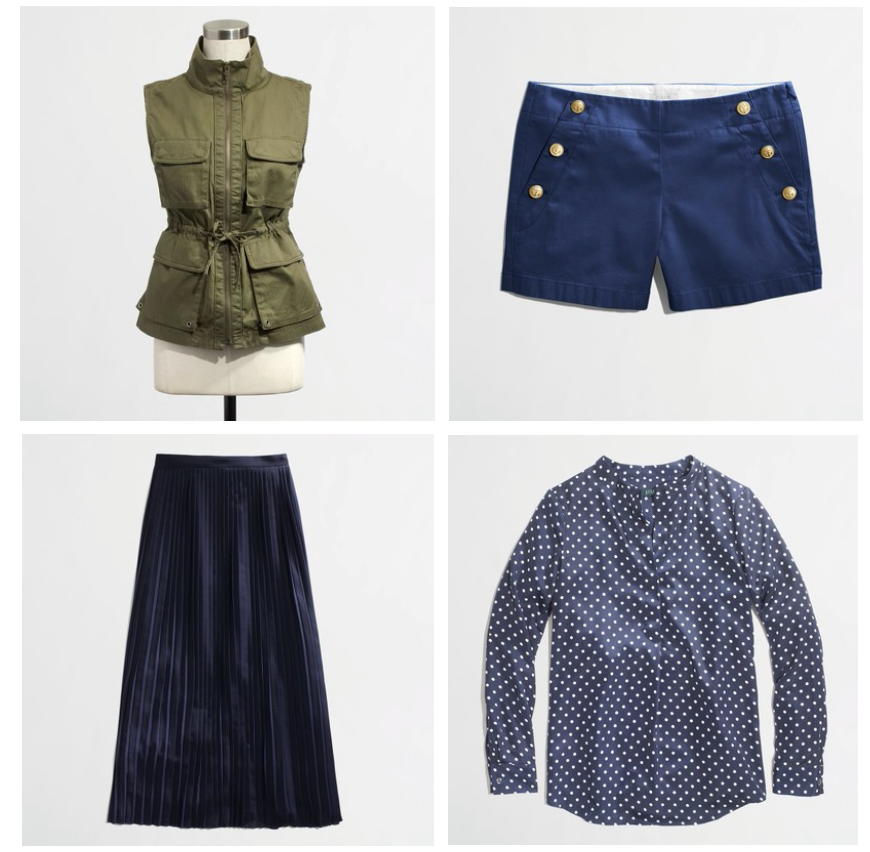 J.Crew Factory: Utility Vest / Nautical Shorts / Pleated Maxi / Polka Dot Tunic