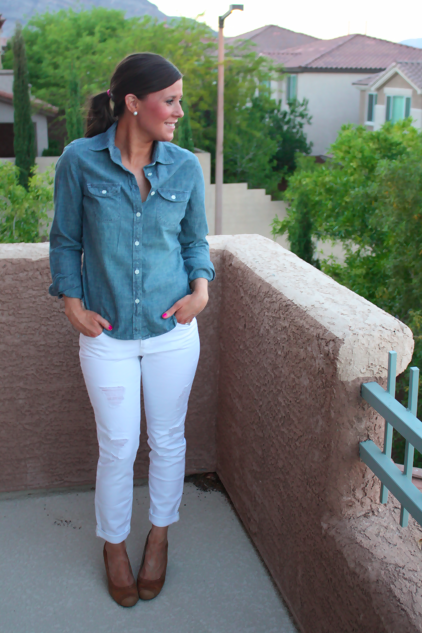 This is what happens when you're taking pictures in the small park across the street from your house and out of nowhere, about 10 kiddos and they parents come out for a relaxing evening and some playtime.  So, here we have the balcony off our master bedroom for a few shots.  Pretty, eh?
Today is my last white and blue day!  I know a lot of you have off for a long weekend and I hope you have some fun plans whether they be busy or relaxing.  Right now, we're somewhere in between.  Being a "stay at home momma", everyday is my Monday so while Curt's really looking forward to a day off, life for me is Groundhog Day.  I am, however, excited for an extra day with an extra set of hands!  Yay, holiday!
I wish I had a few more pictures to share but with a small lil space, there's only so much room.  You get the idea…
This outfit is simple yet put together.   I debated wearing some flat sandals but to be completely honest, I'm really loving a heel lately.  This outfit also transitions really nicely from day time with flats and a tote bag to night time with a clutch and some show stealing heels.  So versatile.
The chambray shirt made with one of those fabrics that literally goes with everything.  It even pairs well with denim, when done right, and that's saying a lot.  Chambray?  Is here to stay.  There are about 8 million different ones to chose from so chances are you're going to find the best one for you.  Check out my post later today for my favorite chambray shirts out there to buy right now!
I talked about my Seychelle shoes here but I have to keep saying, if you haven't tried anything on by this company yet, definitely give them a try!  They always cushion their foot bed for extra comfort and the leather is always top quality and so soft.  They remind me of Frye brand shoes but for a fraction of the cost!  Worth the look!
I hope you like today's look!  Have a great Thursday, friends!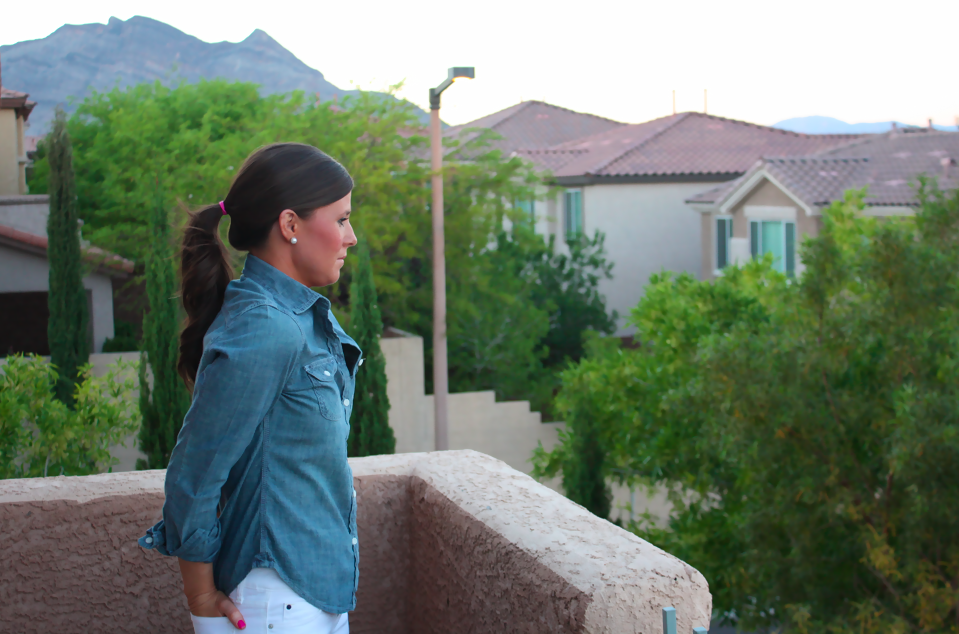 American Eagle Chambray shirt, simliar / Distressed White Jeans / Seychelles Shoes, similar