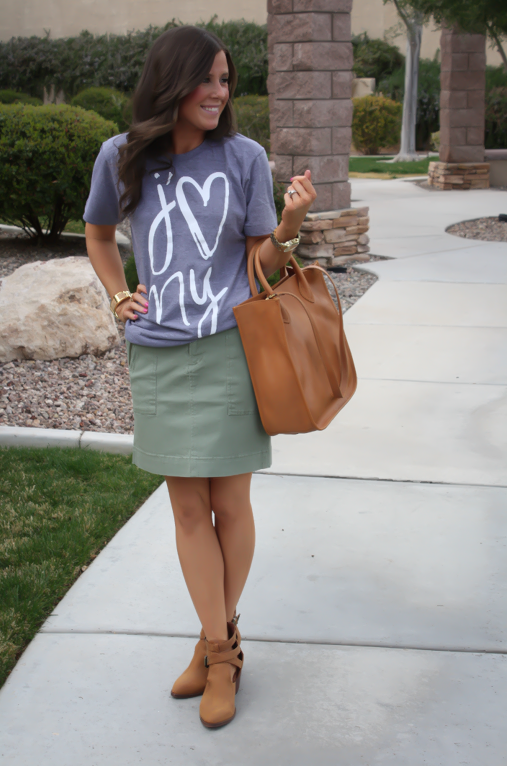 Oh how I love a really comfortable, relaxed, easy grey tee.  I'm serious when I tell you that every time I come across a really great, soft, well fitting grey tee…I don't even hesitate when deciding if I should buy it or not.  It's always a "yes".  (Yes!)
Now, on to the skirt!  How cute, right?!  I love army green and this cute mini has just a few subtle touches of hardware on the front pockets and two cute button pockets on the backside which manage to keep this adorable skirt really versatile and anything but boring.  (I sized up to a 4.  This little skirt is SNUG.)
Finally, let's chat about this sweet little tote I grabbed last week.  I know what you're thinking…another tote?!  But, here's the thing.  Designer bags will come and go but a label free that's affordable, versatile, functional, wearable….and all the other "-le" words you can think of…these bags are truly the most timeless options out there.  This bag has a long shoulder strap that's not to be confused as a cross body.  Don't let the store images fool you.  I'm 5'2" and when I toss the strap over my body the small handles are up pretty far under my arm.  So…there ya have it…that long strap is to make this a should bag, not a cross body.
Alrighty, friends.  Off I go!  It's Sunday night and I need to at least attempt to not start this week off at a sleep deficit.  Daylight Savings doesn't quite help that situation but I can try my best to get off on the right foot tomorrow by getting some quality sleep tonight!
Have a great week, everyone!  Thanks for stopping by!
Sincerely Jules : Grey Tee, or here / Old Navy : Mini Skirt (30% off at checkout!) / Jeffery Campbell : Cutout Booties / Madewell : Tote / Michael Kors : Gold Watch
Down below, you'll see a few things I've worn recently…along with a few things you'll see me wear this week that are on promo at J.Crew.  Because who doesn't like 25% off their order?!  Tell me, did you grab anything great during this promotion?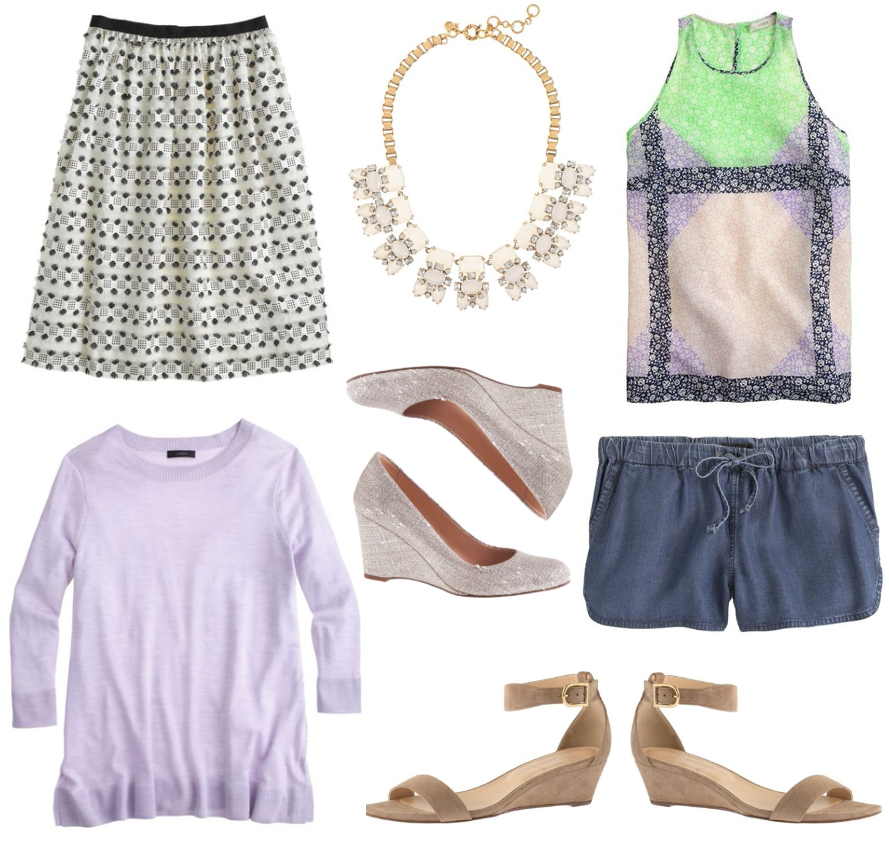 Collection Skirt / White Stone Necklace / Window Pane Sleeveless Blouse
Merino Tunic / Shimmer Wedges / Chambray Shorts / Low Suede Wedges