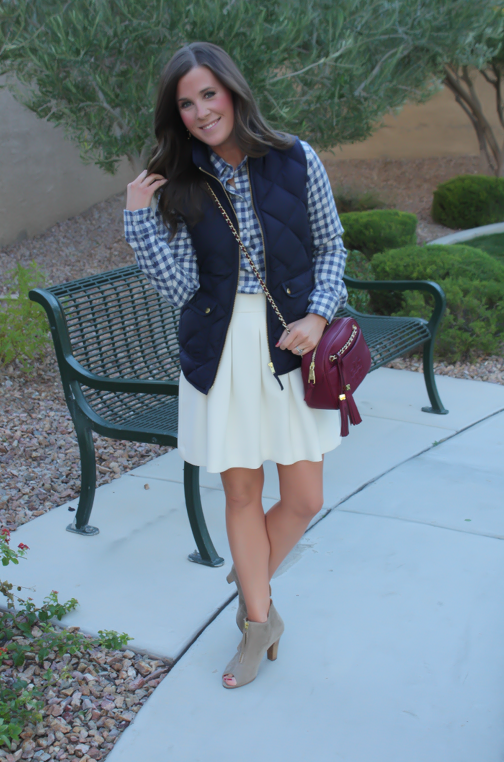 Friday, you beautiful thing, you…  Welcome back!  We missed you so!
A few days ago, I shared a MASSIVE POST of current sales/favorites and told you that I have fallen in love with a new flannel for fall and winter.  What's so special about this one?  Well, first of all, the fit is fantastic.  It's slimming, but not tight, and wears so nicely under layers or even tucked in, like I did today.  Second, they're so comfortable and soft!  Comfort is key, yes?  I'm about to stock up on all the patterns and colors they have available, friends.  It's a fabulous shirt.  Make sure, though, you grab the "flannel" soft wash shirt, and not the regular cotton.  While they both fit the same, this one tends to be just a little bit warmer.
Did anyone happen to pick up this ivory skirt?  Please tell me you're loving it as much as I am…  Clearly, as I wear it about every single week.  Oh – and vests, too.  Vests = Love.
Have a great weekend, everyone!  Thanks for visiting me!
J.Crew : Vest, try this, this  |  Banana Republic : Flannel Shirt (30% off using code "BREXCITED")  |  Banana Republic : Skirt (sale!), try this  |  Paul Green : Booties (sale!), try these, these  |  Tory Burch : Bag, here, here
I've been having so much fun digging through the archives and finding some of my favorite pieces on sale!  These boots are casual perfection.  All I can tell you is that the sole of this shoe is like a soft cushion for feet.  I mean, come on!  Can all my boots be this comfortable.  I love the slouchy look, too, because the suede just looks so effortless and you get that little something extra around your legs with little restrictions.  Oh my word, they're the best.
Also, this scarf is one of my most worn and the one that receives the most compliments.  It's so great for styling and I love how it's not too thick and heavy but still has that fuller appearance.  Grab this pretty little thing and wear it all year long!  Red knows no seasons!
Joie : Boots (sale!)  |  Love Quotes : Scarf color, True Love, or try this one (sale!) – same color and overall size, just doesn't have the tassels, only "eyelash fringe" at the ends.  
Visit original post here.