I wish I had an outfit post for you today but evidently Pennsylvania is in the midst of an unplanned monsoon season and the past few nights, instead of having fun taking pictures of new outfits, we've been trying to talk our 12 year old golden retriever off a bridge when the smallest rumbles of thunder ripple in the night.  No worries, as this weekend I'm really excited to take (enough…) pictures for the week of some really fun new finds!  So for this morning I bring you some "cheap thrills" from Forever 21.
But, before I get started, let me say a few things  and offer some tips about F21:
-Go straight for the polyester and rayon fabric pieces.  While F21 might not make the most durable clothes, you do get what you paid for and before you judge cheap fabric, take a look at some of your "expensive" tops and see what their labels read.  (Hint, it's probably polyester…).  Also, to me, cotton knits from there don't last as long and always look weird after you wash them even when following the directions.  Polyester is like a faux silk and you can easily hand wash at home.  It hardly ever loses it's shape and probably won't fade over time.
-Shop online!  Lordy, I can't deal in there.  My head spins and I honestly don't know where to begin.  I've yet to figure out the layout when I'm in there and until then, you'll find me clicking and submitting from the comfort of my own home.
-Love 21 is a "store within the store" that often gives options that don't run as small…everywhere.  It's maybe $10-20 more expensive but, again, you get what you pay for…  It's a little bit nicer, I guess you could say?  It's more for the Forever 31's, like myself…
-Think outside the box!  I'm not super trendy so when I see some mismatched looks on their website, I try and look at each piece individually and know that I can wear it more to my own taste and style when I get it home.
Here's what was cute enough for me to make it's way into my virtual shopping cart this week!  Easy, pretty, fun options for summer!
Does anyone else find that they often have good luck at Forever 21?  What's your secret to success?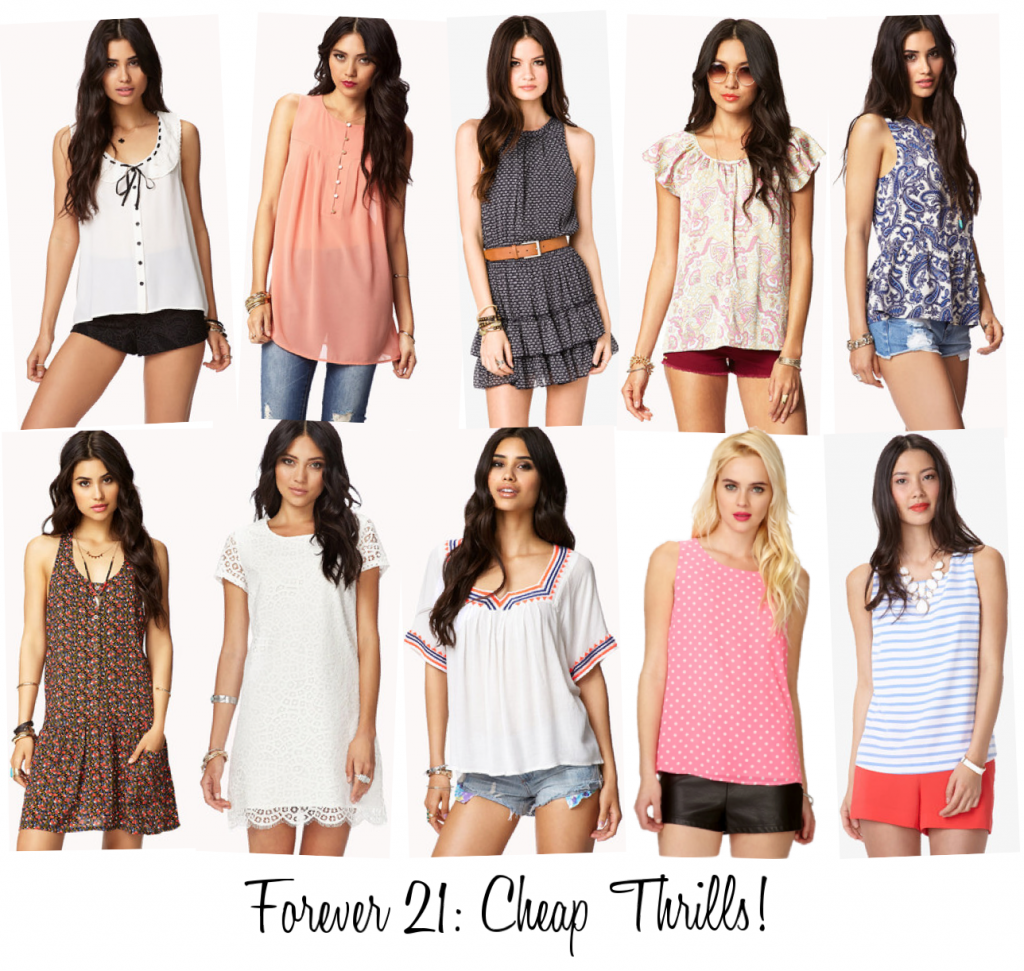 First Row: Black and White Blouse / Coral Tunic / Floral Dress / Pink Paisley Blouse / Blue Paisley Peplum
Second Row: Floral Dress / Eyelet Dress / Peasant Blouse / Polka Dot Blouse / Striped Blouse