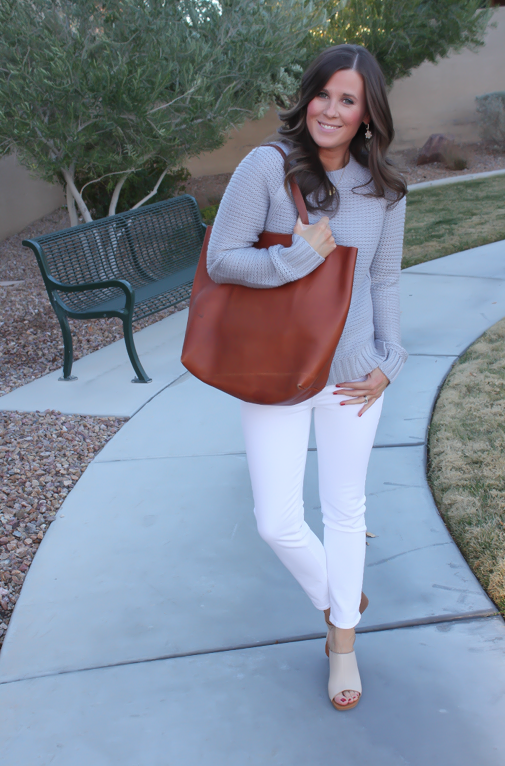 First off, I promise I'll stop hiding behind bags – asap.  What is that?!  Of course, mostly I'm just getting used to my newest love but, ya know, we're still in that middle stage where it just looks a little like too many treats over the holidays.  It's mostly a habit now that I'm sure will fad away!
Today's big winner is definitely going to be the fact that I finally, finally, FINALLY….found white jeans!  Yes, friends, finally.  I mean, whyis this so hard?!  Well, in the past, here are the few things that constantly came with new white jeans and why they never worked out with me.  I can't stand when the material isn't thick enough (see through!), when it isn't snug and stretchy enough (sloppy!), and when they're too dang long.  Being 5'3″, you can imagine that this happened pretty much every single time.
That being said, here are the few things that made today's pair my new all time favorites.  First, I love that their cropped.  They're the perfect length and require no alterations or cuffing.  I'm always worries that they're going to be too sheer and as soon as I tried them on, I knew they were plenty thick and definitely NOT see through.  Finally, they have a comfortable and snug stretch to keep the jeans tight and in place.  All around fabulous pair of jeans that are just weeks away from meeting my newest bella band.
I wore this awesome sweater over the weekend in ivory (See here) and when I first picked it up in store, my initial reaction was to how soft it was and how much wear I could get throughout the year.  It's not wool and definitely could be your go-to warm sweater in the spring and fall when you're not in the mood for winter-wool.  It does run fitted so I opted for a small, not an x-small.
Las but not least, this is going to be the summer of the "wedge" and the "mule" sandals, heels, shoes…whatever.  I'm clearly obsessed!  Of course, I love a wedge platform because you get the advantage of height but not the discomfort of a stiletto.  This pair was an immediate win.
Have a great Monday, everyone!  Cheers to a fab week ahead!
Banana Republic : Grey Sweater (40% off using code "BRYOU")  |  Banana Republic : Grey Tee  |  J Brand : White Jeans  |  See by Chloe : Wedge Sandals (25% off using code "MUSTHAVE" through today!), here, here, here  |  Madewell : Tote

…and on Insta :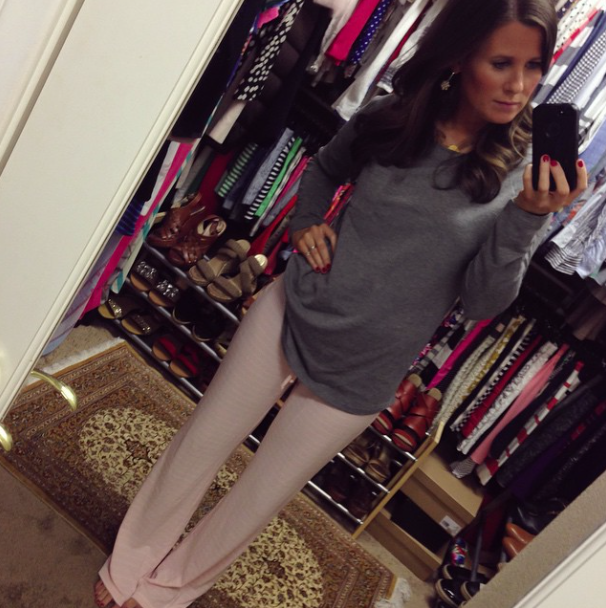 Lounge Shirt  |  Lounge Pants (silky smooth and soft to the touch!) **Both 20% off using code "TREAT"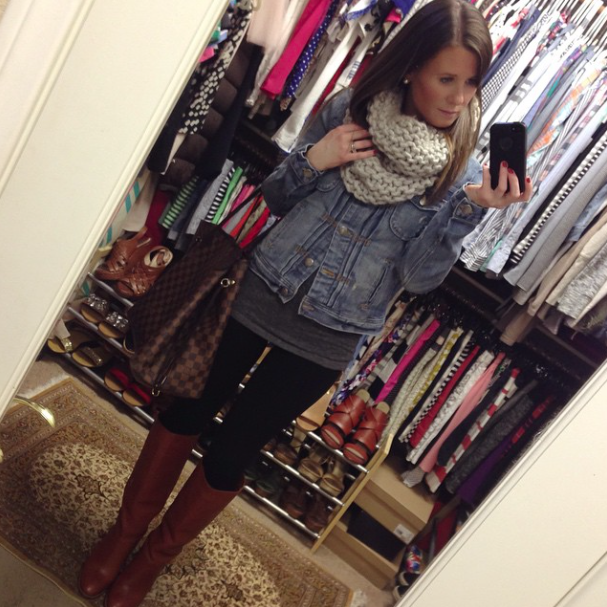 Denim Jacket  |  Grey Tee  |  Leggings  |  Scarf (seen here on in one of my favorite outfits this past fall!) |  Boots  |  Louis Tote
I'm sharing my Piperlime favorites again today because they're running another promo that ends tonight!  You can grab my wedges from today's post for 25% off!  Use code "MUSTHAVE" at checkout!