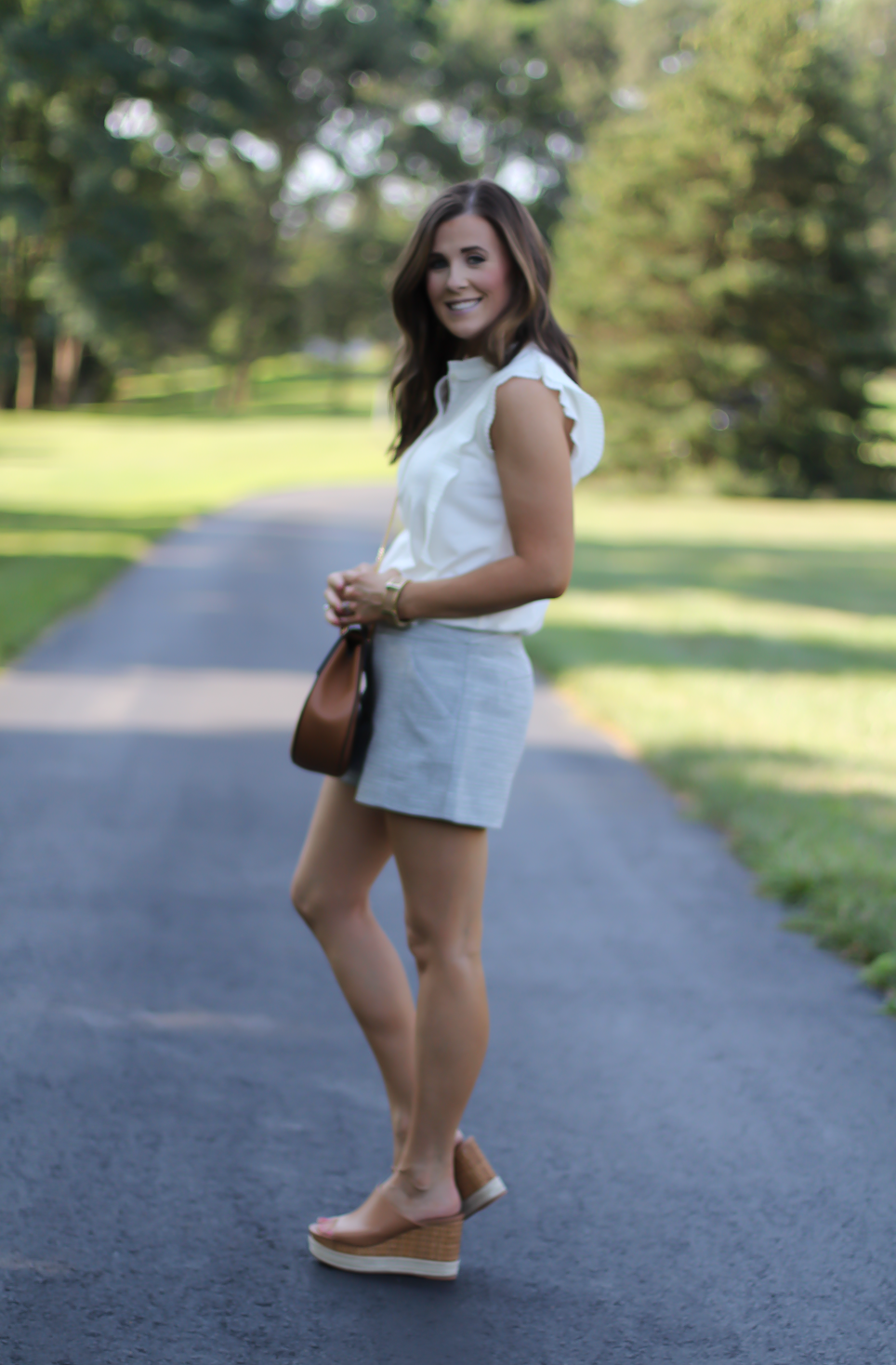 Hey everyone!  Blogging from the car today while Grace naps and Ava complains about being bored to tears.  So fun, right?!  Haha – the next few days are going to be trying, I won't lie, but I've got my eye on the prize.  #husband #home #family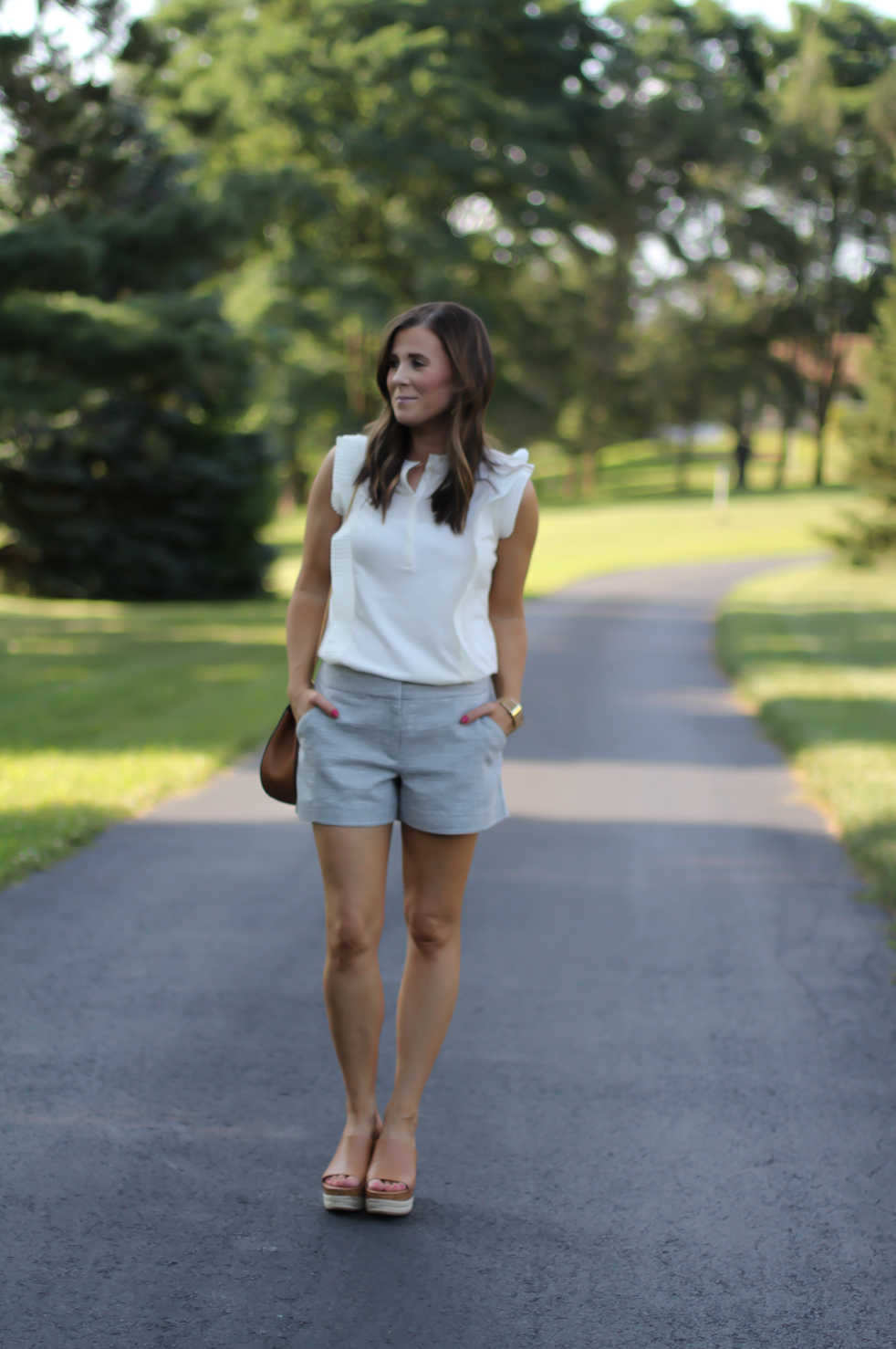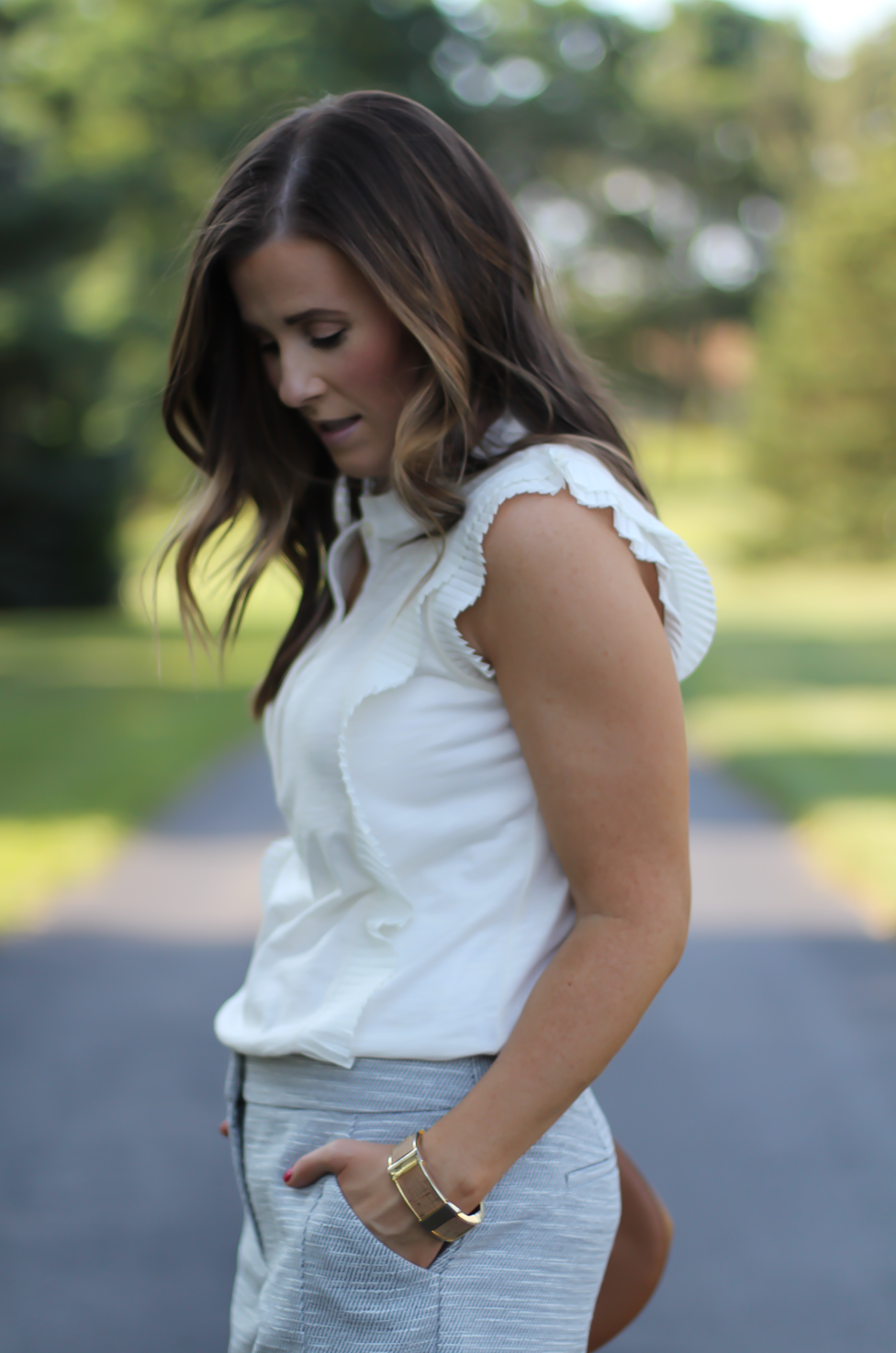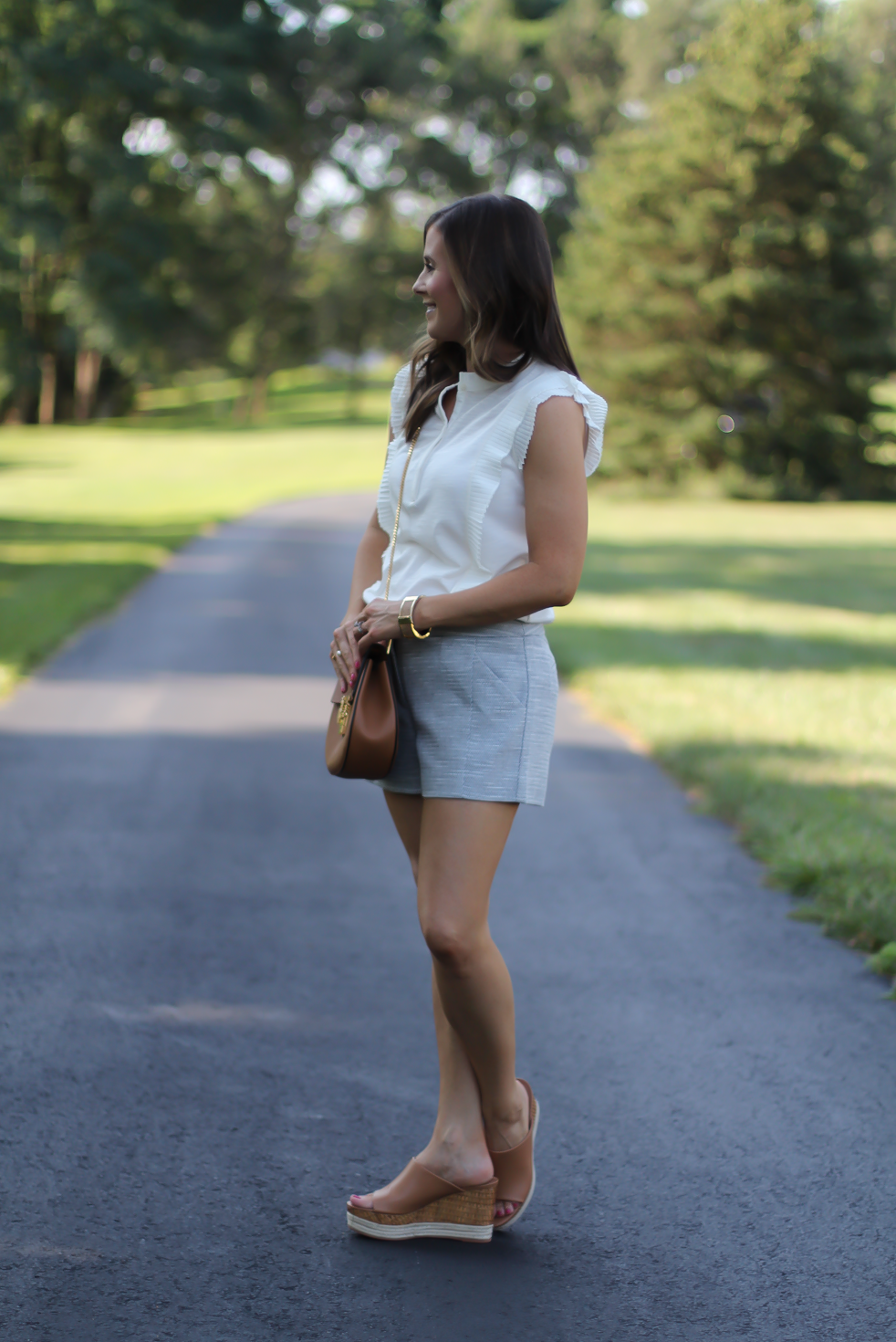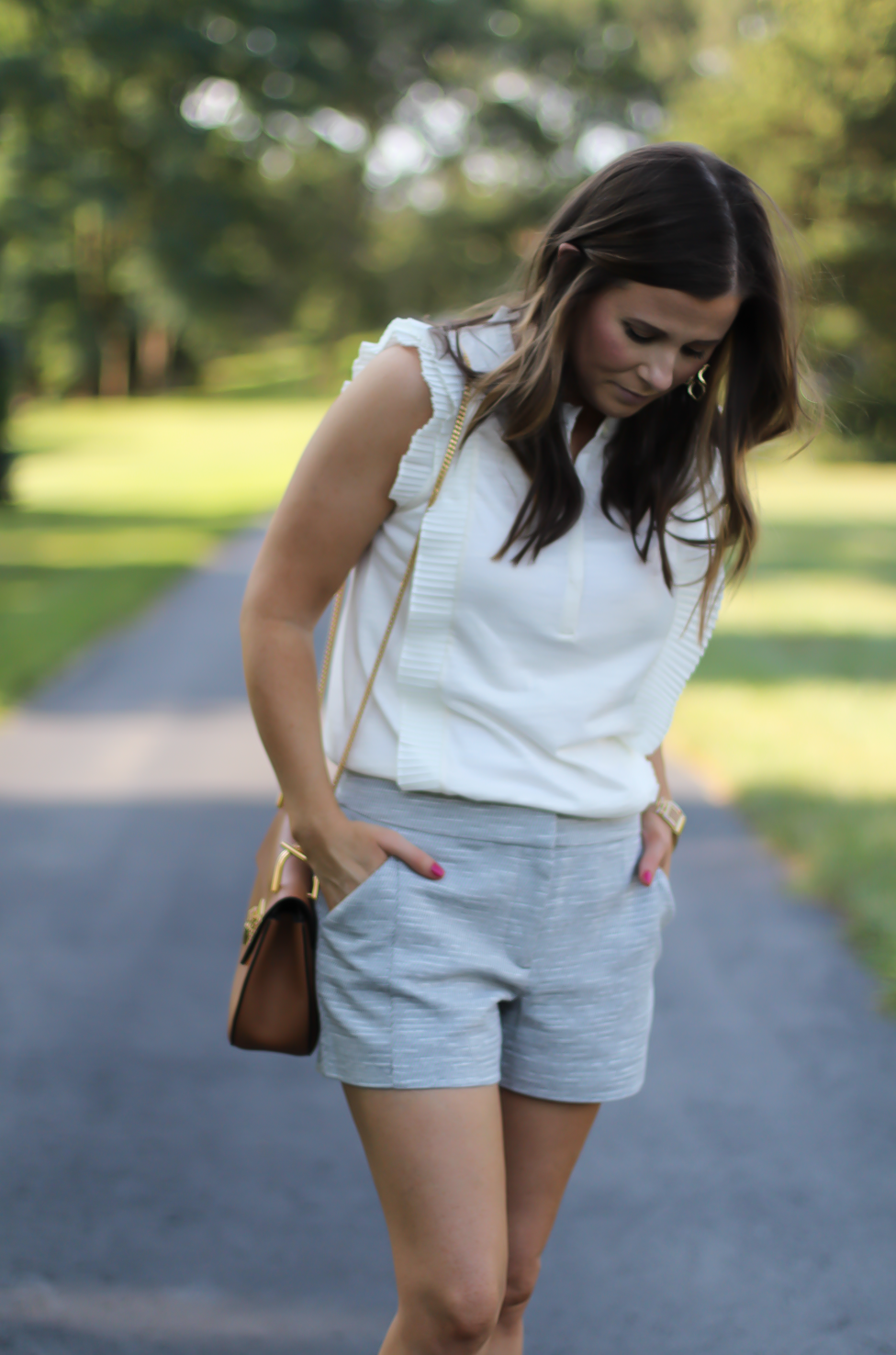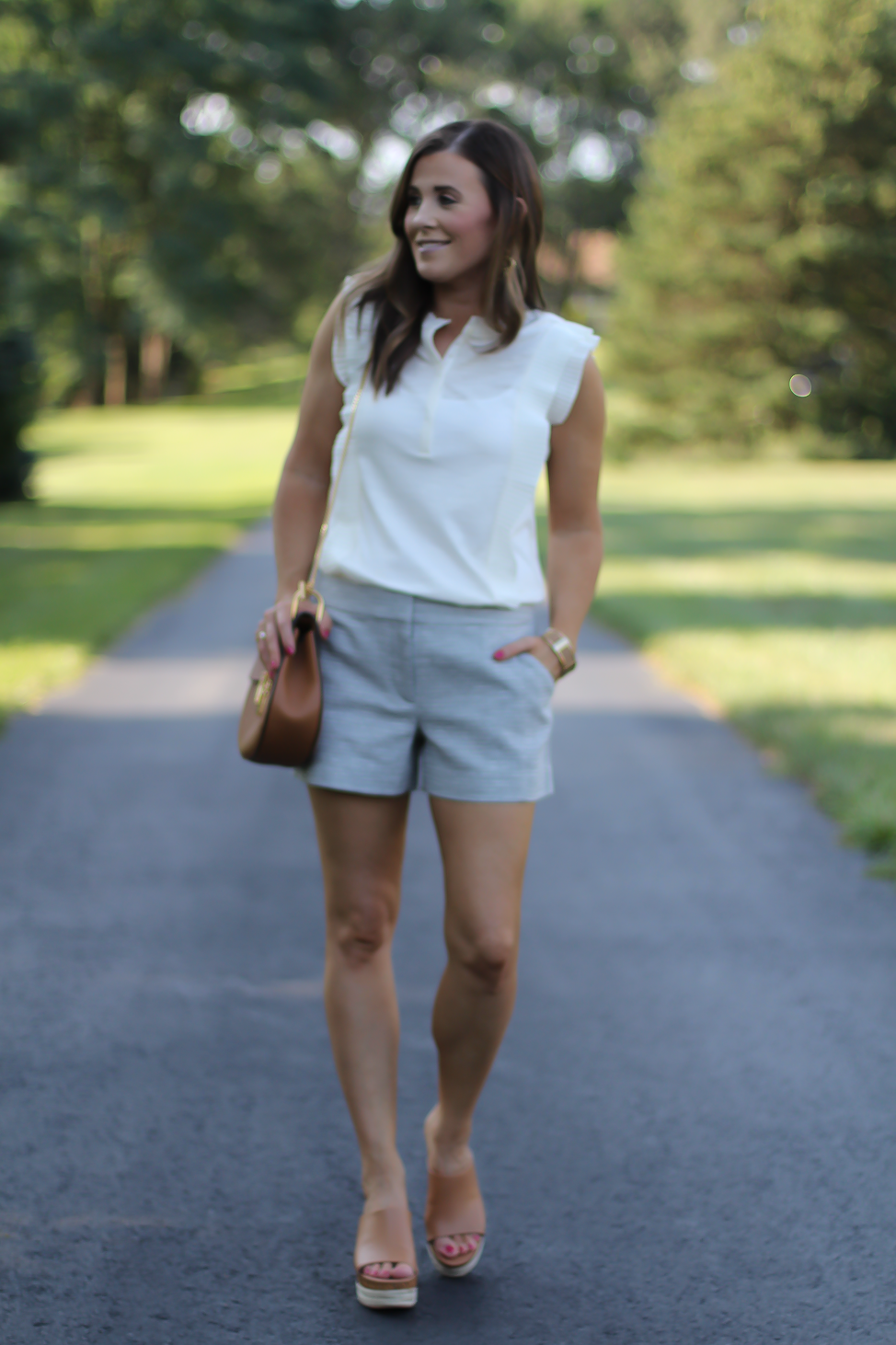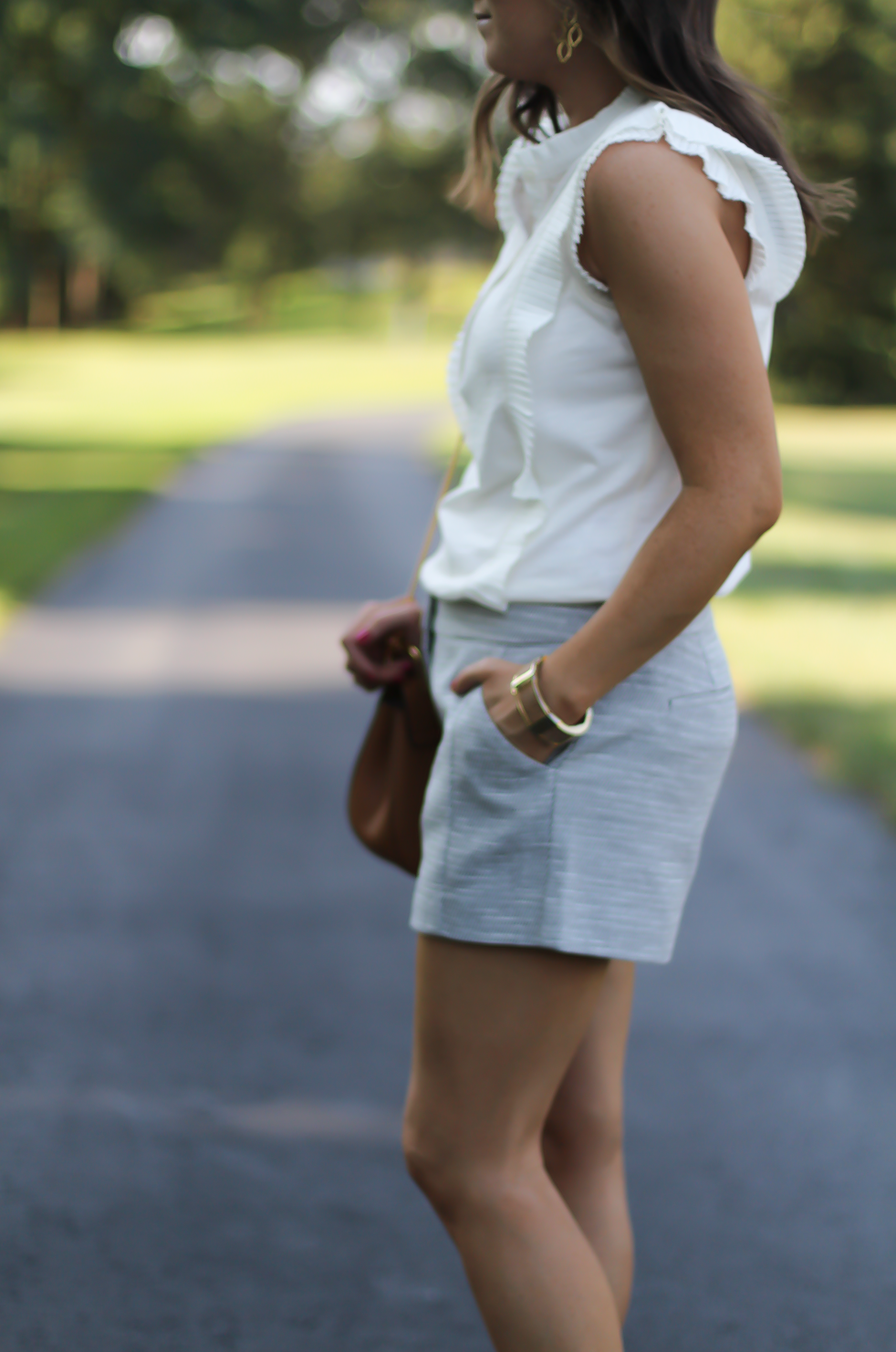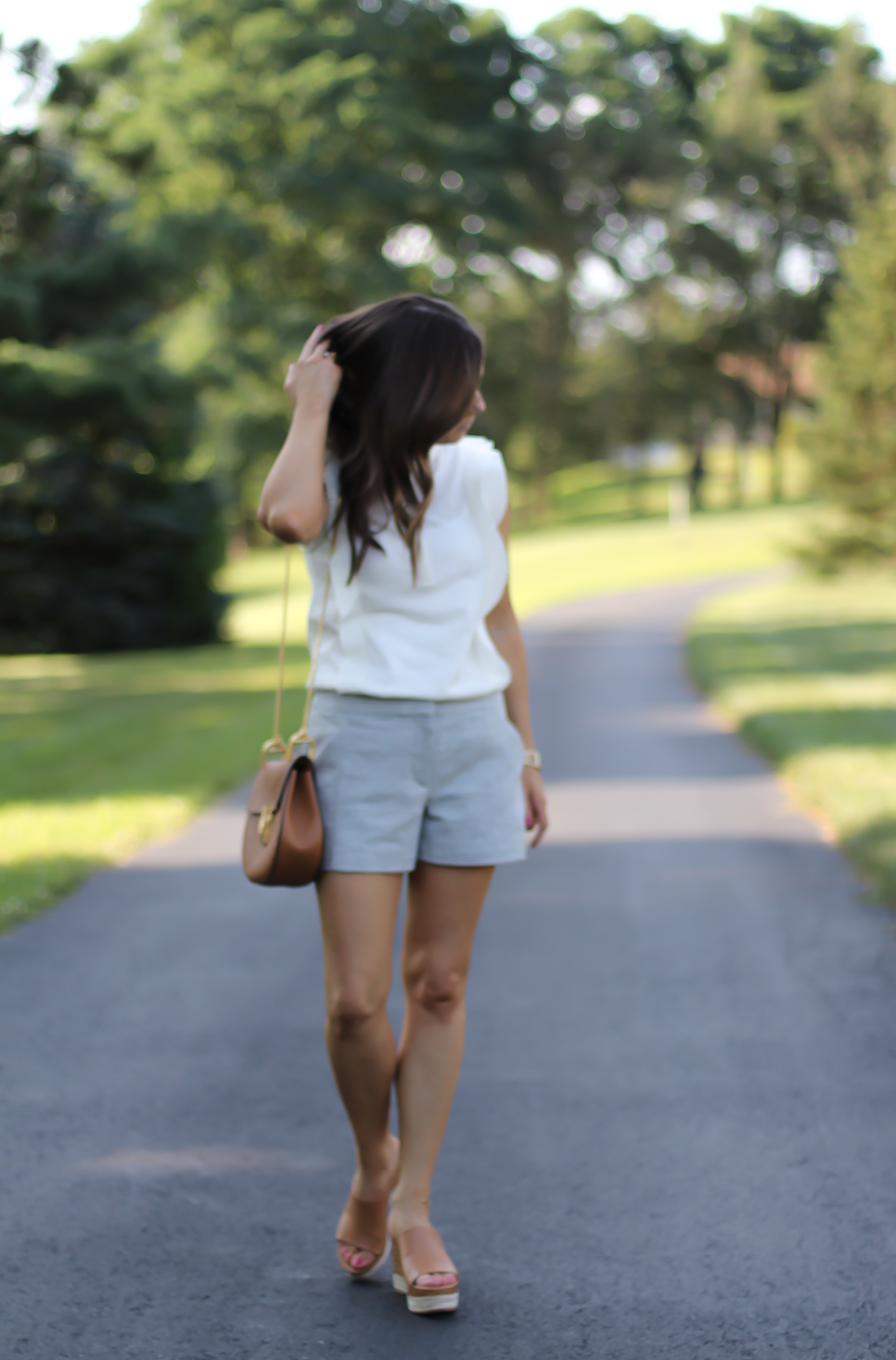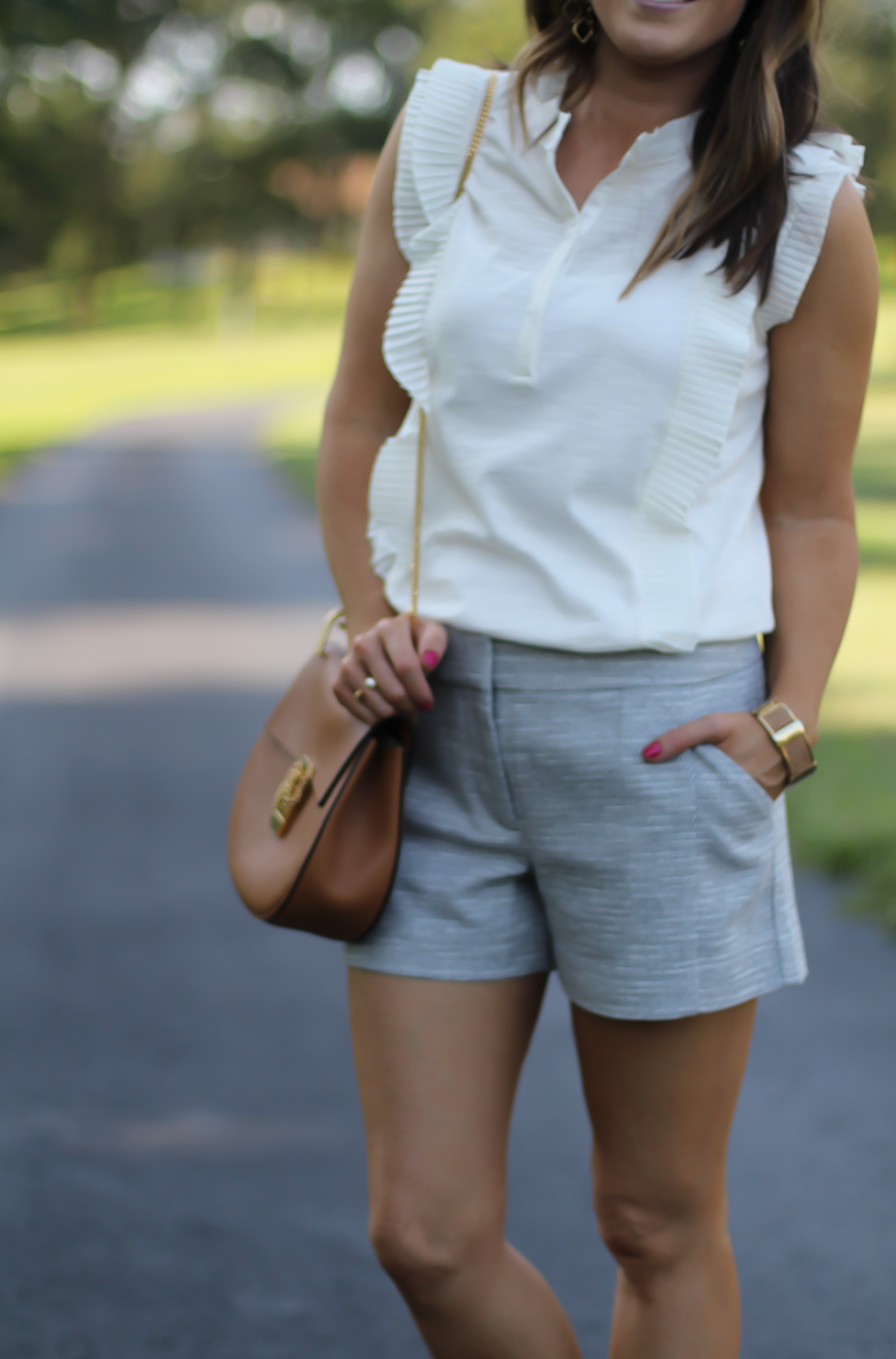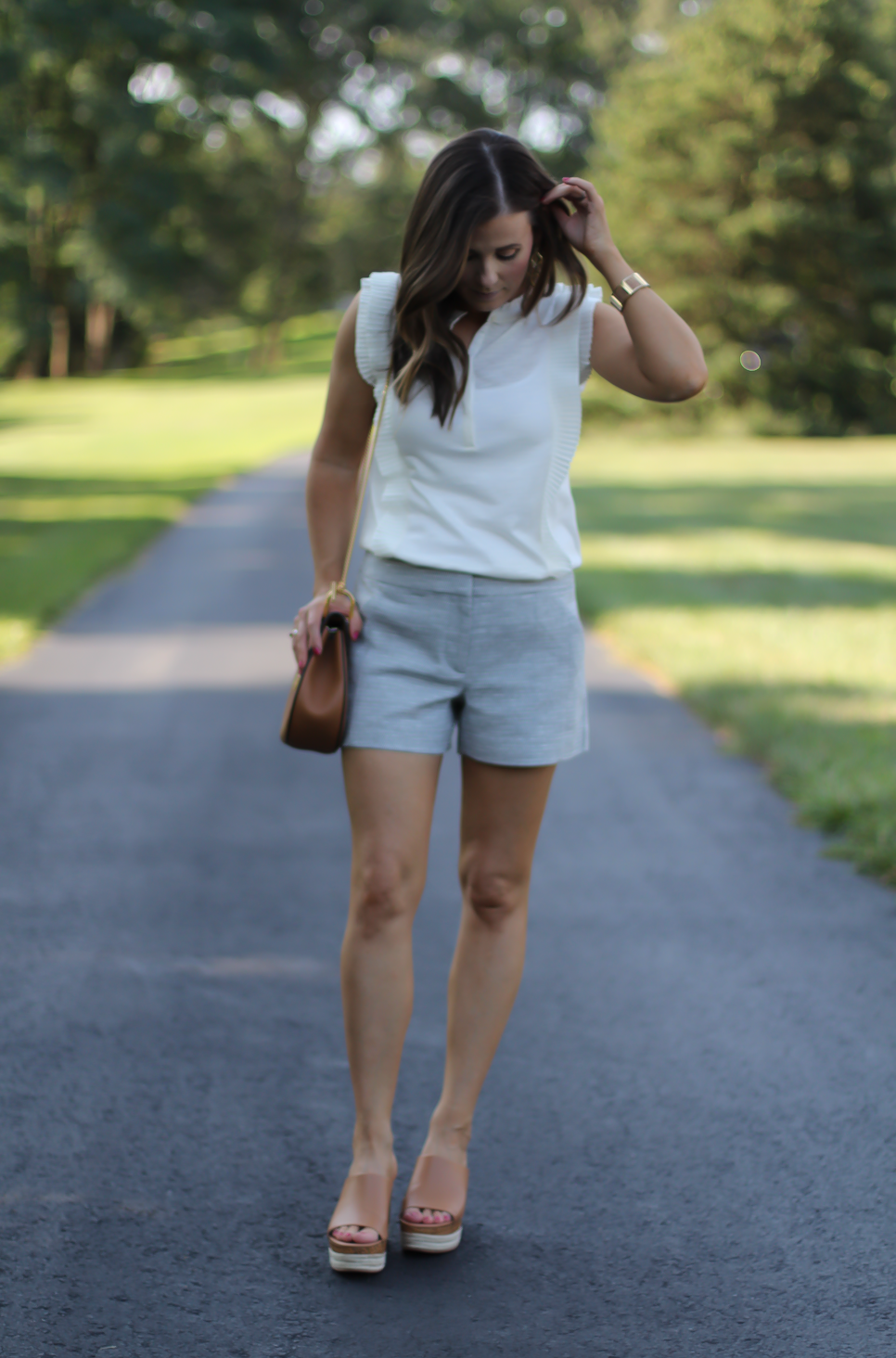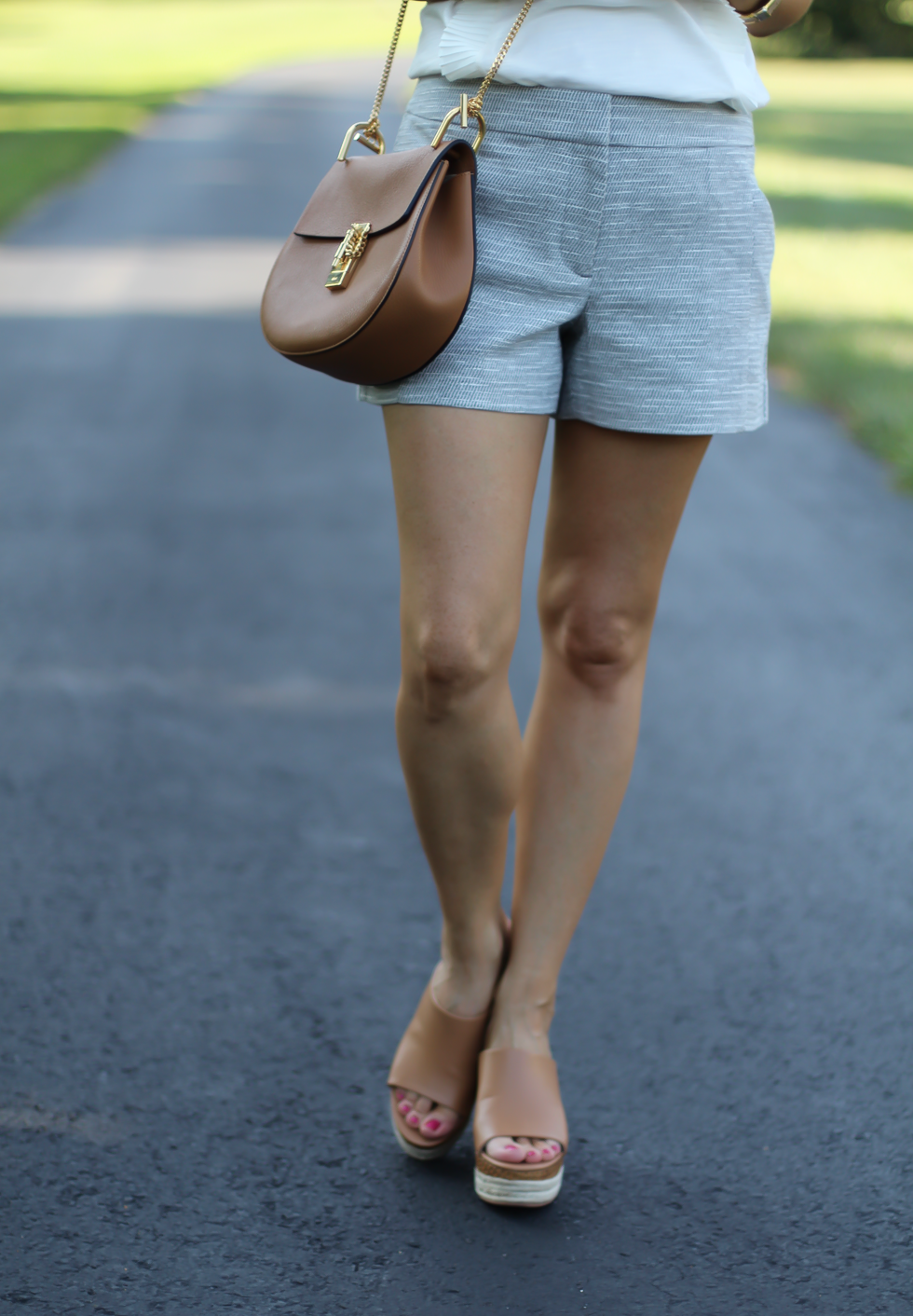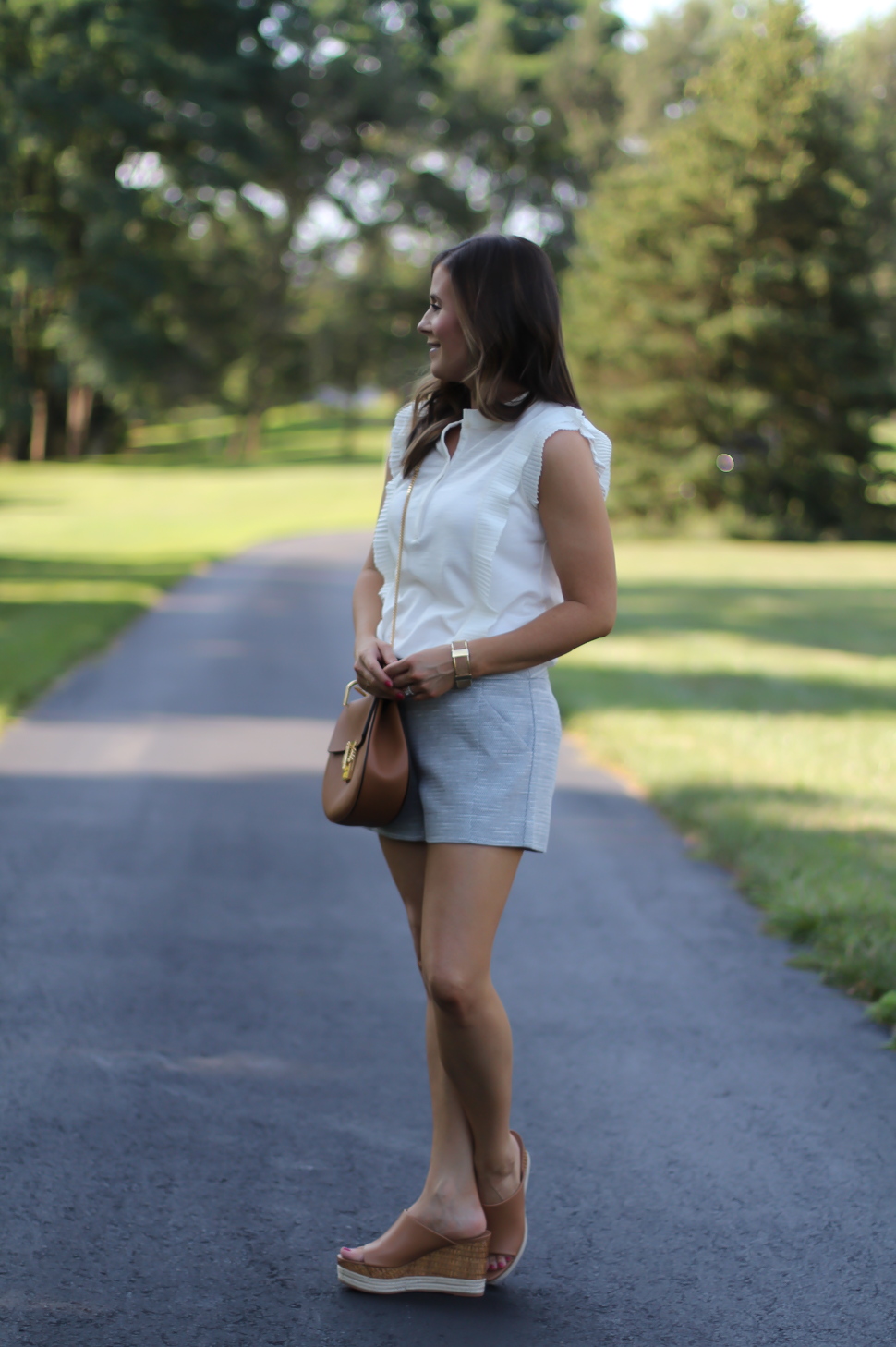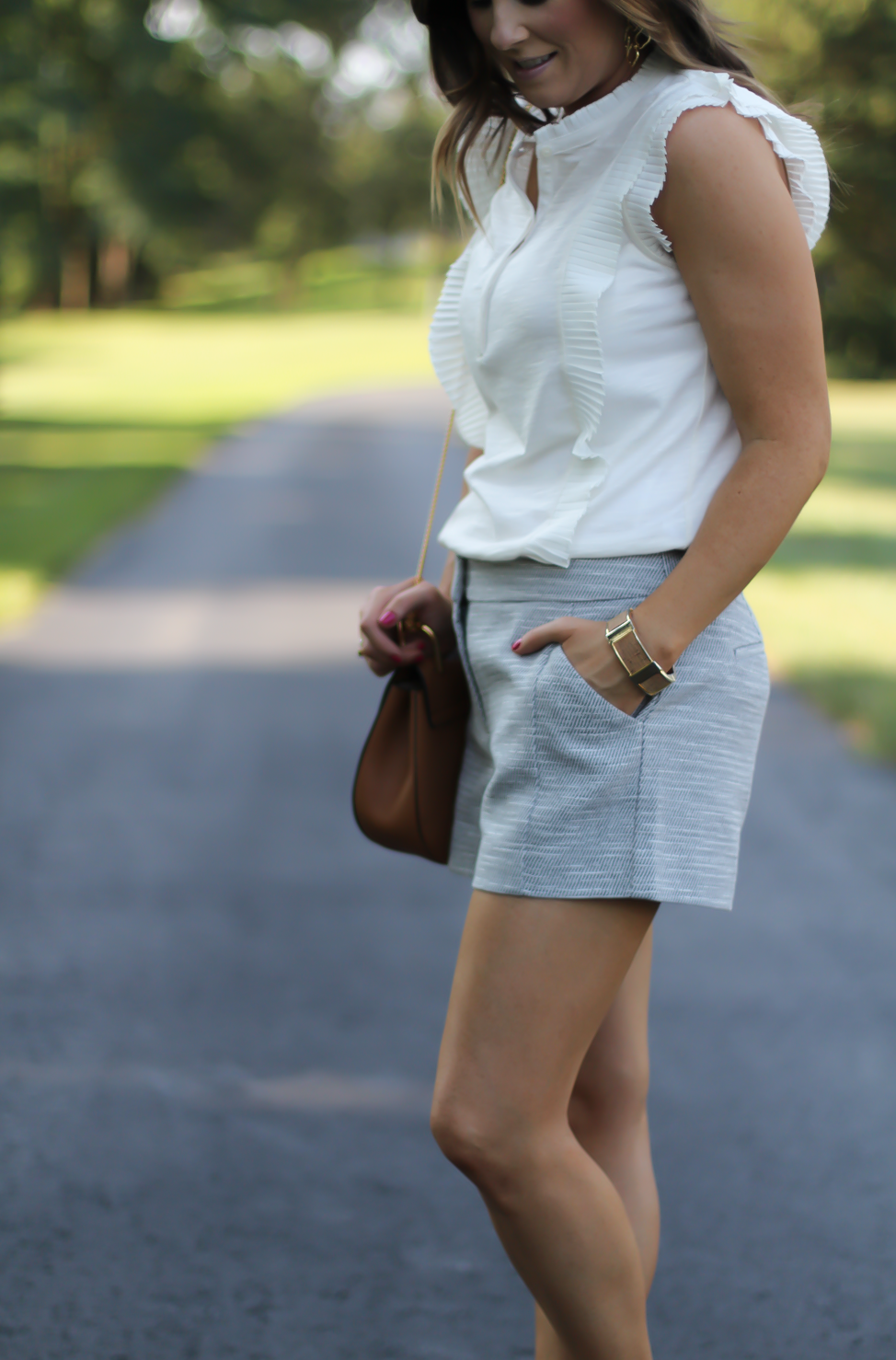 Loft : Tweed Shorts (TTS, I'm wearing a size 2)  |  Banana Republic : Ruffle/Pleated Trim Top  |  Ferragamo  : Wedges, try these, these  |  Chloe : Bag, try this, this
Have a great day, everyone!  Be sure to see what's new with Rodan + Fields down below!  I've got a freebie on top of a freebie!  Well, my team does!  We are all offering a FREE EYE CREAM in addition to the FREE ACUTE CARE!  Shoot me an email if you're interested and I will get you connected with the awesome girls I work with and they will help you get your order placed AND your thank gift on the way!
On Instagram yesterday, I shared that Rodan + Fields is running an awesome promotion right now!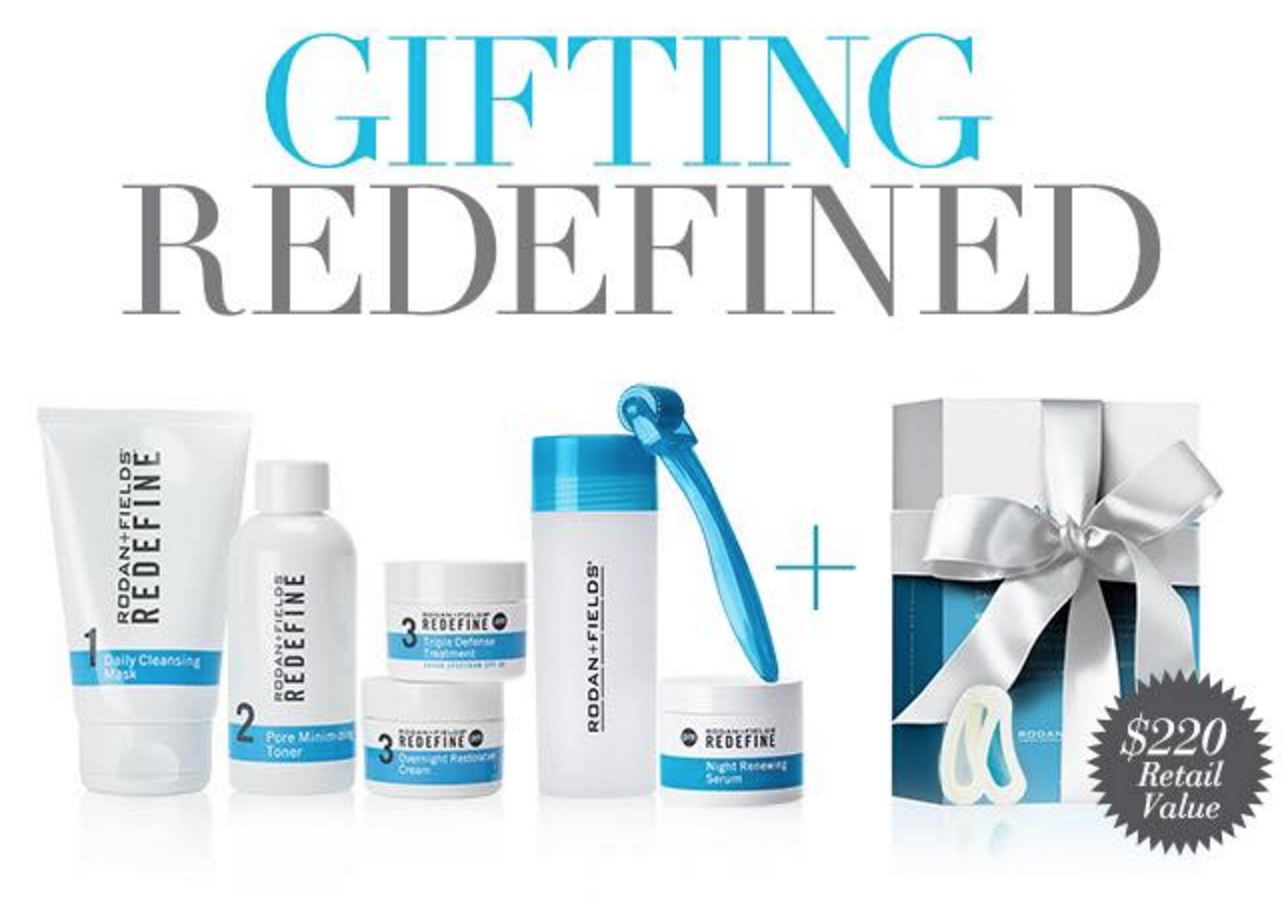 What we refer to as the Anti-Aging Trifecta : Redefine, The Amp MD System, and Acute Care are now being offered as an insane deal.
I literally had to read the email 3 times and in between the lines to figure out WHAT the catch was…and there isn't one!
If you sign up as a Preferred Customer (or if you're already one of my PC's!) and you purchase the Redefine Amp It Up + Acute Care Special, you get an entire box of Acute Care FOR FREE.  It's a $220 "thank you" for being such awesome customers!
**I know some people hear "preferred customer" and think – no thanks, I don't want the commitment!  Well, think of it as a convenience as opposed to a commitment!  5 days prior to your every 60 day order, you can delay it without penalty!  Super easy to opt out and then come back when you're ready.  
Don't forget – you have 60 days to decide whether or not you love it (we have a less than 2% return rate!) and if you're not happy (you will be!), you can send you empty bottles back for a complete refund.
We're also in major anticipation of a BRAND NEW product that's going to be announced this fall at our convention in Las Vegas and while being a Preferred Customer already comes with it's own set of perks (10% off + Free Shipping), you'll also be one of the first to hear about all our new products!  It's going to be HUGE!
Still not sure?!  Check out a few videos (each are around 2.5 minutes and very informative!) down below to learn a little bit more about our #2 BEST SELLING Premium Skincare in the U.S.!  We are Multi-Med (using the right ingredients in the right order), Clinically Proven, and Dermatologist created.  We are literally the LAST stop you make before you see your doctor.  Our regimens offer the same medicinal ingredients that you would get from your dermatologist but at a lower percentage so we can offer them over the counter.
As always, just one cream isn't going to be a magical fix all…  Be patient and be consistent for best results! 
EMAIL ME : thenortheastgirl@gmail.com to get started!  
More about the Amp MD System from Rodan + Fields Dr. Tim Falla, PhD
And how easy it is to us the Amp Roller (1 minute a day!) with Nurse Mary
More about Acute Care and how you can Fill a Wrinkle while you sleep!
And finally, more about our #1 Best Selling Anti Aging Regimen