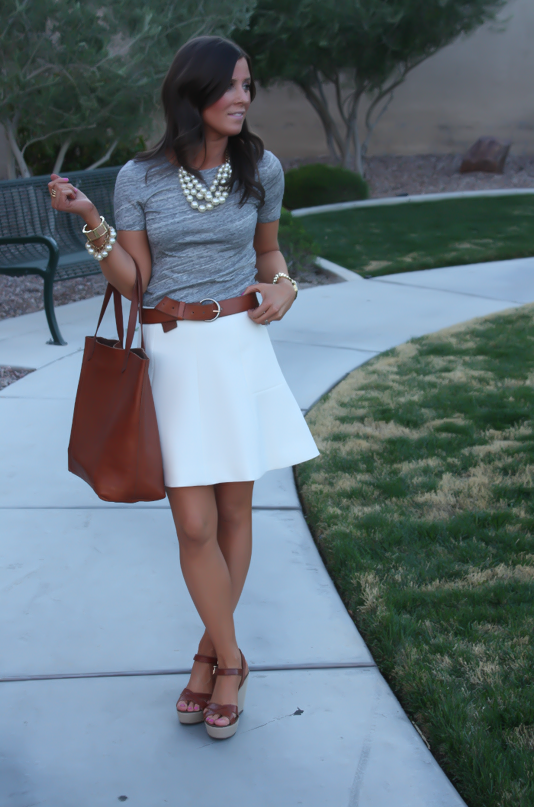 A few days ago, I professed my love for this fluted skirt and dressed it up, just a smidge, to show you all how I would wear it for a girls night out…or even a date night with my main squeeze.  You can see what it looked like here.  I also mentioned that I was excited to take a more casual approach in the same skirt because I really felt like it could go both ways!
So, here we have an ivory + grey + cognac color combo that brings together three of my favorite neutrals.  A splash of pearls on the side and I'm all set.  Nothing too crazy, nothing too complicated…just easy, casual, but classic.
Has anyone else fallen in love with this skirt?  I can't even begin to envision the possibilities with ways that I can incorporate into my wardrobe…all year long.  Loveeeee, love, love.
Thanks so much for the visiting this week!  Have a great day!
J.Crew : Skirt (25% off using code "HEYSPRING") / J.Crew : Grey Tee (25% off using code "HEYSPRING") / J.Crew : Wedge Sandals, try these, these, these / Gap : Belt, try this / J.Crew : Necklace, try this, Bracelet (25% off using code "HEYSPRING")/ Michael Kors : Gold Watch
Before you go!  These printed skirts from Gap are SO cute! The floral one is a "must have"!  They're on PROMO, too! (use code: "DEALFORU" at checkout!