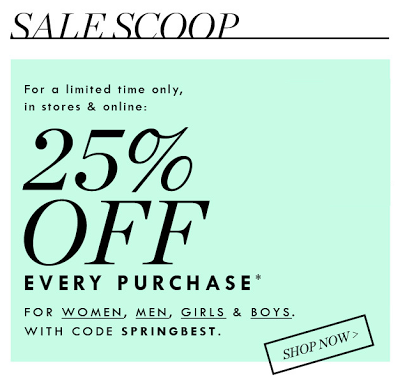 Image via JCrew Aficionada
Has anyone else noticed that J.Crew is running, quite possibly, the longest running promo, ever?  It's been extended, twice!  It's still 25% off your entire purchase, no minimum purchase, through May 4th.  Uh, hello!  Mother's Day gifts, anyone?!
This week, I'm going to try and post my top picks for you!  Some I'm lusting and some, well, are already on their way into my closet.  Has anyone scooped up anything great lately using the promotion?  Leave me a comment and let me know what you bought!
Today, it's all about the shoes!  Where do I even begin?
First off, the Lillian Wedge is perfection.  It's not too high yet manages to extend the leg and give you just enough lift without sacrificing comfort.  There's a reason most of these color options are backordered!  While I continue to obsess over the wedge, J.Crew simply sold me on this sky high Wessley wedge because I've been looking for a navy sandal and the platform on this shoe will offer some support even though they're fairly stacked.  Plus, a wedge offers stability comfort that a regular heel will not.  Finally, I was so excited to see my favorite espadrille in black!  This shoe needs no explanation from me.  Cute and casual.  I love them!  On the opposite edge of the spectrum, I can't wait to pair these Superga kicks with some cropped jeans or my chino shorts.  So perfect for comfort without sacrificing your fashion when looking to give your tired soles a break.