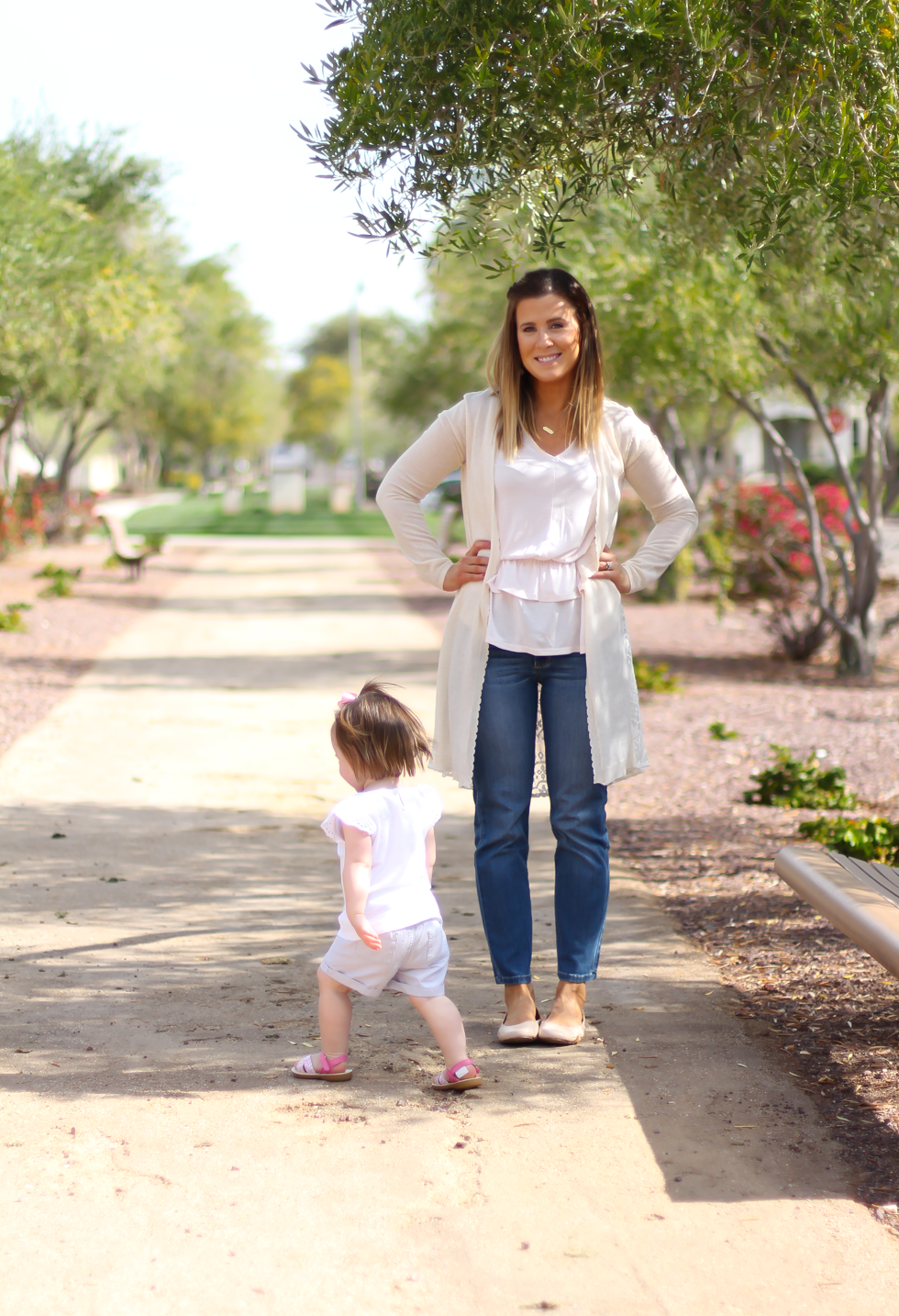 And, just like that, she's 19 months old and on the go!  As you can clearly see!  Grace Elizabeth is sassy, sweet,and full of energy all day, every day.  She keeps me busy and before I know it, she's going to be running off to Kindergarten so I'm doing my best to soak up as much as I possibly can while she's still at home with me every day.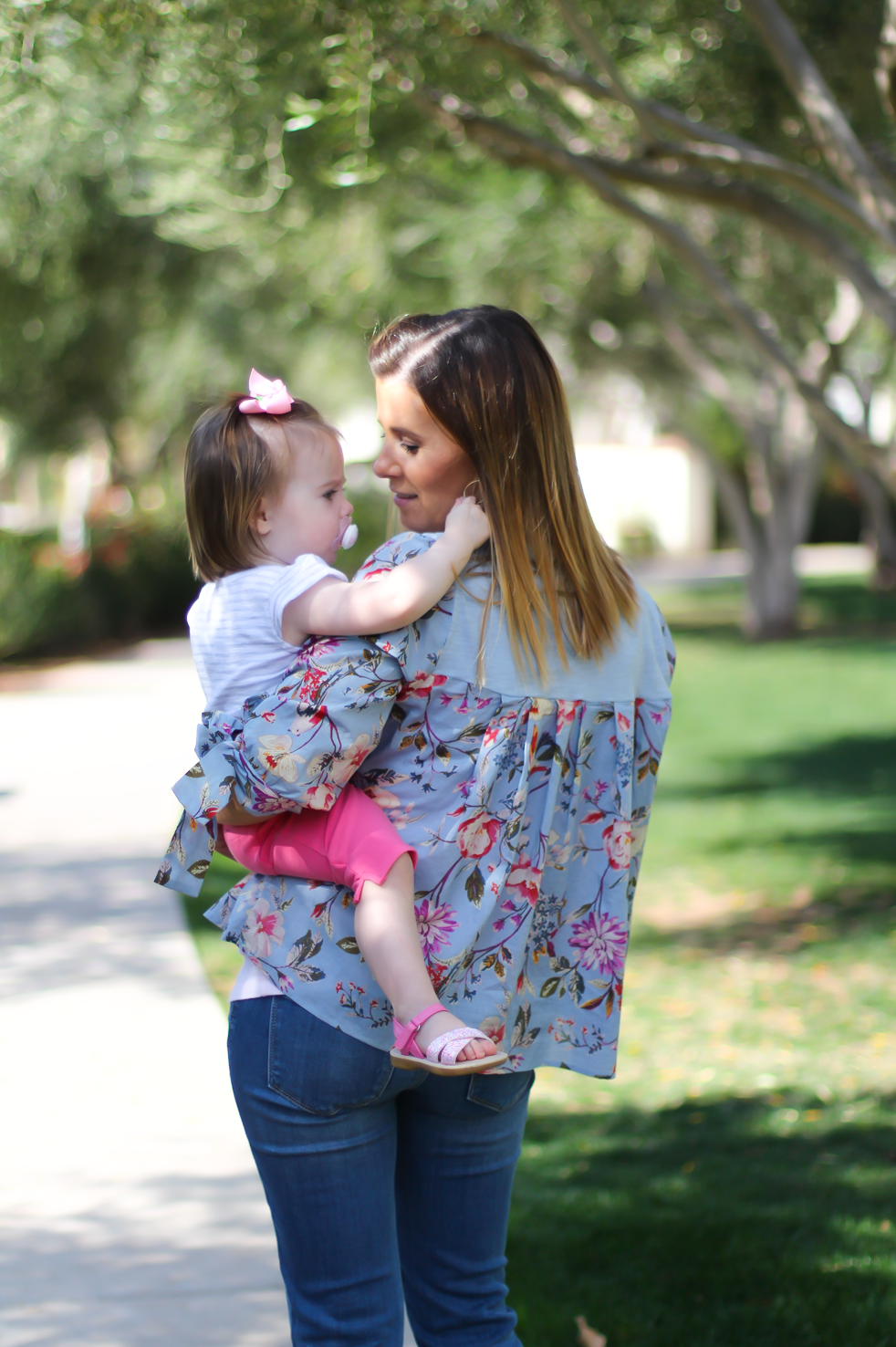 I was really excited to get outside and grab a few photos with Grace at the park because, to be honest, I haven't been too great at snapping anything outside of my iPhone!  And, we all know that's not quite the same.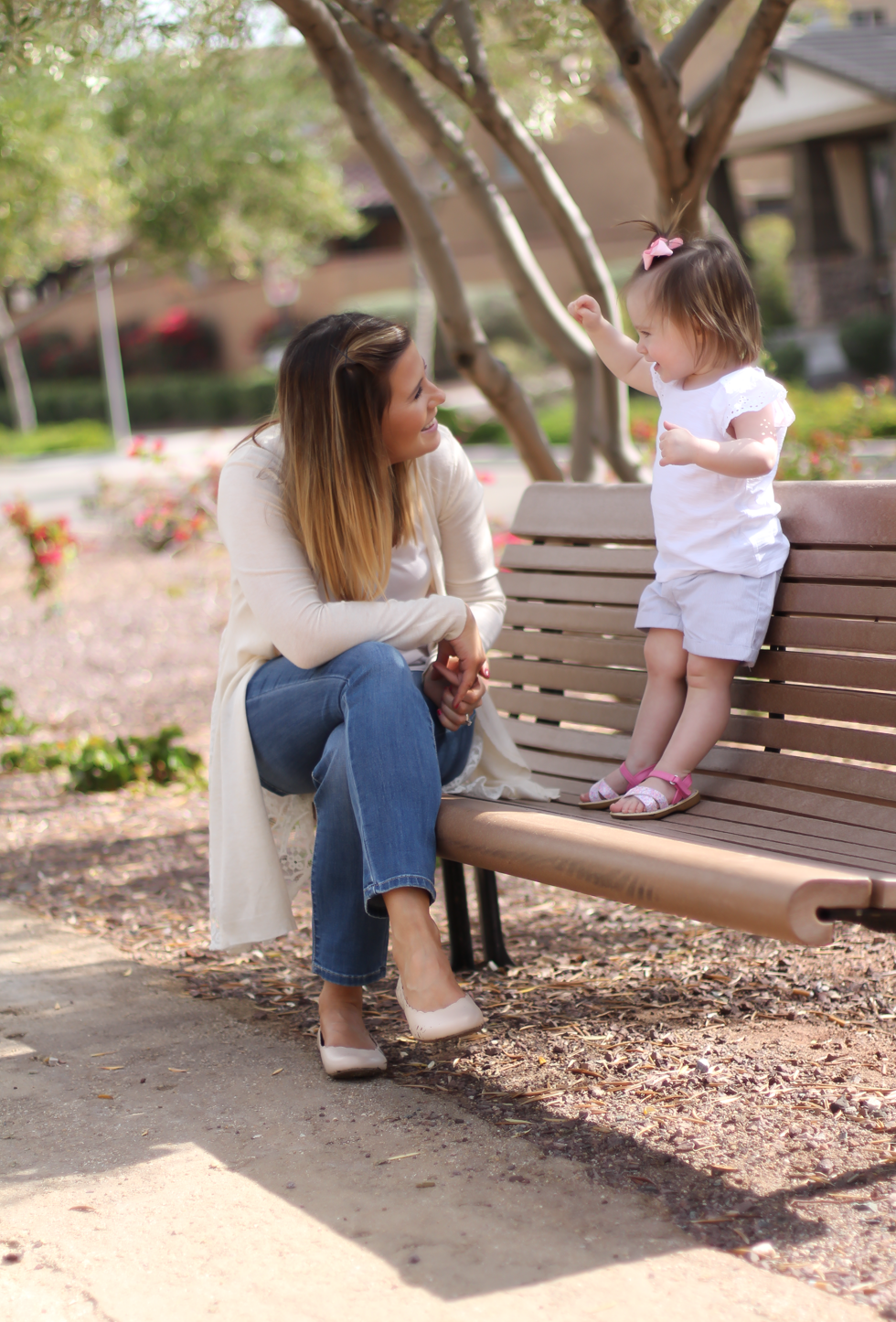 It's been absolutely beautiful in Phoenix over the past few weeks and we love to get out and play as much as possible before the heat takes over in a few weeks.  While I'm sure my girls are still going to be resilient to the desert summer temps, I am not.  Yikes!  You'd think after 4 years I'd be used to it, but, turns out it's built in my DNA to hibernate until it cools down again.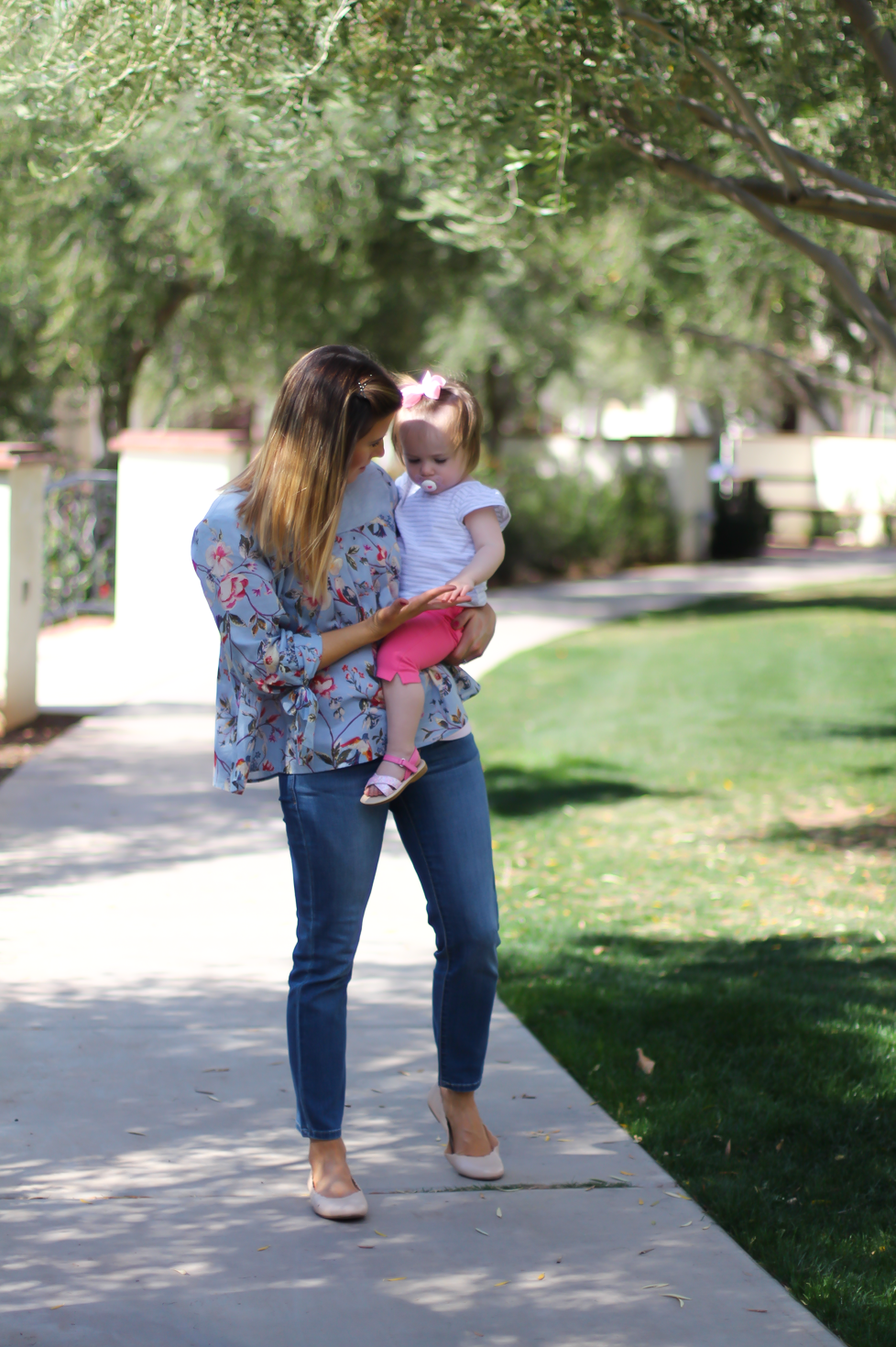 When it comes to my girls and I getting dressed every day, lets be honest, functionality needs to be our priority.  In other words, momma needs her flats and Grace needs her quality play clothes that are comfortable, wear well, and just let her be a toddler!  She runs, jumps, plays, sleeps, and everything else in between in what I dress her in every morning.
Don't you love it when just about everything mixes and matches?  Makes finding and putting together outfits when we're running Ava to school in the morning so quick and easy.  And, when it's time to wash it all…it always comes out clean, soft and looking brand new.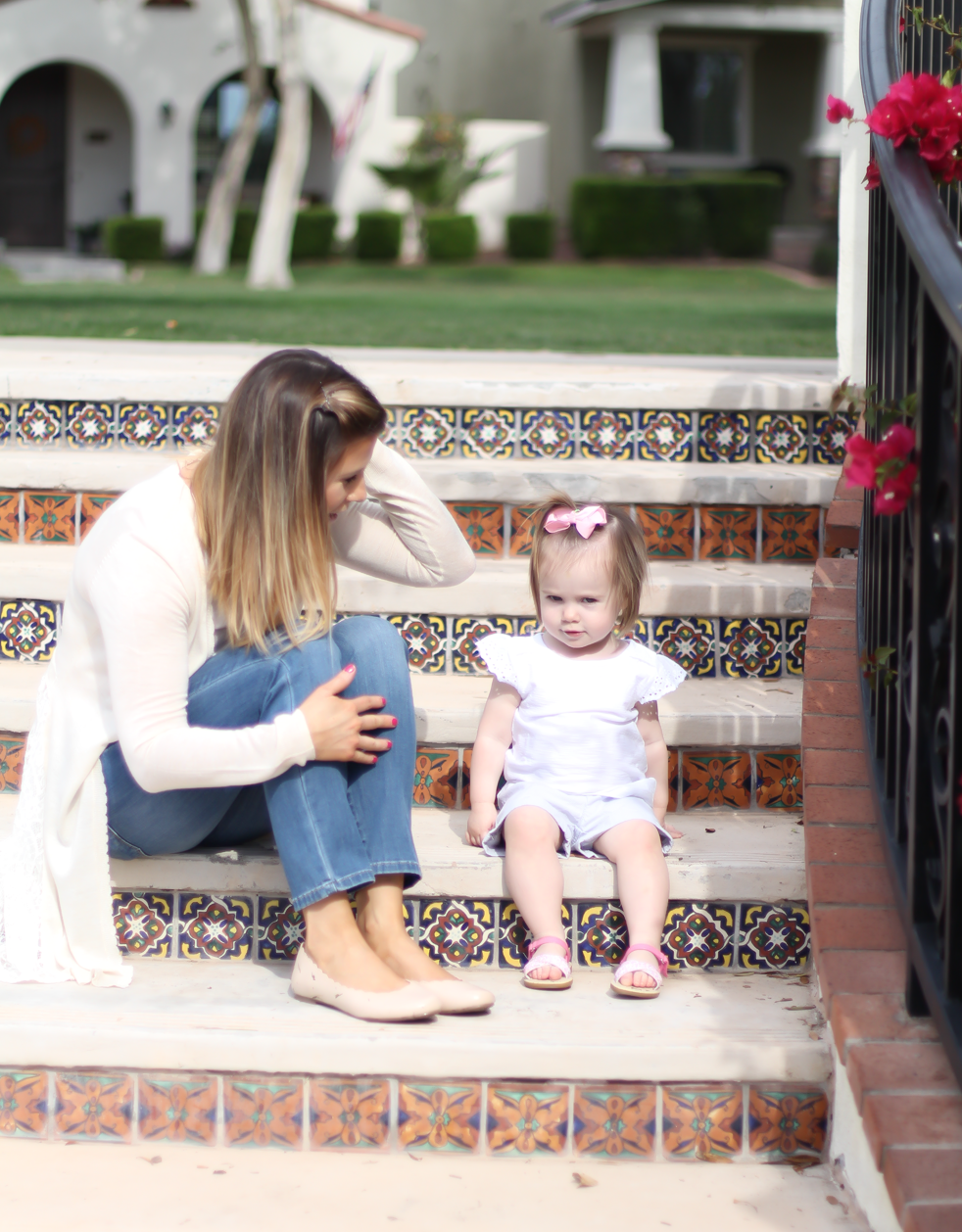 Look at that face?  She's so animated, just like her big sister!  Aside from always putting a bow in Grace's hair (seriously, even in her pajamas), you'll see this kiddo wearing cotton shorts, sun dresses, tees, stretchy pants, and tunics.  What more could we possibly need?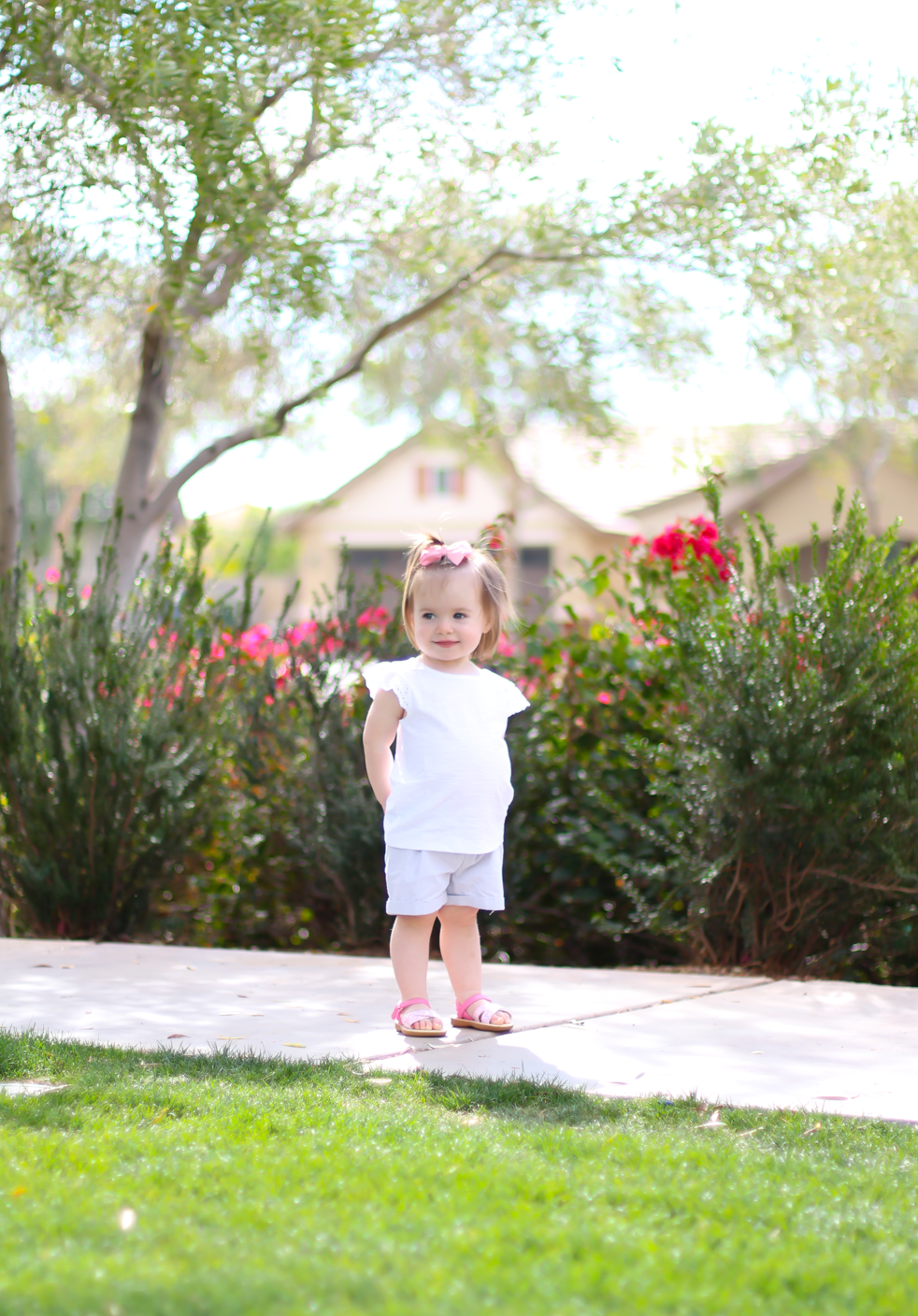 As for me?  Well, if I'm not in tennis shoes, I'm in flats, and that's a-okay by me!  Just like Grace, my comfort throughout the day is key.  I often get dressed in the morning and that's the way it goes until the sun sets.
Staying home with Grace is one of my most favorite things but we rarely ever actually stay at home.  I love to get out, see Curt for lunch (rare, but it happens!), run errands, hit the park, visit with friends…whatever we can do to pass the time until we pick up Ava.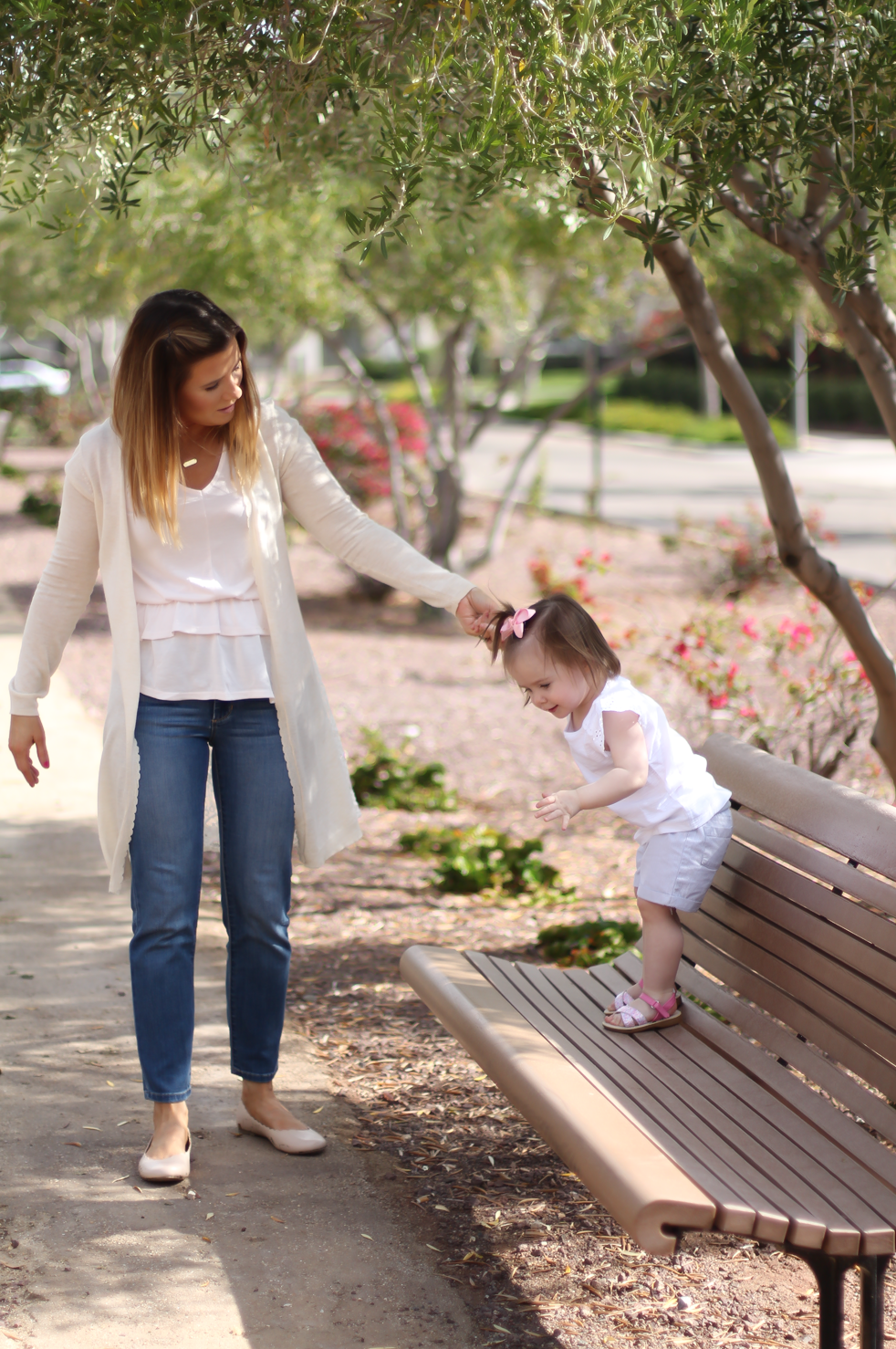 I still love a cute, cropped jean with a cardigan.  Loving the details that came on the back of this sweater, aren't you?  The lace is so pretty!  It's lightweight but kept me covered, which was perfect.  I added a ruffle tank and in a soft pink and a pair of scalloped, beige flats.  This is me and my daily style in a nutshell.  Put together yet still easy to wear and chase Grace around the playroom or the park.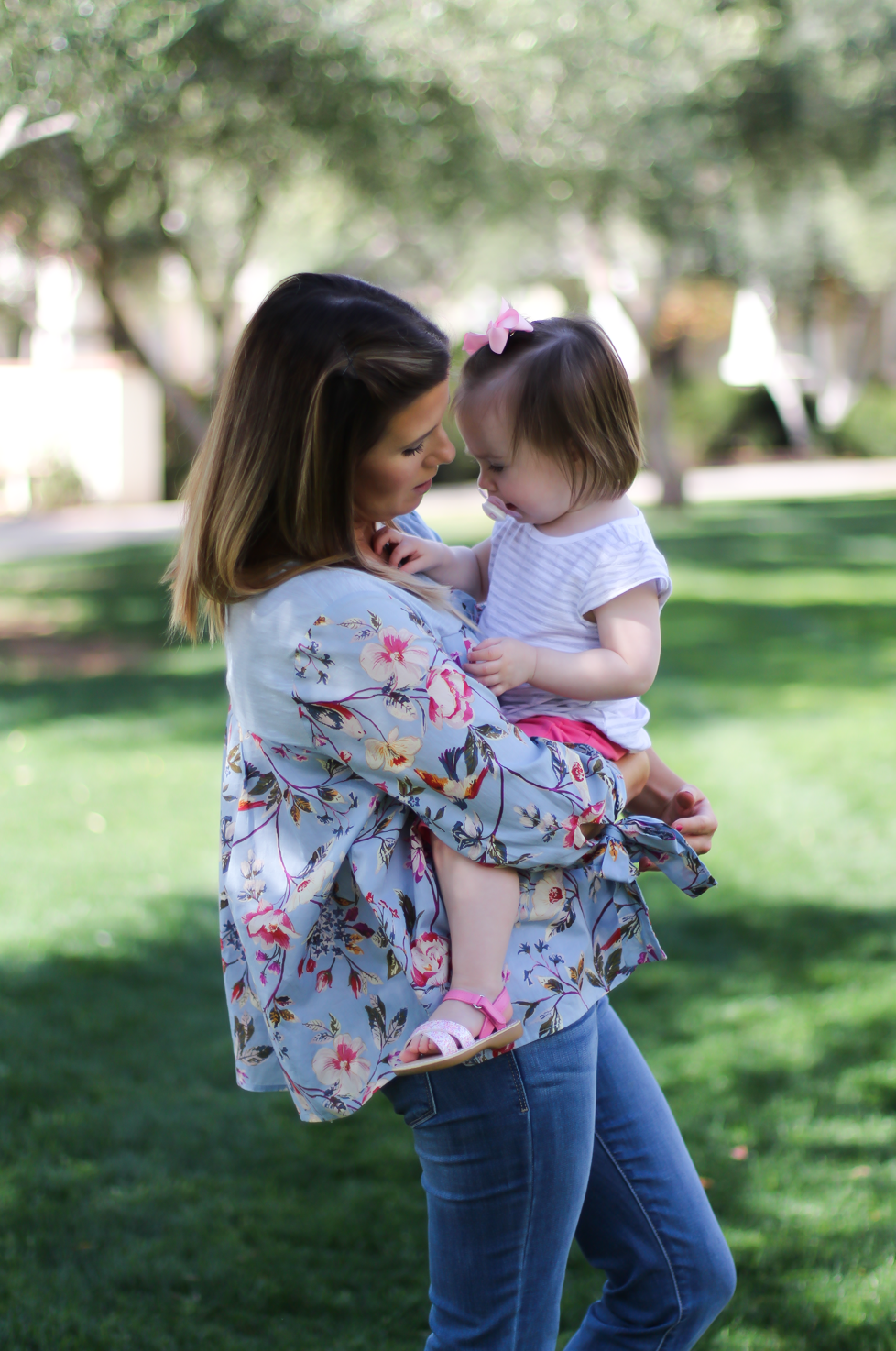 Flowy blouses are still one of my favorite tops to wear!  Oh my gosh, I love the floral print and the soft, cotton neckline that mixes up the textures a little bit.  Did you notice the bows on the cropped sleeve?  Love that little detail!!  It's also a generous but flattering fit.  Just perfect.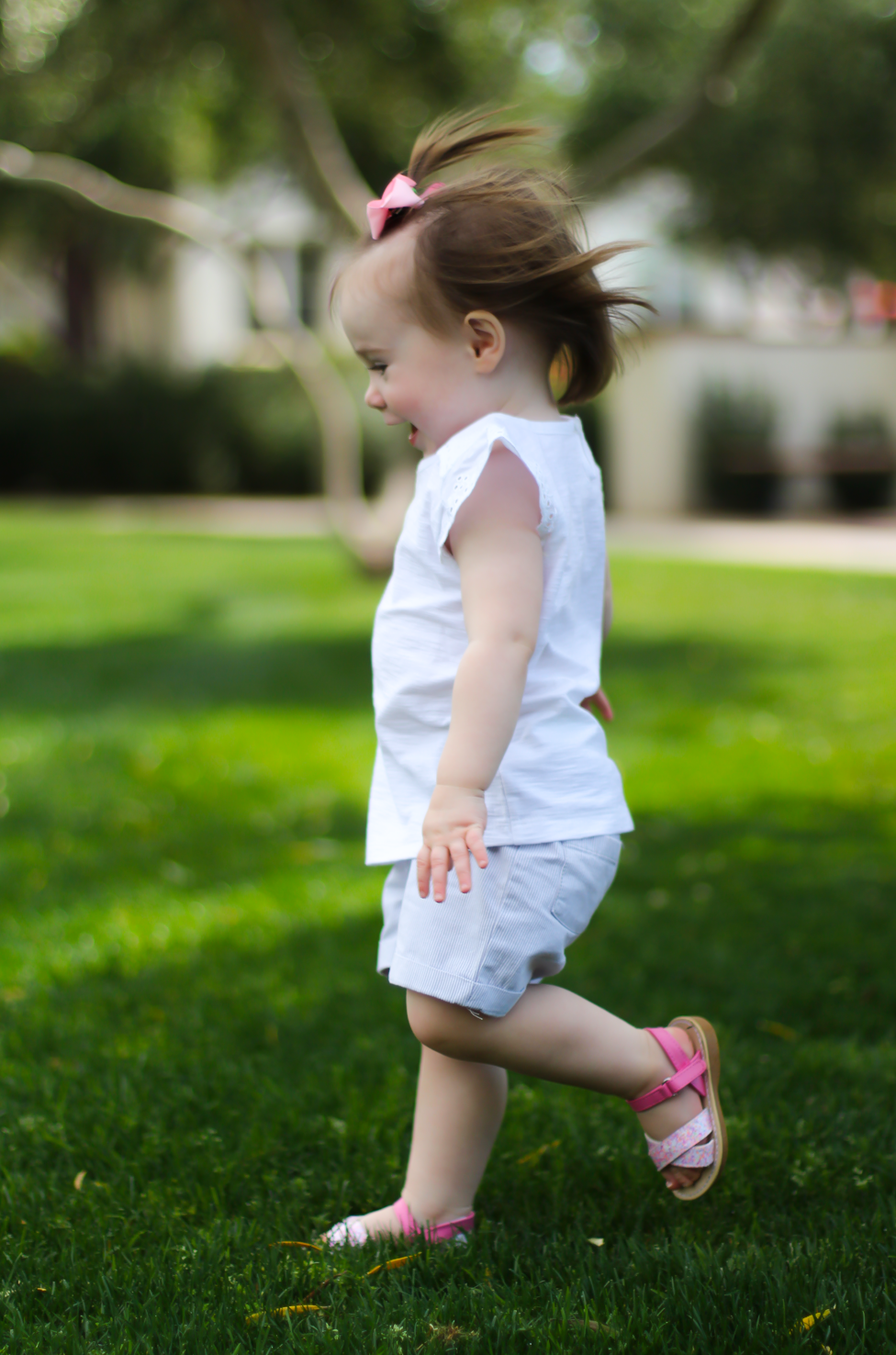 My girls have been wearing Jumping Beans from Kohl's for years and years.  The clothes are so affordable, SUPER cute, and even though both Ava and Grace love to play hard – their clothes still manage to keep up with them.  And that's saying a lot!
More often than not, you're also going to be able to stock up on more than you intended because there's usually a great promotion to help take down the cost quite a bit.  Trust me – we are fully prepared to take on the 18-24 month growth spurt!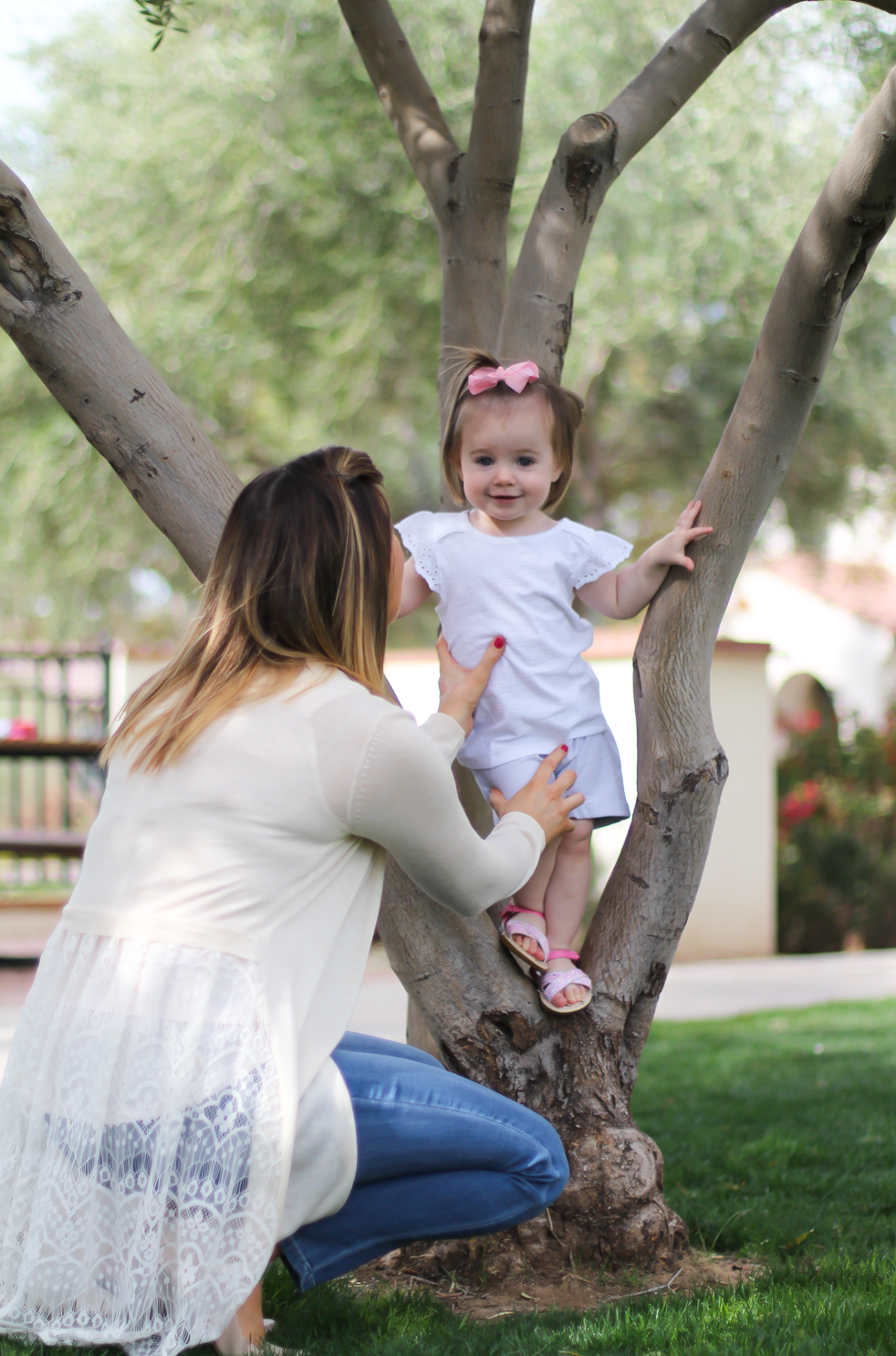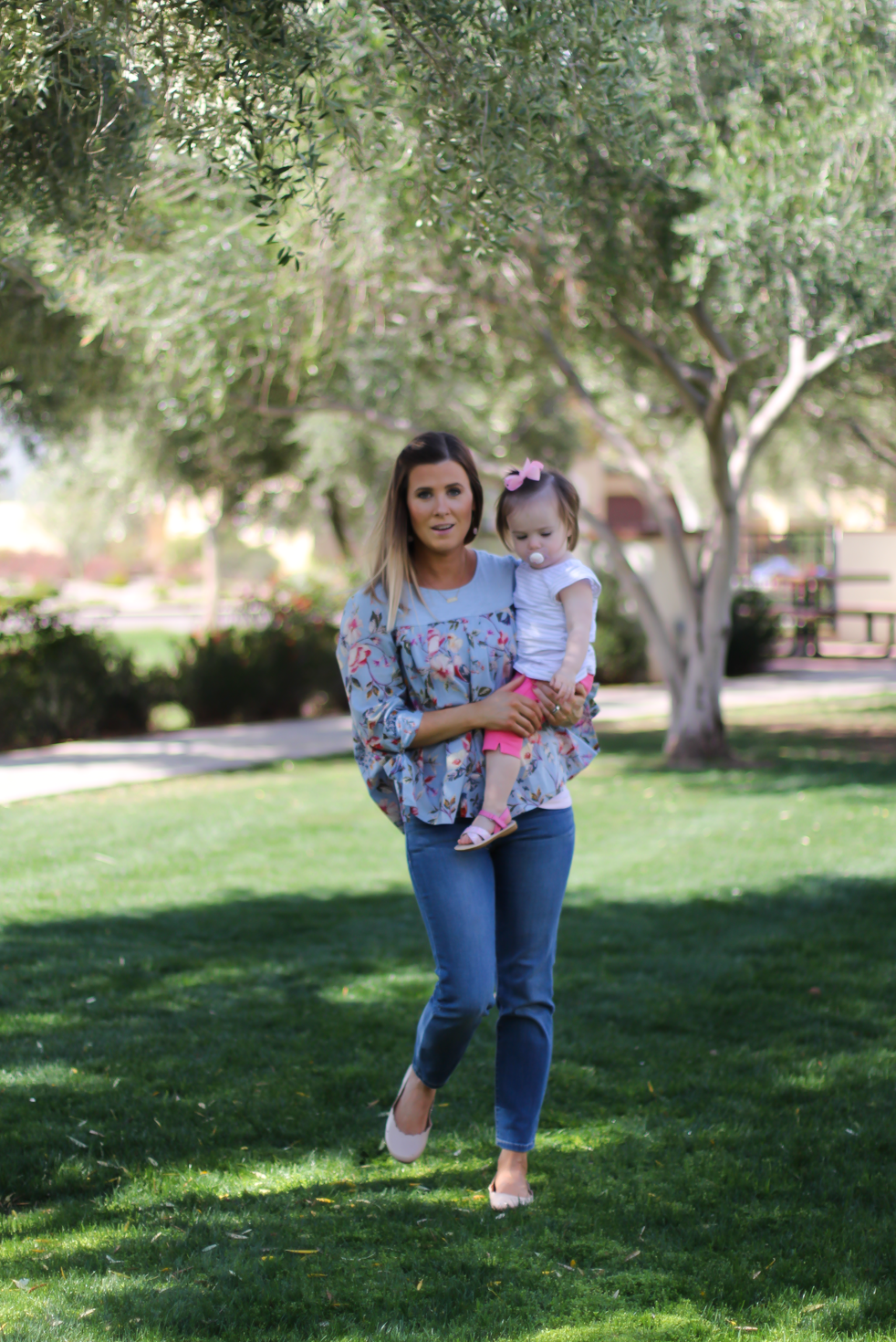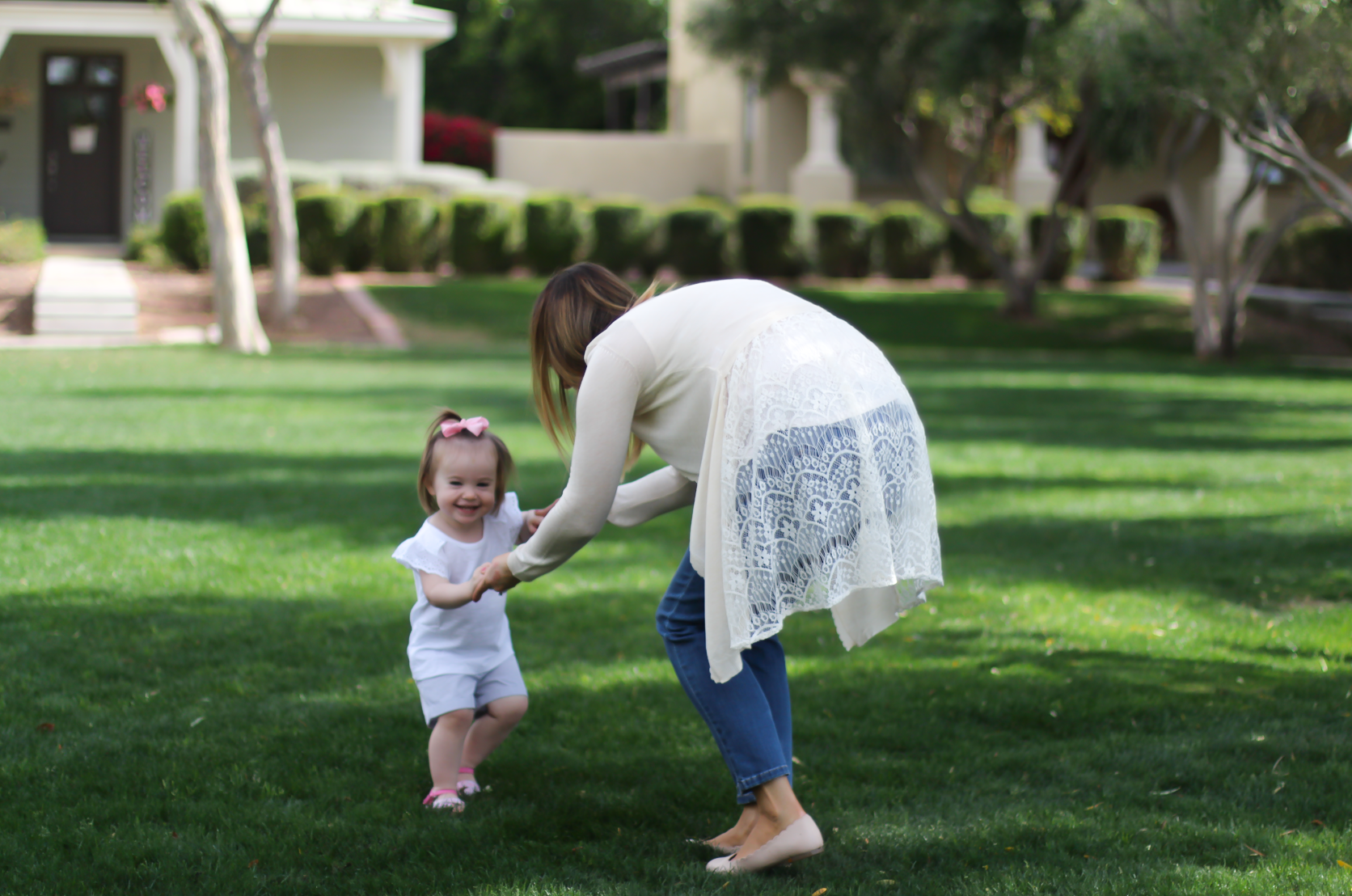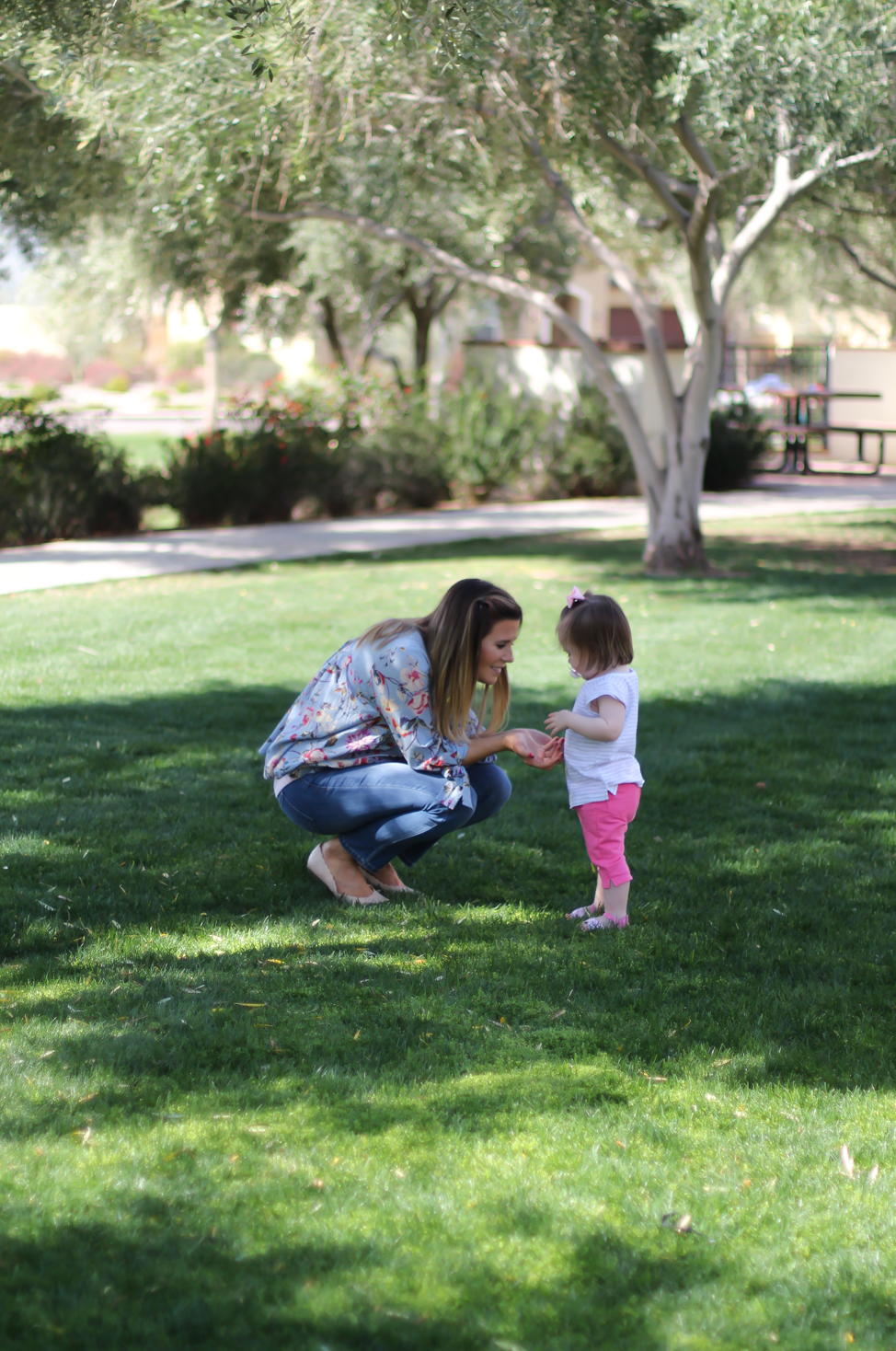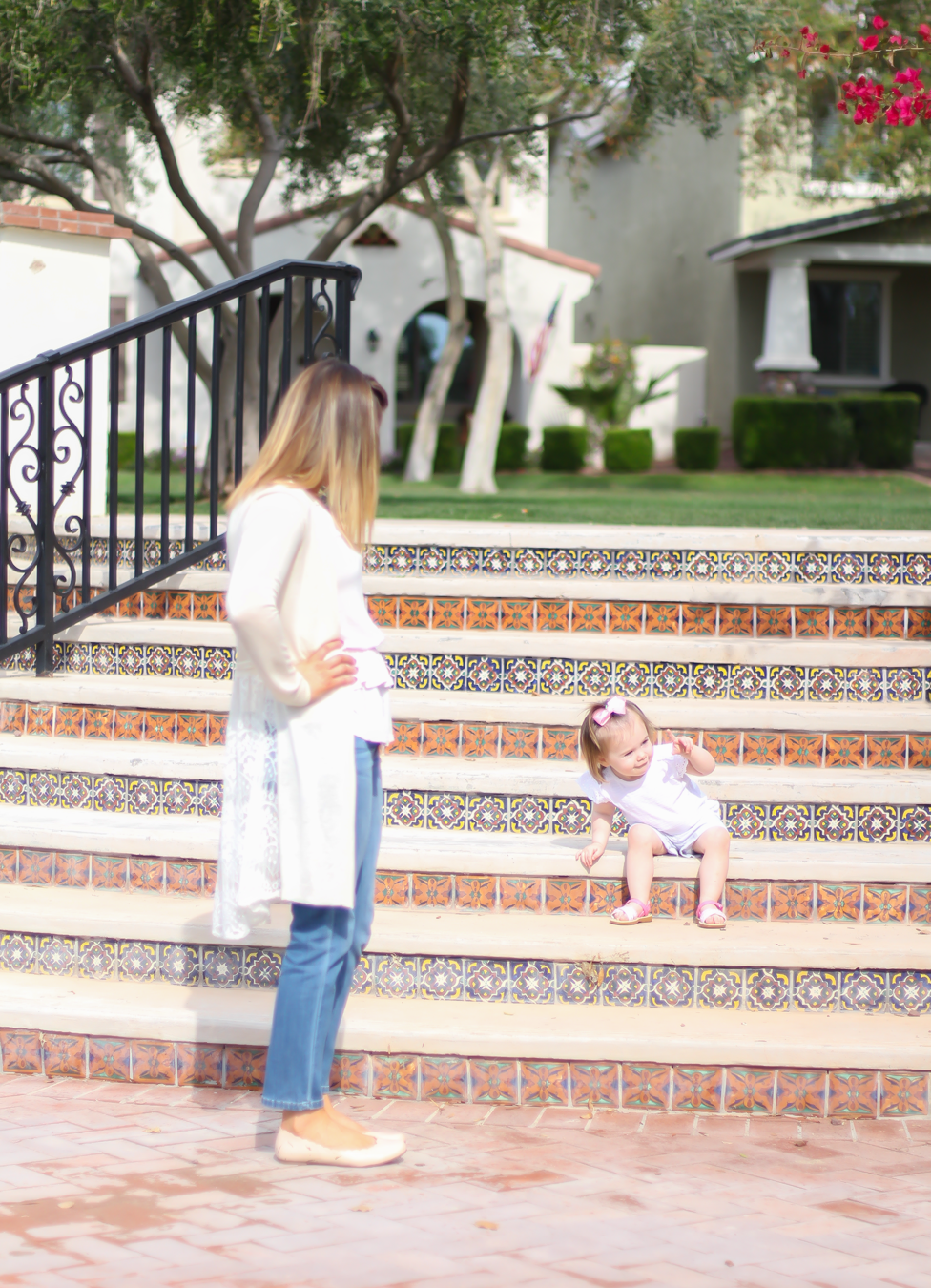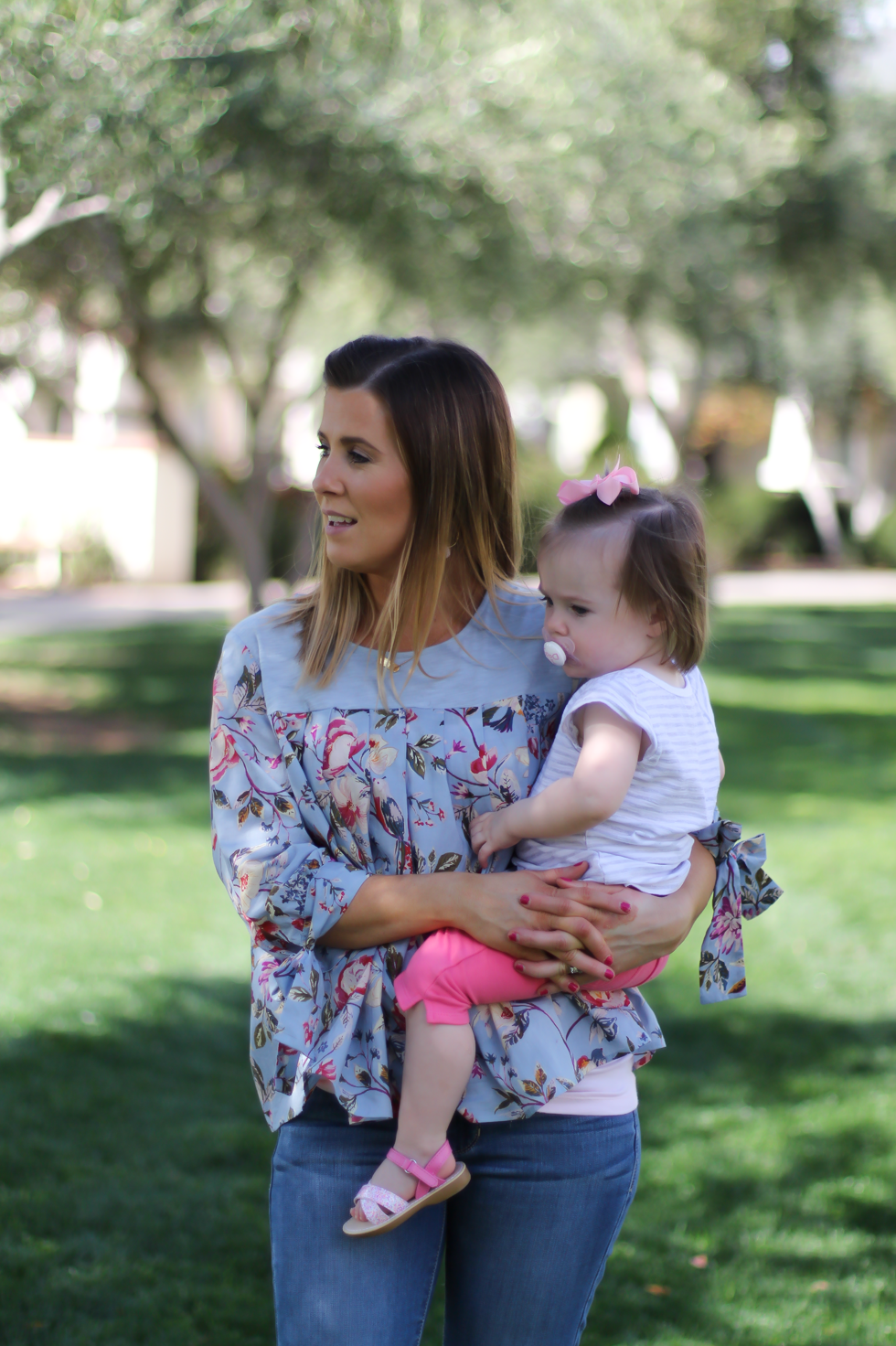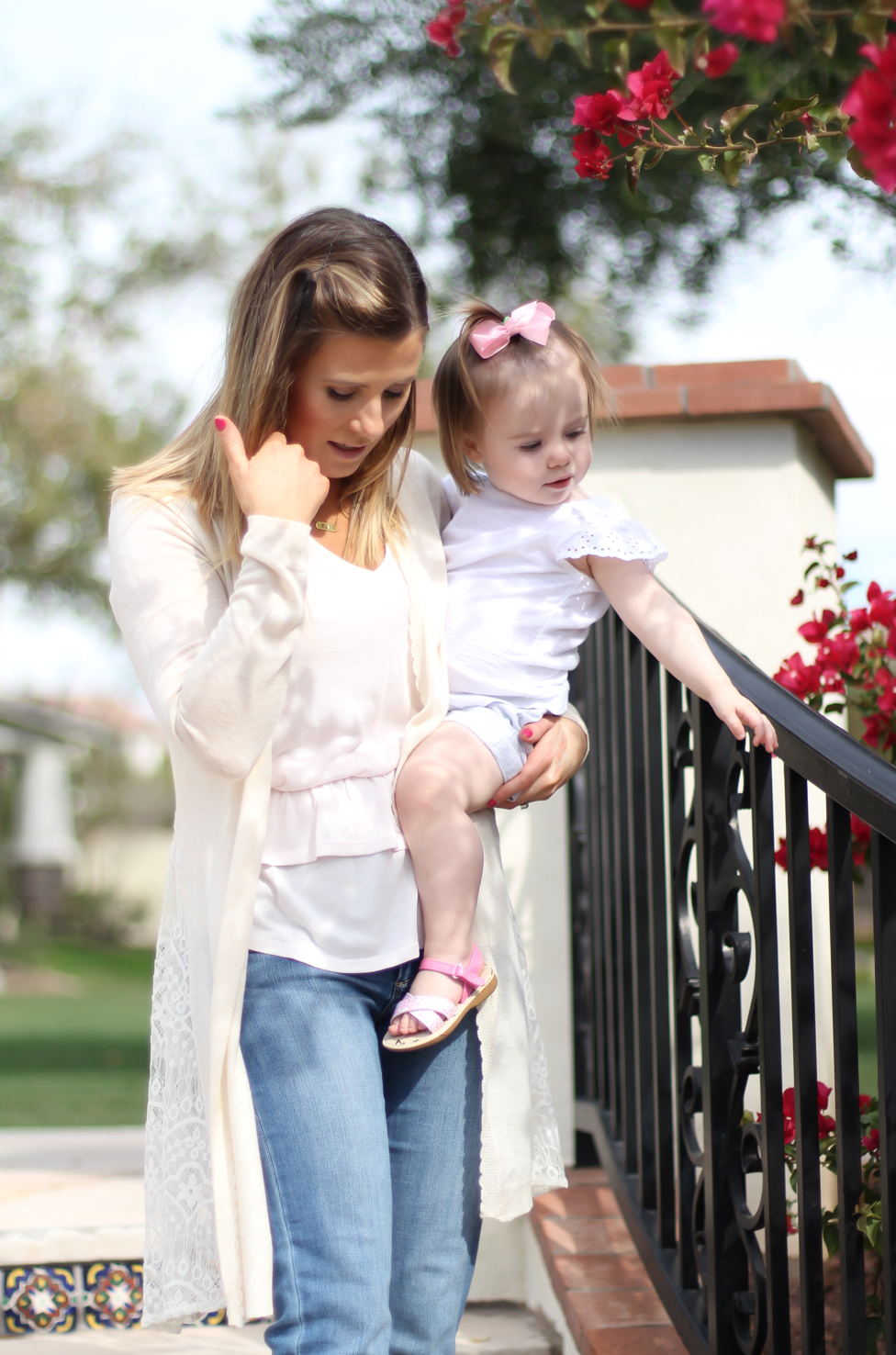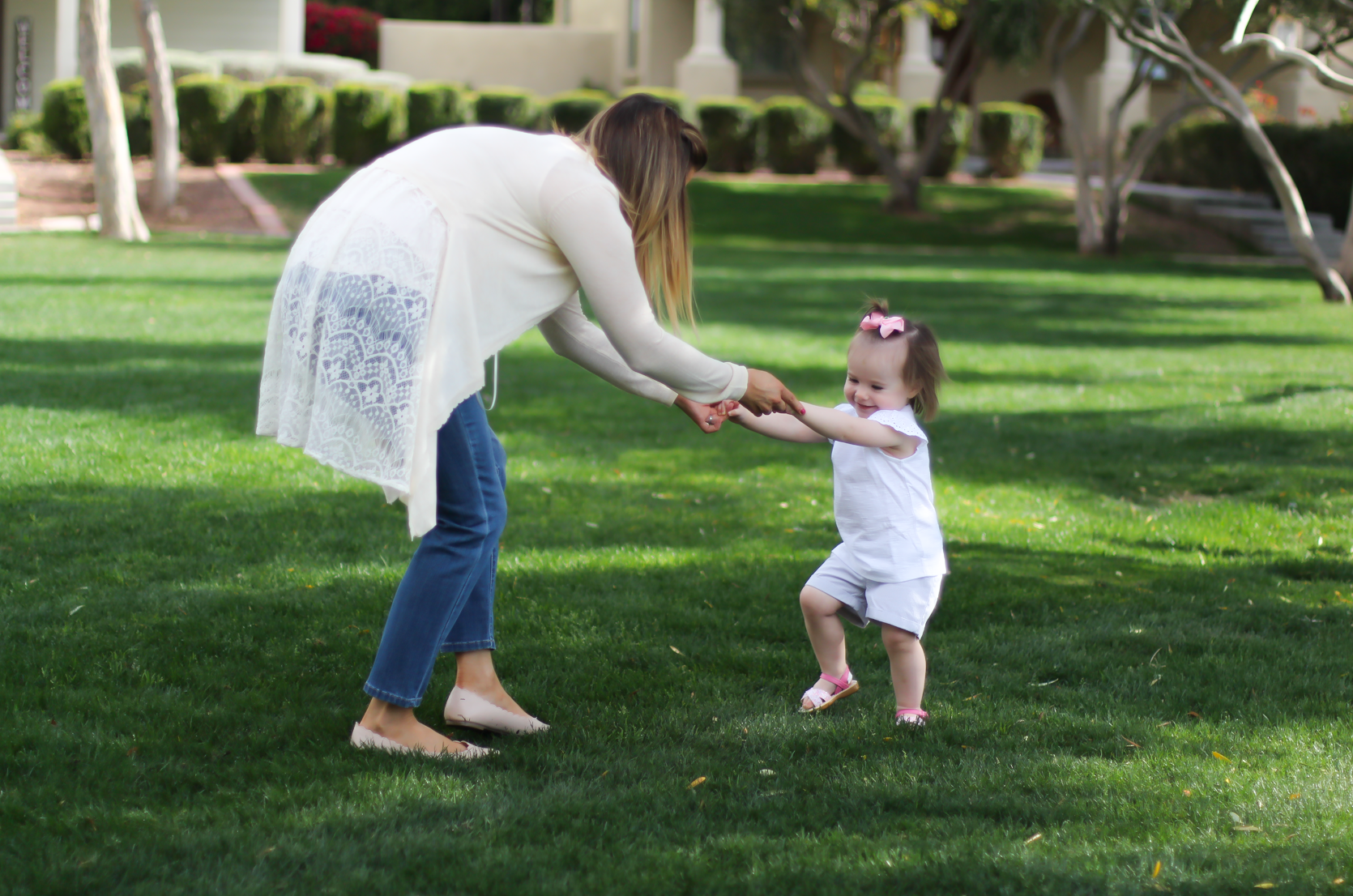 Look 1 :  Kohls : Tan Cardigan  (3 colors!)  |  Pink Ruffle Tank (2 colors!) |  Skinny Jeans (I'm wearing the Short length so they're more cropped)  |  Scalloped Flats (3 colors!)
Look 2 : Kohls : Floral Blouse  |  Pink Cami  |  Cropped Jeans  |  Scalloped Flats
Grace's Looks :  Jumping Beans Capri Leggings, Striped Tee, White Eyelet Tee, Striped Shorts (More adorable options down below, too!)