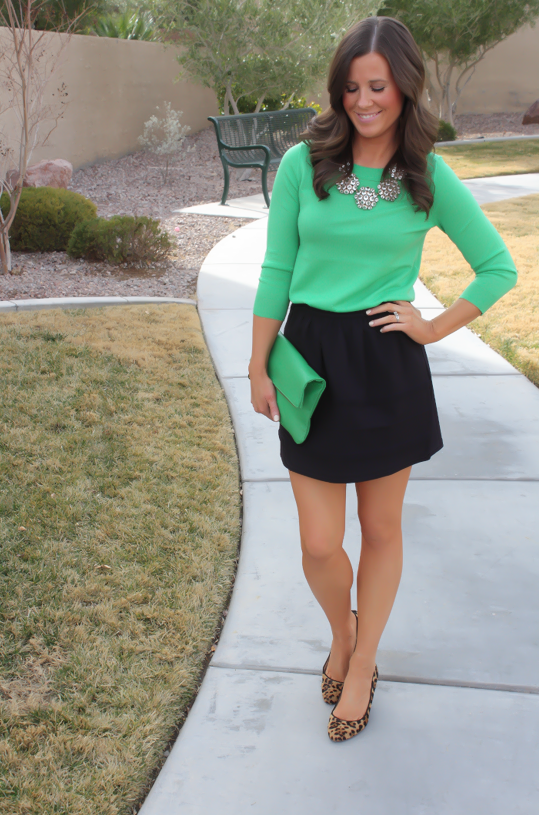 And just like that, I said "good bye" to my thick. sweater tights and hello to my faux glow…  So, what better way to kick off what is most likely going to be the longest summer of my life than to pair up a few simple pieces which, I think, come together to make a big statement.
I think even though I do have my moments where I might try a new trend or two, I tend to be most comfortable sticking to the classics and not trying too hard to be one step ahead of the fashion game.  Trust me, it can be quite exhausting!  (…and expensive.)
So, here I am, in a cute little ponte knit skirt that is going to be so fun to wear this spring and summer.  It's got a slight tulip-like shape to it and because it's a thick(er) knit, it has a slight puff around the waist that I actually adore.  Very flirty, if I do say so myself!
Without even planning it, I guess I should go ahead and say that this might be the week of "leopard print" here on my blog.  As I was flipping through all the pictures we took this weekend, I realized that my all time favorite print pretty much dominated my posts this week.
Can't complain!
I hope everyone has a fab Tuesday!  Thanks for checkin' in with me!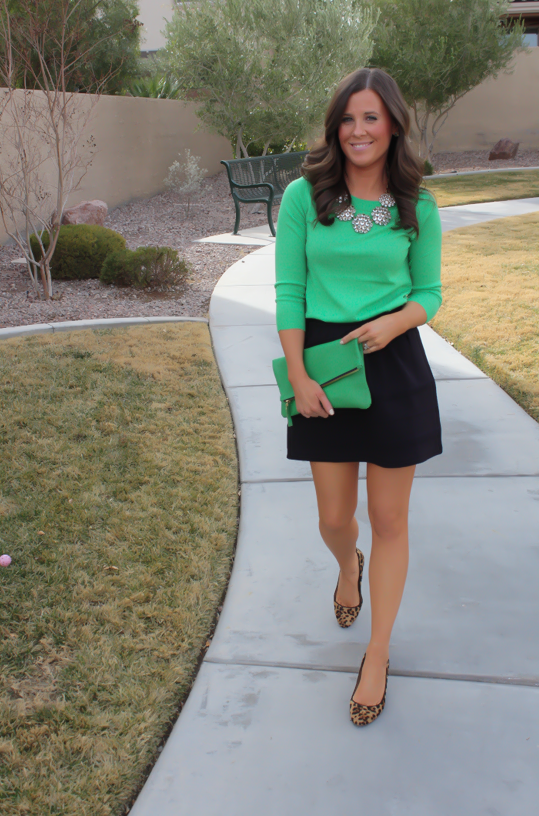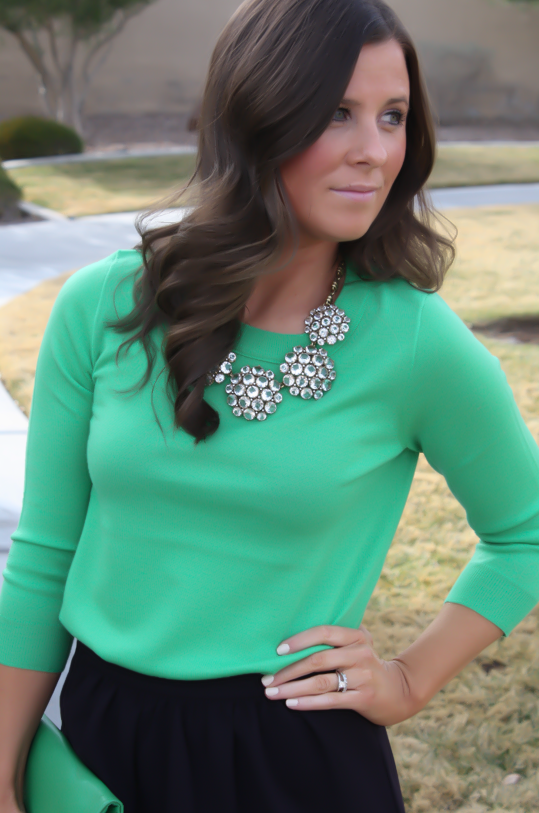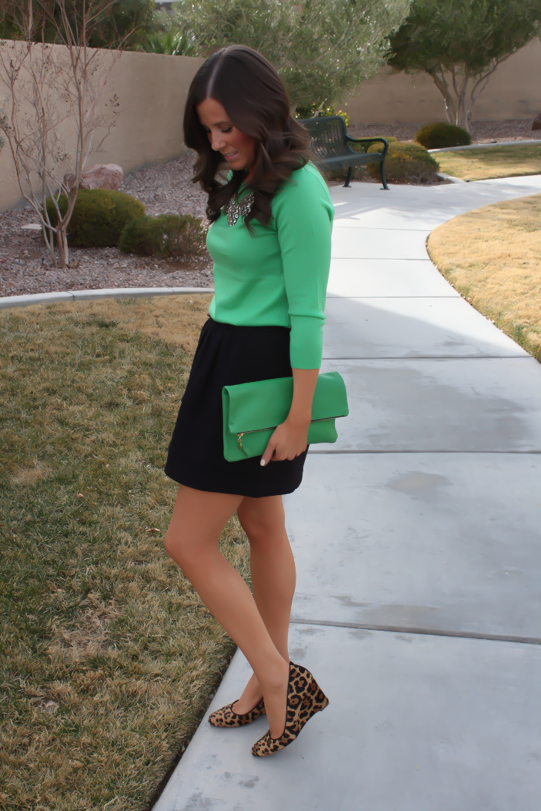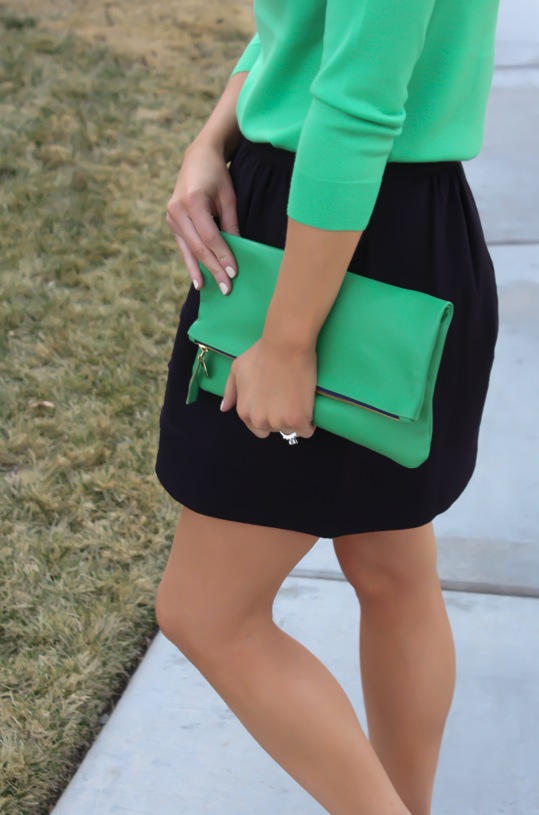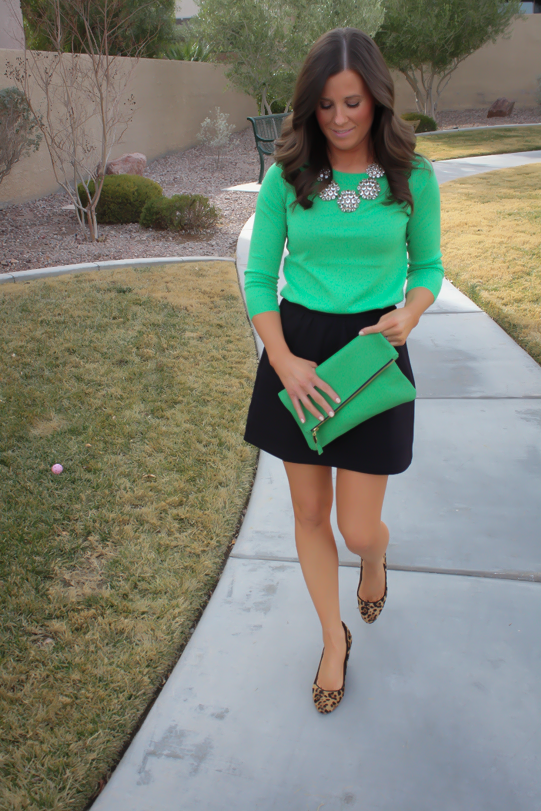 J.Crew: Green Sweater / J.Crew Factory: Black Skirt (30% off!) / J.Crew: Leopard Wedges (on sale + additional 40% off!!) / Clare Vivier: Green Clutch / J.Crew: Crystal Necklace, similar here
I've written a post on this before but for those that don't know, I never go in the sun.  Like, never…  You'll find me outside in a huge cover up, SPF 100, and an even bigger hat all summer long.  BUT, I do love a nice bronze look so I've come up with the perfect combo of products to get that tan without the rays.  Here's what I use!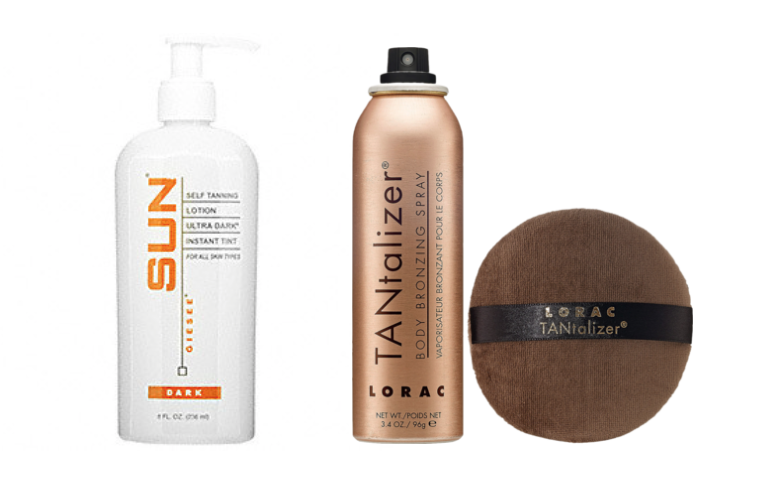 1. Sun Laboratories Tanning Lotion (or here):
I am obsessed with this product and have been a faithful user for years.  It's got that perfect bronze color when it's completely developed (I use "dark" but it also comes in "medium" or "very dark") which is guided by a nice rich built in bronzer that makes application a snap.  I use latex gloves to apply so my hands don't stain and then use a mitt to apply it to the tops of my hands and feet to avoid streaking.  It has a pleasant smell and the color lasts about 4 days.  Exfoliate when it starts to fade and re-apply!  I should mention that I also have super sensitive skin and it doesn't irritate me at all.  Just moisturize each day and hopefully you love this as much as I love it.  (Paraben Free, too!)
2.  Lorac Tantilizer (or here):
Okay.  Ladies.  This spray is like a BB Cream for your entire body.  Trust me when I tell you that you won't be able to get a spray tan without using this as your "top coat".  Again, the bronze color in the spray is a really pretty brown (not orange!) and looks so natural when you apply with the puff that comes with it.  You can almost even control the intensity of the color (how light or dark) just based on how much product you use in one application and how close you spray it to your skin.  It's SO EASY TO USE.  I usually spray in my bathroom or even outside if the weather is nice and it's dry and set within minutes.  You can wear it all day and it won't transfer on your clothes and you even have to use a puff (with soap!) in the shower to remove it when you're ready to wash it away.  It hides flaws and pretty much anything else you can think of…all…over…your…body.  My sis in law honestly don't know how long we lasted without it!!!!  It's my favorite summer product and while I love it over my sunless tanner, I've been known to use it throughout the winter when I'm feeling a bit pale and need a warm boost.  It's aaaaamazing.  Try it.  Promise you'll love.