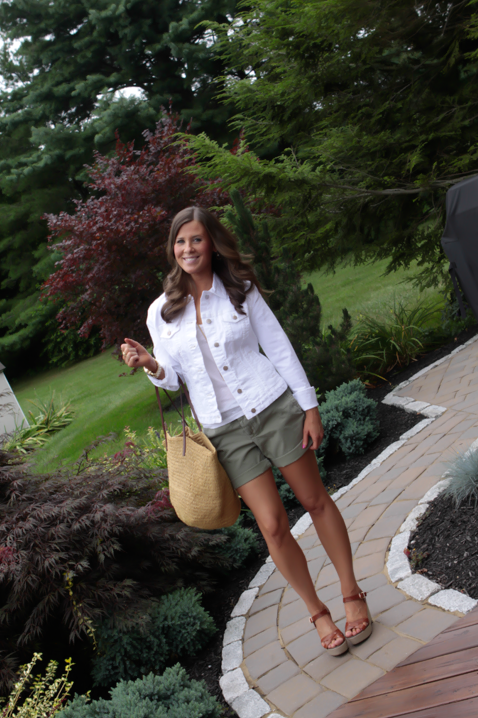 See what I did there?!  Creative, I know.
This summer, I've had a major obsession over boyfriend shorts.  I wore them for the first time here and never looked back!  I have them in about a billion colors and while I still love my ol' stand by J.Crew shorts, I probably wear these more often than anything else.  They are the perfect length, they are insanely comfortable, and they still manage to keep your figure.
I purchased about 6 colors from Gap this year and they have been awesome!  I give them an extra roll but only because my short legs allow it.  But, to each her own and you should wear them where you're comfortable!  This pair is actually from J.Crew, last season.  I can't say I love one pair more than the other so if you decide to go Gap or J.Crew, you won't be disappointed.  Promise.
We all know I love denim jackets.  It's borderline unhealthy and while I try and keep my lil blog here diverse, I wear a denim jacket a few times a week!  It's mostly for when I'm inside for a while and the AC freezes me out, but I do love them and get tons of use out of all the ones hanging in my closet.
I hope your Monday is off to a great day!  Thanks for stopping by!
  J.Crew Boyfriend Shorts, similar here / Denim Jacket, similar here or here / White Tank / Wedge Sandals (on super sale through today!), also loving these / Straw Tote, similar here / Tassel Necklace, similar here / Watch, loving this one on sale here / Banana Republic Earrings, similar here / C. Wonder Stacked Rings, loving these