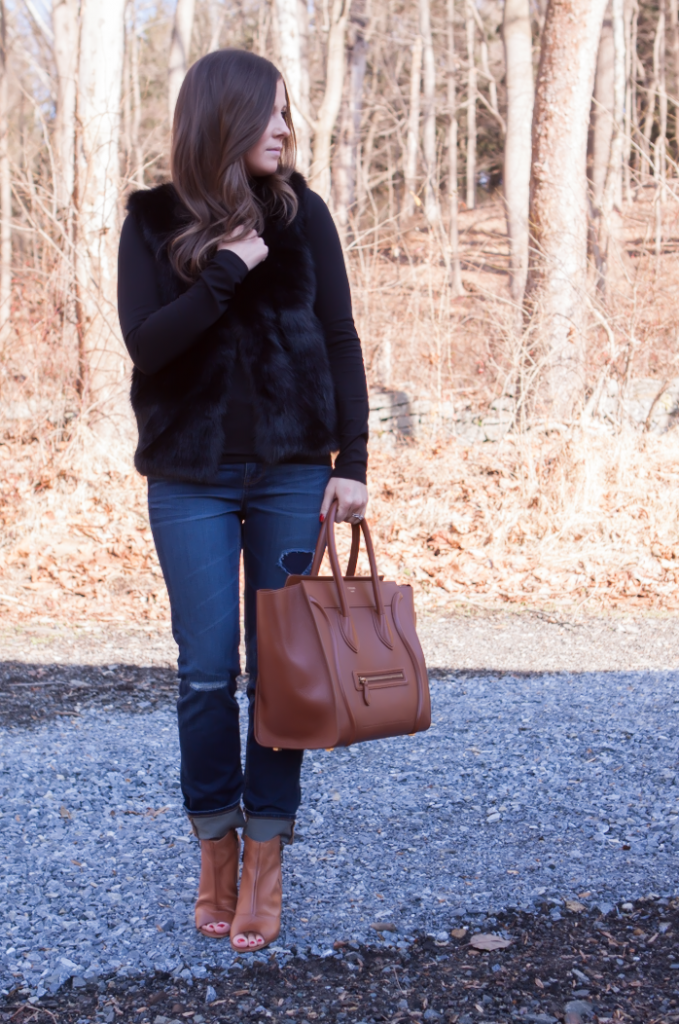 I can't believe here we are in December…and I'm already making sure my recent purchases are with the idea that warmer days are right ahead.  Depending on your favorite time of year, this could be really exciting or kind of depressing.  Either way, this year I chose to embrace the climate that is Las Vegas because we are set to move early 2016 and because I'm pretty sure we won't be coming back, I think it's best to – make the best of it!
How do I make the best of 115* heat?  Well, with cute shoes, of course!
I think I mentioned it yesterday but we had a few mild days here in PA so I took complete advantage and broke out a few of the new shoes I picked up for Christmas this year.  I also happen to know that my return to Sin City is promising something like 60* so while they might not get much more use here now that it's frigid, you might be seeing them again pretty soon once I'm back west.
Peep toe booties are a new favorite for me because they have much more potential throughout the year.  These were an easy pick because I love the warm and rich brown leather and they're insanely comfortable.  Yes, yes, and a yes.
Before I go – this faux fur gilet was probably one of my better buys this season because I had so many opportunities to wear it!  I'm sure it will be a strong contender for the years ahead, too.  I'm loving these distressed jeans I grabbed for a mere $48 because they fit so well and the length (while I cuffed them here) is just perfect for flats and sandals.  Who doesn't love premium denim for an amazing price?!  I actually bought the petite here in a size 27 because I knew the regular pair would be way too long and I'm glad I did because as you can see, they still needed a cuff with a bootie that came to my ankle.
Happy New Years Eve, friends!  I hope this year is one to remember and you have bright days head in 2016!  I don't make resolutions but instead, just look for smaller and bigger ways to improve myself along the way.  #NYE2016
Topshop : Faux Fur Gilet  |  J.Crew : Tee, try this  |  J.Crew : Jeans (40% off the sale price!)  |  Nordstrom : Booties, try these  |  Celine : Bag, try this, this