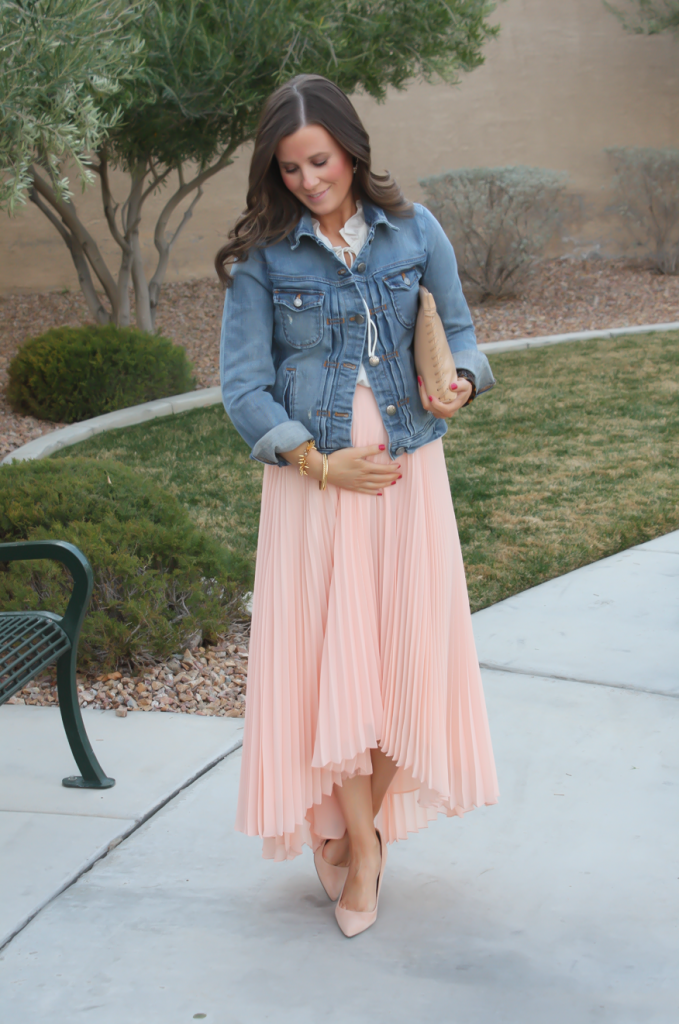 Pretty, pink pleats.  Oh, how I love thee…  Even with this littlest love just growing away, I couldn't resist this beautiful skirt.  Thankfully – it came with an elastic waist band so it came with a side of comfort, too.  Little tip when it comes to wearing pleats, especially around the waist : when in doubt, size UP.  Why?  Well, pleats have a tendency to dark out if they don't lie completely flat causing them to make you look wider than you really are so avoid this little optical illusion by making sure you have the right fit.
Sometimes I get the feeling that many women might pass on what might be considered a piece that is reserved for only "dressy" occasions and while that sometimes might be the case, I'm here to say that more often than not you can still style most things in your closet to be both casual and dressy.  One of the easiest ways to do that is by tossing on a denim jacket.  This blush pink skirt paired so nicely with a light wash denim jacket and simple ruffle trimmed ivory camisole.
I love a beautiful pair of shoes (this we know…) and I'm so glad I brought home this classic tan suede pair that are making quite a impression in my closet these days.  Dressed up or down, I pretty much want to wear them as often as possible.
Chelsea and Violet : Pleated Skirt  |  J.Crew Factory : Ruffle Camisole, try this, this  |  J.Crew Factory : Denim Jacket  |  J.Crew : Heels, try this, this, this  |  J.Crew : Clutch  |  Tory Burch : Tortoise Cuff, try this, this

I'm also sharing two of the sweetest blouses I recently picked up from the Lauren Conrad Collection!  Aren't their so pretty?!  …and wallet friendly, too!
Blouse  |  Cardigan, try this, this  |  Jeans  |  Mules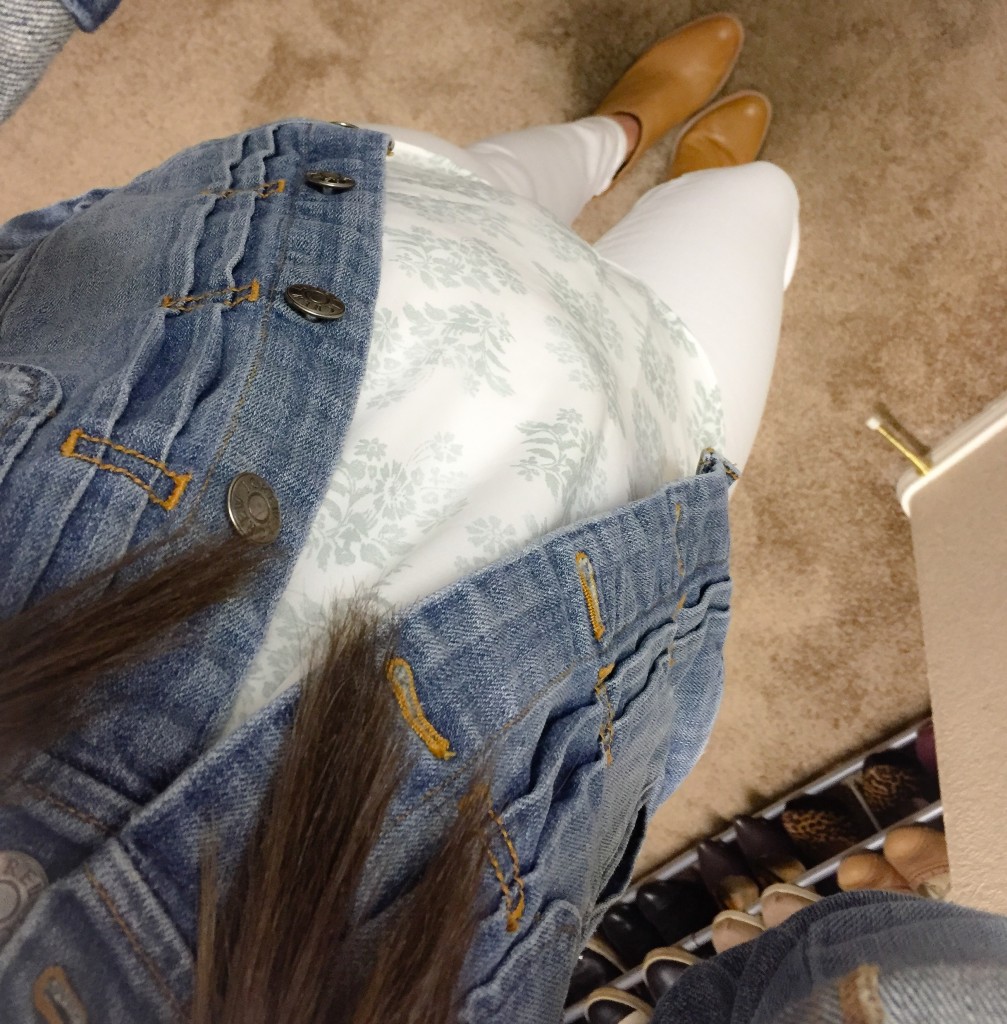 Floral Blouse  |  Jeans  |  Denim Jacket  |  Mules
And last, but certainly not least, I'm really excited to be teaming up with White Plum again to share with you this incredible GIVEAWAY they're hosting at their shop!  You can enter to win….A FREE WARDROBE for a whole year!  That's $1,200.00 worth of clothes from their most adorable online boutique.  You can enter to win the giveaway today and it runs through the 22nd of February, so don't wait a minute!  (…which is really all it takes to enter, after all!)
You can enter HERE or by clicking on the image below to take a hop over to their site.  Once you're there, all you need to do is join their mailing list for a chance to win your $1,200.oo wardrobe!  Best of luck to all who enter!