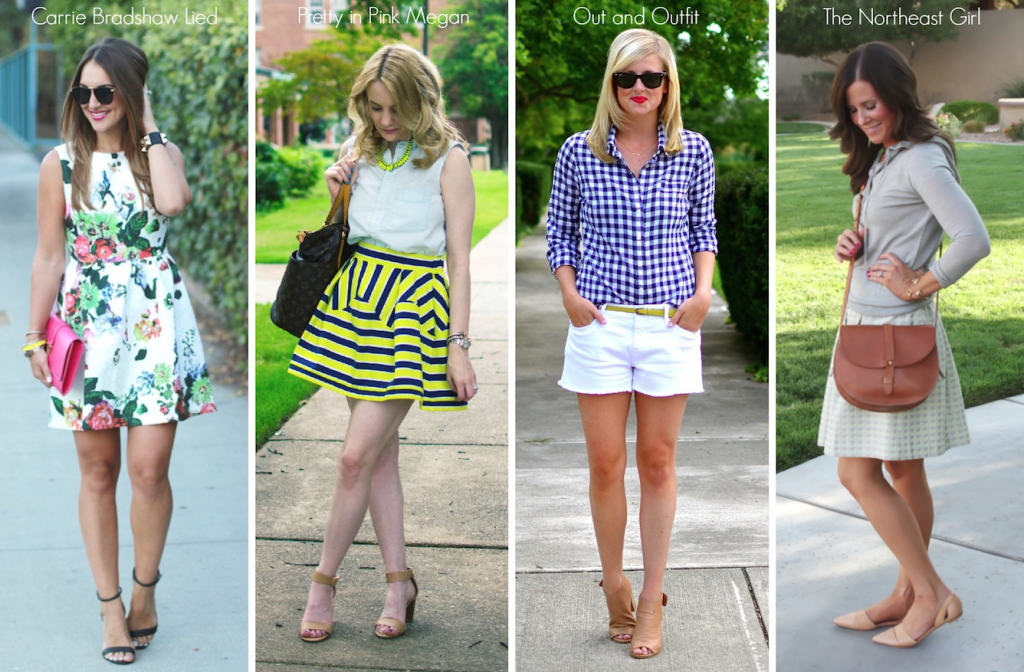 I love starting off the week by teaming up with a few fabulous and oh-so-stylish fashion bloggers.  We are all pretty excited to share with you our take on some pretty patterns that we just love to wear in the summer.
But, just in case…Meet Kathleen (wearing Florals!) from Carrie Bradshaw Lied, Megan (wearing Stripes!) from Pretty in Pink Megan, and Katie (wearing Gingham!) from Out and Outfit!
While patterns are pretty much on a constant rotation here at The Northeast Girl, it's so refreshing to see what other options there are out there so I can remix my own wardrobe.
I picked polka dots to share with you today mostly because I've been hanging onto this skirt for weeks now and finally found the perfect time to share it with you.  The pattern is so light and subtle, which is perfect for me and polka dots but they can tend to be pretty busy.  I love the light mint and light grey together because, for me, it's pretty unexpected combination but I really love the way they came together.
Kathleen's dress is the perfect mix of pinks and greens which is (obvs) so appropriate for summer.  Her pink clutch?  I die.  #needwantmusthave
Megan's navy and green skirt just brings together two of my absolute favorite colors and while she's clearly got the legs for that skirt, I love how the stripes are running into each other to create a whole new look.  Also, I've been following Megan's blog for, well, ever and I love it when we work together!
Katie's choice of gingham just makes me happy.  It's, without a doubt, one of my favorite patterns and how she takes a button down shirt and makes it the perfect combination of casual and flirty is definitely something I need to try.  The nude peep toe also gives her legs for days.  Oh – and I seriously need to try a red lip, like, yesterday.
Don't forget to hop on over to check out more pictures from all these beautiful girls!  They've got hours worth of archives for you to dig through and if that's not a great way to start your Monday, I don't know what is…
Have a great week, everyone!
Anthropologie : Skirt  |  J.Crew : Hoodie  |  Madewell : Flats  |  Madewell : Crossbody  |  J.Crew : Bangles