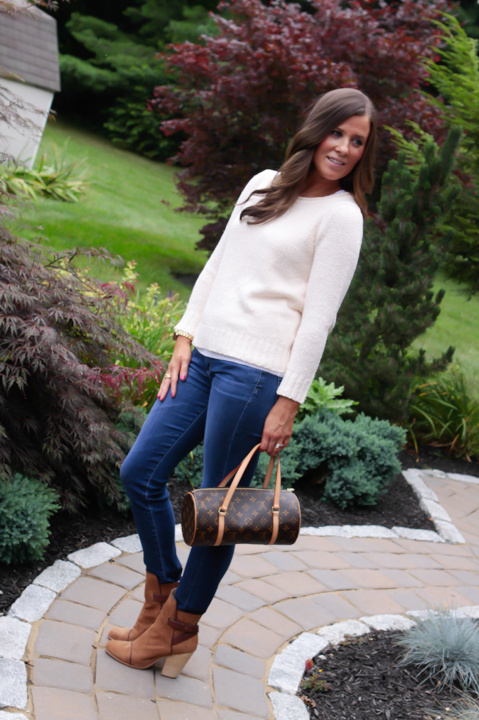 I don't normally do two out posts in one day but I have a girlfriend who's been asking to see pictures of my new Rag and Bone Booties so she can decide if she wants the Kinsey or the Harrow.  While this outfit isn't practical right now, it's fun to dream about days ahead!  I so wish it was cool enough for this outfit but it's SO NOT.  I hate wishing my days away so I'm really just wishing that it was a tad cooler in July that normal, that's all.  I have many a vision for how many outfits these booties will complete but since I don't have any winter clothes here with my in Pennsylvania, this was the best I could do to show you how I would wear these in the fall.
I can already tell you that these booties will be worn A LOT with skinny jeans and leggings.  They do have a higher shaft for a bootie so tucking things into the top is going to be the way to go.  I envision a lot of long, cozy sweaters and tunics this fall to go with my new favorite shoes.  Oh, and a big, slouchy bag will also pull it all together!  I have a few of those on my radar as well…
I am still looking to pick up the Harrow booties this fall in grey so I'll keep my eye out for any special promos or sales that might pop up and let you know!
What were your favorite buys from the Nordstrom Anniversary Sale?
 Sweater, loving this one for fall / White Tank, perfect for layering under sweaters / AG Jeans, or here, also loving these for fall / Rag and Bone Kinsey Booties, also loving the Harrow , budget friendly pair here or here / Louis Vuitton Papillion / Banana Republic Earrings, similar here