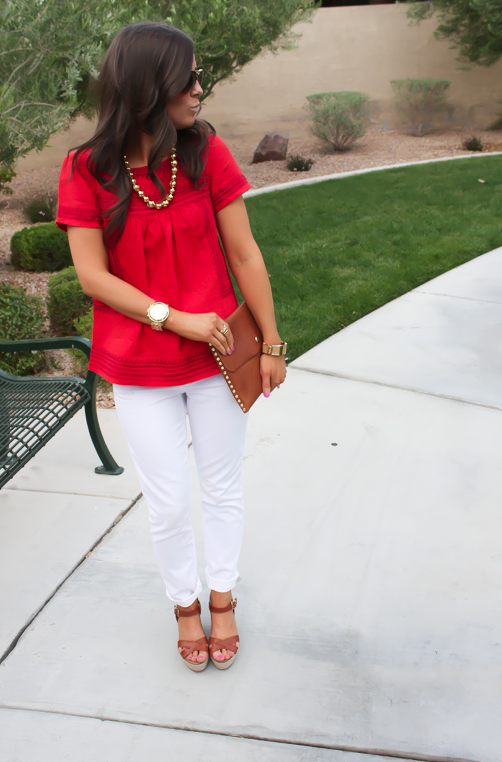 Nothing like a pretty little red blouse to make my spirits high for a Friday!  Especially when this is my LAST Friday of work before summer break kicks off!  I know, I still can't believe another school year is about finished as well.  Time…you move too fast!  Ava graduates pre-k next week and if I sit and think about it too long, I swear I'll have a small breakdown.  Last I checked, Ava was a tiny little babe sleeping in my arms with a binkey in her mouth.  #simplytoofast
So, clearly I need a little pep in my step and sharing some bright and fiery red is pretty much the only way to go.  This top is adorable, yes?  Here's my favorite features…  I love the sleeves!  Not too short, or long, and they're not too tight either.  I swear, my arms are my least favorite thing to show and I wear sleeves as often as possible.  What else?  I also love the embroidery details.  There's something about embroidered blouses that I just love in the summer and this one did not disappoint.  Finally, it's not form fitting at all in the torso which is pretty much the last thing I'm looking for when it's 100*+ outside.  This gal needs a little ventilation in her daily outfits.
I love red and cognac together but in an effort to avoid looking too dark, I paired this blouse with my favorite white jeans and there you have it.  Red is no longer shelved for winter, girls!  Find your favorite and wear it proudly!
Have a great weekend, everyone!
Thanks for visiting today…and everyday!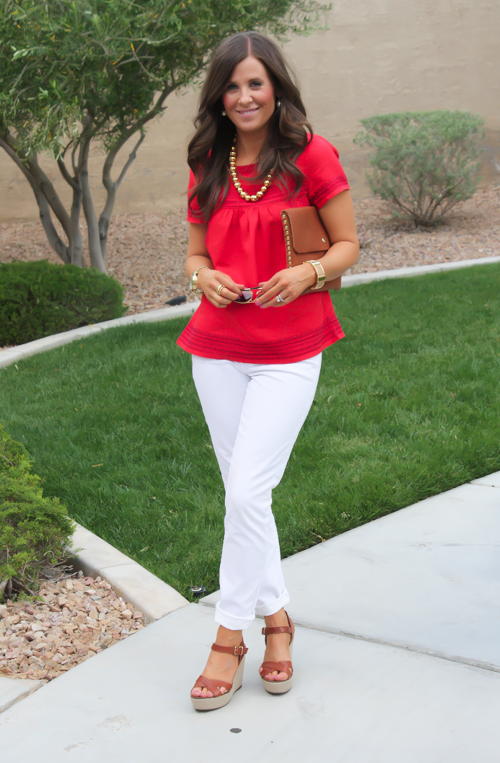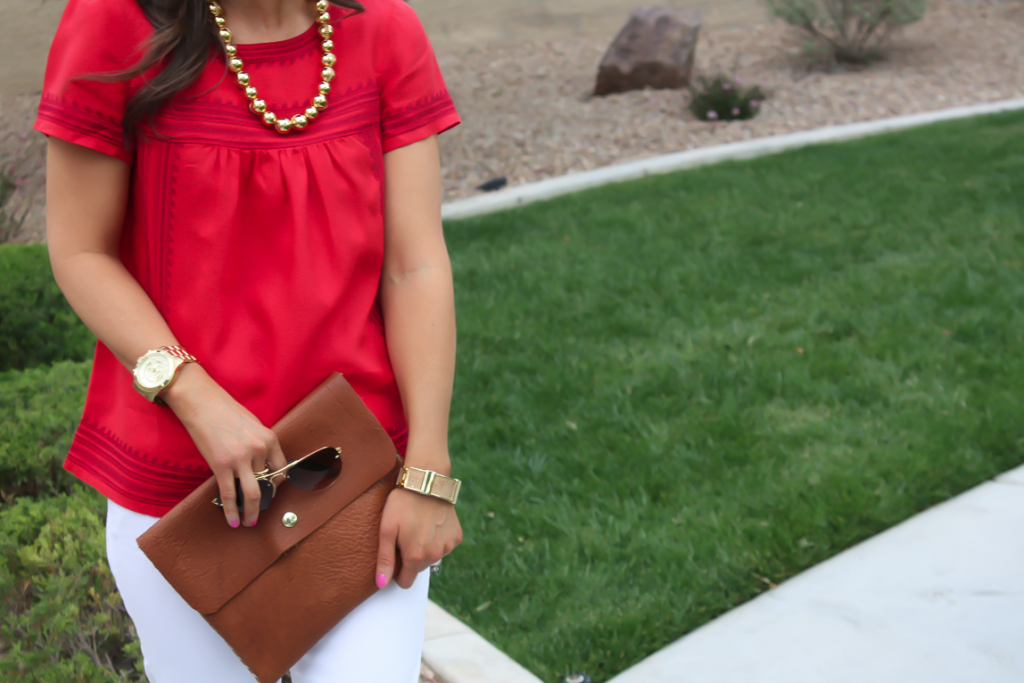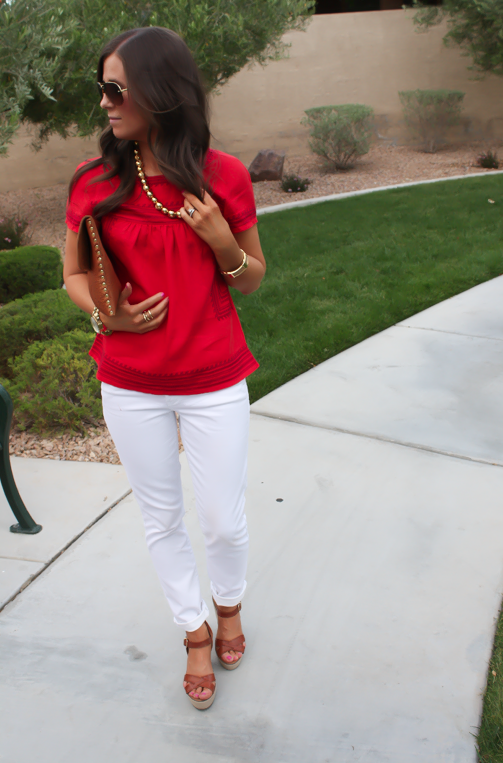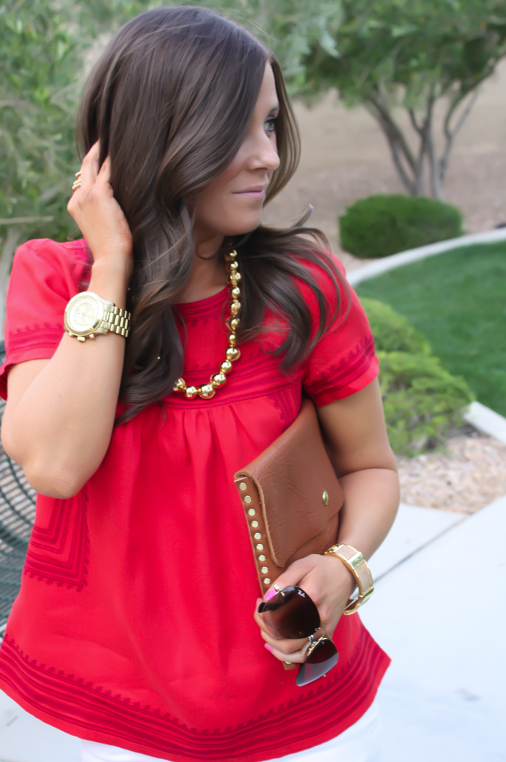 Madewell : Linen Blouse   |  Banana Republic : White Jeans  |  J.Crew : Wedge Sandals, current version here  |  Madewell : Clutch  |  Michael Kors : Gold Watch  |  J.Crew : Gold Necklace, try this  |  Sunglasses : Ray Ban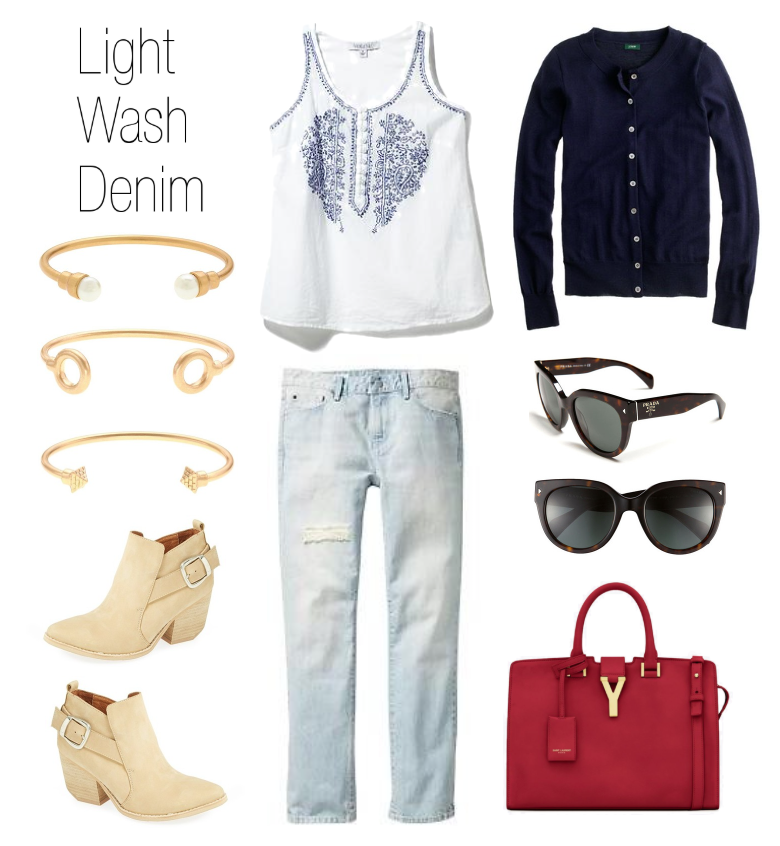 Embroidered Blouse  |  Navy Cardi  |  Distressed Jeans  |  Booties  |  Red Bag  |  Tortoise Sunglasses
Pearl Bangle |  Circle Bangle  |  Pyramid Bangle