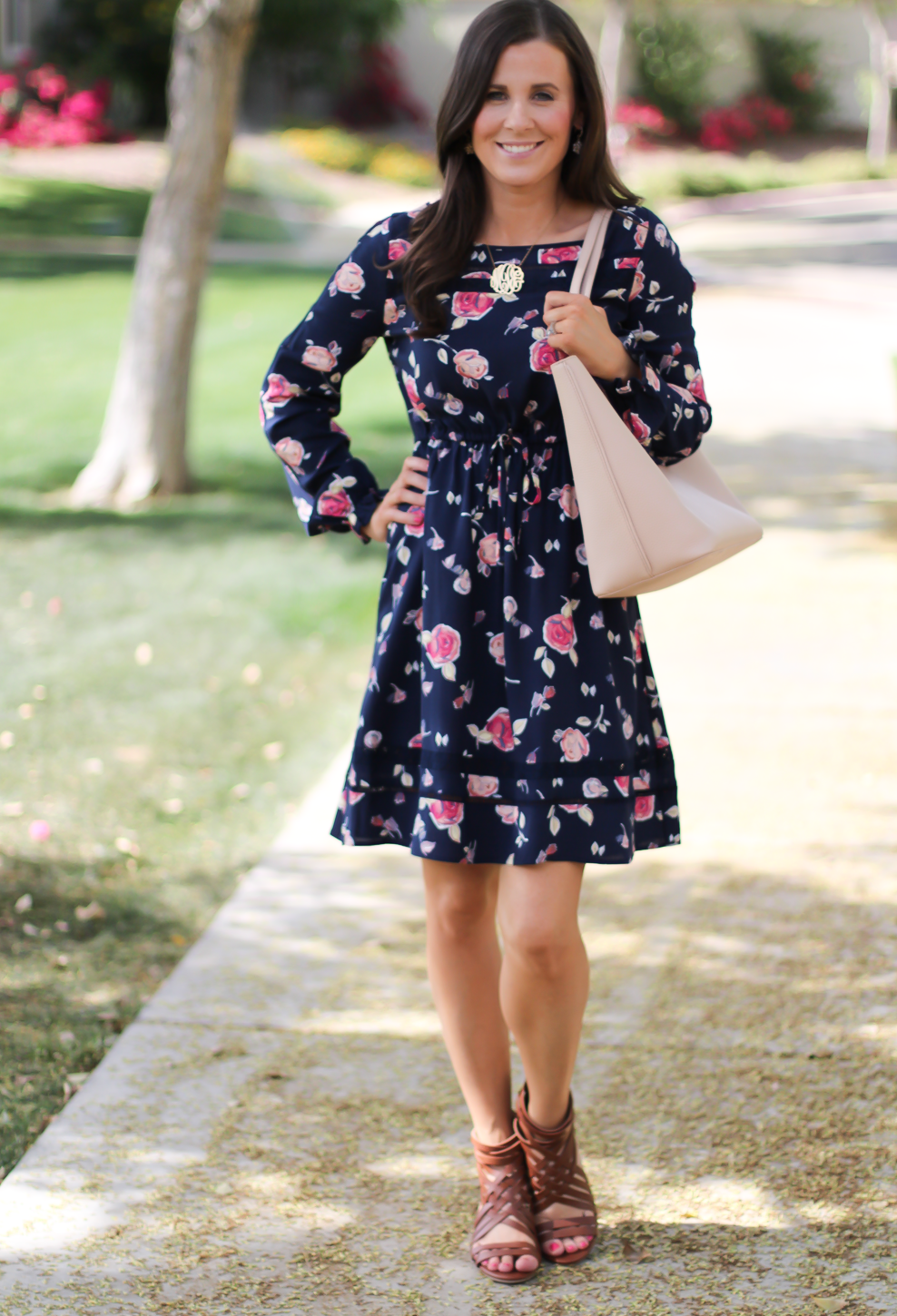 I had a lot of fun pulling some looks together for today's post to share a little bit of inspiration for spring that I picked up from Kohl's!  I won't lie, I went in there with the idea that I would pull together ONE look and as you can see, I got a little carried away and instead I have THREE!  To me, spring opens the door to so many possibilities after we store those bulky sweaters and jeans after those winter months are finally behind us.  So, you know, I got a little excited when it came to narrowing down my options.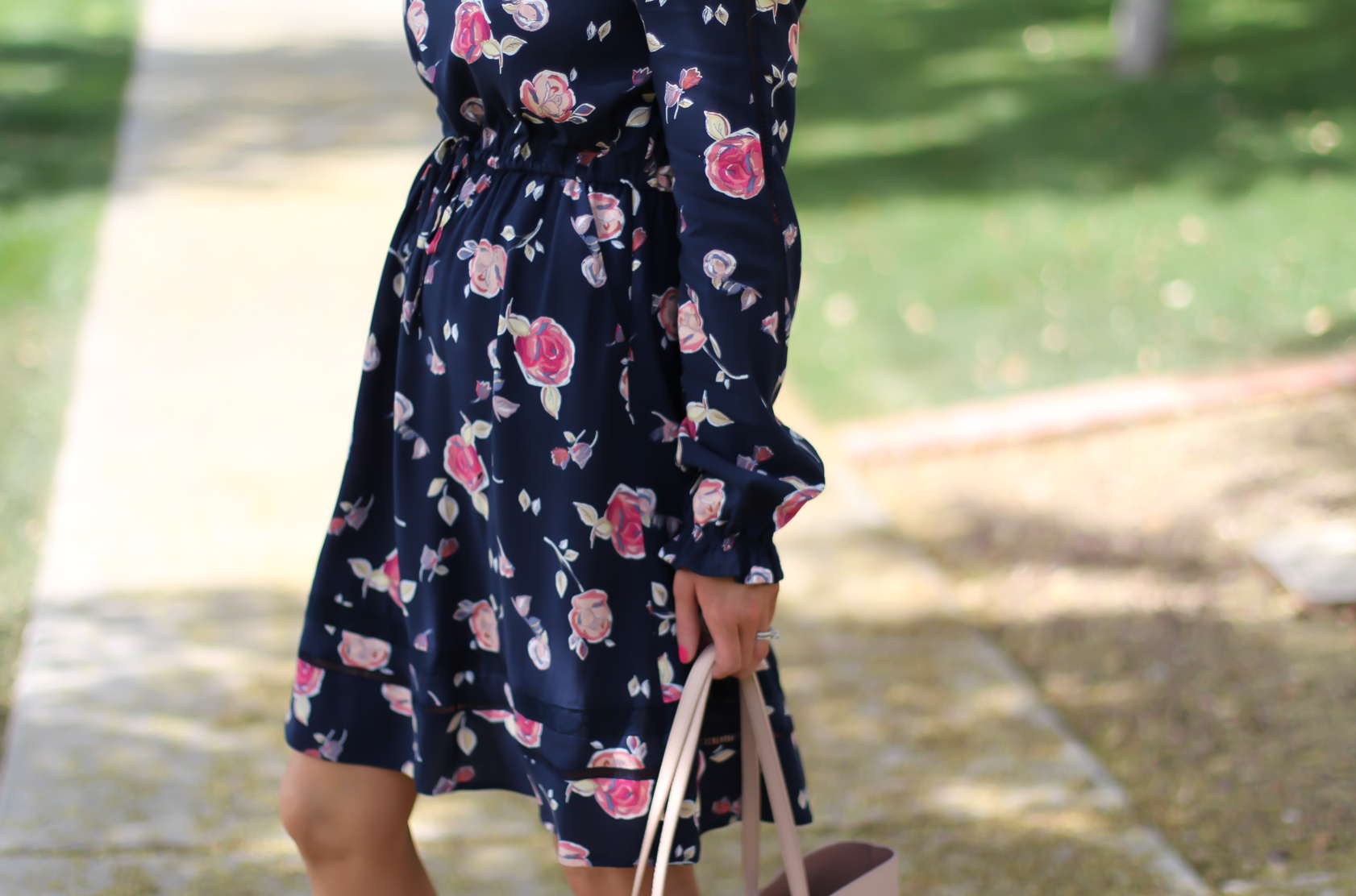 Is there anything MORE spring than a floral print?!  Really, I can find a way to bring floral into my life pretty much all year long but there's something that's extra appropriate about that print this time of year.  I adore, and I mean ADORE this navy dress with the pretty pink florals!  First, long sleeves for that temperamental weather where it's chilly, than warm…and then chilly again.  I love the tie waist and the flirty skirt that hits just at my knee.  If you look closely, you can also see the cute little wrist details, too!  So sweet!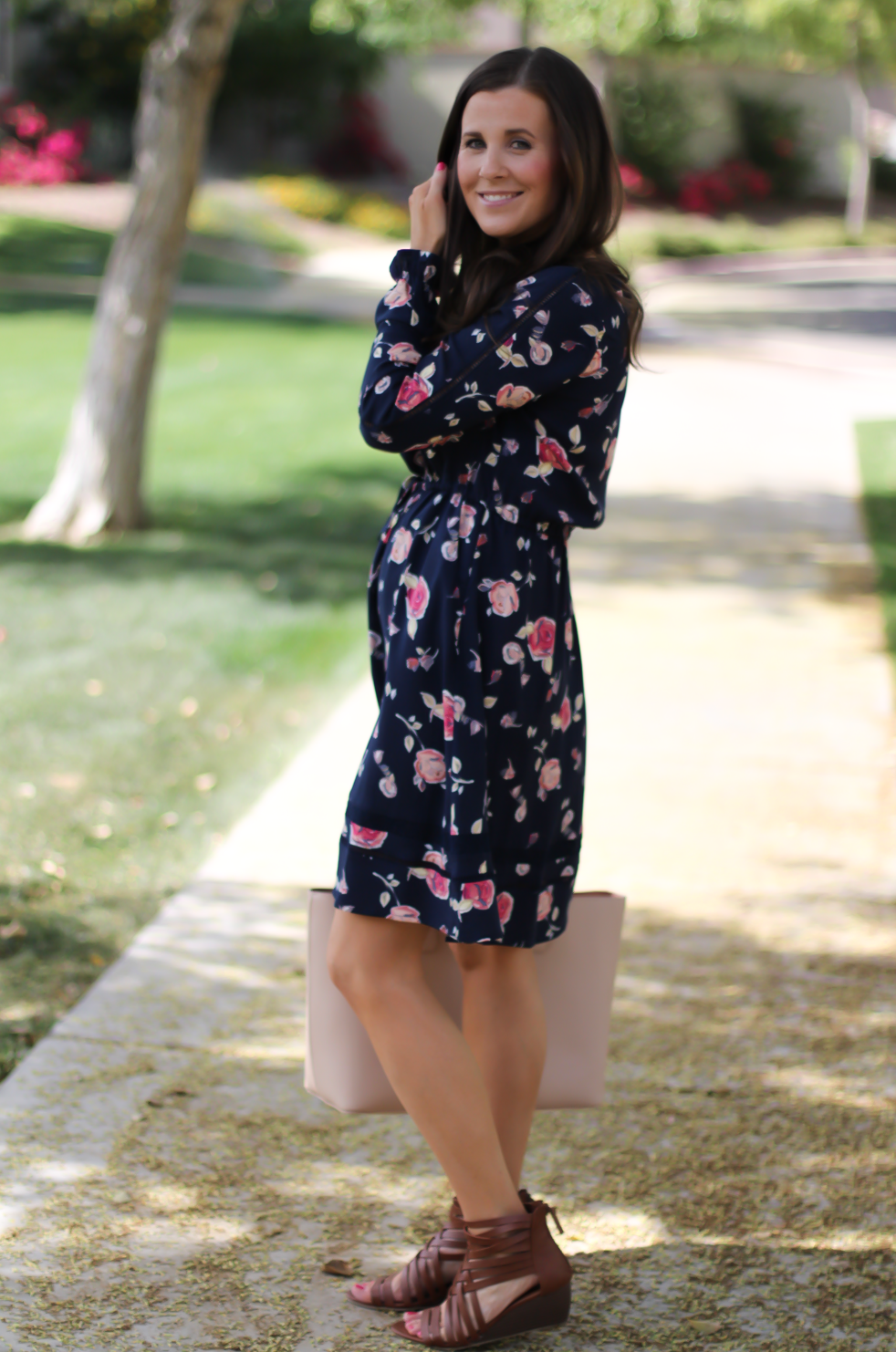 Finally, these strappy sandals are as easy and comfortable as they are cute!  That small wedge heel gives me just enough height and the straps around my feet are soft and move well when I walk.  They almost even remind me of a spring/summer bootie because of the slightly loose straps around the ankle.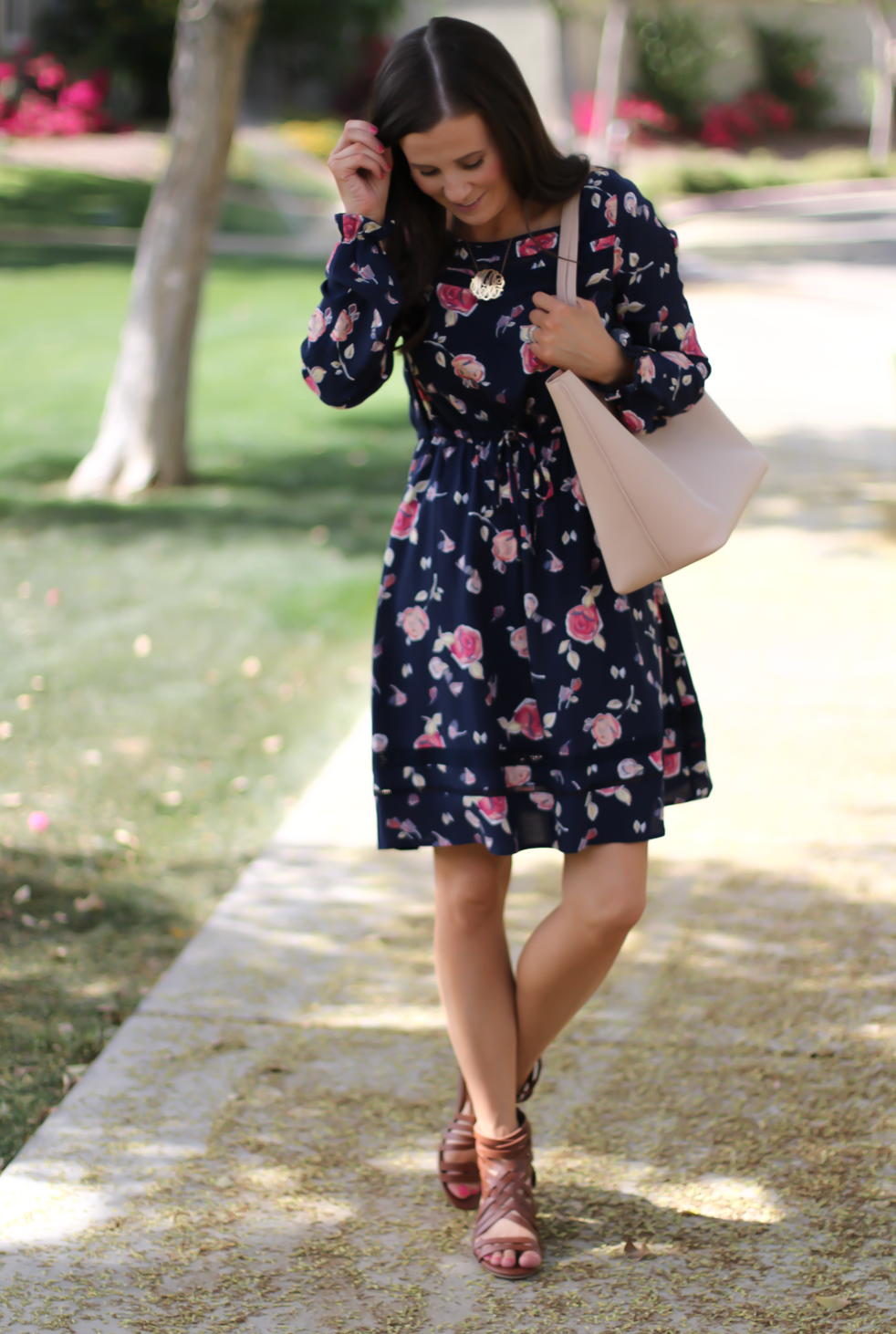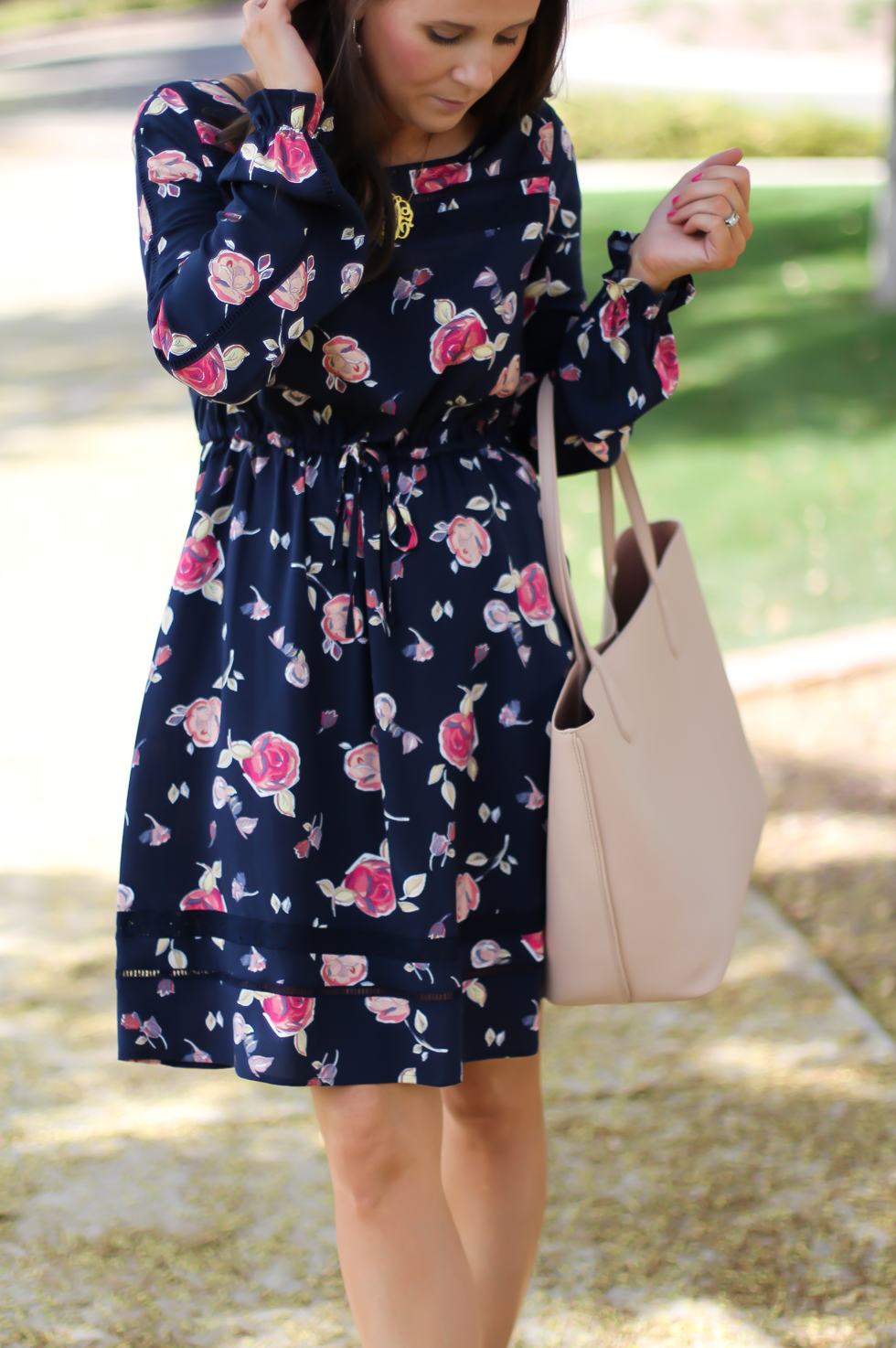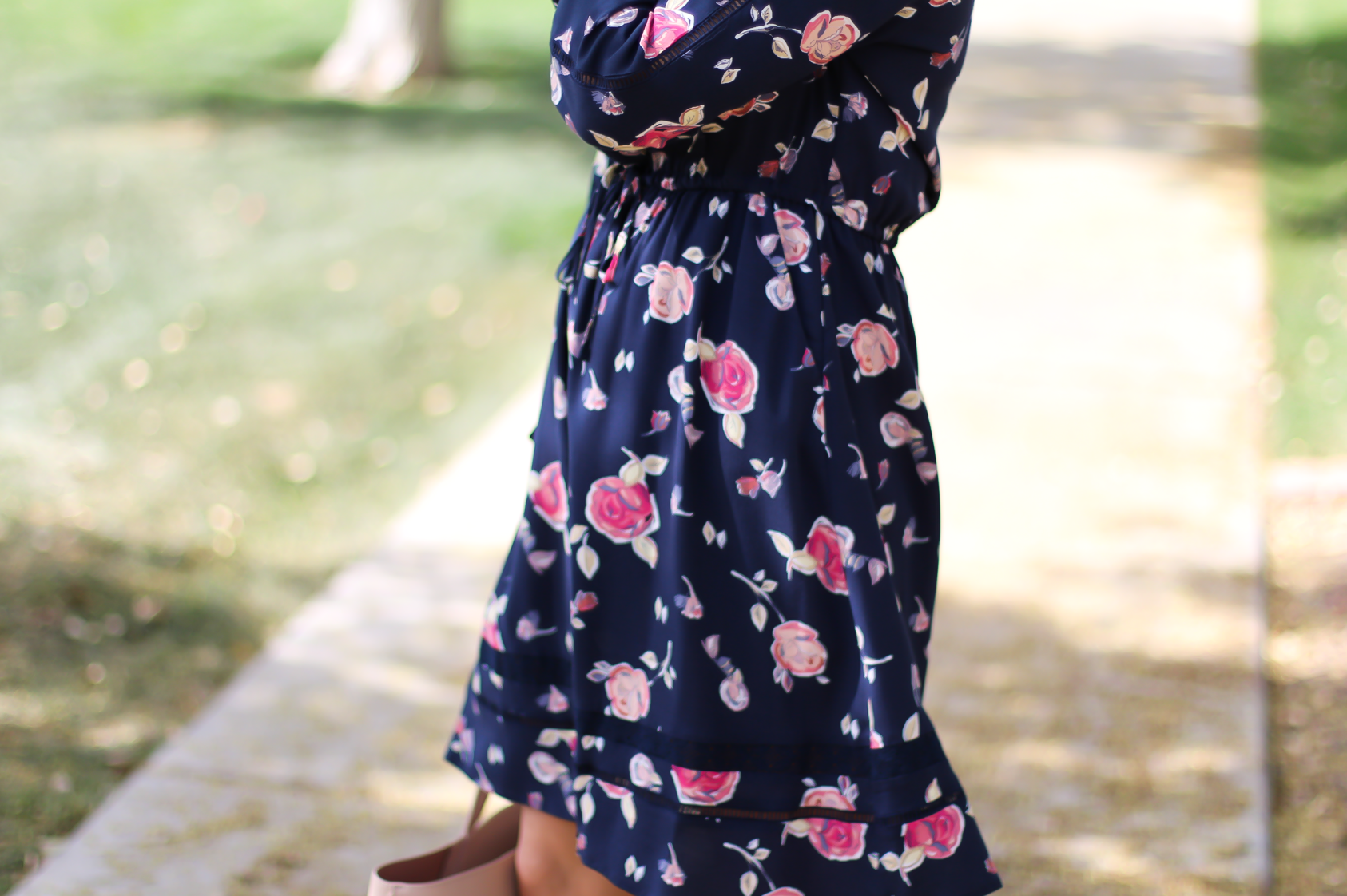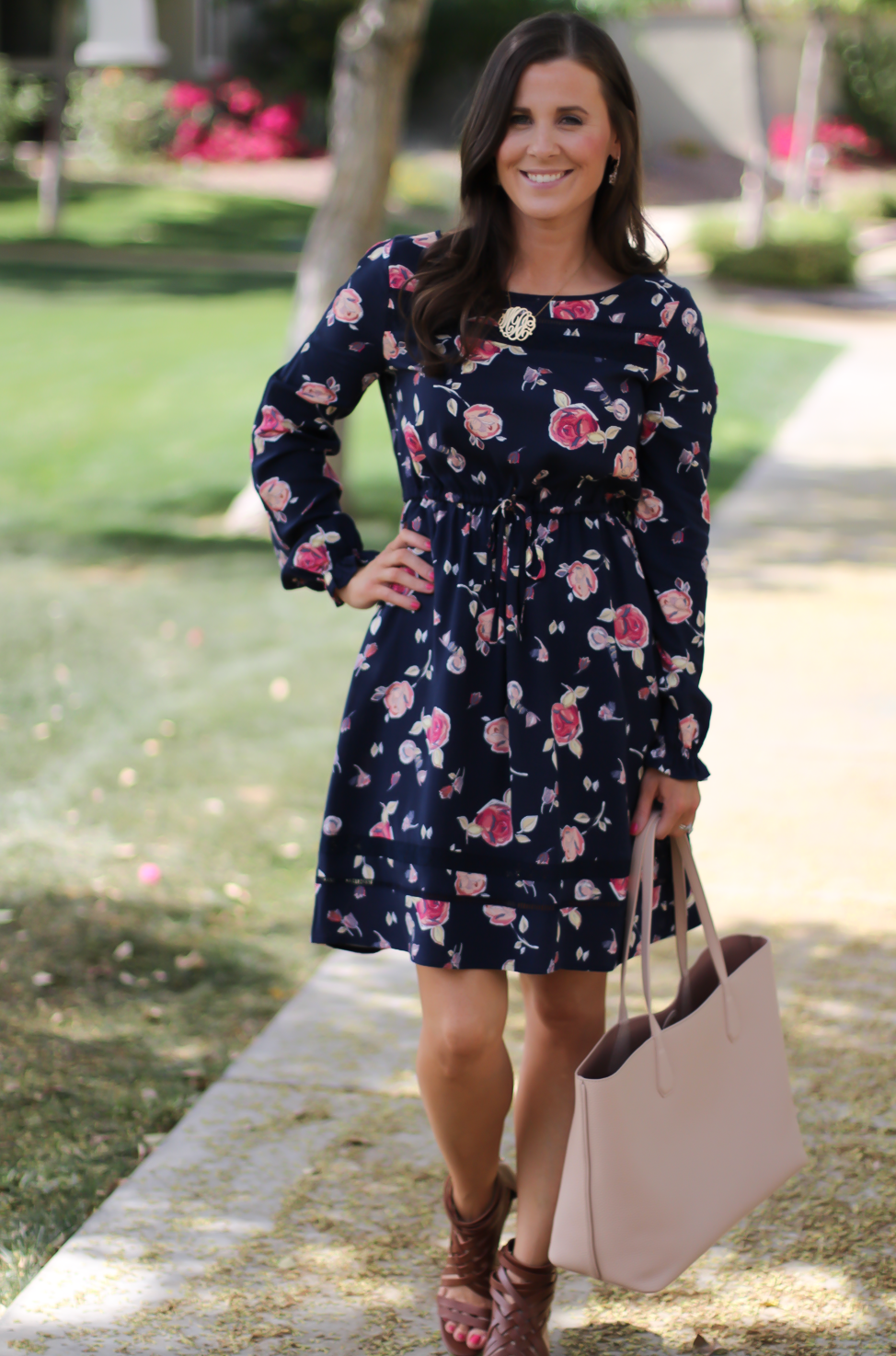 Lauren Conrad Dress (I'm wearing a size Small)  |  Candie's Sandals (TTS)
PLEASE check out these SWEET Lauren Conrad lace shift dress, too!  Oh my gosh, so cute…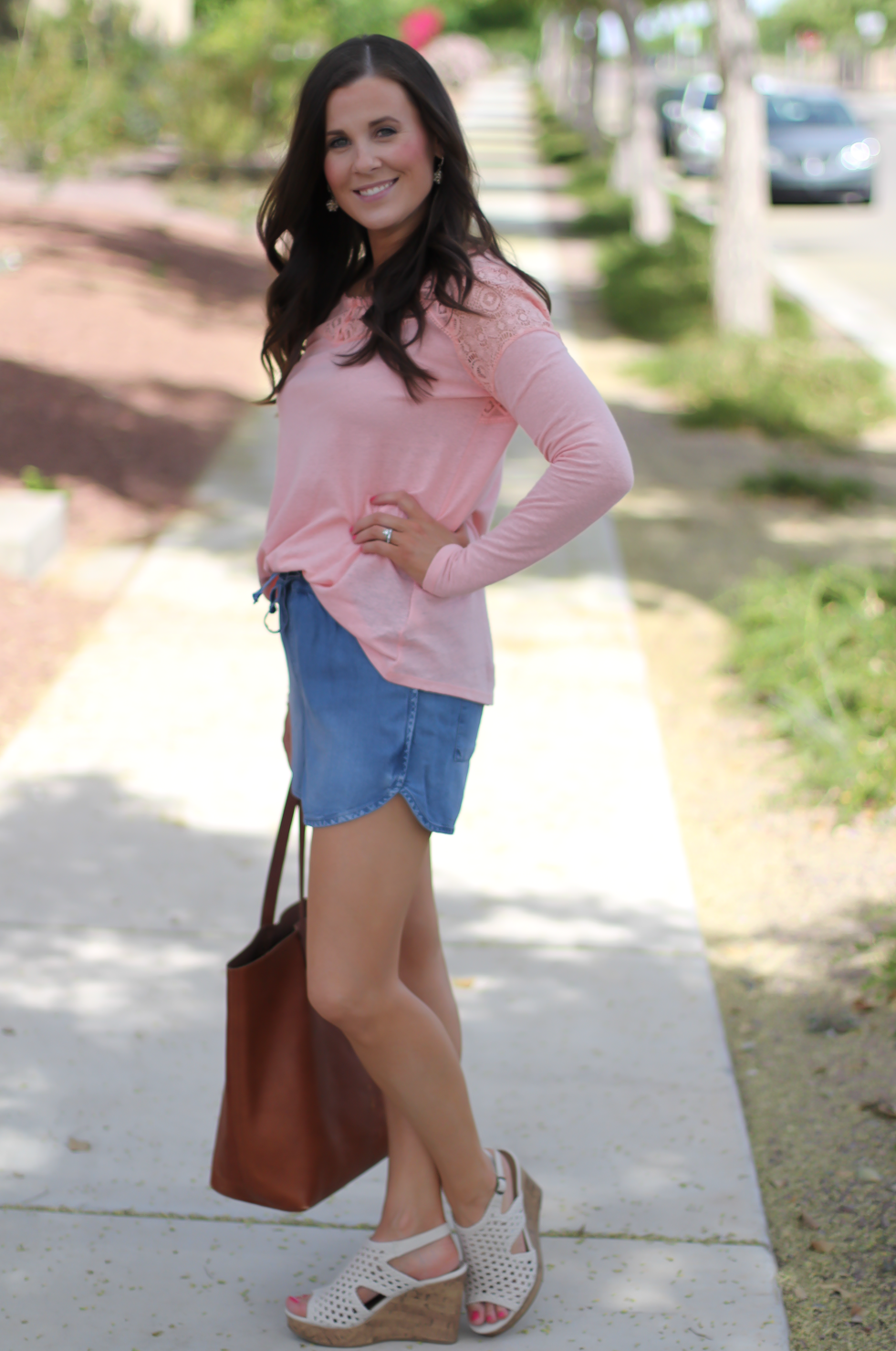 Okay, Phoenix, bring on the heat!  These super soft and lightweight chambray jogger shorts are exactly what I need over the coming weeks.  Denim can be a bit overwhelming over the summer, no matter where you call home, and these shorts are going to be a great substitution.  Honestly, I even see myself wearing them to the pool over my swimsuit so they're going to be really versatile, too!  A length I'm comfortable wearing and with a tie waist and cute pockets on the back, I am tempt to get them in the lighter wash.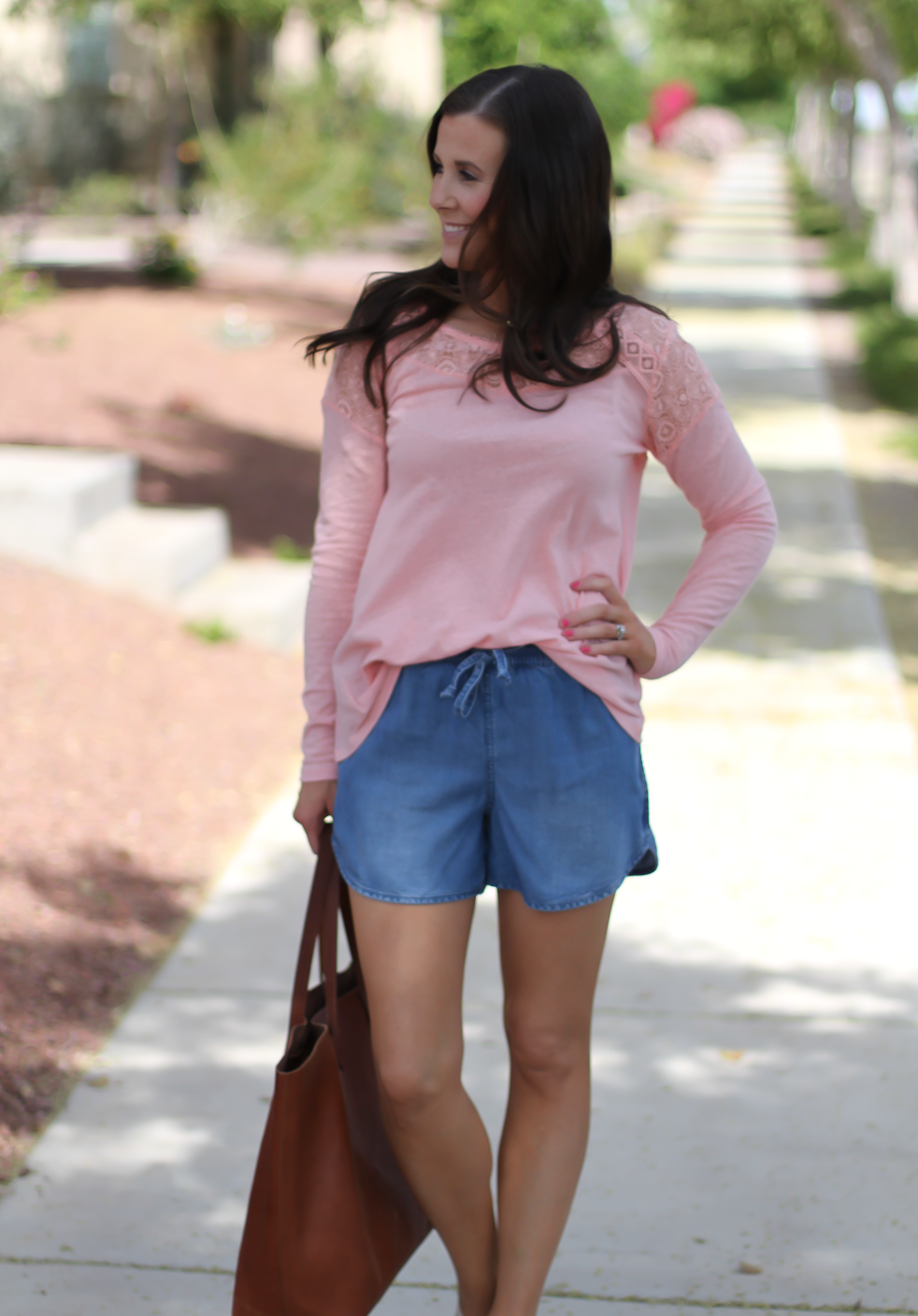 I love the lace details along the shoulders and across the top of my back in this pretty peach top.  More of a linen material, I loved the way the color casually paired with the chambray.  I could also see it pairing really nicely with a pair of white skinny jeans!
You could also give your chambray a dressier spin with this pretty pink peplum!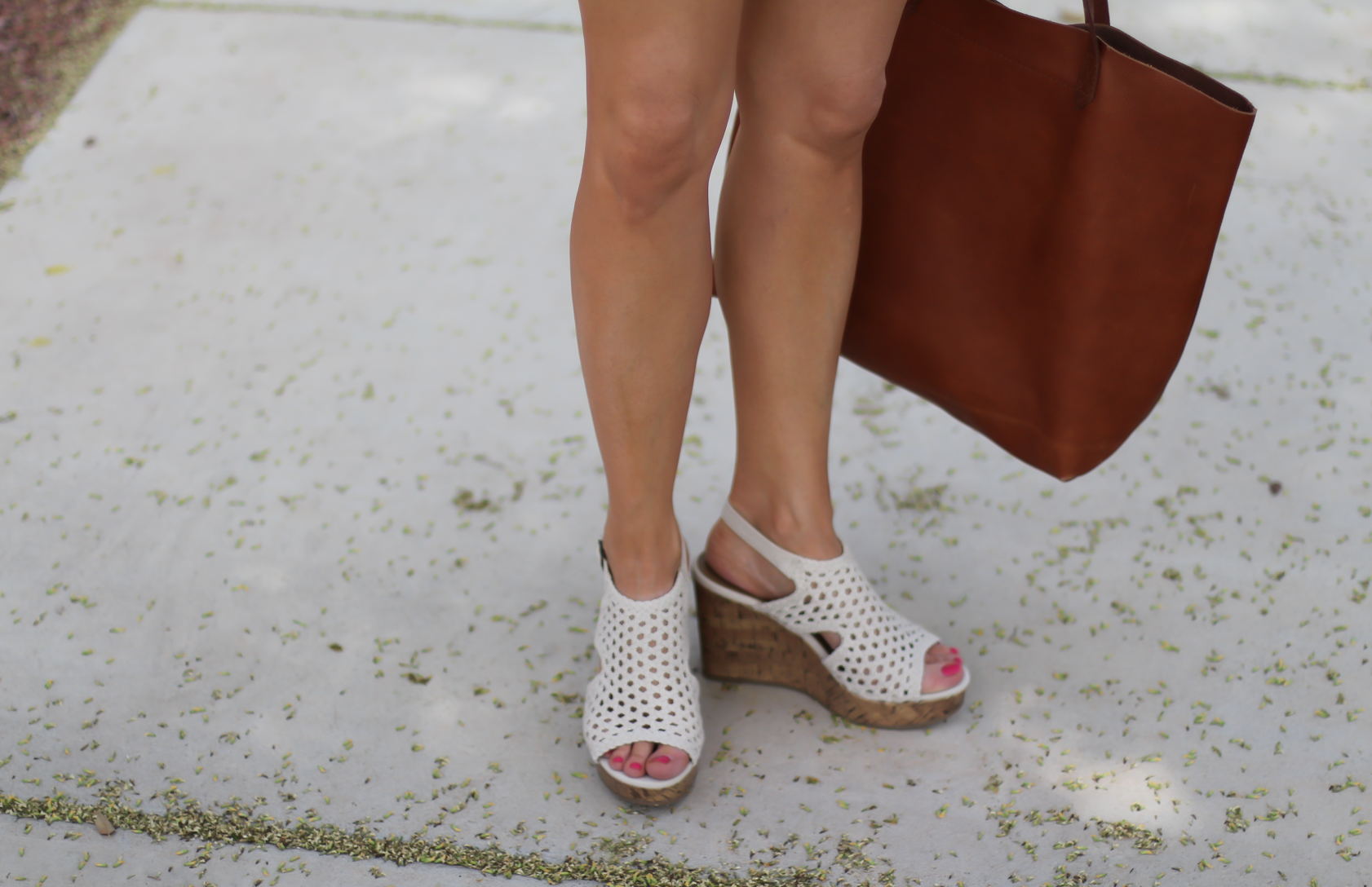 A neutral pair of wedges goes a long way I love the crochet paired with the cork soles.  Again, a wedge is always going to be far more comfortable than any other heel you grab this spring white I opted with a pair of chambray shorts, I think they would also look so cute with a fun little dress!!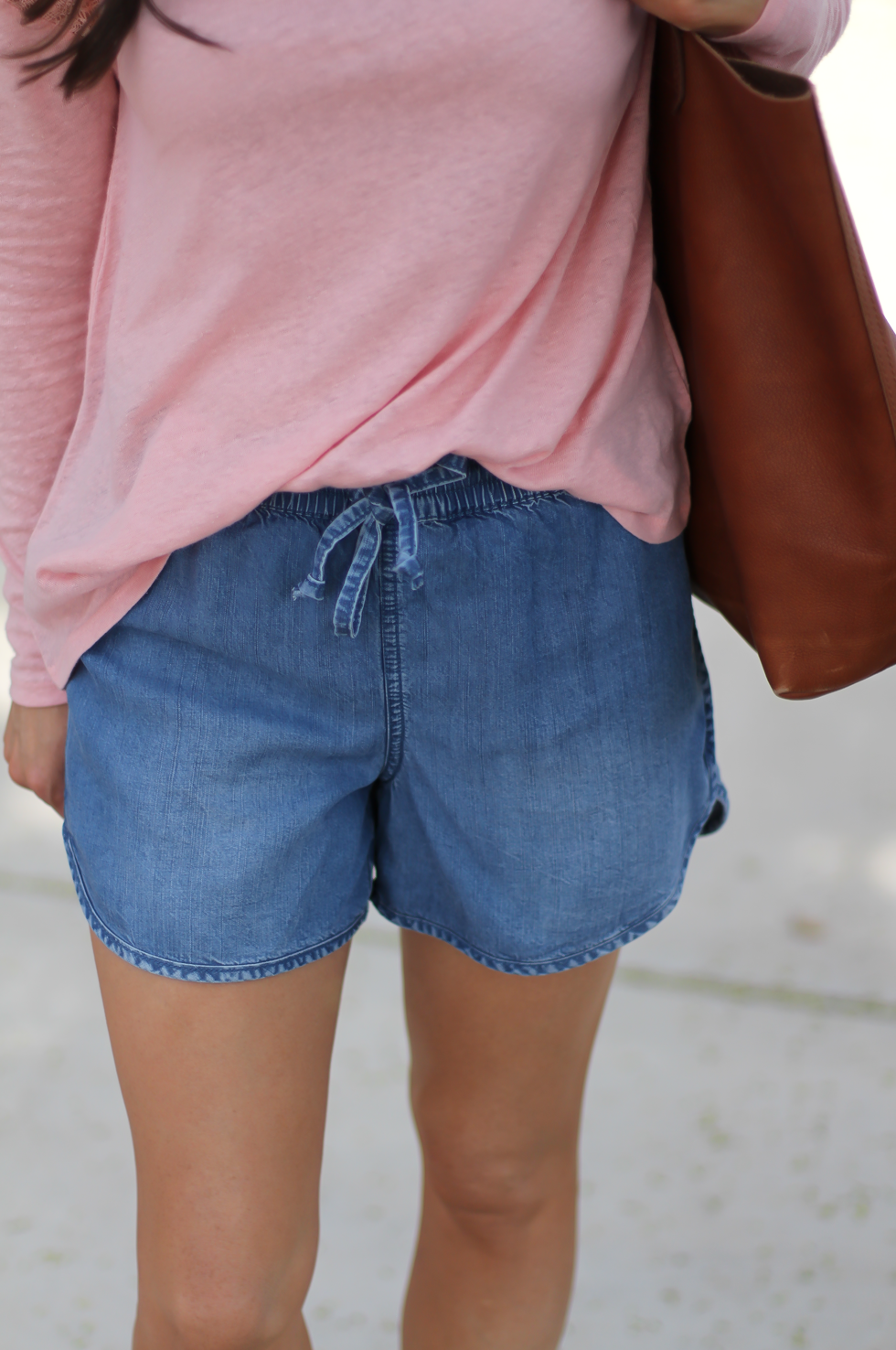 Pink Lace Top (I'm wearing a size Small)  |  Chambray Jogger Shorts (I'm wearing a size X-Small)  |  Crochet Wedge Sandal (TTS – Comes in 8 colors!!)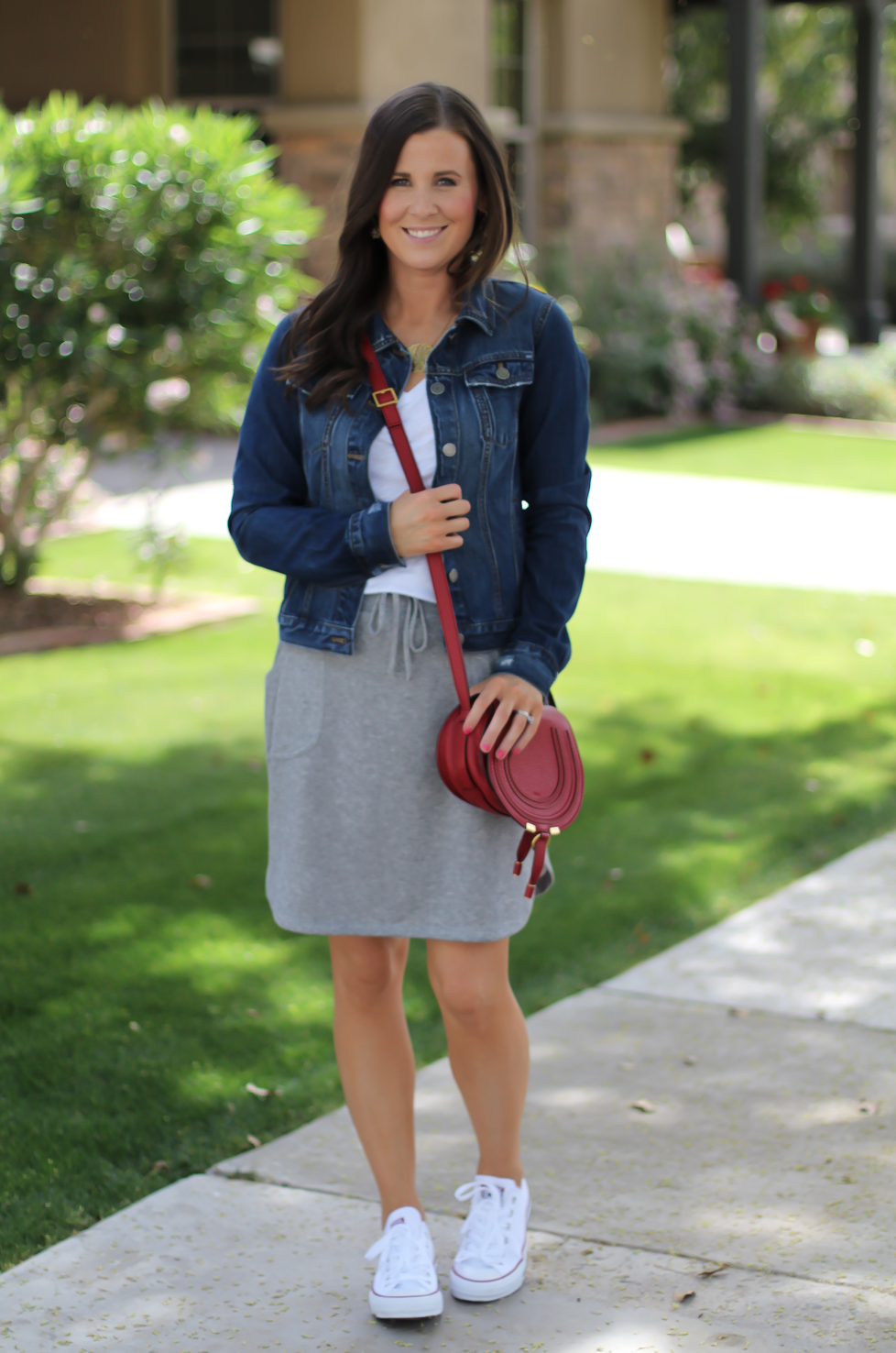 While it most be the laid back look in today's post, it's definitely one of my favorites.  Is there anything better than a ultra soft and flattering jersey skirt?!  If there is, I haven't found it yet!  As simple as it gets, I love the little details like the drawstring waist and the pockets on the side to give it just a little bit of character.  A perfect length for running around town with the girls and pairs so easily with some bright whites and a denim jacket.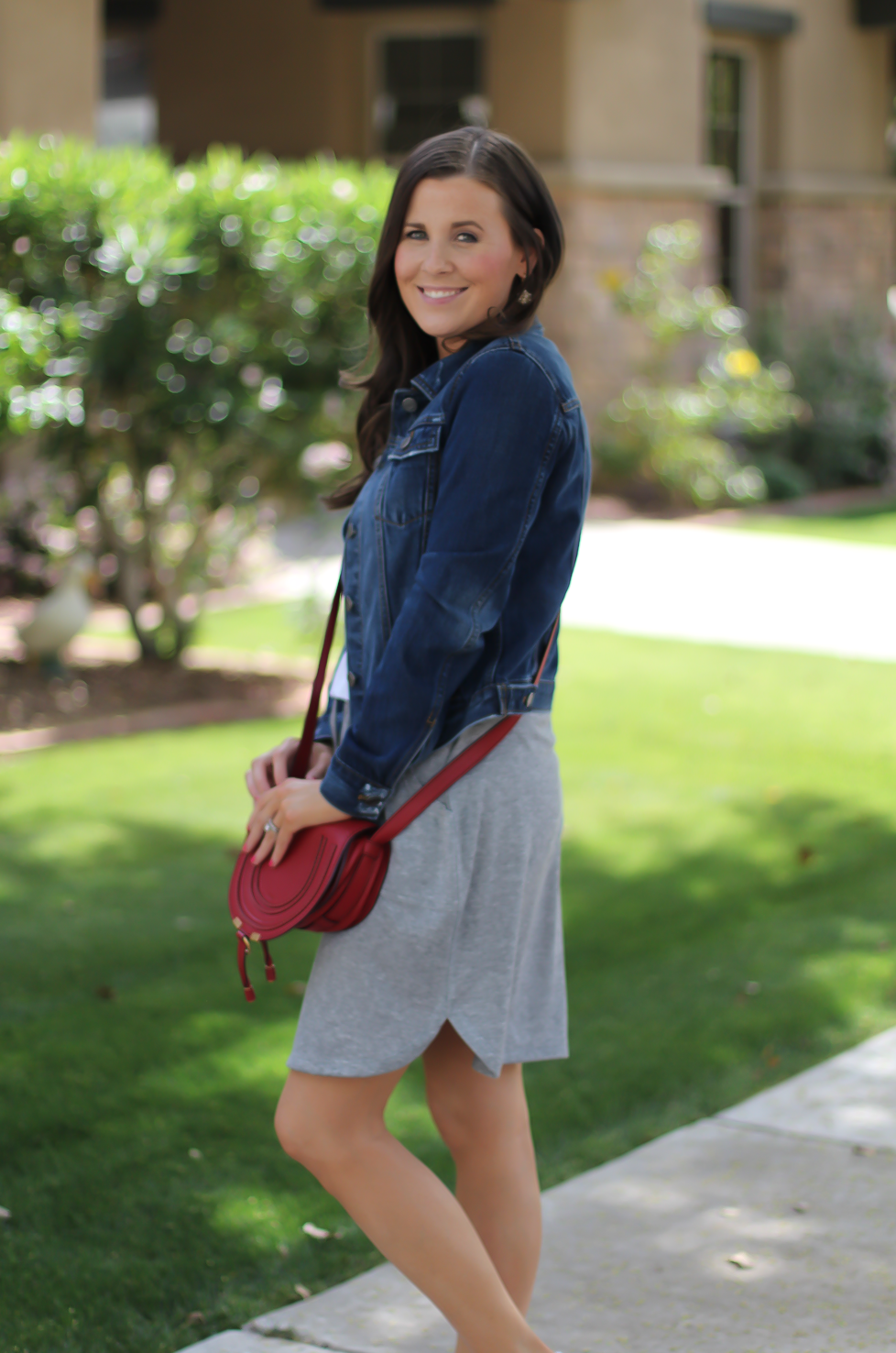 I wear a denim jacket with just about everything and for those of you that read my blog know that it's definitely one of my most worn layers pretty much all year long.  I love a darker wash with a little bit of distressing and I can already think of countless ways to incorporate it in my wardrobe in the coming months.  It's an absolute must have in my closet!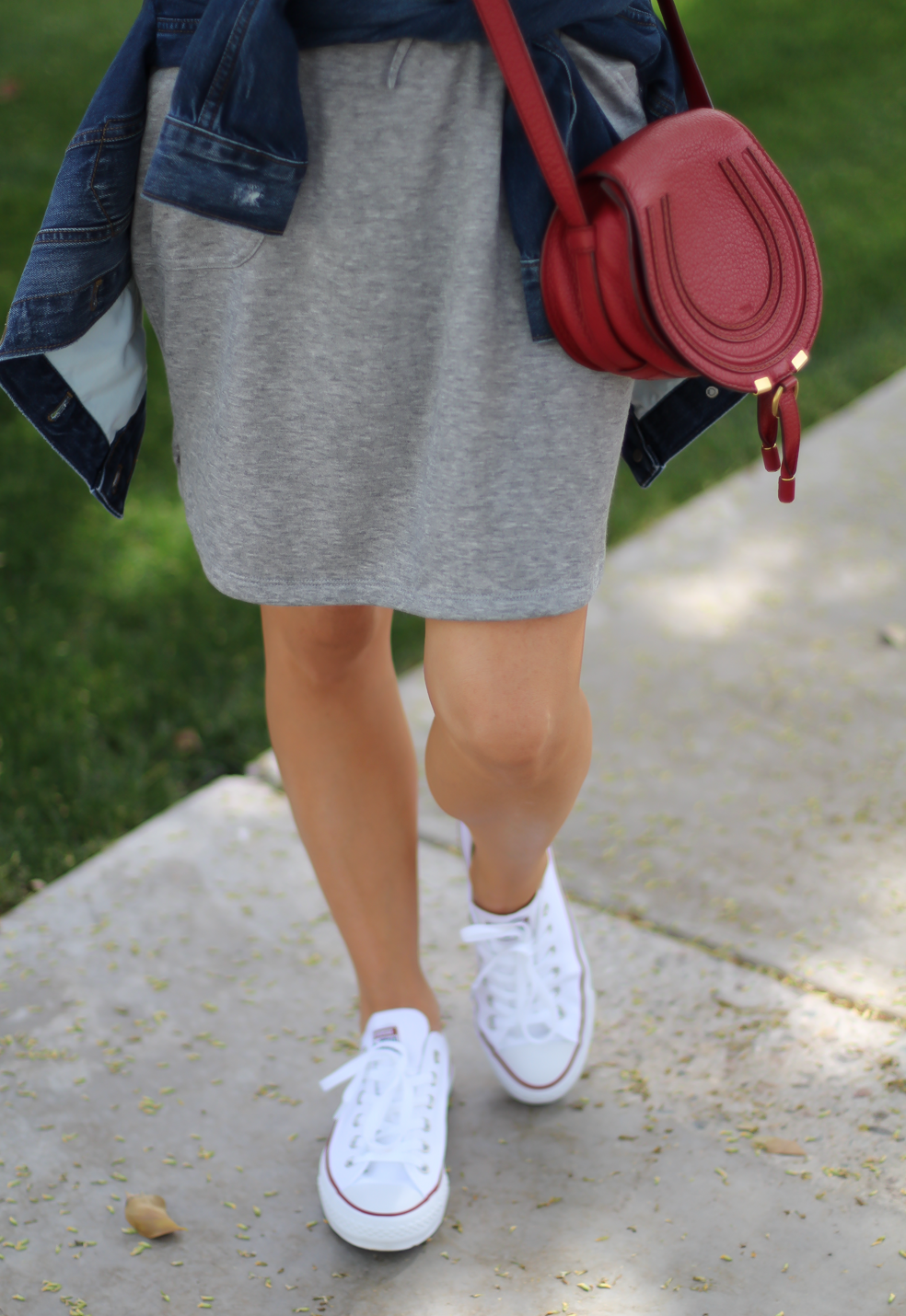 Keeping this look laid back and still pulled together, these bright white converse sneakers were the perfect addition and I loved them so much, I grabbed the navy pair, too.  I'm actually surprised I've gone all these years without these classic kicks!
**I am ALWAYS a size 8 (womens) and I took a size 7 in this shoe – which fit perfectly.  So, size down one whole size.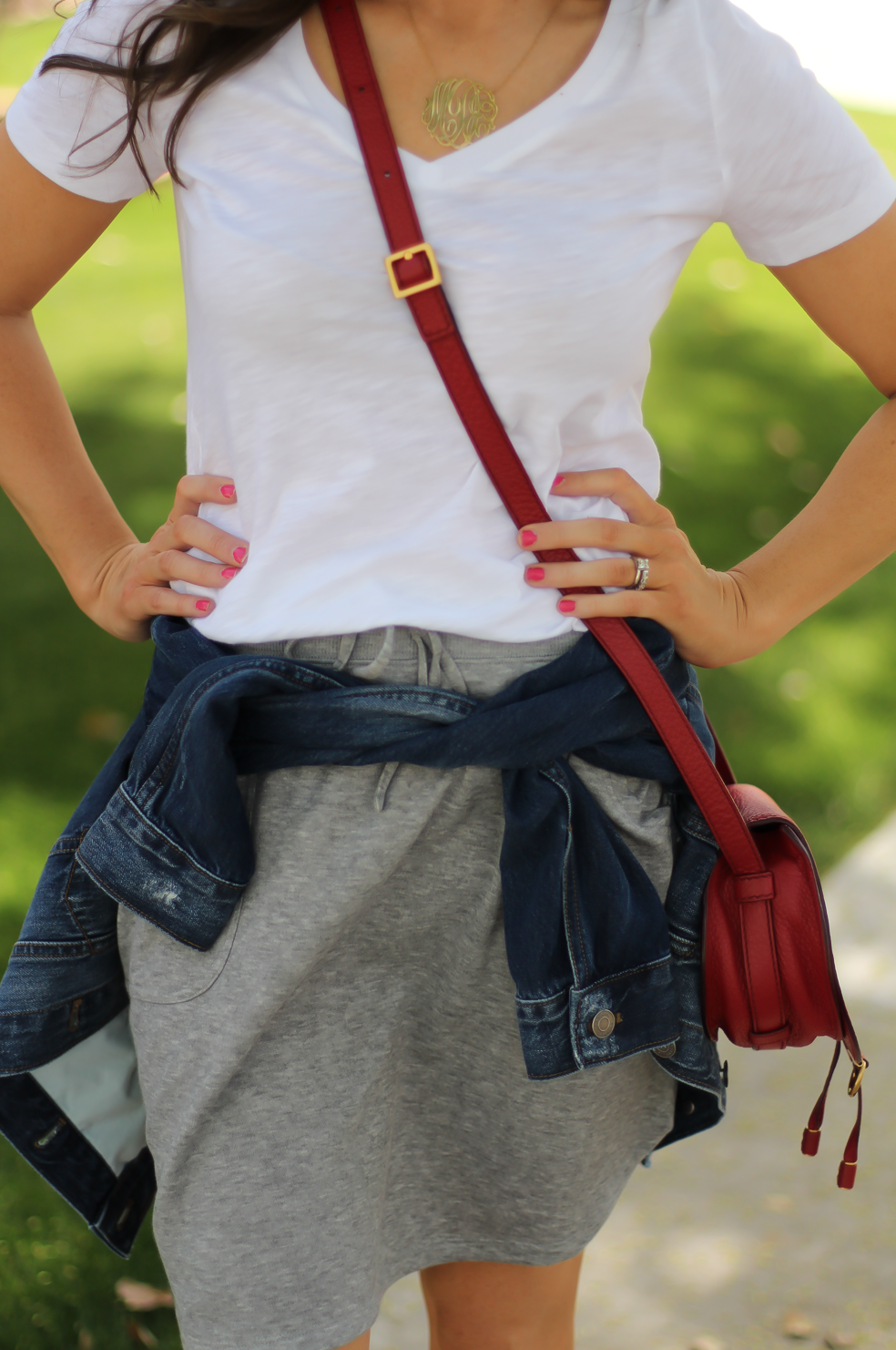 I'm afraid I can never have too many basic white v-neck tees.  This one feels, fits, and looks great.  Lightweight and even though I tucked it in, the length it great, as well.  Stock up with all the great colors, too!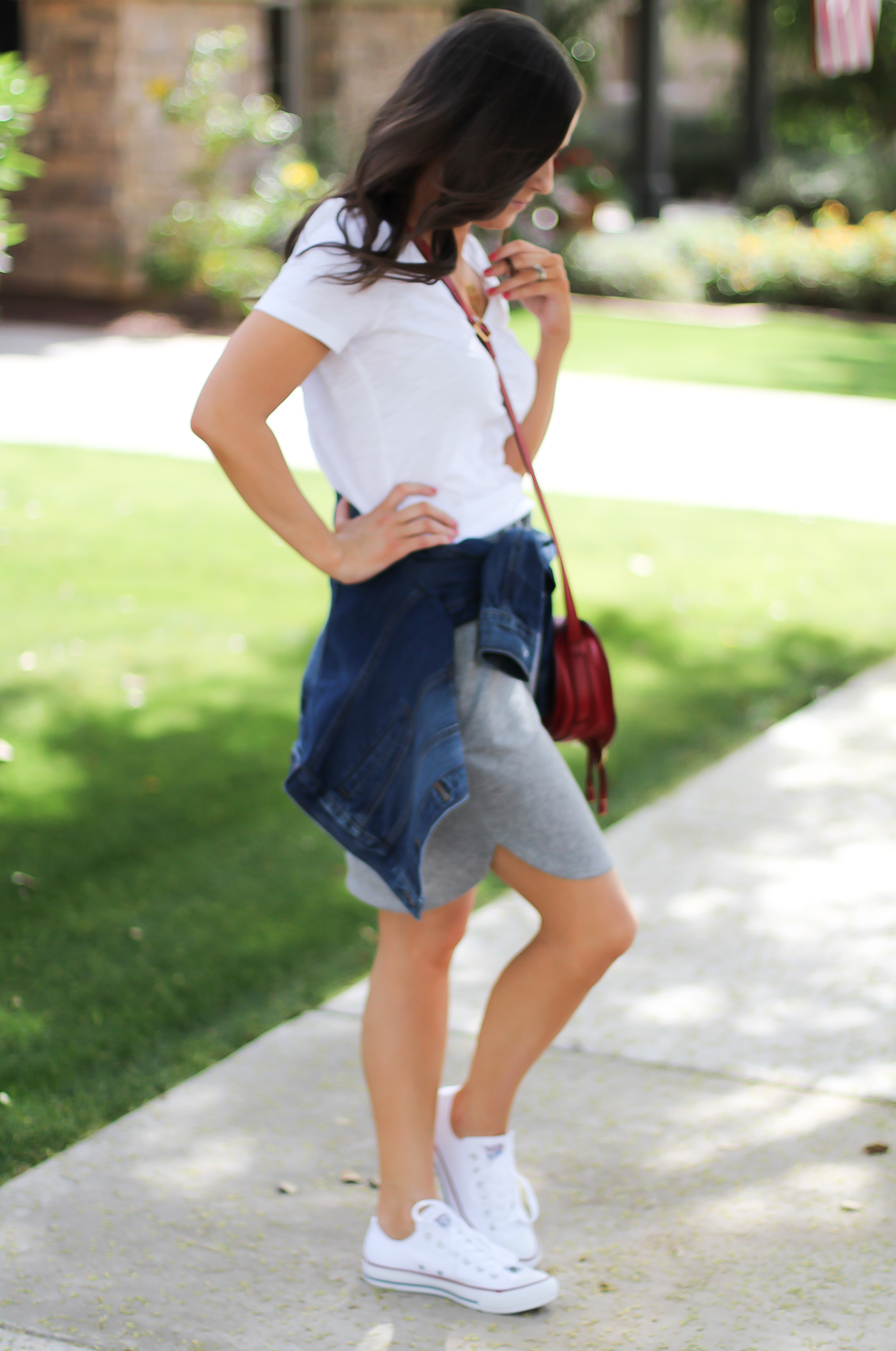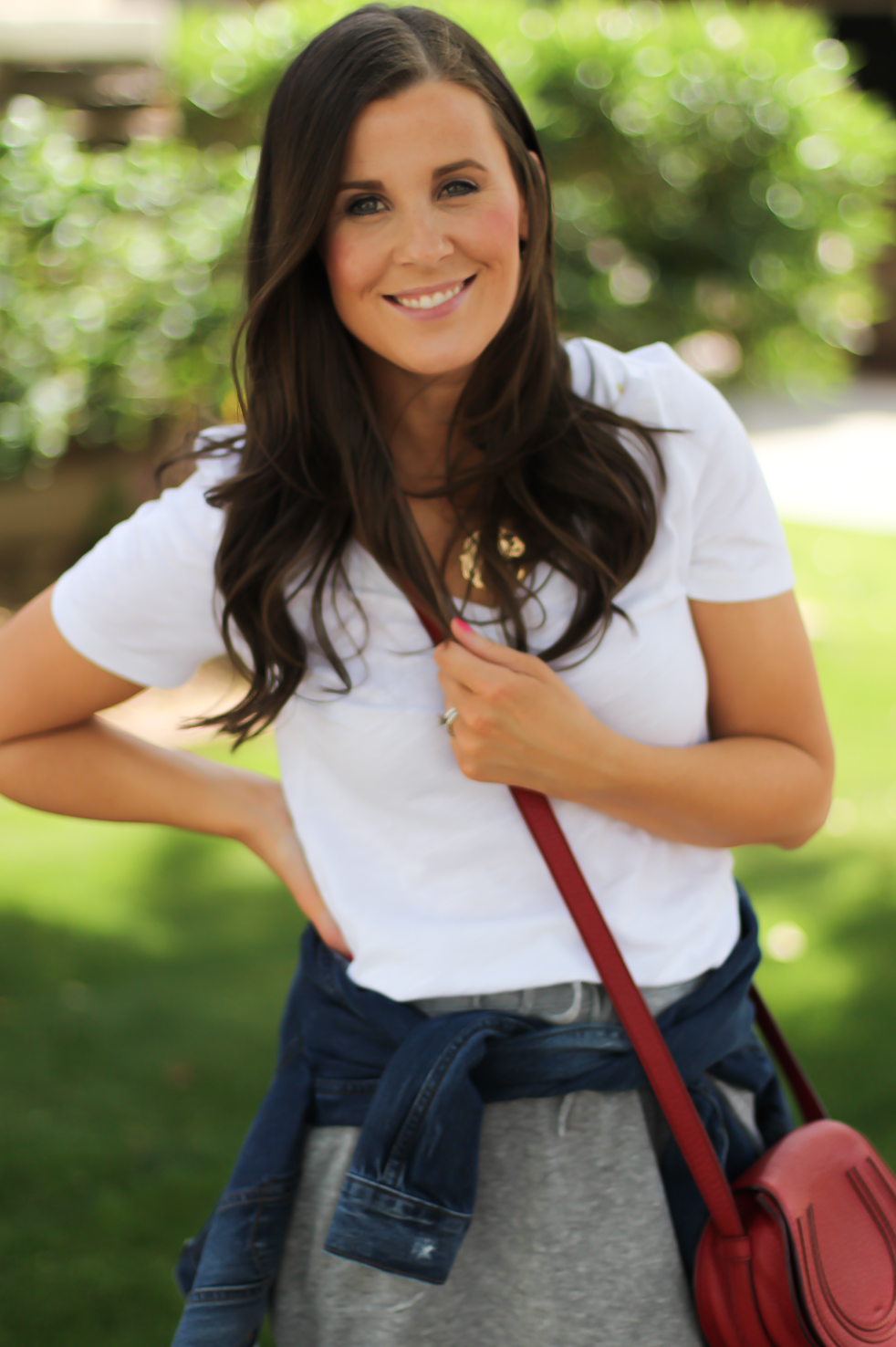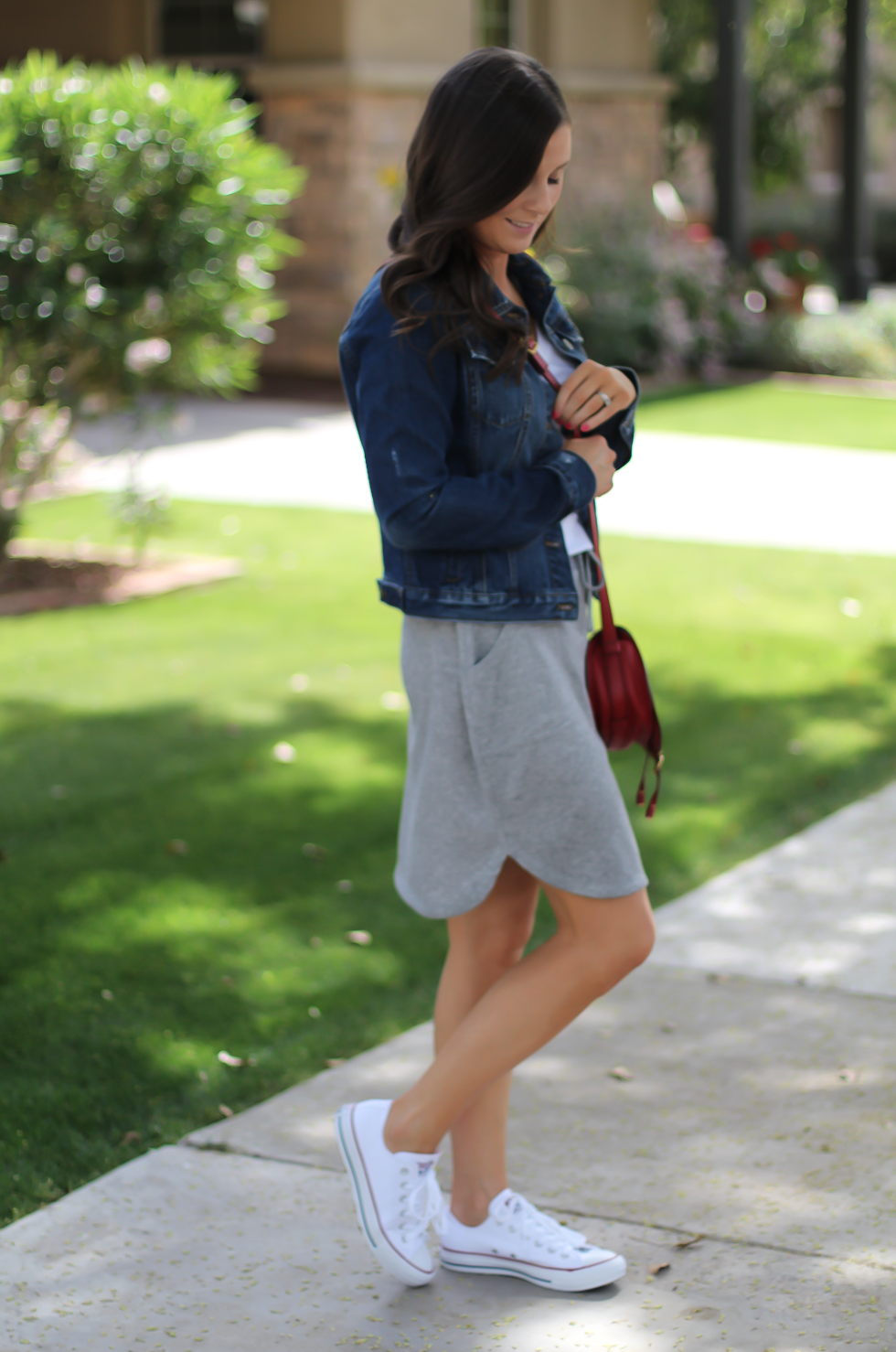 I opted to not pick up a new denim jacket since this one pictured is fairly new, BUT you can check out this one – that's similar and on sale!
White Tee  |  Jersey Skirt (Comes in 4 colors – TTS, I'm wearing an XS)  |  Converse Sneakers (Size down ONE whole size.)
What are you looking forward to wearing this spring?  Which outfit today was your favorite?!  I'm torn because they're all great options for different occasions!  I do, however, love knowing that these are all outfits that can be broken down and so easily be paired with just about everything I already have hanging in my closet.
You can shop today's post below as well as browse a few other pieces that I love for spring!
Have a great day, everyone!  Thanks for stopping by!
Today's post was sponsored by Kohl's and ShopStyle.  All opinions are my own.