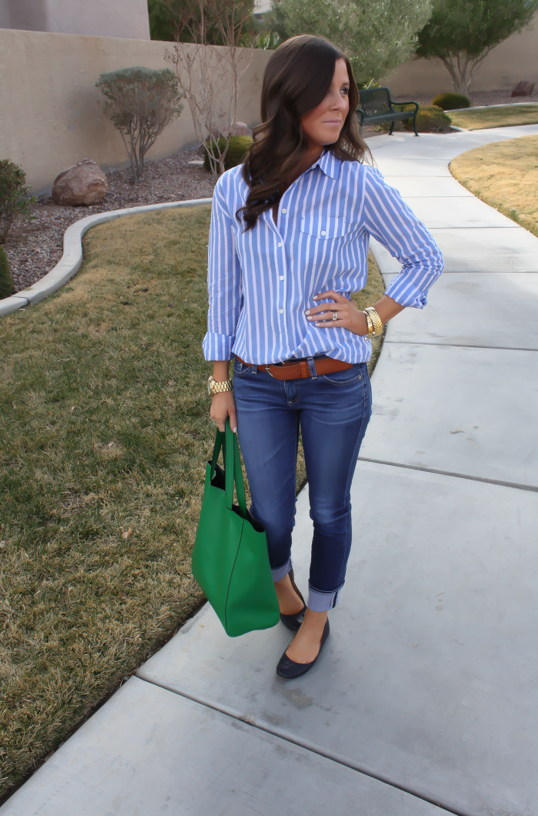 Happy "half-way" day!  Meaning, WHY isn't it Friday yet?  So close, friends… So close.
Today is all about this 3 in 1 tunic that I basically ran towards when I saw it in Factory this past weekend.  Why, you might ask?  Well, aside from the stripes that I can't never turn down, the first thought I had when I saw it was…this is going to make the best bathing suit cover up this summer!
This is a true tunic and it literally hits at my mid thigh when I don't have it tucked it.  The sleeves are long, but can rolled up a little bit, like I did here, or to the elbow and buttoned on the little tab-thing that hangs on the upper sleeve.  Versatility all over the place.
So, I figure you might be wondering how I tucked a super long shirt into my jeans?  Well, thankfully, this tunic is a lightweight cotton (not in a cheap way!) so it's really easy to tuck in and wear like I did with my skinnies and still avoid any weird bulging around your waist.  Finally, this tunic is going to work so well with leggings and a cute pair of flats.  It's definitely long enough to cover your backside, which we all know is of utmost importance when wearing leggings.  Uh, hello, spring time uniform!  This is the kind of shirt we're going to need in multiple patterns.  Yes. Please.
Still crushing hard on this emerald green tote and I feel like you're going to be seeing it lots in the coming months.  Love, love, love!
Have a great day, everyone!
J.Crew Factory: Striped Tunic / AG Jeans, here, here / J.Crew: Cece Flats, newer version here / Gap: Belt, similar here / Banana Republic: Green Tote / Jennifer Zeuner Monogram Necklace / Kate Spade: Bracelet / Michael Kors: Watch
This weekend, Curt and I are headed out on the town with a group of friends and I'm just about to speed order this little black dress just for the occasion!  I love sleeves and I love black…so what could go wrong, right?!
What do you think?!  Love, like, leave?