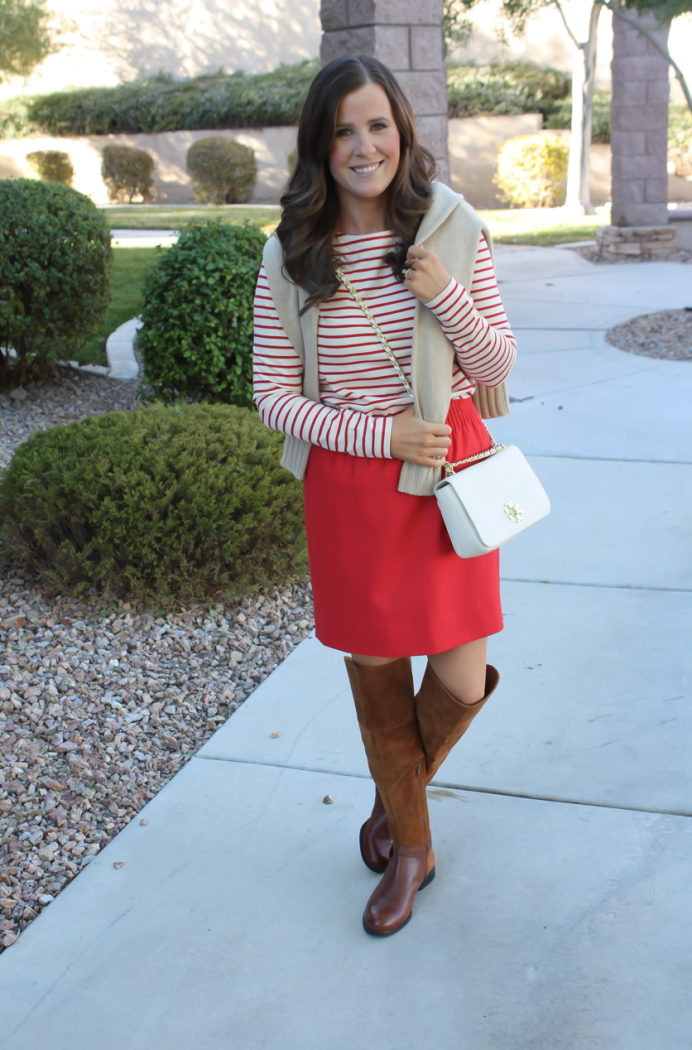 At the risk of sounding like a broken record, I'm going to go ahead and proclaim my love for fall and winter for the bazillionth time here.  Maybe it's because it's December, or maybe because we have some super chilly weather coming our way, or maybe it's because I always feel so nostalgic during this time of the year when I'm so far from family but have so many amazing memories to look back on from when I was growing up.  There's just something about right now that always brings a big smile to my face.
While some have a hard time getting comfortable when it's cold outside, all I know is that I love getting all bundled up when the temperatures drop.   Sweaters, boots, scarves, warm coats…the whole bunch comes out and I couldn't be happier feeling that cold air on my face the minute I step outside.
Today's post is all about these ridiculously beautiful over the knee boots that are, by far, one of the most comfortable pairs of boots that I have ever put on my feet.  When Curt and I were walking outside to snap a few photos, the first thing I thought was – holy smokes, finally, a pair of boots that I don't have to stop and think to myself…hmm, I wonder how long it's going to take until these feel comfortable to wear for long periods of time?  They instantaneously felt amazing.
I absolutely love, love, LOVE the mixed suede and leather as well as the gold buckle details and while it goes without saying, they just happen to come in my favorite color, too.  Dreamy. Luxe. Beautiful.  So many things come to mind when it comes to describing these beauties to you and I think, my friends, that I'm in love.
Sometimes, with OTK boots, you get a slight discomfort behind the knee where the boot will rub when you walk but the suede on this particular pair of boots is so soft that it completely eliminates that worry.  They also have a zipper on the inner calf portion of the boot that helps you slip the boots on and off easily and the suede is soft enough to give you a slightly slouchy look, but still manage to be sturdy enough to hold tight above your knee.
Aside from me telling you these boots feel great, Naturalizer did their homework when it comes to crafting a boot that you will love to wear!
Today's boots have :
New premium N5 Contour technology, featuring a patented contoured footbed with superior arch and heel support, dual-density cushioning, a cool and breathable lining, lightweight materials, and flexibility that moves with you
Leather or suede and leather upper in a tailored boot style
Decorative buckle and strap detail on the calf and vamp
Non-slip outsole for stability, 1 1/4 inch heel
As if it weren't obvious enough up until this point, I really love these boots!  I love the both the way they look and the way they feel!  Functional, flexible, and with that comes a beautiful, everyday style that you'll be able to incorporate into your wardrobe all the time.  Obviously I highly recommend!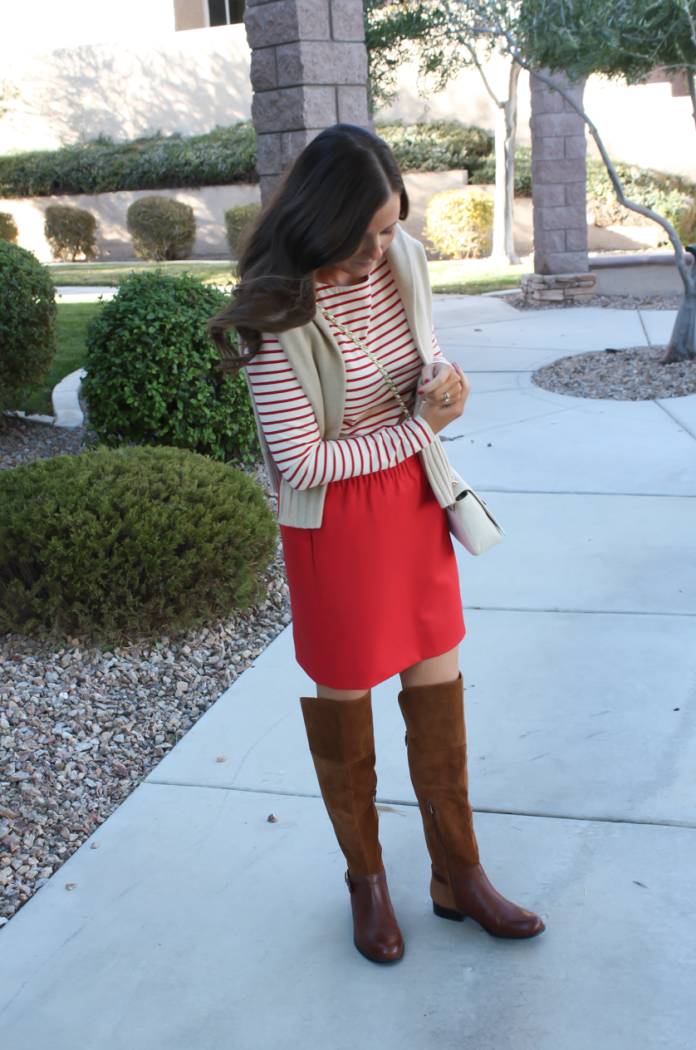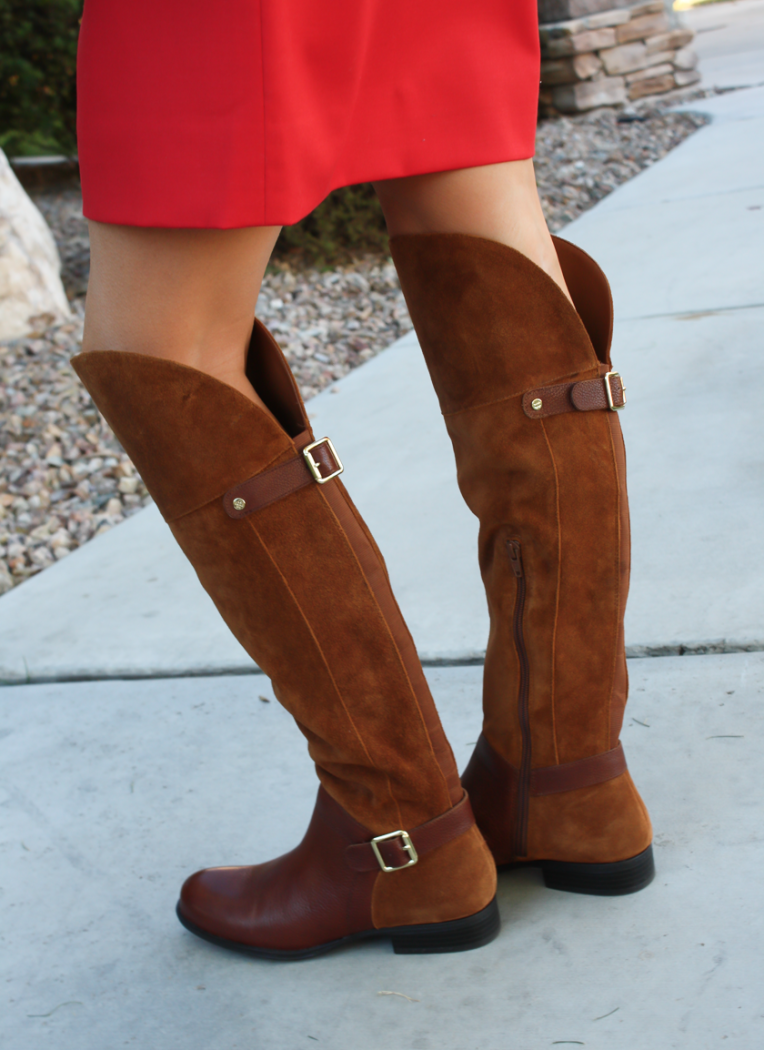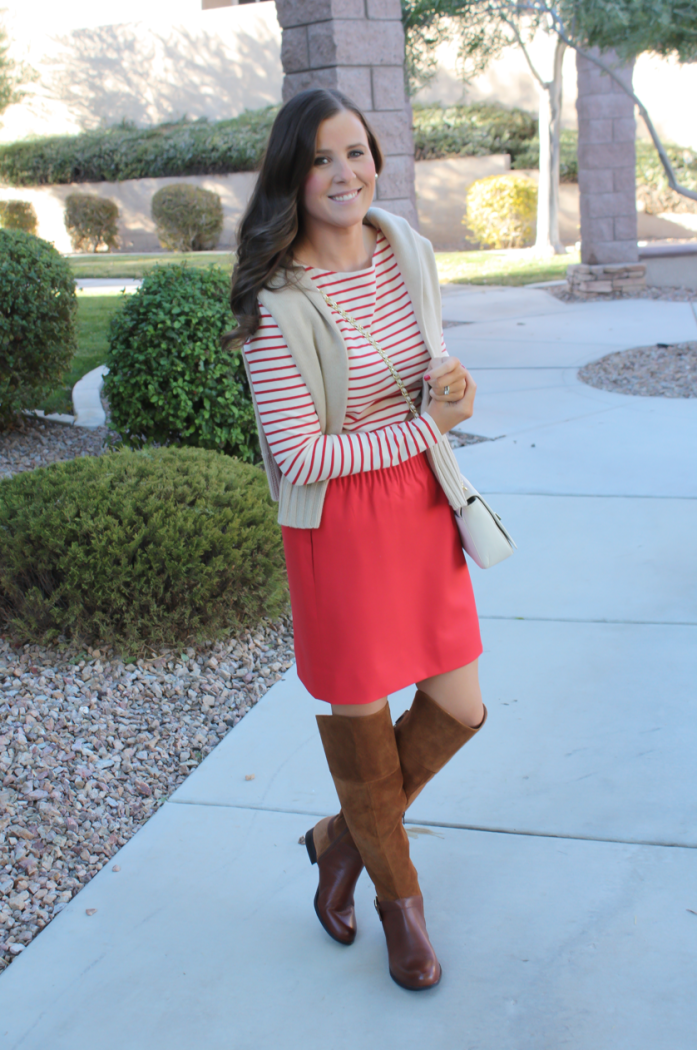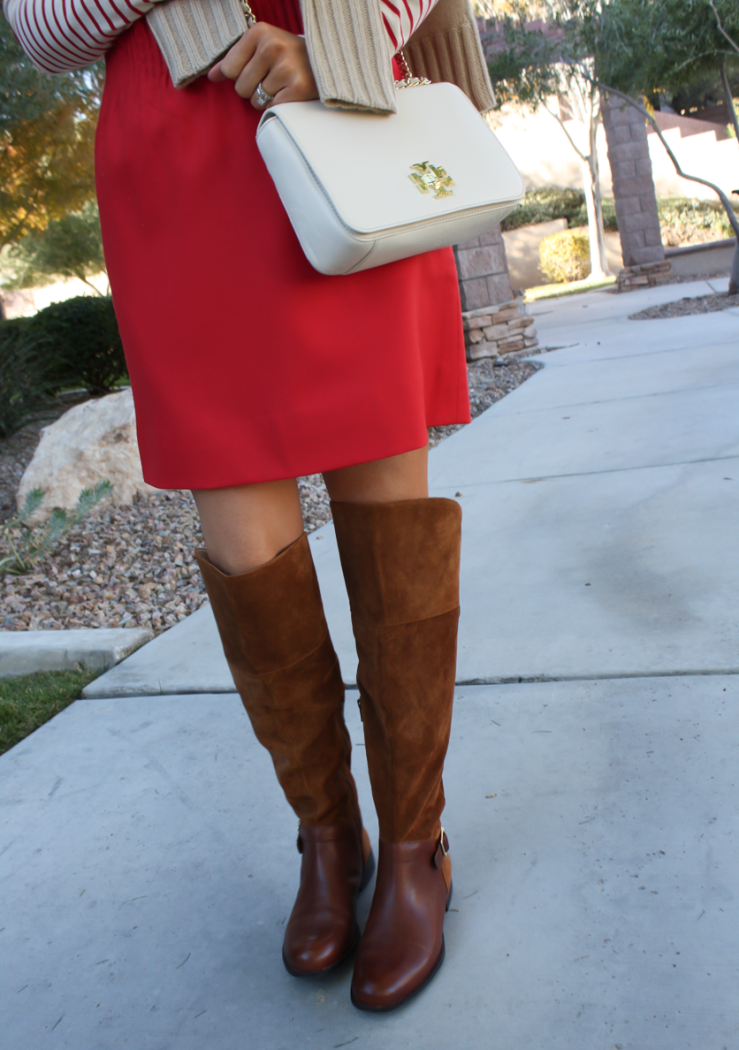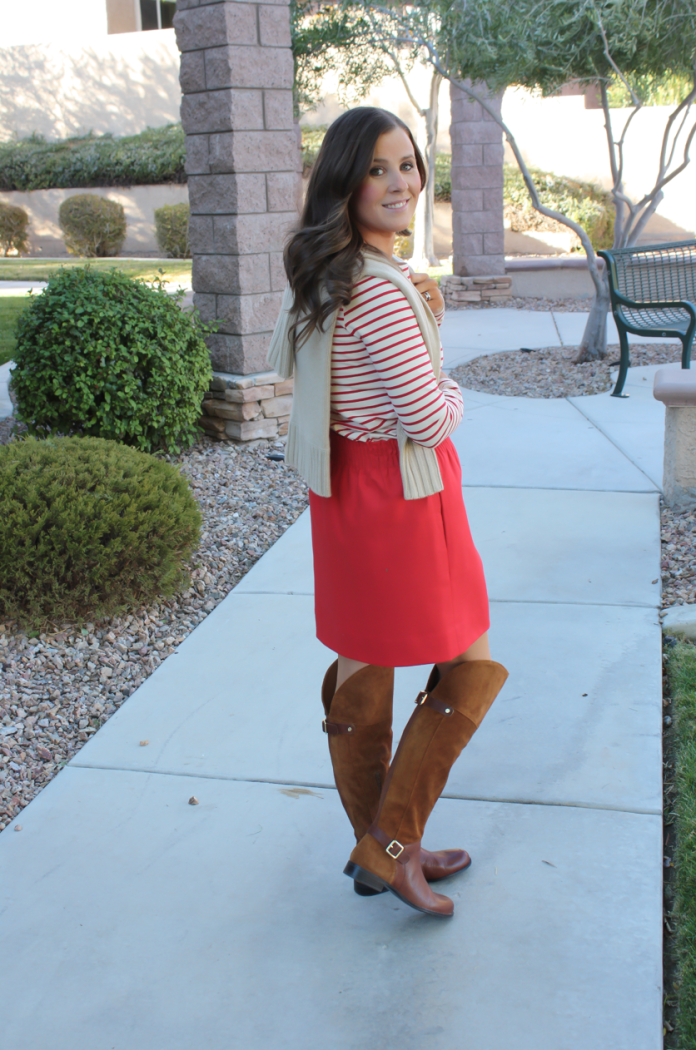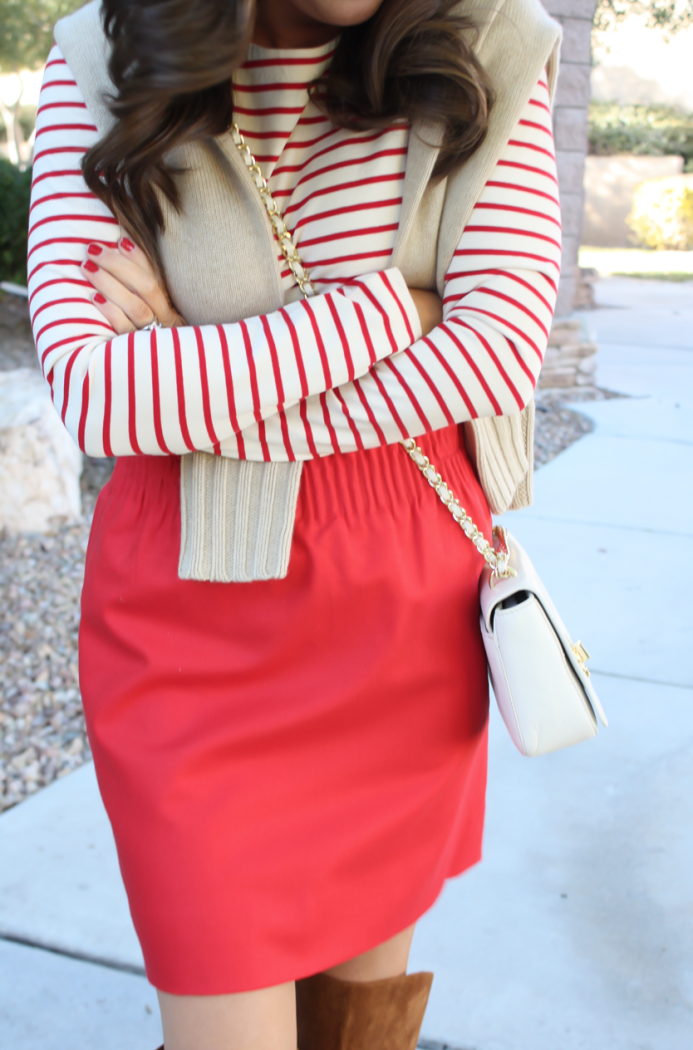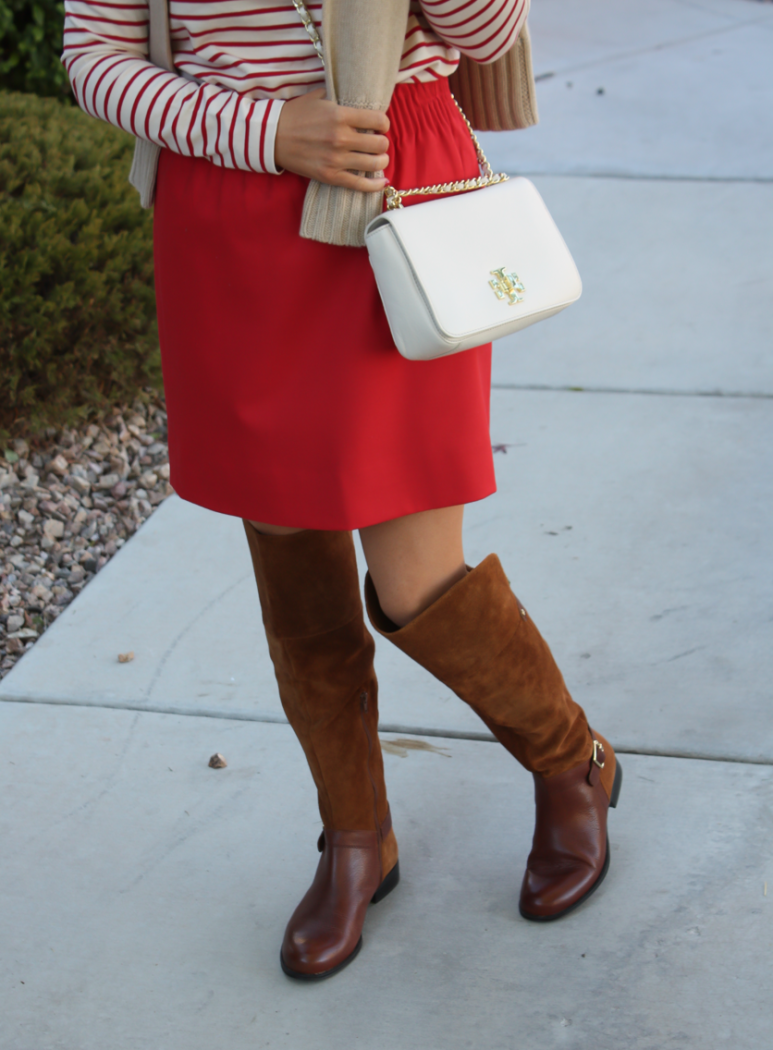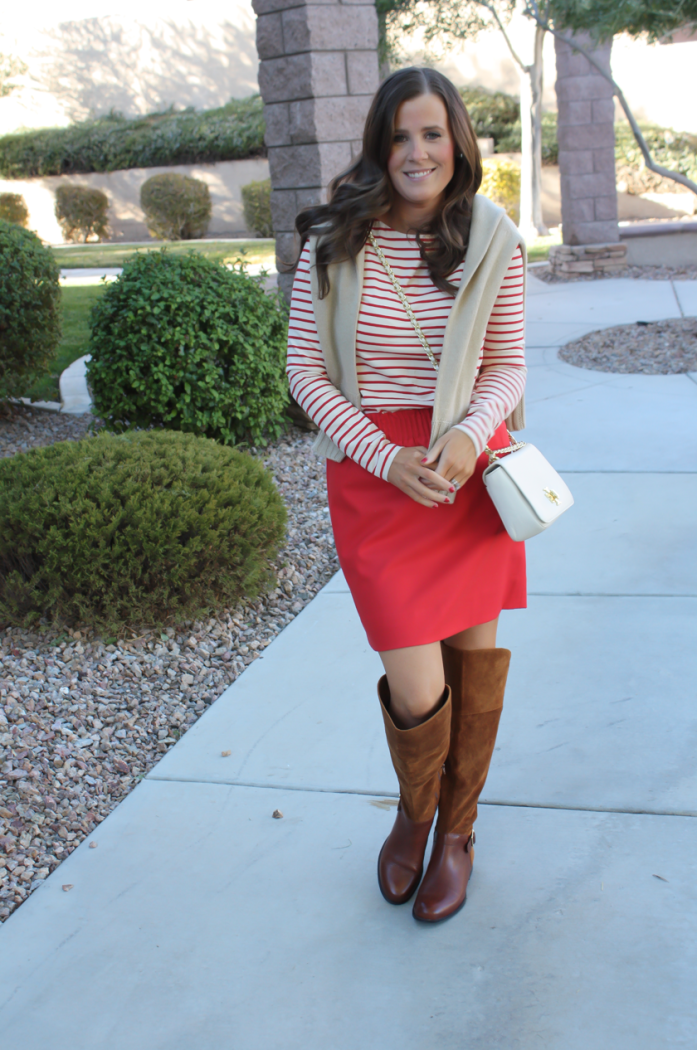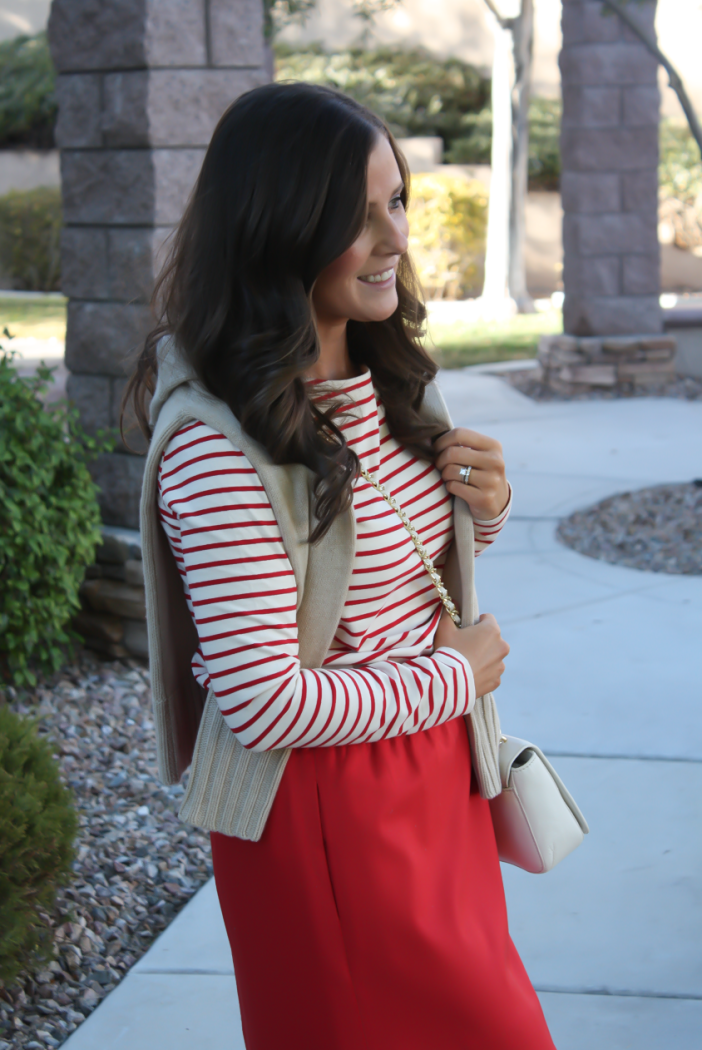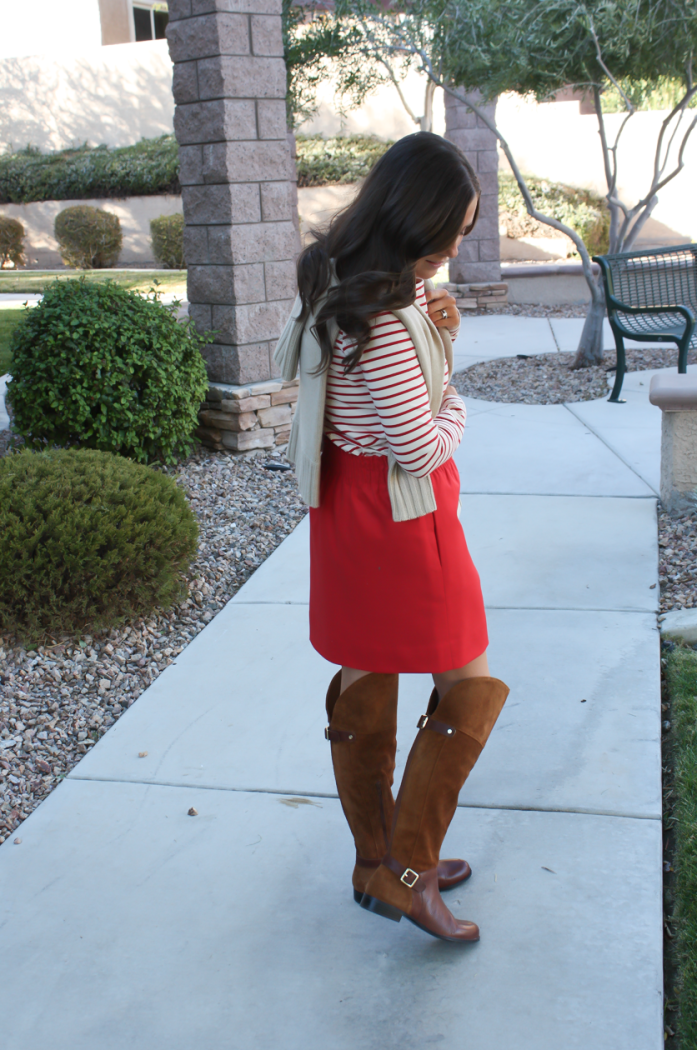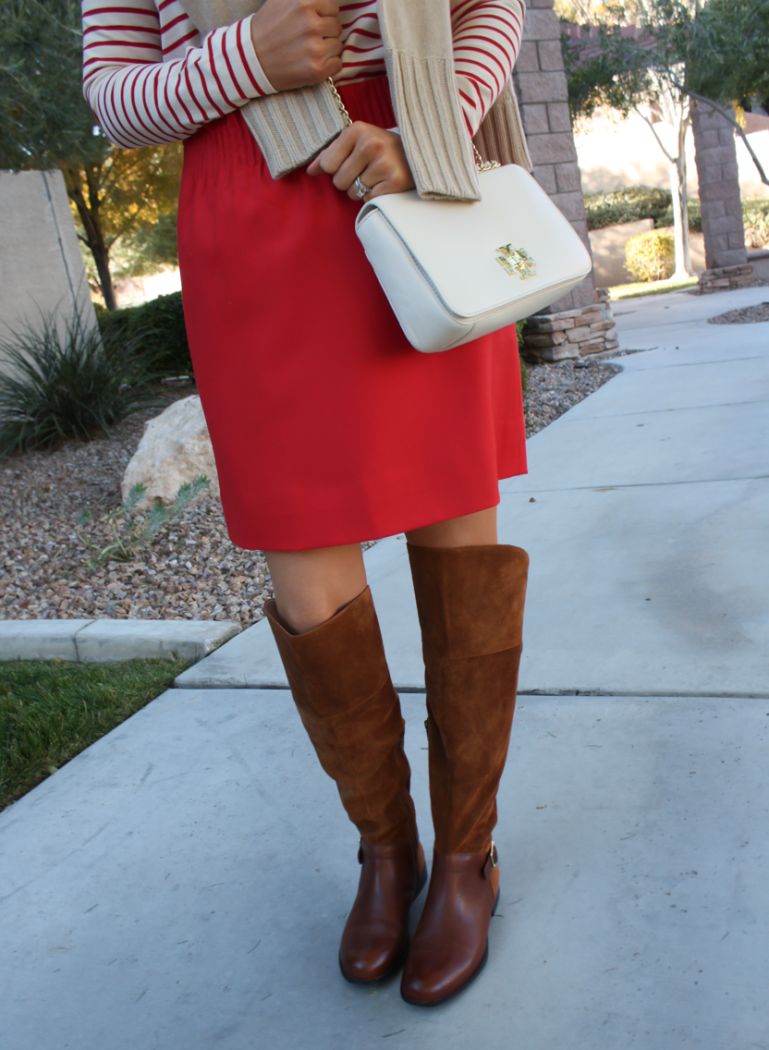 Naturalizer : Boots (TTS – I'm wearing a size 8) c/o  |  J.Crew : Sweater, try this  |  J.Crew Factory : Striped Shirt and Skirt  |  Tory Burch : Bag, try this, this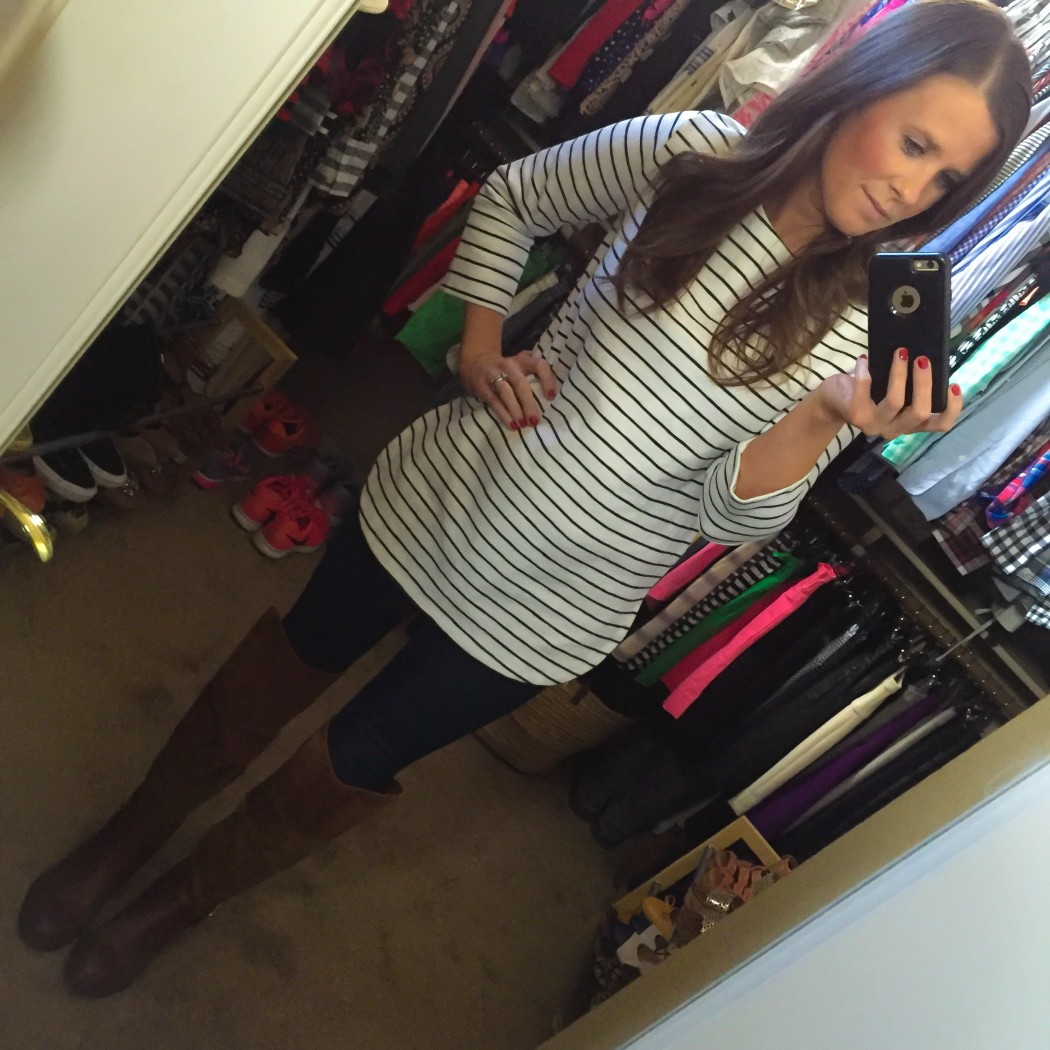 This Target Tunic is amazing.  They're on sale.  Buy all the colors.  I'm wearing an XS.  #yourewelcome
ps : my store had plenty of sizes – I know they're limited online!
BUT – I also just did an online order for THESE too.  Buy one, get one half off!  Don't they look perfect for skinny jeans and leggings?!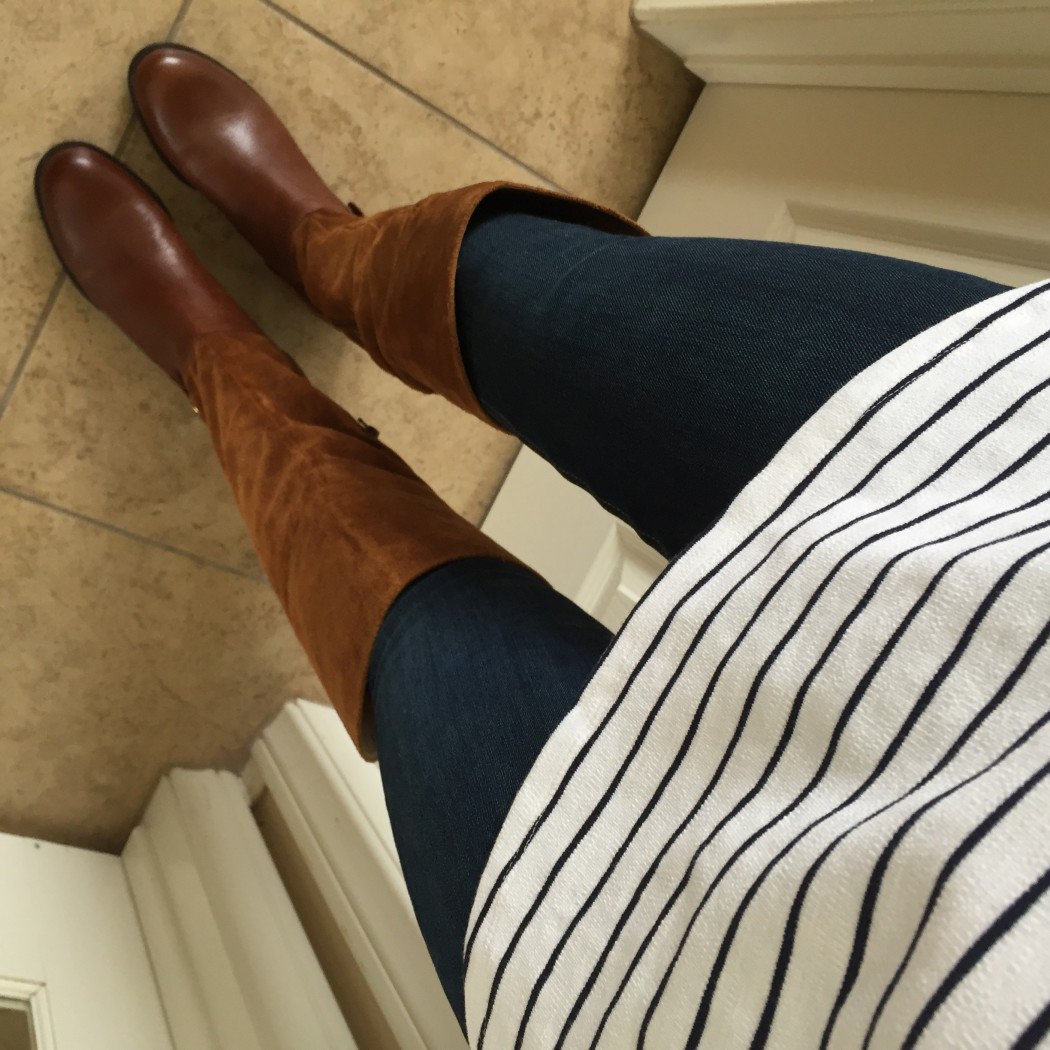 My closet light is the worst.  Here are the beautiful OTK boots again from today's post!  You can walk for days in them and still be comfortable.  #yesplease #naturalizer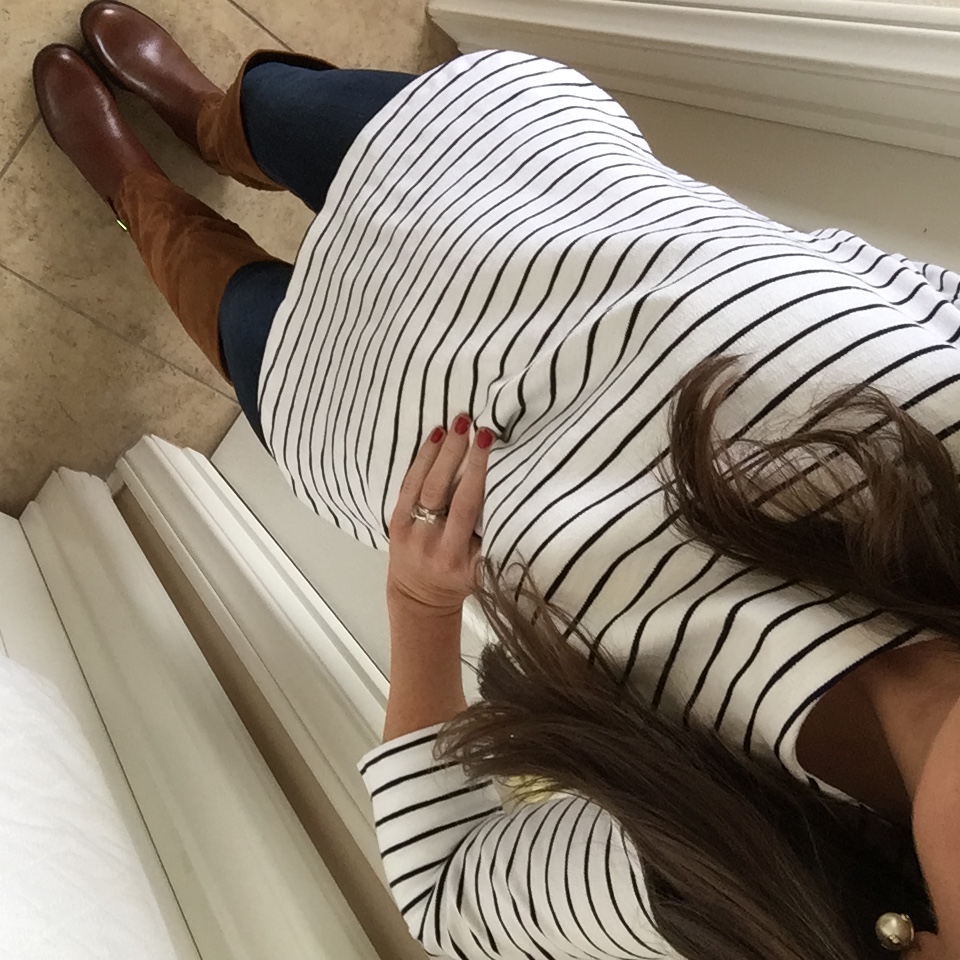 #BIRDSEYEVIEW