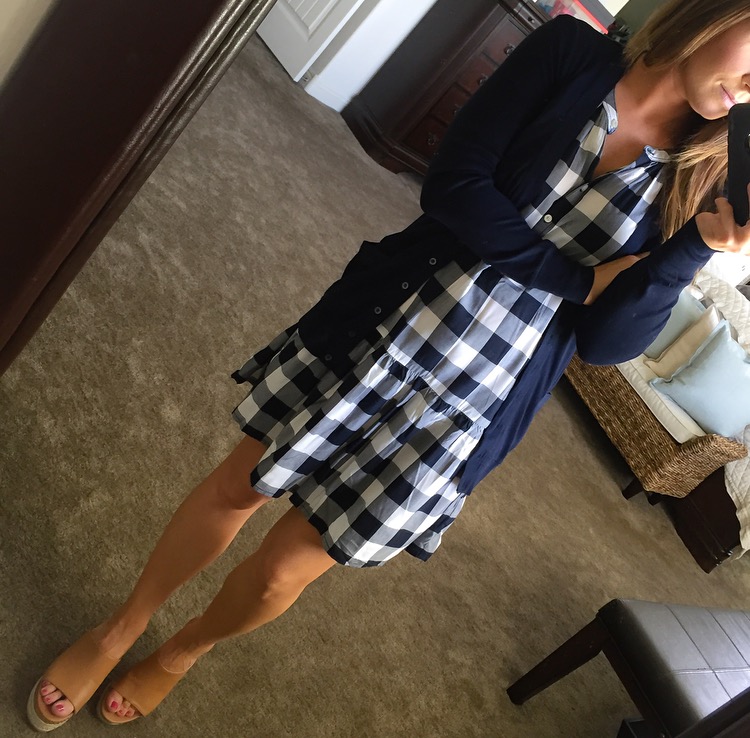 Loft : Dress, on sale + promo! (TTS, I'm wearing an XS)  |  J.Crew : Cardigan (TTS, I'm wearing an XS)  |  Ferragamo : Wedges, similar here, here, here
Hey, everyone!
Pretty quiet here lately, huh?  Sorry about that…
After 2 months away in PA, 1 week away in CA, and then sending Ava back to school las week…it's been a little busy at our house.  I think over the coming weeks, I'll be keeping more of a realistic approach to blogging and keeping you updated on all my newest finds from this mirror in our bedroom. I know it's not ideal but we have so much coming up over the weekends and I think it will be so much easier to stay up to speed.
I bought this dress over the summer and while I know the stores keep sharing all these fall pieces, it's insanely hot here so I can't even begin to think about snapping photos outside in sweaters and boots.  I would probably pass out after 5 minutes.  Phew!
While it's all about hot weather here right now, this dress would be CUTE with some tall boots and a jacket in the fall, don't you think?
Grab is on sale while you can!!
Have a great night, all!  Thanks for visiting!