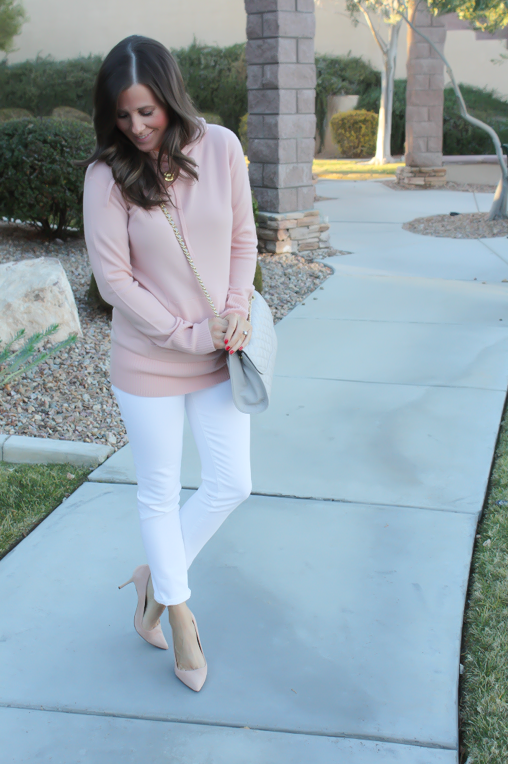 So I might be obsessed with pink right now.  Just a smidgen.  Which, of course, means I'm probably having a boy!  This past Tuesday I had a regular scheduled appointment and all is well with the latest baby on board.  I could listen to that little heart pitter, patter all day long if they would let me.  Such a beautiful and reassuring sound.  I'm just now 15 weeks and in about a month we will do the that big, long ultrasound where we get to know that everything is going well with baby and, of course, whether it's a baby sister or a baby brother for Ava.  If my first born were actually a boy, I would be down on my knees every night asking the good Lord to please let this next baby be a girl!  I'm just a girl mom deep down in my soul and I'm so grateful that I am blessed to be Ava's momma.  So, I can genuinely tell you that (1) we ask for a healthy baby above all and (2) I'm going to be equally as excited whether we're going to be all about bows or all about boys.  In the Fighter Pilot world, there's an age old curse that insists more pilots have girls but to be honest, I know plenty of mommas out here with plenty of boys in their house…so I think that myth is a dying one.  Ah well, time will tell!  I'm not so great with surprises and prefer to be prepared so we WILL be getting that information long before baby actually arrives.
You might catch me rambling every now and again chatting about this pregnancy because it's obviously such a big part of my life right now and I just love sharing it with family, friends, you…and anyone who will listen, really…  Thanks for coming along on this ride!
So – back to the outfit, right?!
Yes, I love pink.  This soft blush seems to be the most popular shade right now and if I'm right, I think pastels are going to be all over the place this spring.  I can't complain and really welcome all the soft and feminine colors that are so popular once the winter chill starts to fade away.  In fact, saving all the brights and neons for summer might be a great plan this year.  Of course, at some point I'm going to be looking for a "if it fits, buy it in every color" type of outfit.
I adore this quilted crossbody and would be lying if I told you I didn't still have my eye on a Chanel bag this year.  I got my first Jumbo Flap for our 5 year anniversary and that was a little over 5 years ago.  I can honestly say it was one of the best investments for my closet that I've ever made and can't wait to find another beautiful bag to go along side of it.  I'm slightly torn between styles and colors but, again, I think I have some time to decide.
Have a happy Thursday, everyone!
One more thing!  This Sunday, the Thunderbirds are doing a fly over before the start of the Super Bowl so don't forget to watch the singing of our National Anthem (Idina Mezel!) and the mighty F16 Delta soar over the stadium!  #America #ProudWife #Thunderbird4
J.Crew : Cashmere Hoodie  |  J.Brand : White Jeans  |  J.Crew : Heels, try these, these  |  Rebecca Minkoff : Bag, also love this, this
I have some fun outfit ideas coming up later on today so head back this afternoon and see what is on my mind!