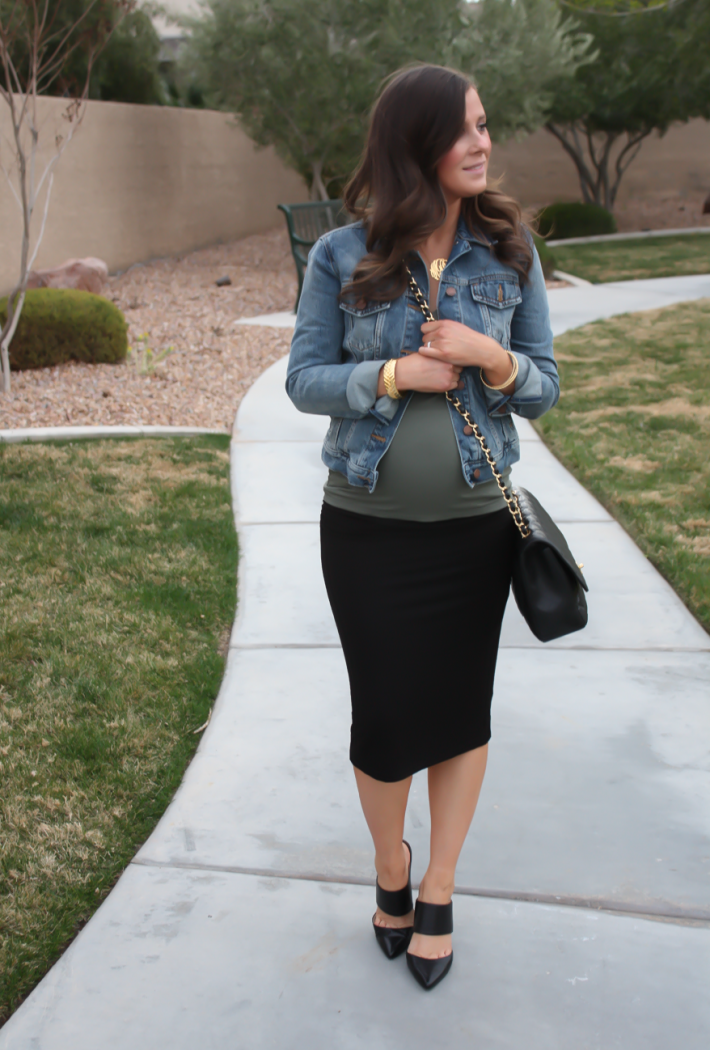 Hello, Friday!  Missed ya, budddy…
As always, I'm happy to be closing out the week with one of my favorite essentials : the basic tee.  Let's go ahead and breeze right on past the true number that lies behind how many actual t-shirts are in my possession because friends, it's not small.  I'm constantly looking for a great tee that wears well and even more importantly, washes well.  Is there anything more frustrating when you wash a brand new shirt and it comes out looking like you've been wearing it for years?  Gah – my ultimate pet peeve.
Last spring, Toggery sent me a few pieces to try out and one of them was a basic white v-neck tee.
The verdict?
My immediate reaction was (1) that I LOVED the length of the sleeves and how well they hugged my arms (not too tight or too long…)  and (2) I absolutely loved the feel of the material.  It's not thick, feels ultra-soft and smooth to the touch.  Finally, and most importantly, I loved the cut of the shirt around my torso AND the overall length.  Even with my growing bump, I had plenty to coverage from top to bottom.  Clearly my first impression was a great one!
So while I loved the way the shirt fit and felt, I still needed to clean it and see just how it held up after a tumble in washing machine.  Like I said, sometimes a shirt fits great in the store and you give a wash or two and sure enough, it comes out looking like it was worn a million times or like it could fit Ava.  Well, because Toggery uses only the best of materials, not only did this shirt look amazing after it's first wash…I still consider that exact white shirt my go-to basic white shirt.  It's my absolute favorite I promise you will love it, too!
Today, I'm wearing that same basic tee in an olive green color and I intentionally paired it with a knit pencil skirt and heels to show you the versatility it offers.  Some basic tees are really meant for your jeans or most casual outfits but because of the high quality fabric used, this tee could easily transition quite nicely throughout your wardrobe.  Dress is up a little bit or keep is as casual as you like…the preference is all yours.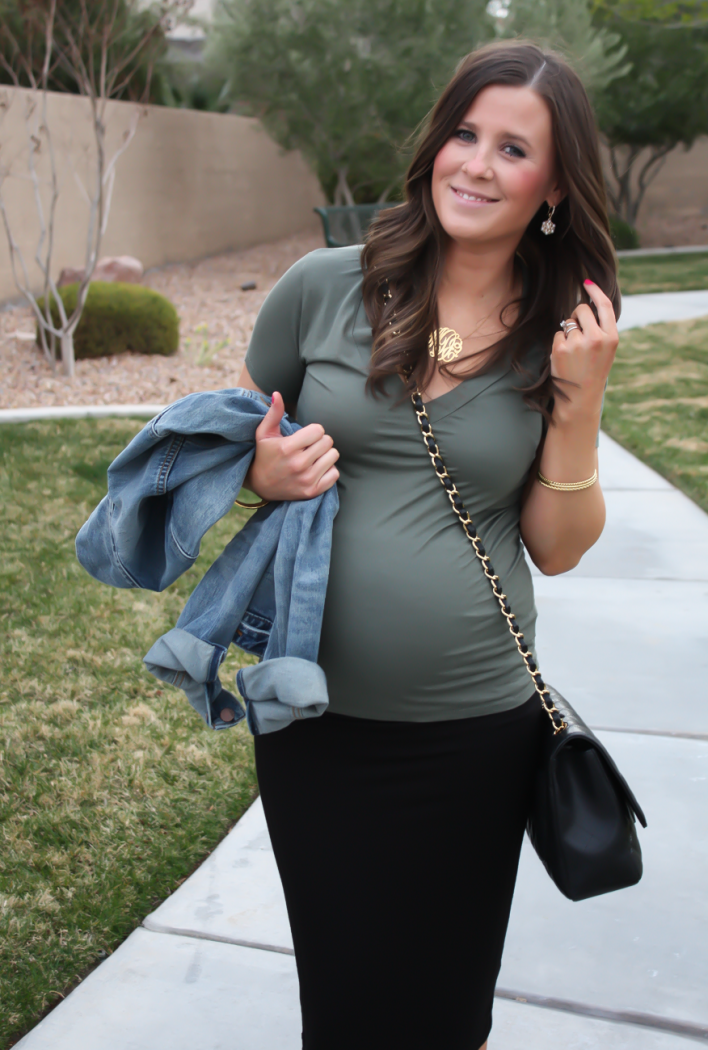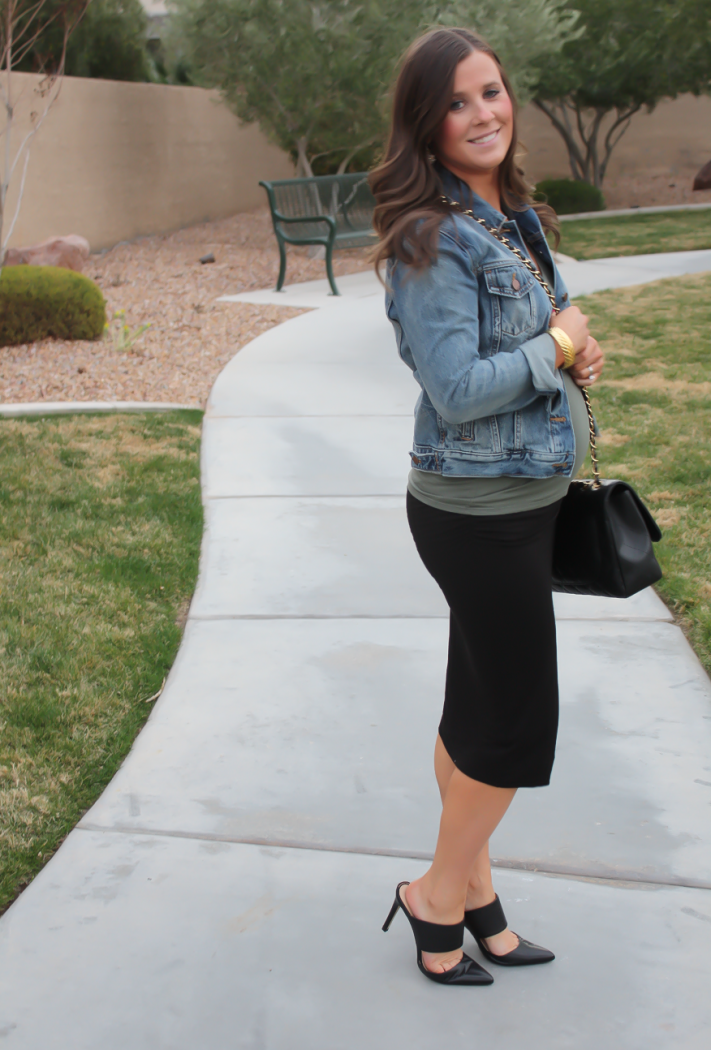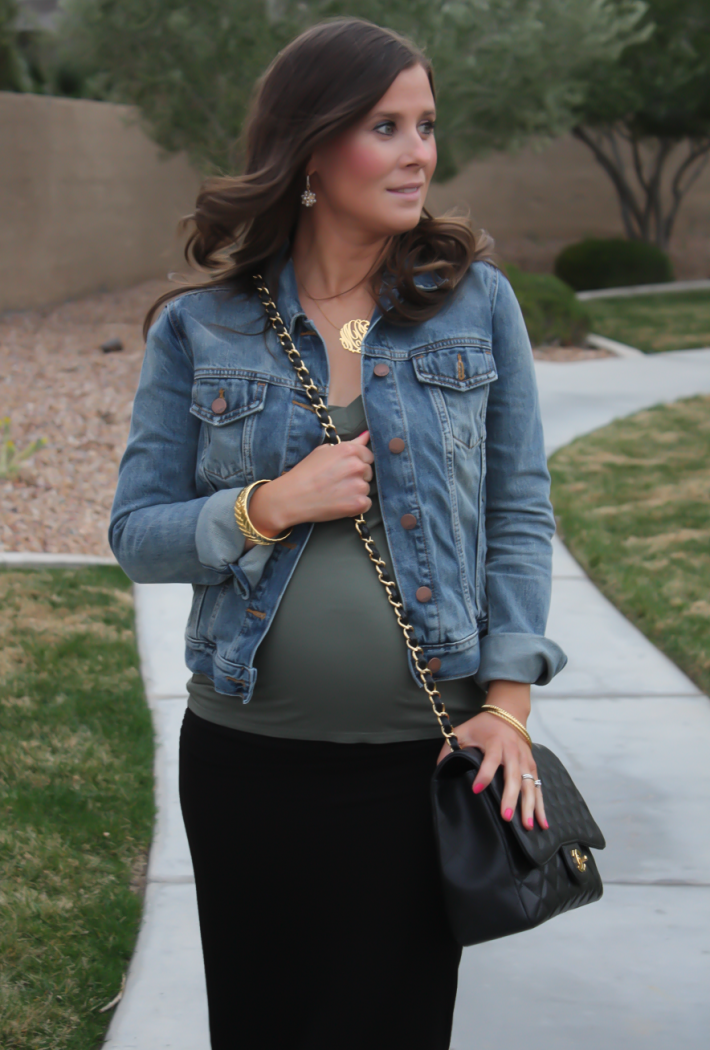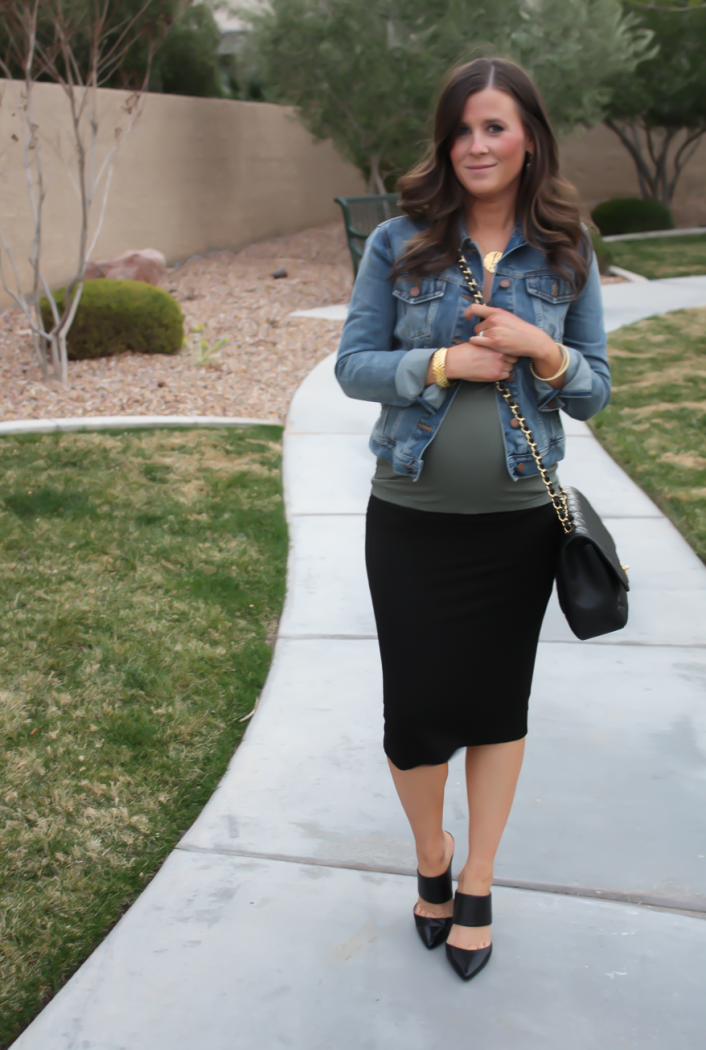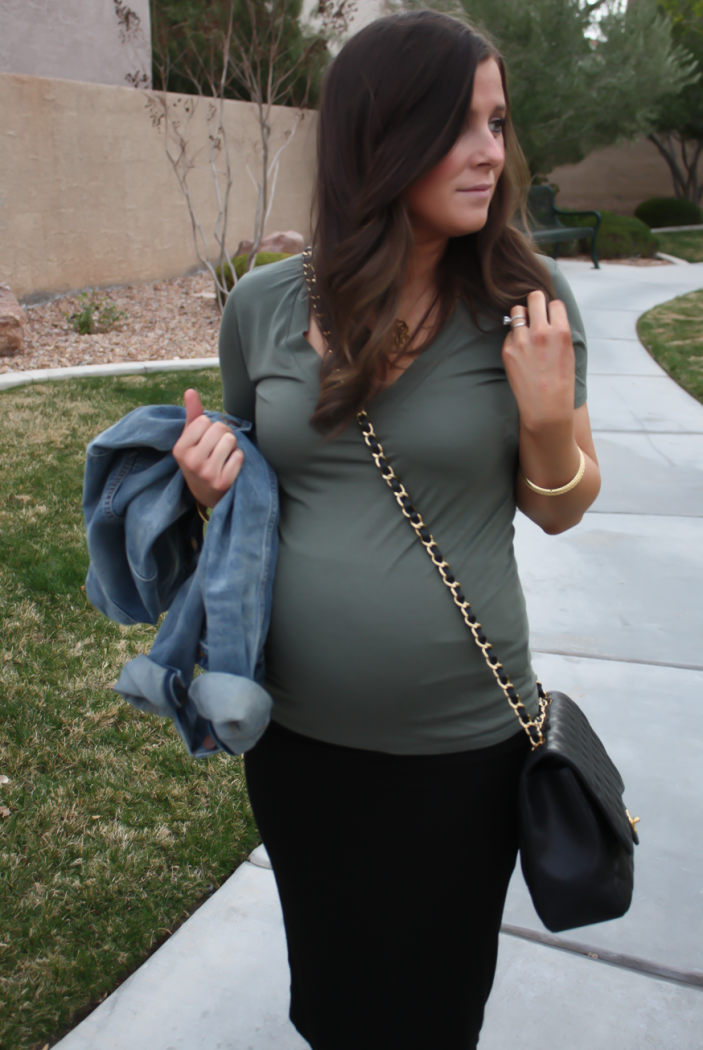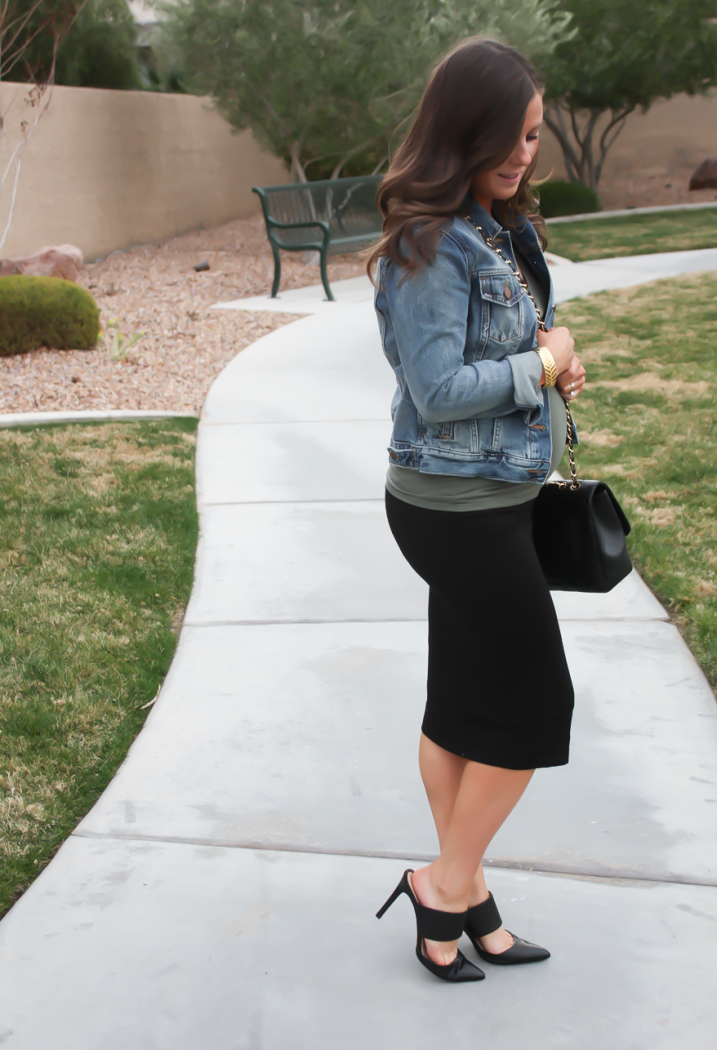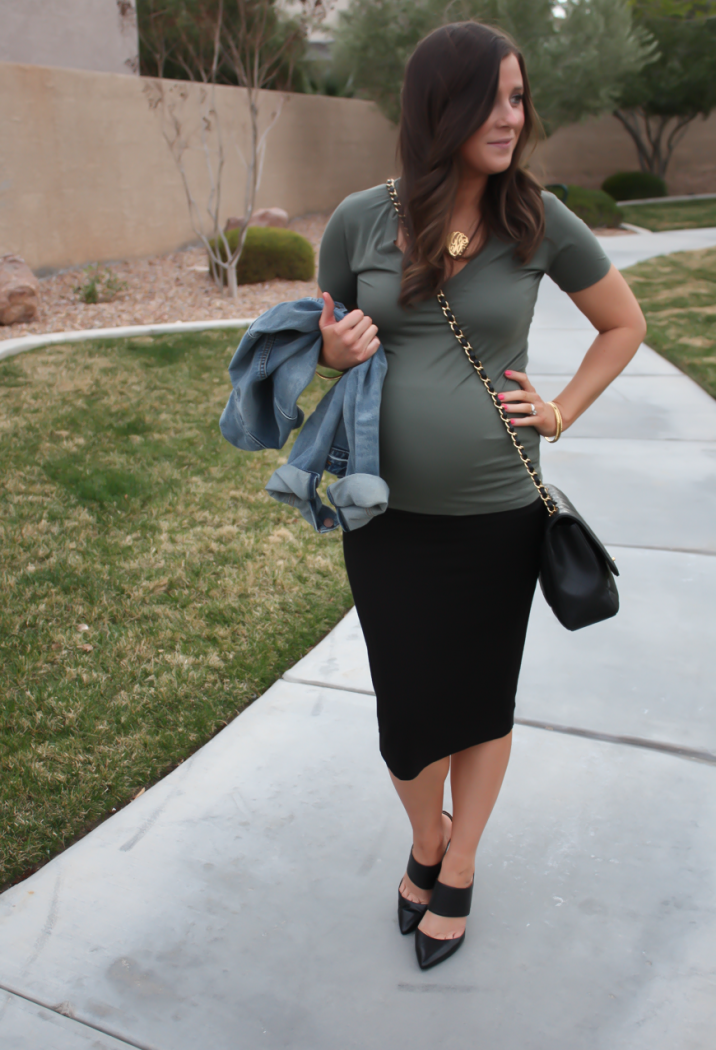 Toggery : V-Neck Tee (c/0) Use Code "BLOGLOVE15" for 15% off your order!  |  Banana Republic : Skirt  |  Gap : Denim Jacket  |  Banana Republic : Heels  |  Chanel : Bag, try this, this  |  Jennifer Zeuner : Monogram Necklace
Here are a few photos from this past Summer wearing the White Tee  (Original Post HERE)