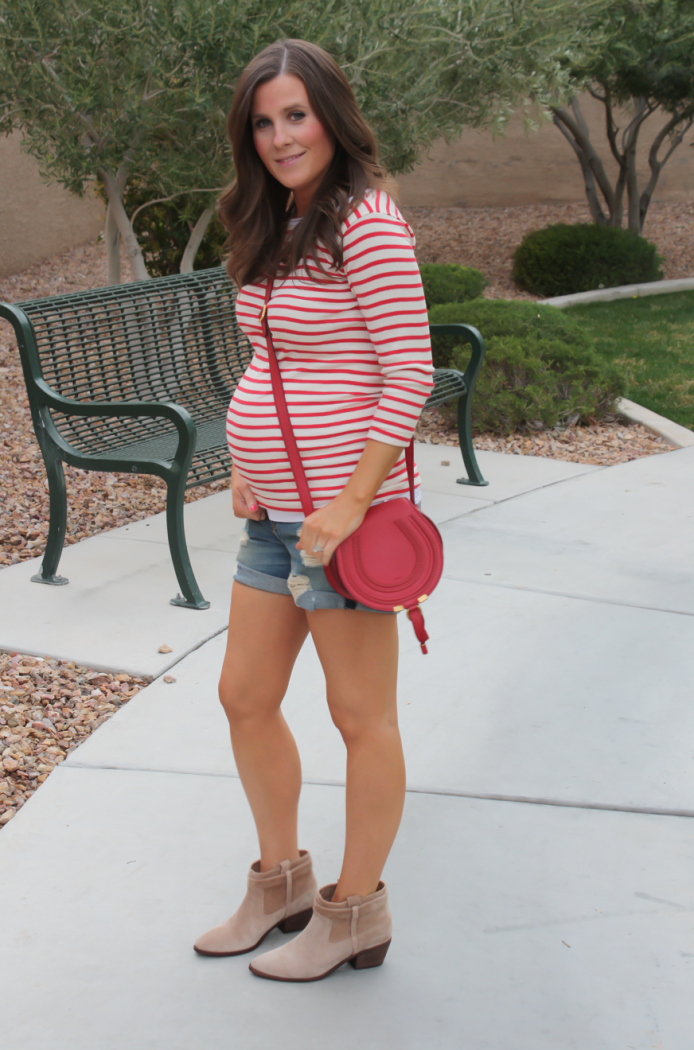 There are few things I love more than this little outfit right here when I want something casual and cool, friends.  I just can't – and won't – say goodbye to the a pair of cute ankle booties and some distressed shorts.  Add on a side of bright red stripes from Toggery Brand and I'm all.set.
I hope you've been following along the past few weeks as I share some of Toggery's new spring line!  I know, you know, and they know how much I adore their collection of the some of the best basics on the market.  I couldn't pass up this red and (off) white striped shirt for a few reasons.  First, red is just one of my favorite colors to wear and the versatility of stripes knows no bounds.  I went a little trendy today because I couldn't wait to share my new booties and denim shorts (thanks to a little help from those birthday gift cards, right?!).  But then again, I could definitely toss this top on with navy shorts and wedge sandals OR even a pair of dark rinse skinny jeans and a trench for a more classic look.  Stripes?  Well, they just go with everything.  Second, I think a three-quarter length tee is a great transitional piece when the weather is having an identity crisis or two!  Finally, the overall cut and material (length, torso, quality fabric) is what makes a basic quality.  I love it when I wear and wash a tee knowing that it's going to come back looking and feeling just like it did when I received it.
(Side note : These denim shorts are kind of perfect.  I wish the price wasn't so high so I'll be sure to keep my eyes out for a promo that might make them a little more bearable.  The distressed patches have a lining behind them, though, which I love!  I love the booties for their dark soles and wider ankles – great for summer!)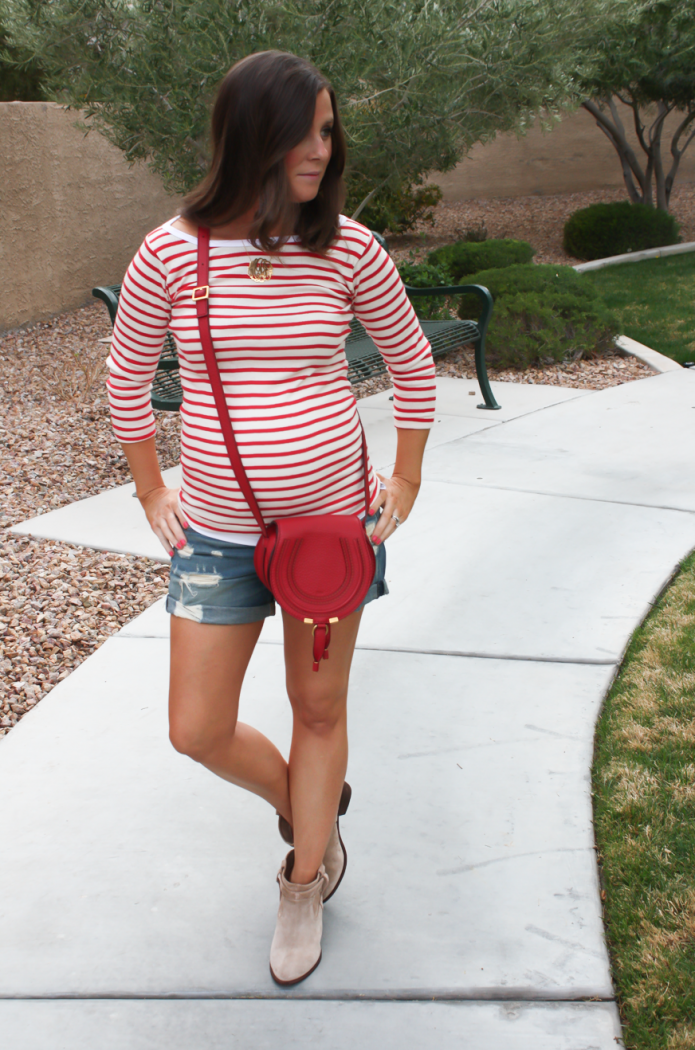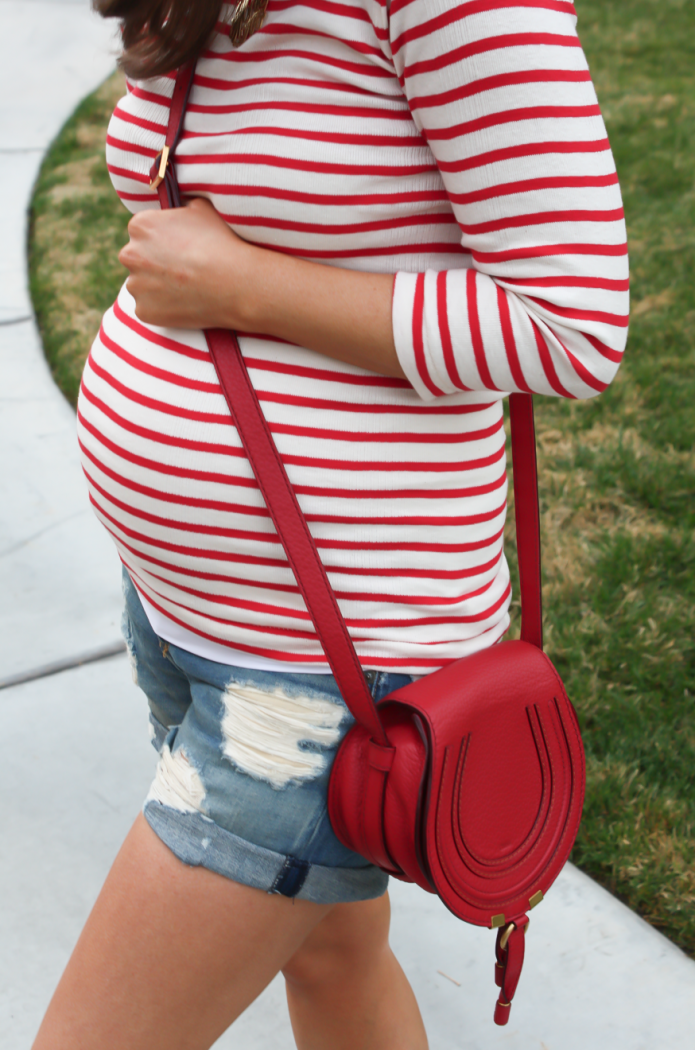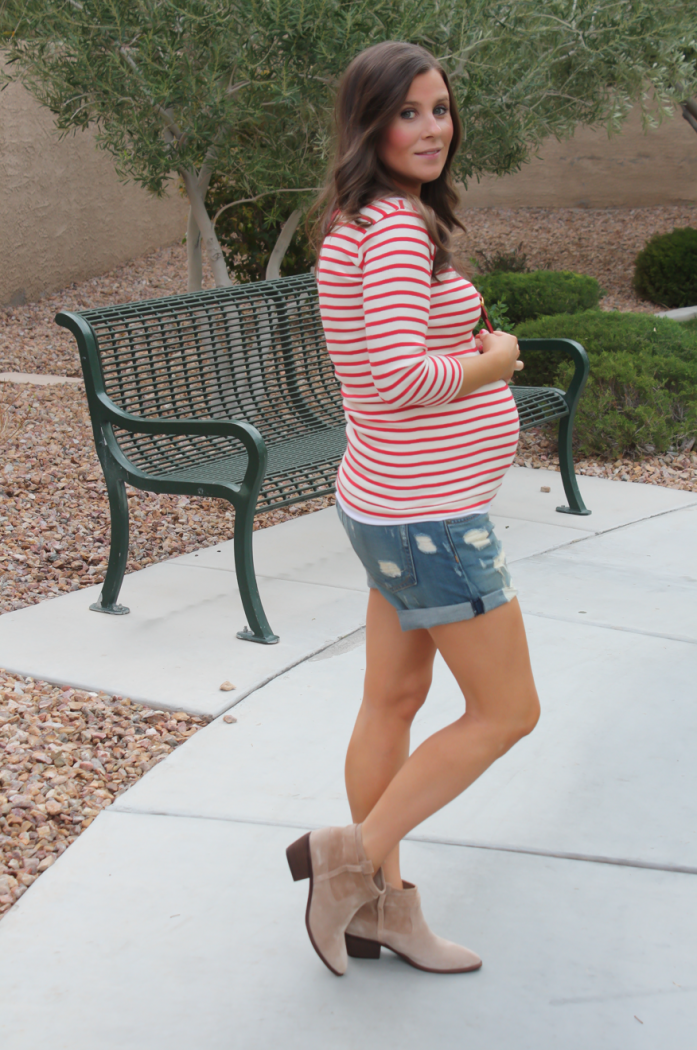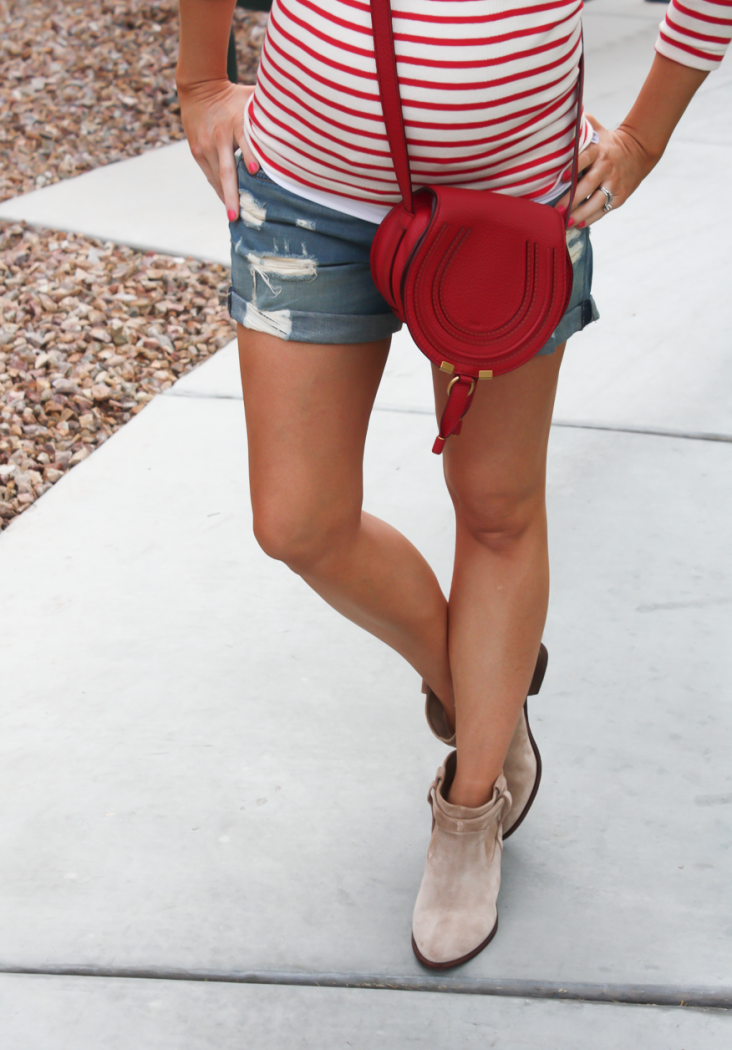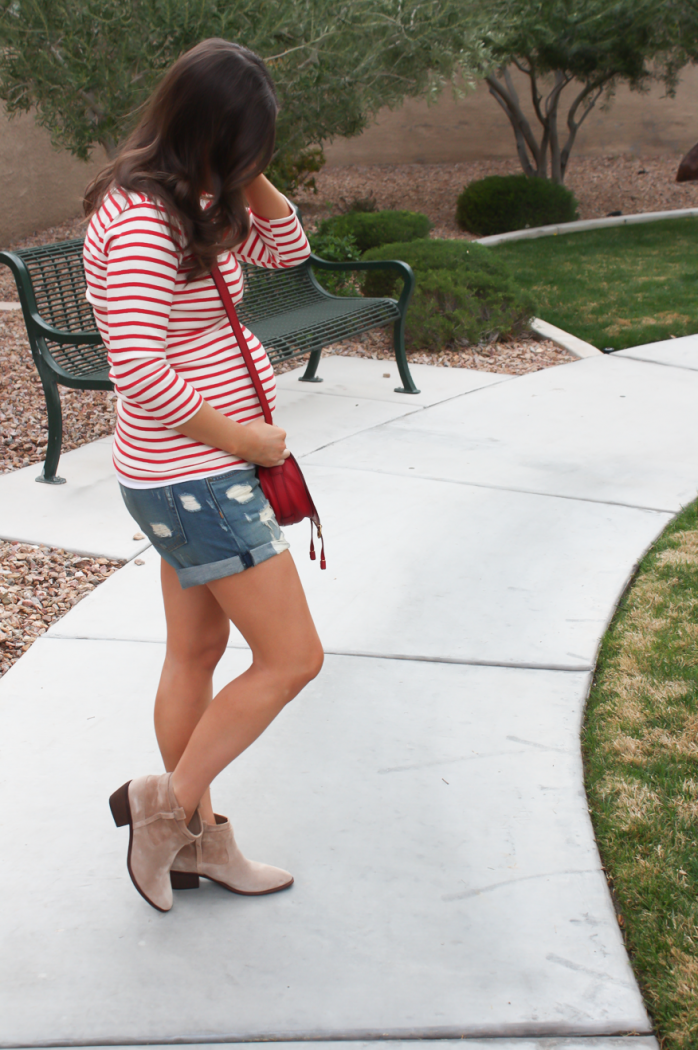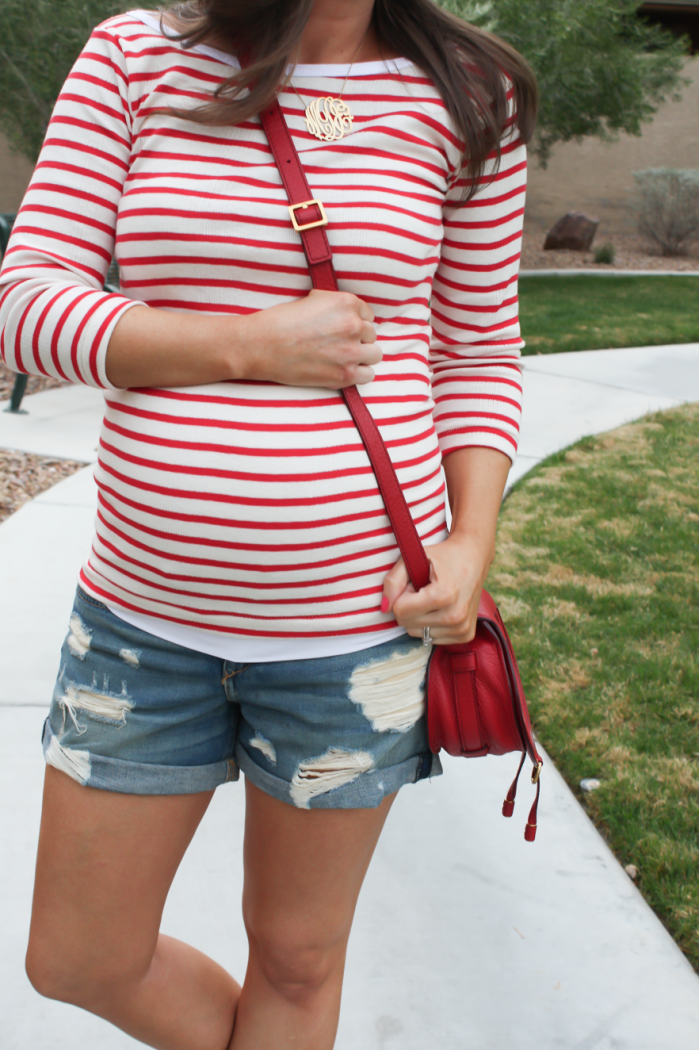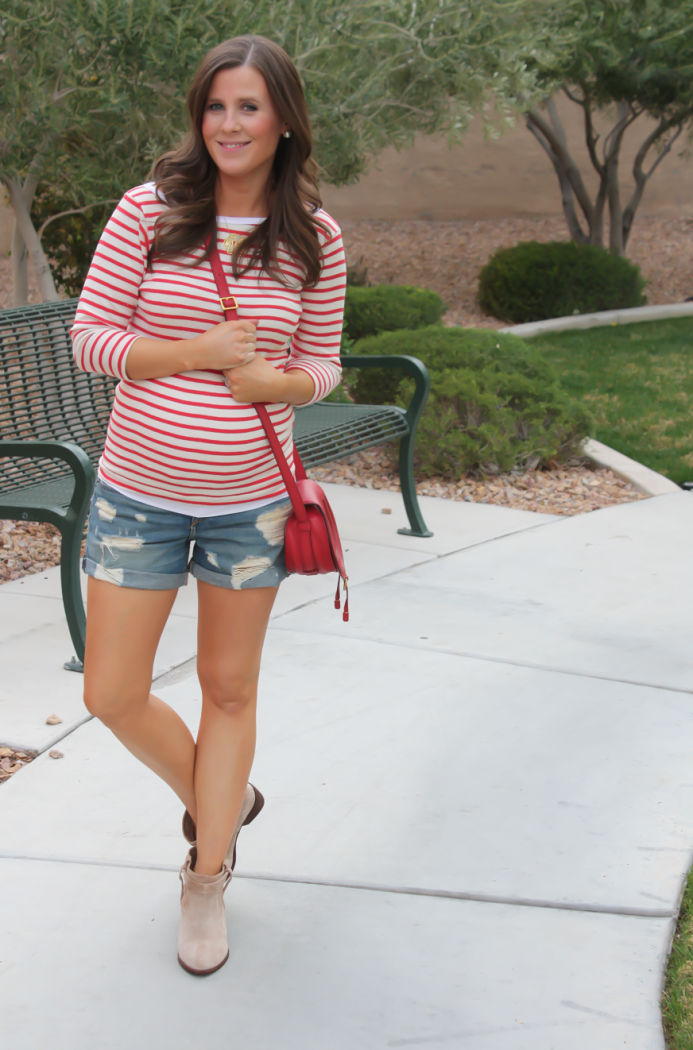 Toggery : Red Striped Boatneck Tee – I'm wearing a small (c/o) Use code "BLOGLOVE15" for 15% off your order!   |  Rag and Bone : Distressed Shorts, here, here,  similar here, here, here  |  Joie : Booties (25% off using code "JOIEFRIENDS", here, here |  Chloe : Bag, try this, this
Be sure to check out my past toggery posts here, here, here!