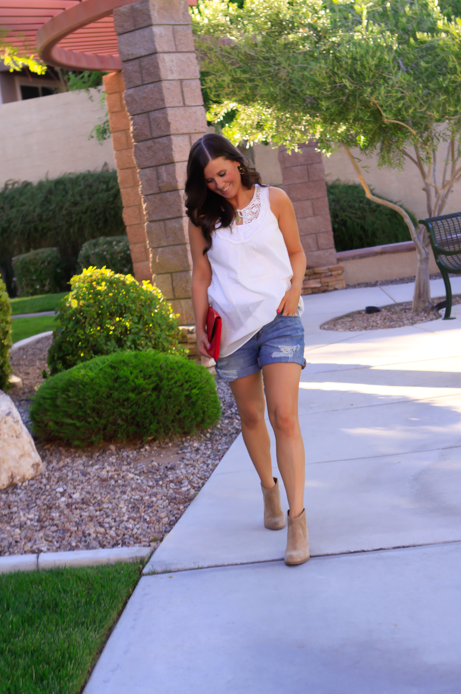 A week or so ago, I did a post on crochet and it inspired me to break out one of my favorite blouses from last summer that I picked up on a whim at Forever 21.  While I usually only shop that store online, I just happened to be there and got a little lucky.  This tunic blouse is pretty long so I'm all about taking advantage of the half tuck to make it work with my distressed shorts.  I put a TON of links down below for some similar options so hopefully you find one you like as well!!
As promised, my booties are still out and ready to go!  It's super hot here, I won't lie, but I will be wearing them on my upcoming trip to sweet Pennsylvania where it's still sitting nicely in the high 70's and low 80's.  I mean, honestly, doesn't that sound amaze right now?!
This red clutch is a J.Crew Factory buy and since I'm dealing with a major red obsession right now, it only seemed appropriate.
Happy Wednesday, friends!  Thanks for stopping by!
Forever 21 Crochet Tunic, similar here, here, here, here, here, here, here, or here / Gap Distressed Shorts, similar here, here, or here / Michael Kors Booties, similar here, here, here, or here / Red Clutch, similar here, here, or here