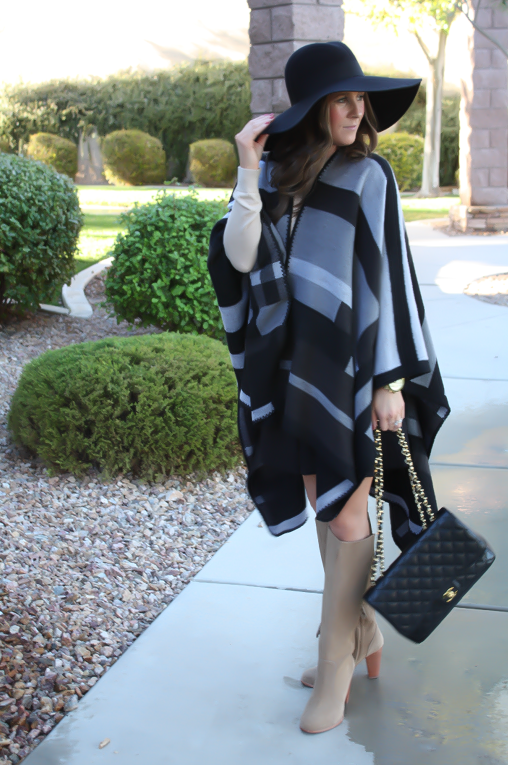 These past few weeks, I've been sharing with you some wool hats that have caught my eye here and there.  The problem with me, I guess, is that it's almost impossible to buy a hat online.  How on earth?!  I feel that while you could easily make a close guess when it comes to sizing and clothes, buying a hat that you've never physically put your hands on or more importantly, tried on, is just a gamble I've yet to take on.
That being said, clearly I have finally right floppy hat for me this season.  This black and wool hat (fedora) is slightly oversized, has great structure so it doesn't fall in your face but is easily shapable by twisting the hat or even manipulating the brim with your hands.  It has a black wide band ribbon around the crown, that's only really noticeable close up, and is just the richest shade of black.  I'm really excited to wear this beauty a LOT this year…
Next up, this beautiful cape!  Again, it's just one of those pieces I've bee keeping my eye out for and kind of knew the moment I saw this one that it was worth the wait.  While I paired it with my black, box pleat skirt, I also had the urge to wear it over a black tunic sweater and some leather leggings.  Hmmm, next time.
This cape is soft (so soft!), wraps around me like a blanket, and drapes just beautifully.  It looks and feels wonderful and I'm just so happy with the way this look turned out.  Love, love, LOVE.
Little different for me, right?!  I dig it…
Have a wonderful Thursday, everyone!  Happy Hallows Eve!
Topshop : Cape  |  J.Crew : Box Pleat Skirt  |  Gap : Crewneck Sweater (sale!)  |  Joie : Boots, try these, these (sale!)  |  Chanel : Bag, try this, this (sale!)  |  Topshop : Floppy Hat

I'm sure I'll be sharing this hat, too, next week but I seriously couldn't resist a preview.  Outfit details below the picture…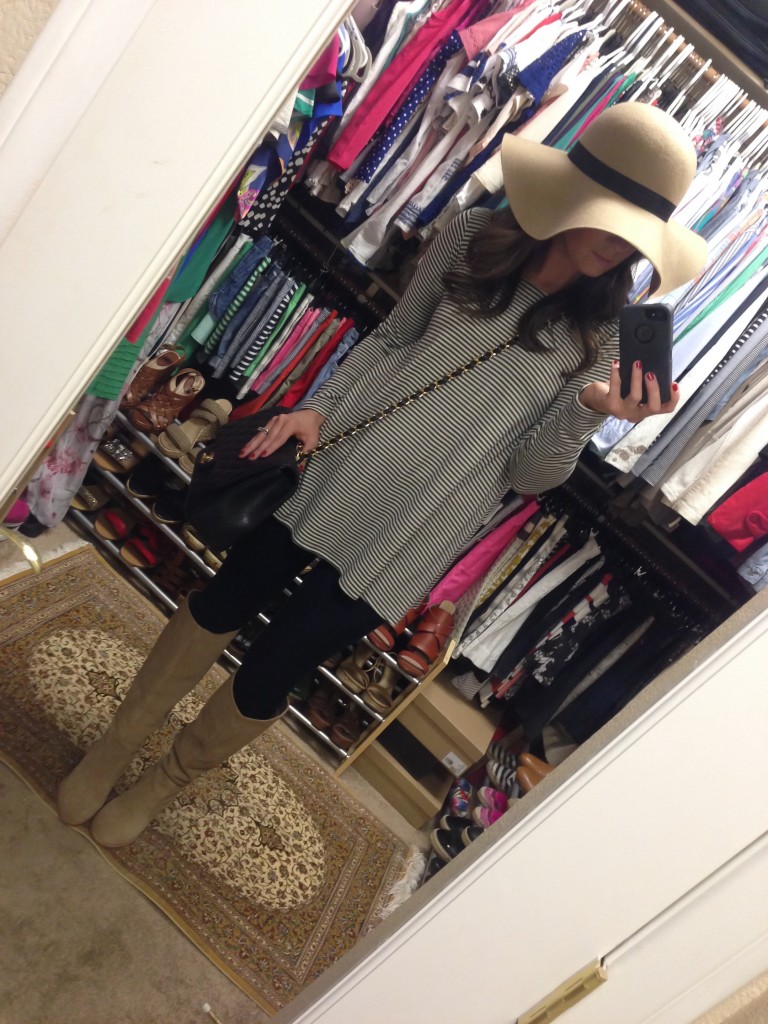 Hat  |  Tunic, try this (same brand and style as the striped one shown, MUST HAVE!!!)  |  Denim Leggings  |  Suede Boots  | Chanel Bag