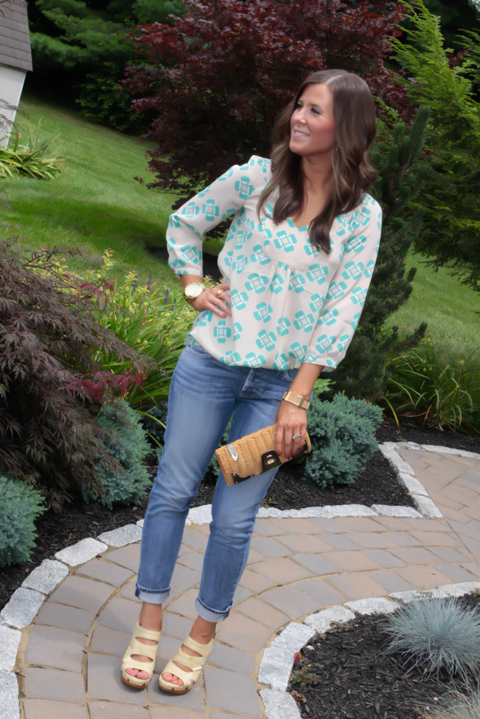 Last week, I showed you all a blouse I picked up at Fossil after stopping in there on a whim while shopping with my sister.  We saw a super cute dress in the window on display and because I've never shopped in there before, I figure it was worth a quick browse.  Well, thanks to that quick pit stop, I've discovered my new favorite blouse.  AND, while it's not available online right now (sorry!), it's called the "Danielle" and you might be able to track it down at your local store.  It's on sale so don't wait too long!  I also made sure to ask if they would be getting them again in the fall and she said they definitely have more on the way!  I need to also point out that I was pleasantly surprised that this top is 100% silk!  I feel like lately shops are defaulting to polyester more and more so it's always nice to see a quality silk top show up when you aren't looking.
You can't quite tell in these pictures, but I went with the half-tuck here when styling this blouse.  I didn't want it completely tucked in, but I wanted it to be a little more polished this time around so I tucked it in a bit messy just in the front, and then left the back out.
I posted a picture on Instagram the other day when I was shopping and honestly, turns out I'm pretty late to the Fossil party!  A lot of you girls out there didn't let me in on this hidden gem, I guess!  But, now that this fun little store is on my radar, I'll be sure to check back and see what the fall line has to offer.
Have a great Tuesday!
Fossil "Danielle" Blouse, loving this and this / Jeans, also here or here / Frye Sandals, love these / Kate Spade Clutch, similar here or here / Watch, similar here (on sale!) / J.Crew Cork Bangle, similar here / Banana Republic Earrings, similar here