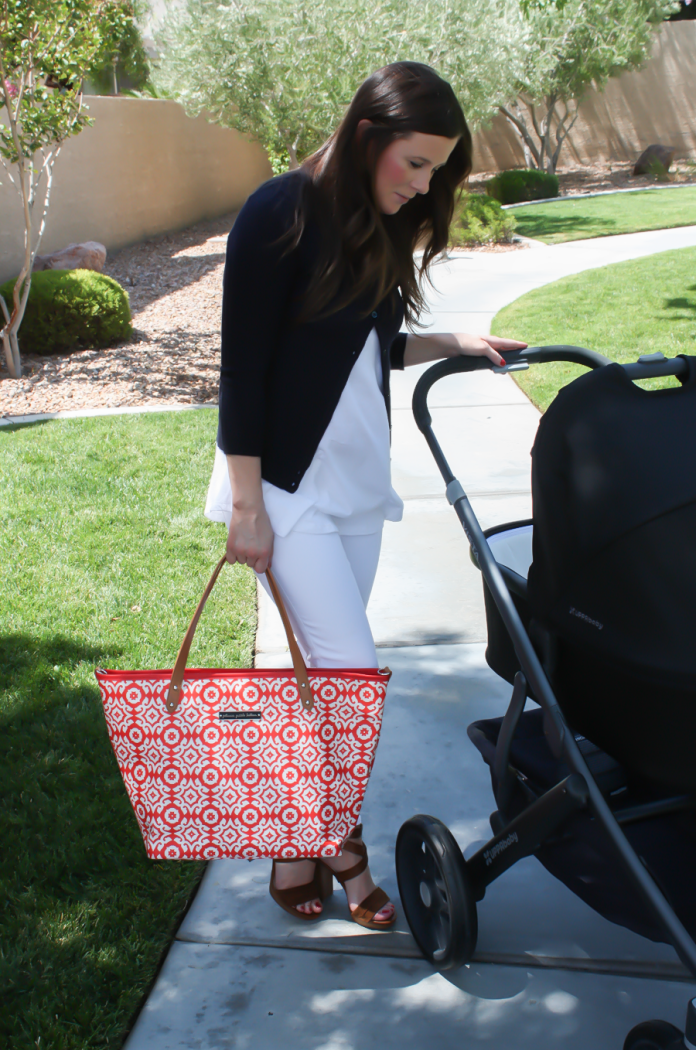 Petunia Pickle Bottom Downtown Tote (c/o)  |  J.Crew : Cardigan, try this  |  J.Crew : Maternity Jeans, try the regular sizing here  |  Gap : Maternity Tank, try a regular size here  |  M. Gemi : Sandals
Oh – it feels so great to back!  My friends, thank you so much for your patience as we adjust to life as a family of four!  Yes – if you follow along with me on Instagram, you'll know that while my blog has been a little silent the past few weeks, I have been trying to keep you all up to speed at least over there with all things that are new in our world.
Ms. Grace made her debut into this world on July 28th at 10:55 pm weighing 7 lbs and 3 oz after I was induced that morning at one day shy of 41 weeks.  While we were so ready to meet her the week before but turns out she just was a little too comfortable in there.  They certainly come when they're ready, don't they?!  Yes – I was nervous to induce this baby but I was actually in early labor at 40 weeks (and spent a few hours in labor and delivery a few days before monitoring what we thought was the real thing!) and we decided that with Curt having his mid-season break from work and had about 10 days off, we would take advantage of him actually being home and in the delivery room as opposed to in another time zone and relying on FaceTime.  #militarylife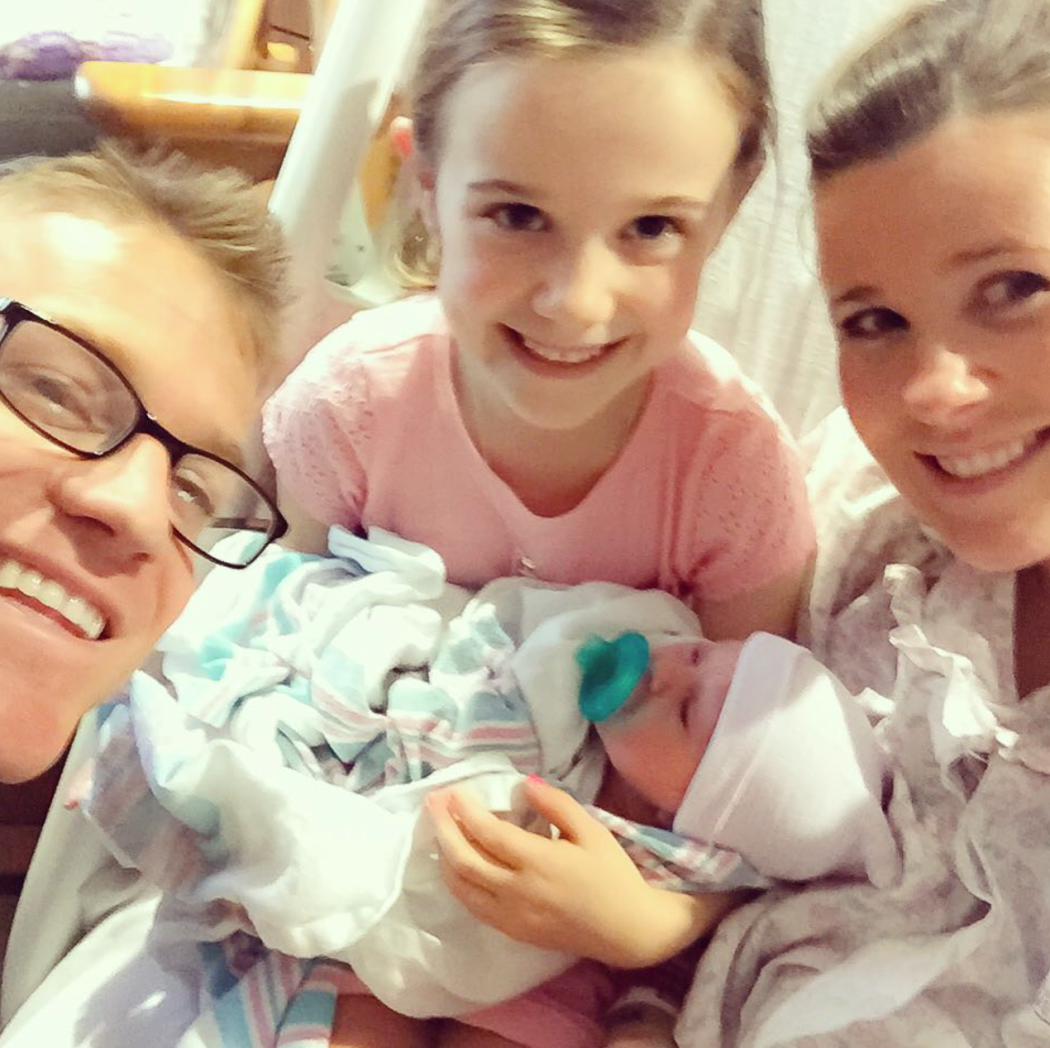 Ava met Grace the morning after she was born and she was just giddy with excitement.  Incredible moment for all of us…
While I will spare you all the details, everything went really well that day.  I had my husband and my mom in there to keep my mind busy, I took my epidural a few hours into the induction and then we waited….waited…and waited.  This whole pregnancy was actually quite different from Ava's and I was super uncomfortable for most of it because of where Grace was sitting from about 12 weeks pregnant until the end.  My doctor was amazing and was constantly doing adjustments on my back and hips to try and make walking, sleeping, and all around moving a little bit easier and while it helped, it was always a temporary fix.  That being said, I would like to take a minute to be super thankful and say that both Ava and Grace were so easy when it came to their actual deliveries.  Ava took about 20 minutes and Ms. Grace, well, she took 2 whole pushes and there she was, crying and happy.  (Me.Too.)
Grace is a wonderfully easy baby.  She sleeps, eats, and does all things newborn like a complete pro.  Don't be too jealous, my 6 (almost 7!) year old is ridiculously picky eater and still spends most of her nights in our bed because she has never been a great sleeper.  'Tis what it is…babies don't keep and I'm a sucker when it comes to saying "no".  I'm sure they'll be off to college before I can even blink an eye and miss simply everything about them growing up.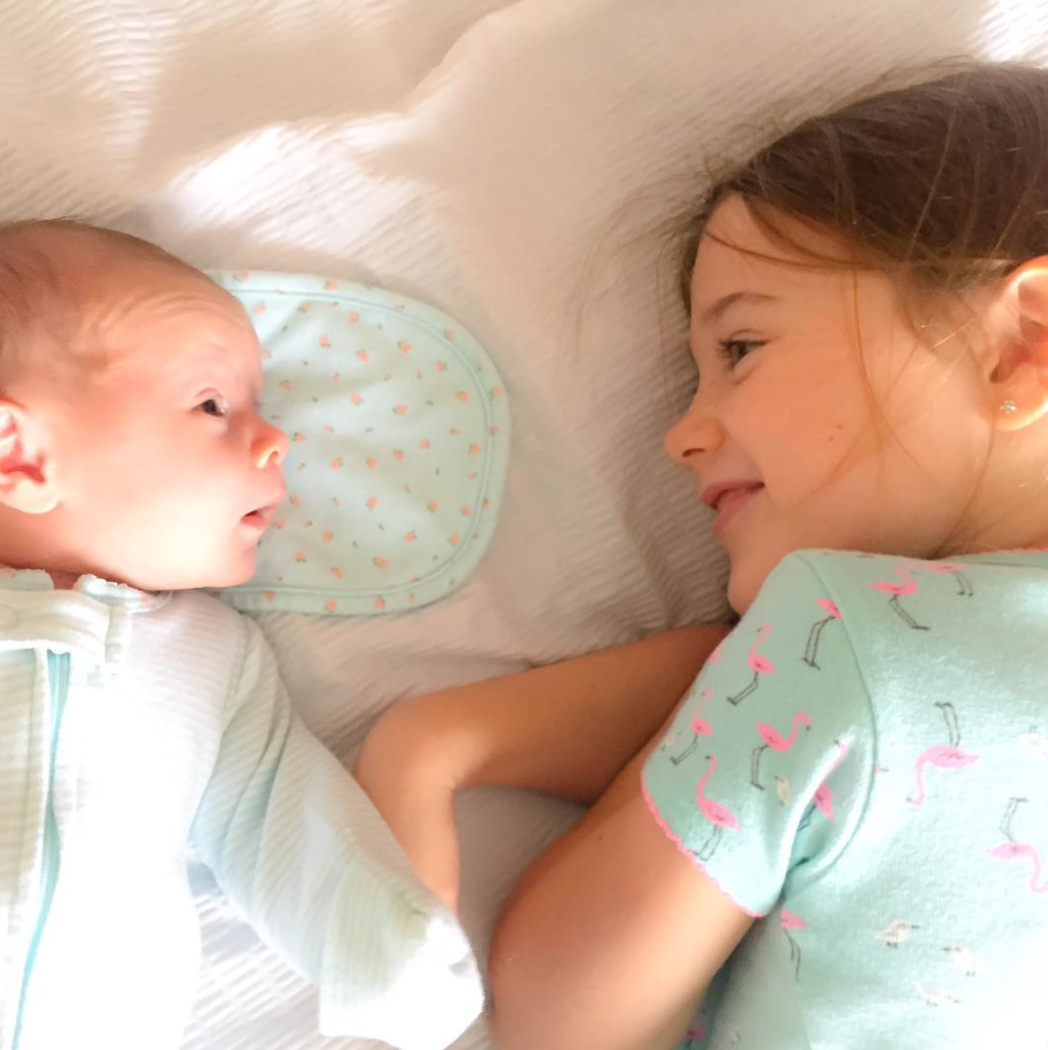 Our little family has so many changes going on right now and I'll have more on that a little bit later but I'm so glad that we are finally settling into a routine.  School's about to start for Ava and I think it goes without saying, but we're all ready for a whole lot of fall after another Las Vegas summer.  That heat, though…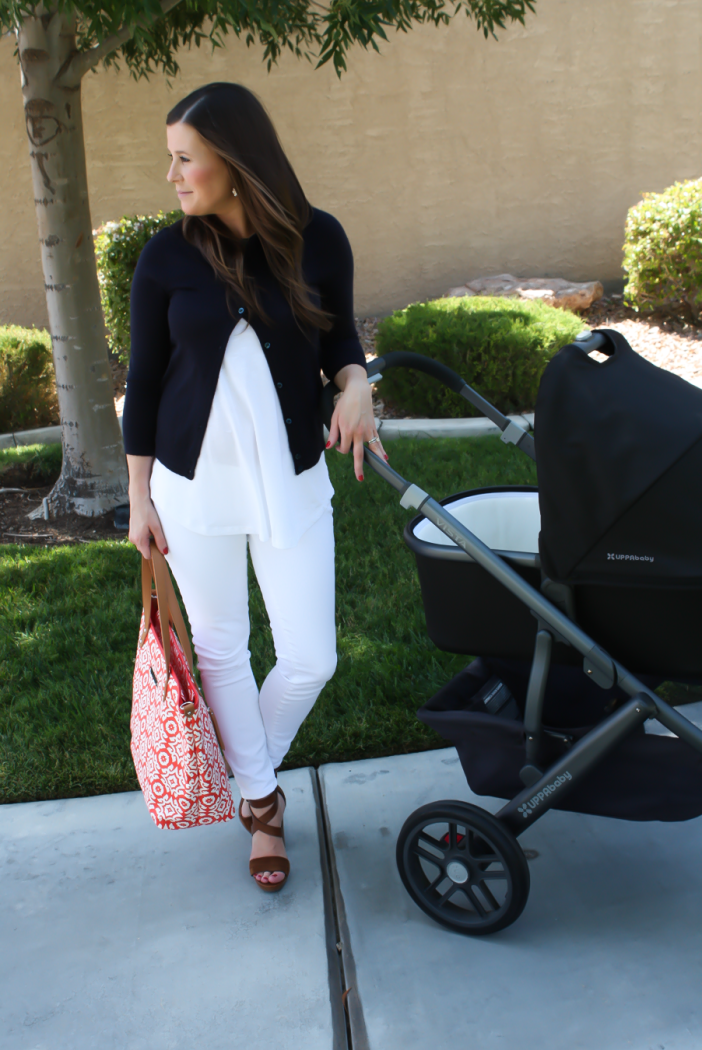 I decided on the UppaBaby stroller system (+ Carseat) for Grace for a lot of reasons but rest assured, it's one of the best big baby purchases to date.  They seem to have thought of everything when it comes to this stroller and I love, love it!  Ava spends most of her time doing all the pushing and it holds so much cargo underneath, Grace loves the bassinet (lots of sleeping in there!), and the carseat has been easy and comfortable for her.  Big win and highly recommend.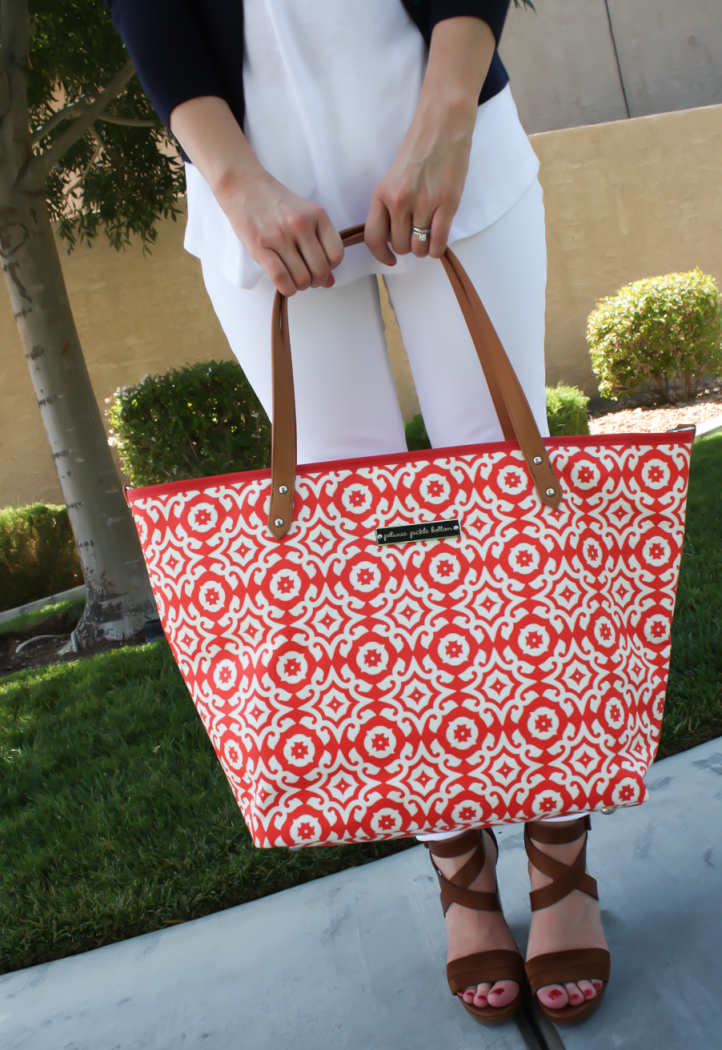 And, last but certainly not least, I am LOVING our Downtown Tote Diaper Bag from Petunia Pickle Bottom for bringing along all of Grace's new baby essentials.  We all know there's always a little bit of room for a new bag in my collection and while it's kind of perfect for fall, this year-round bright red color was a little hard to say no to when trying to pick a style that was just right for me.  I also  love the tan leather straps that are easy to toss on my shoulder or carry along and the coated canvas material makes it super easy to keep clean and looking new.  Diaper bags, for me, essentially replace my purse for the first 2 years of my girls' life because let's face it, they require lots of goodies whenever you walk out that door.  What's so great about this little tote is that it doesn't scream diaper bag to me and instead just looks like a purse that I would use whether I had the girls coming with me that day or not.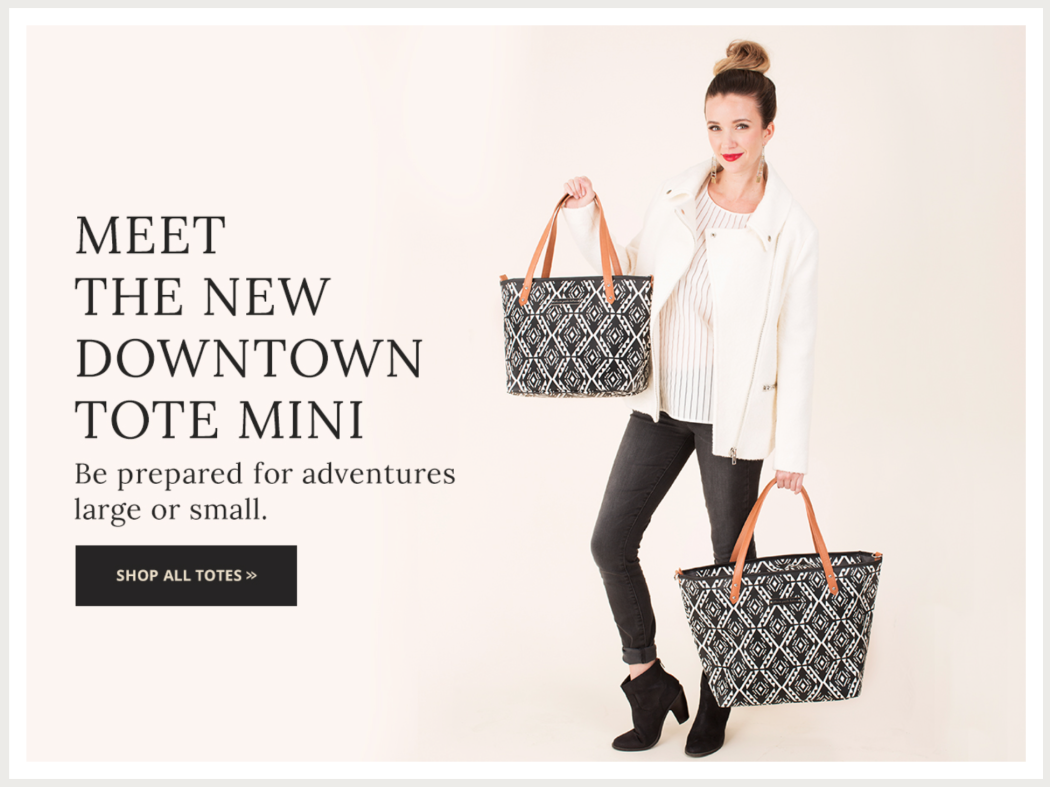 I've always been one for the big totes but for those that like something a little more compact and a tad smaller, you can also try the Downtown Mini Tote!  
Down below I've rounded up just a few of my favorite bags and accessories from their current collection as well as a giveaway that I'm hosting with Petunia Pickle Bottom where you can enter to win the Petunia Pickle Bottom Wistful Weekender and Travel Train Case for yourself!  You'll also get to chose your own fabric for each piece depending on which one suits you best!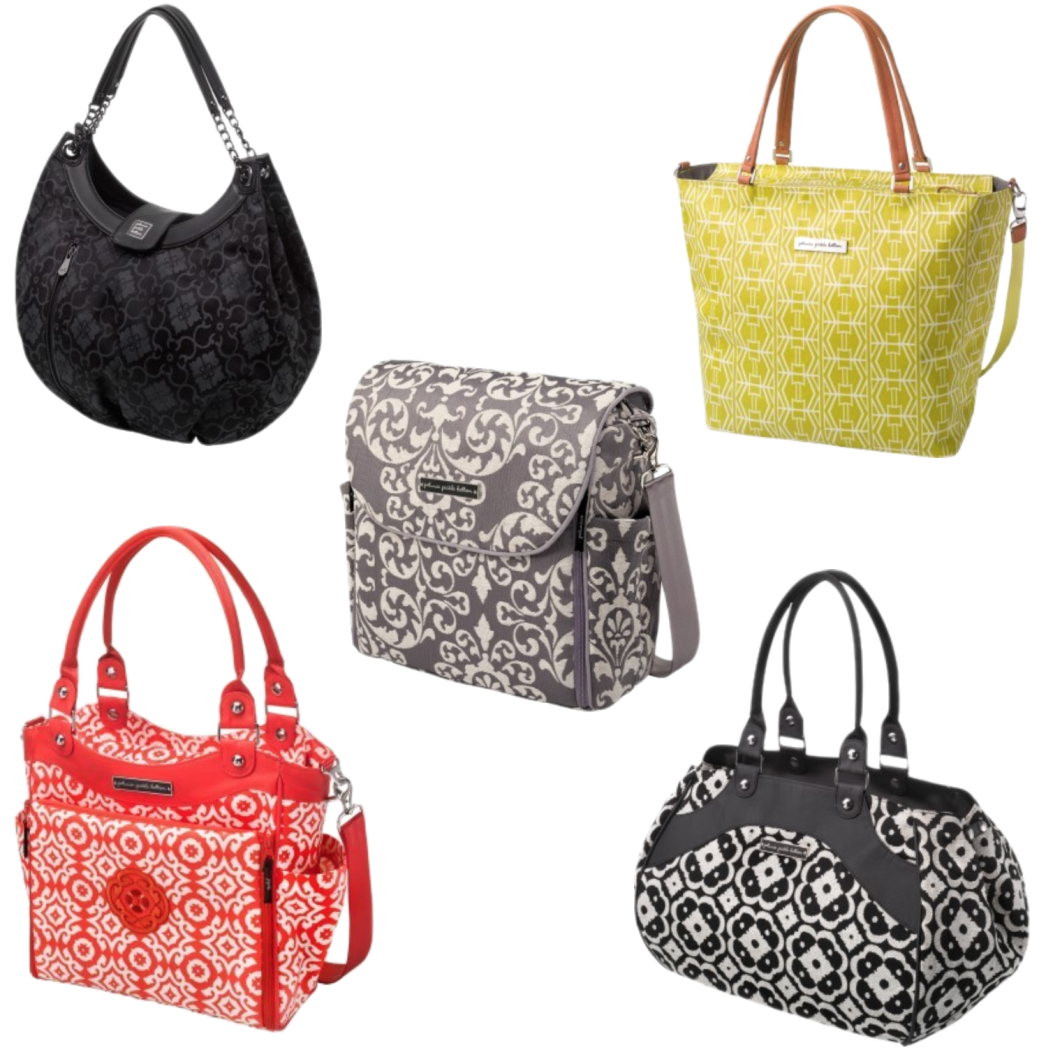 (L-R, Top to Bottom)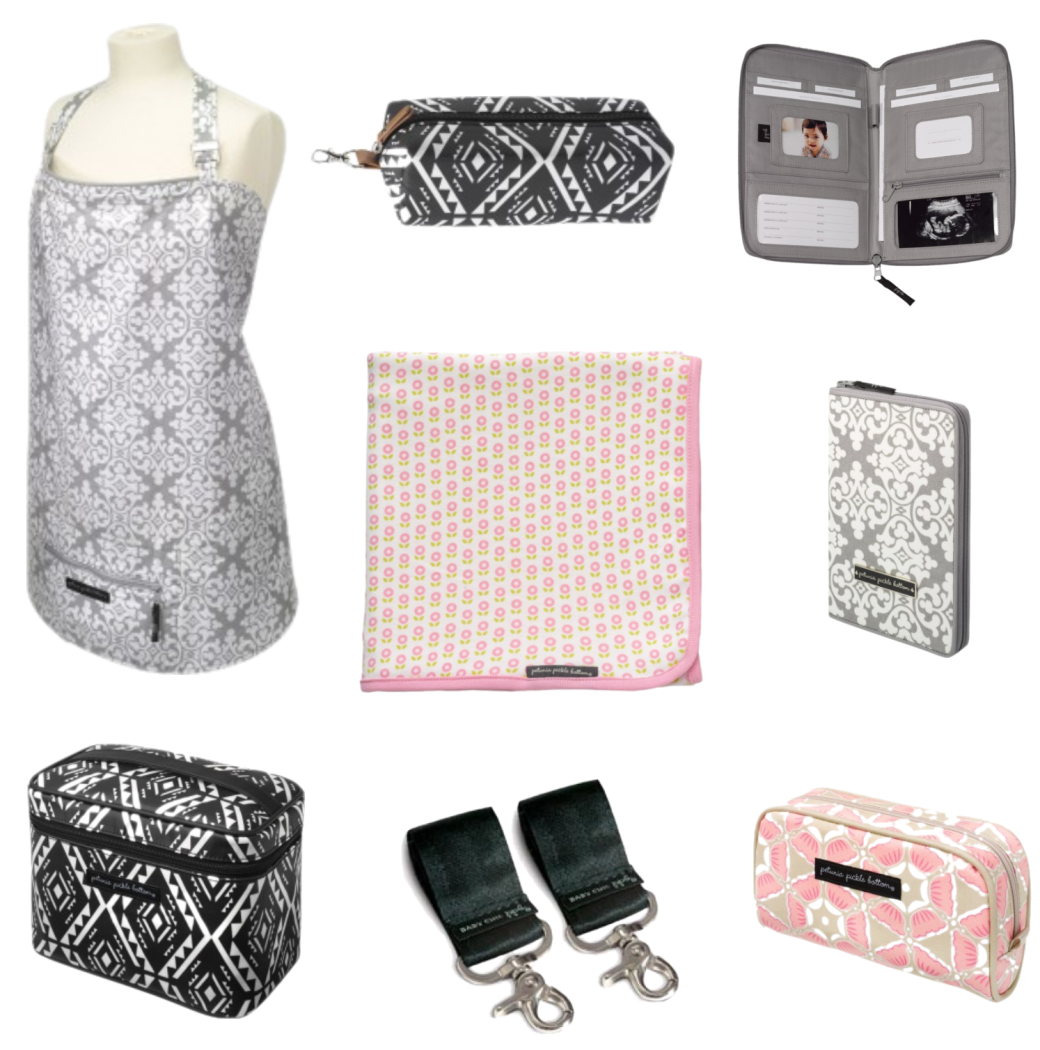 Nursing Cover  |  Bottle Butler  |  Beginnings Book
Travel Train Case  |  Valet Clips  |  Powder Room Case
Here are the sweet details for the Petunia Pickle Bottom Giveaway!  Enter below to win BOTH the Wistful Weekender Bag and a Train Travel Case!  Winner will be announced Monday morning, August 24th!  Good luck!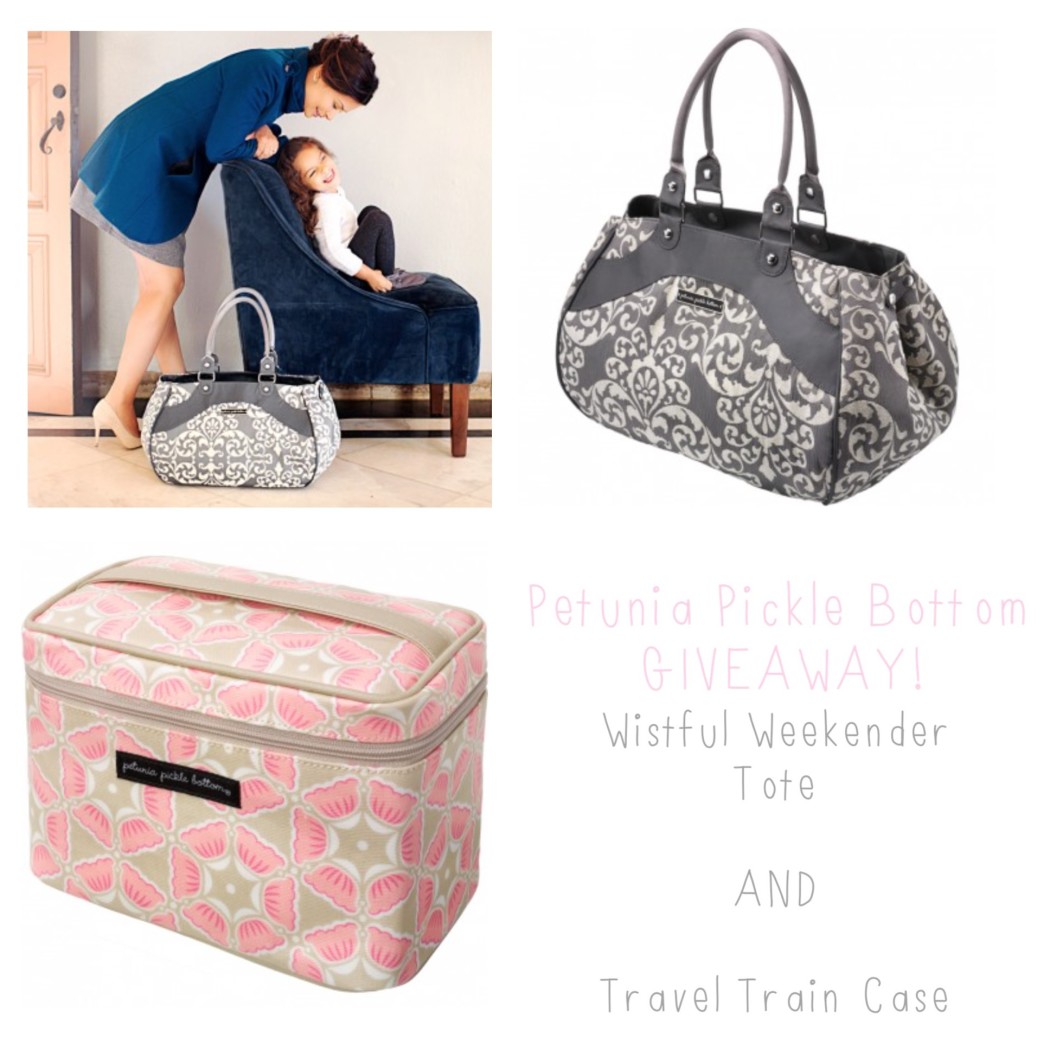 PPB Wistful Weekender– $185 – Lightweight and spacious the interior has 7 organizational pockets and a key clip. The exterior has 2 smaller pockets, and the two handles means you can carry as a cross body or over your shoulder
Travel Train Case– $42 – Whether globe-trotting or tot-toting, the Travel Train Case announces your arrival with its spacious interior, easy-to-access 6 interior pockets. The zip around top ensures beauty products stay put, while the wipeable fabric keeps the bag looking pristine!
You can enter the Giveaway down below and good luck!