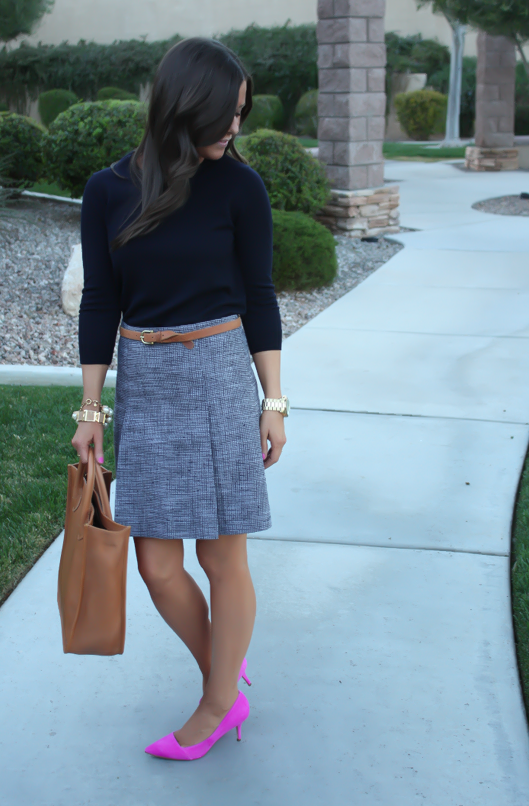 Did I tell you it was a week that was all about skirts, or what?  I guess I've just stumbled on quite a few lately that were too good to keep to myself and today is no exception!  I know what you're thinking, tweed in the spring and summer?  Isn't that reserved for the times of year when it's really…cold??  I mean, yes…and in this case, no.  This very cute and sleek tweed skirt is definitely a more fine and thinner tweed and because it's my favorite color to wear when it's getting warmer outside, I think this is the perfect skirt for the current season.
I can already see this pleated little skirt with a denim jack and some gladiator sandals for a much more casual look in the future.  So preppy, I can't even stand it.
I'm getting tons of use out of this lighter brown tote and it's quickly becoming my favorite bag for spring.  I love the option to use the longer holder strap, too!  I kept it tucked in today (or you could also detach it…) for a more dressy approach.
Last but not least, how FUN are these bright pink heels.  Tossing in some color today was a must when I was working with only two colors.  That brown and navy needed a little pick me up!  These pretty suede heels are just shy of 3" so you'll get a little boost to your height and lengthen those legs, but your feet won't be begging for mercy come days end.  You really can't lose.
Have a fab Thursday, everyone!  It's almost Friday!
J.Crew : Skirt / J.Crew : Sweater, similar here  / Gap : Belt, similar here / Madewell : Tote / C. Wonder : Heels (on sale!) / J.Crew : Bracelet / Michael Kors : Gold Watch
Madewell has completely stolen my heart with their latest new arrivals but it's the dresses that I can't seem to drop daydreaming about right now.  Their embroidered collection is gorgeous!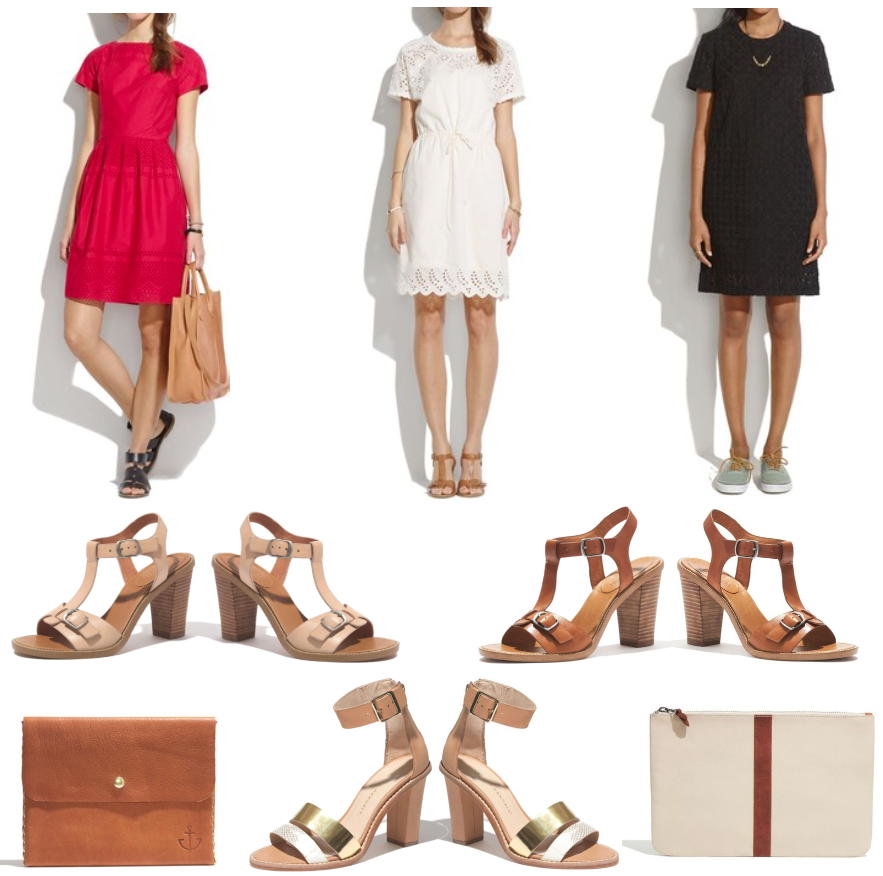 Red Dress / Ivory Dress / Black Dress
Leather Strap Heels (Canvas and Pecan)
Envelope Clutch / Two-Tone Heels / Leather Pouch