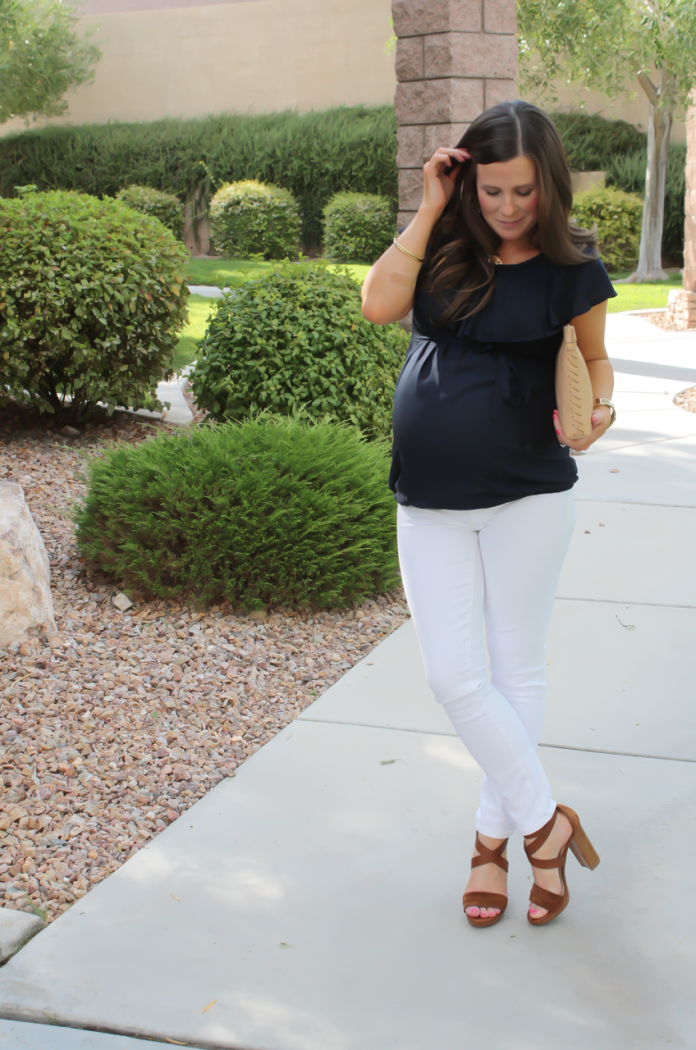 So sorry about missing a few days recently, everyone!  If you follow me on Instagram, you'll know that I'm not (yet!) off hibernating with a newborn but instead, we just spent a week visiting with family we had in from out of town and while I've missed writing my daily posts it was so nice having some company on the west coast!  Every summer, Ava and I always took long vacations back home and for obvious reasons, this year we had to skip it.  It was an awesome week of fun things to do and relaxing days of just enjoying each other's company.  We thoroughly enjoyed every second and are always so sad to send any family on their way.  Thankfully, we have more on the way and Ava is already counting down!  I'm so thankful for all the loved ones who are making their summer plans in the desert just to keep up company and to help out as we get closer and closer to my due date.  We are blessed!
Today is just a little bit of navy and white which will always be one of my summertime favorites.  I love the ruffle collar here and the cute little belt that gives this bump just a slight hug to keep my growing belly in check. It also fits so well for the third trimester and that, my friends, is a huge win.
These sandals?  Oh.  My goodness…  I think my favorite feature is the color and the material.  This pretty chocolate brown can be worn with so many outfits, dressed up or down, but the fact that there's a touch of suede means that these are going to be PERFECT in the fall when I start to transition my wardrobe and it's not hot…but not cold, either.  Wow – I'm so impressed with the quality that I've already been back looking for other great timeless pieces that I might want to add into my collection.  Don't hesitate.  You will be impressed with everything from the packaging right down the craftsmanship of the product.  Worth.Every.Cent.
Have a great day, everyone!  Thanks for bearing with me this summer as we go through so many changes!!!  xxoo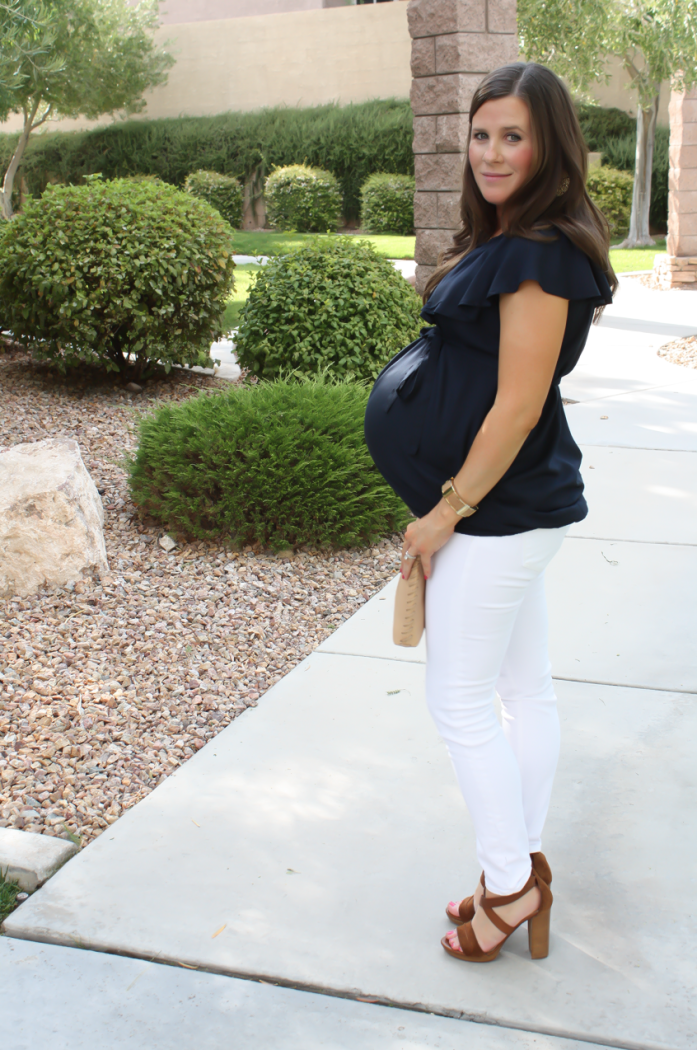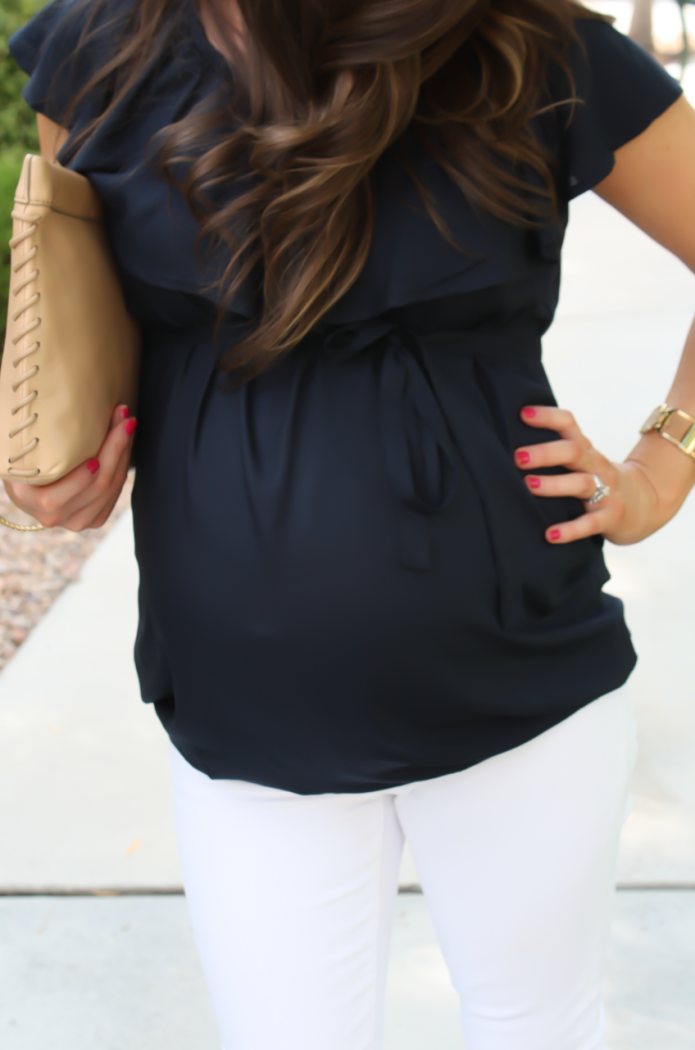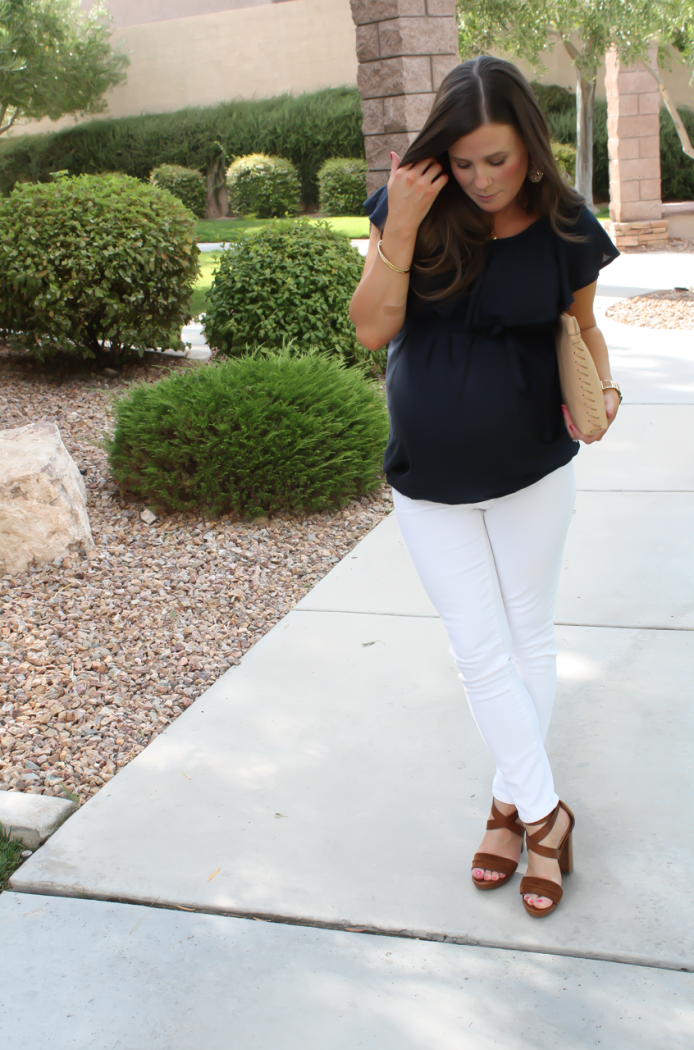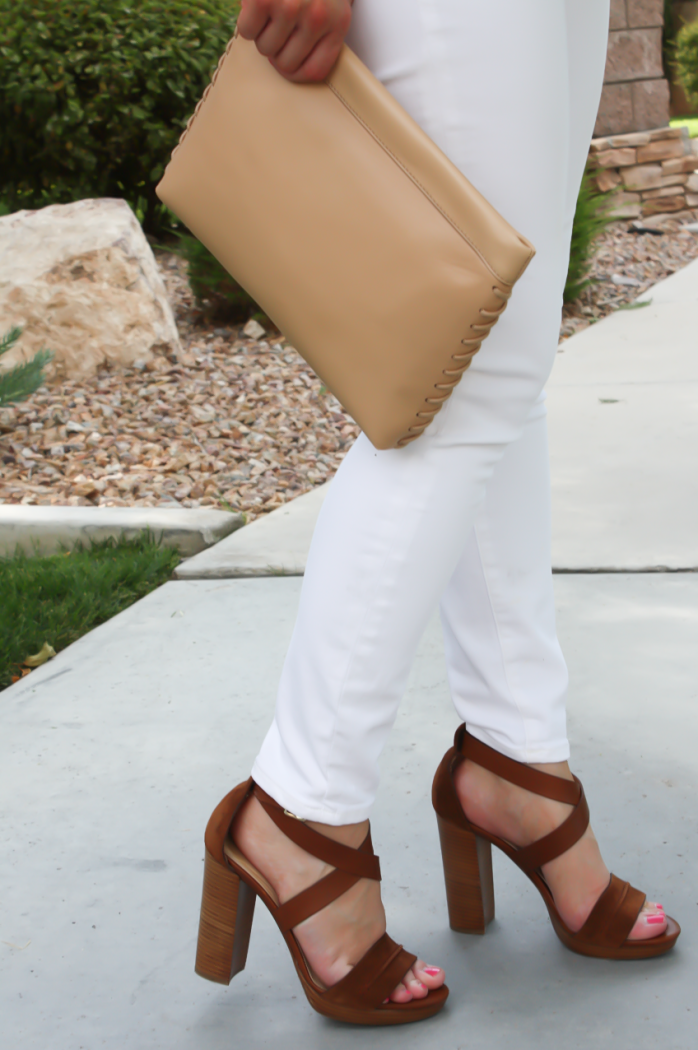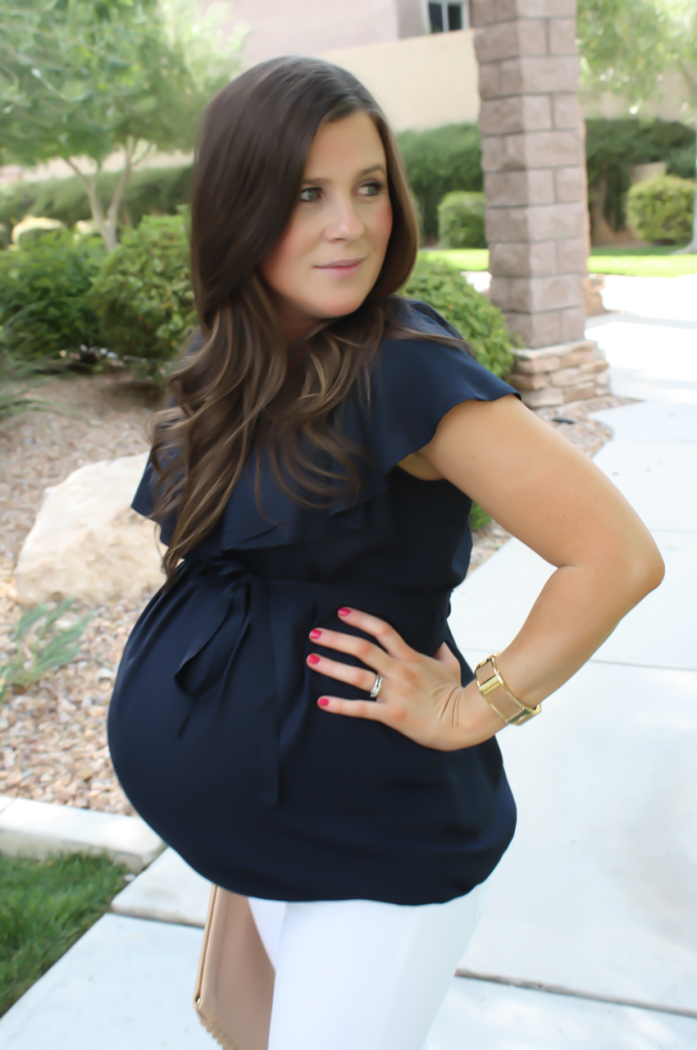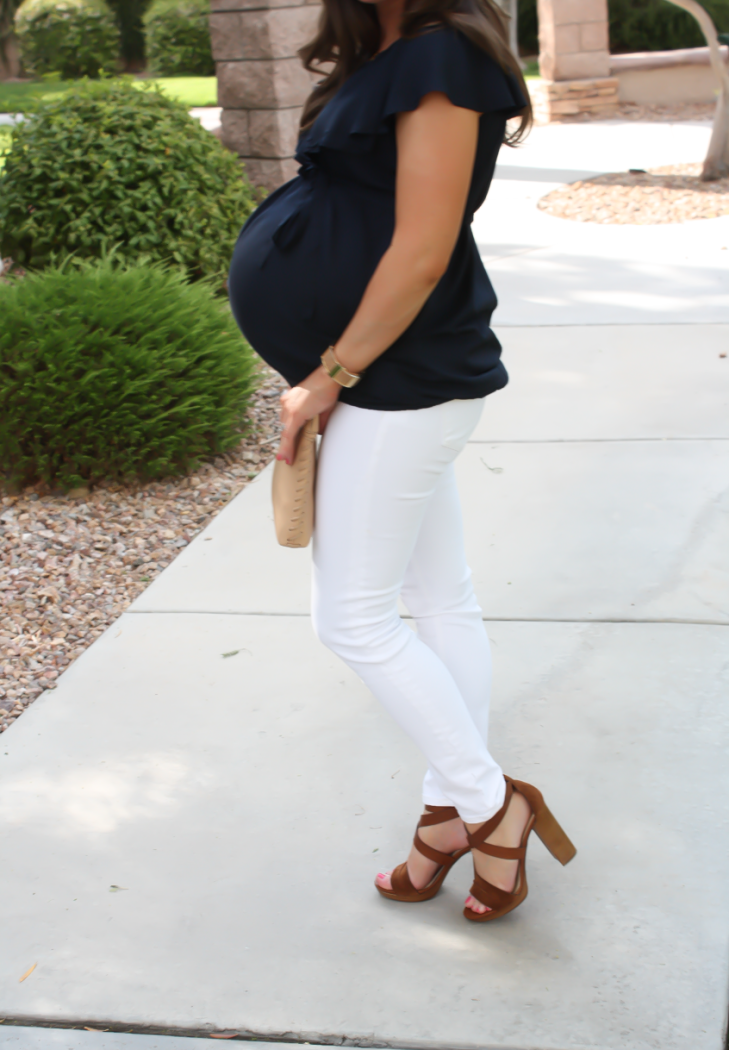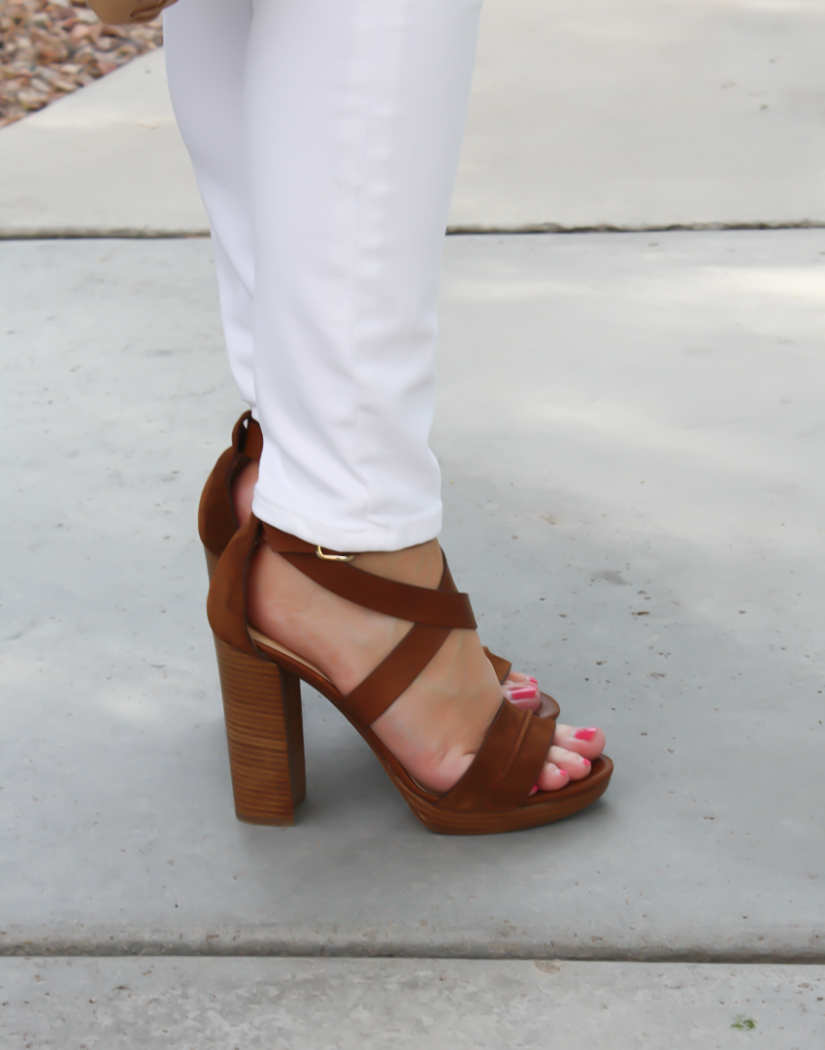 ASOS : Ruffle Collar Top (sale!), non-maternity blouses I like – try this, this, this  |  J.Crew : Maternity Skinny Jeans, non-maternity here, try these  |  M.Gemi : Sandals  |  J.Crew : Clutch, try this, this