I've been posting so many new pieces lately that I thought I would take a minute to build some pretty little outfits for spring.  Even though (according to my 6 year old…) I "look bigger every day!", you still might catch me picking things up that I know I will love now and forever.  Finding beautiful clothes and knowing I have them for the perfect occasion is just something that has always been true for me.  Don't wait for the occasion to create an outfit or buy that special dress – it will never be there when you need it most.  Instead, find the things you love and save them for when the moment is just right.
Here are a few ideas that I came up with for sunshine and springtime.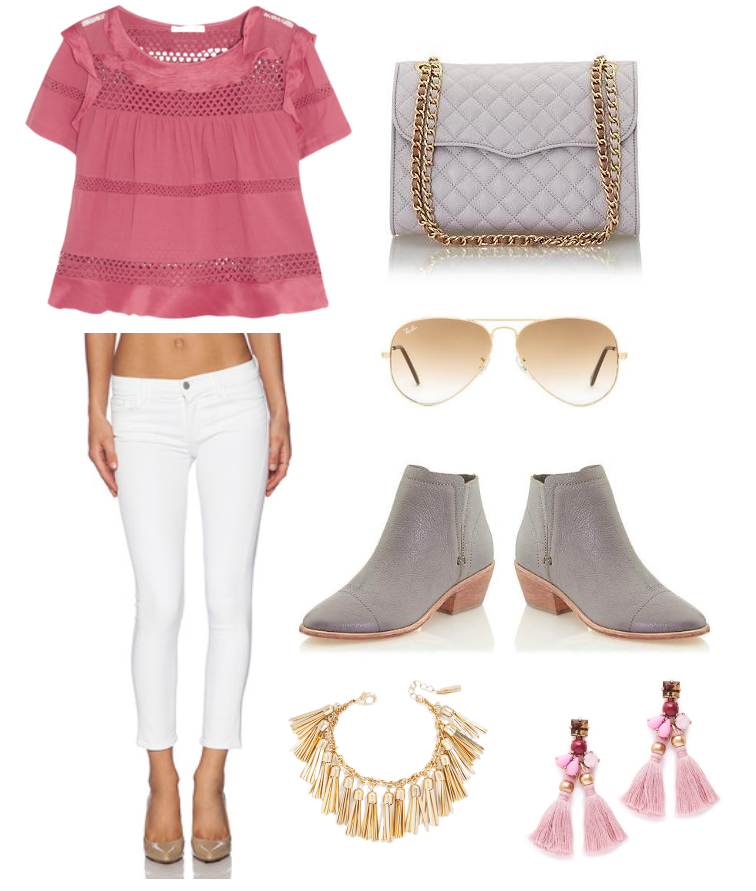 Whatever you do, don't fall in love with this blouse…the price is heartbreaking!  I'm on a mission to find something similar that won't break the bank!
Blouse  |  White Jeans (in today's post!)  |  Quilted Bag (in today's post!)  |  Sunnies  |  Booties  |  Bracelet  |  Earrings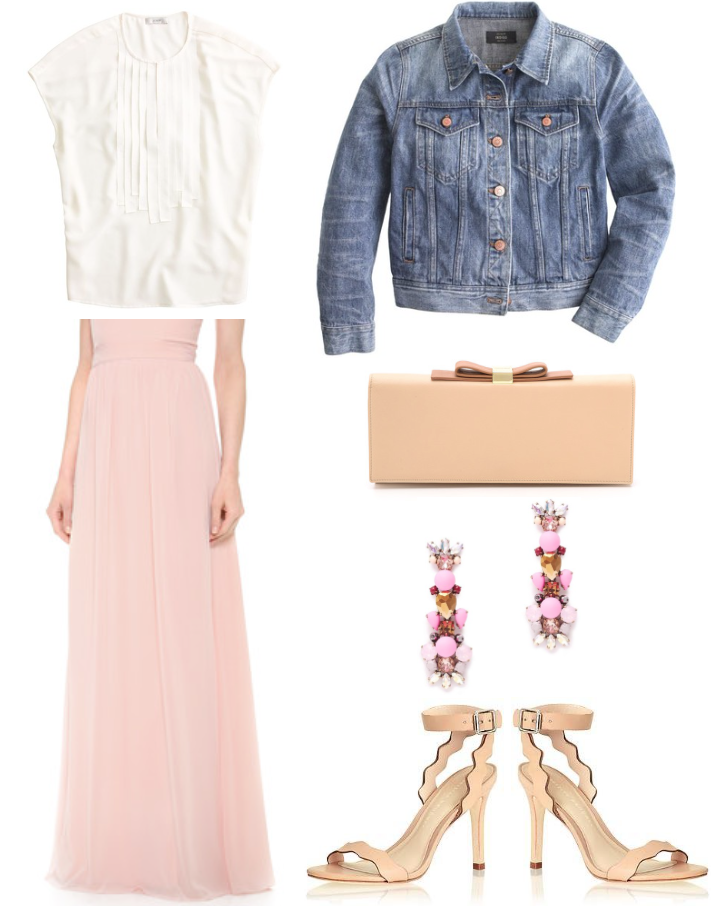 I intentionally paired this skirt with a denim jacket to show the versatility of it.  Clearly it could be quite dressed up but also, what a girly date night outfit this could be, right?  I might need it…
Skirt  |  Blouse  |  Denim Jacket  |  Clutch  |  Earrings  |  Heels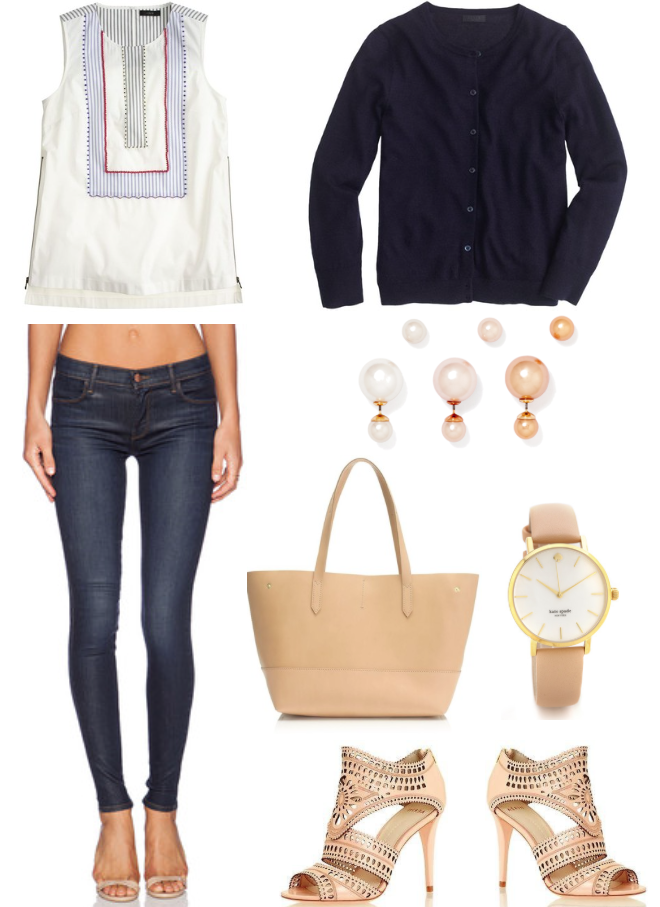 Key Piece here?  These beautiful shoes.  I'm patiently waiting for a promo code so I don't spend the rest of the year disappointed that I did buy them…  Stand by!  Also, I'm pretty much a "cashmere convert" anymore.  My skin is sensitive enough that itchy fabric usually causes a rash or irritates my eczema so the softest of knits are becoming almost essential.  If you care for them right, you'll have them forever.  #invest
Beaded Blouse  |  Cardigan, try this, this  |  Denim Skinnies  |  Pearl Earrings  |  Tote (on backorder, grab now before it's gone!)  |  Watch  |  Heels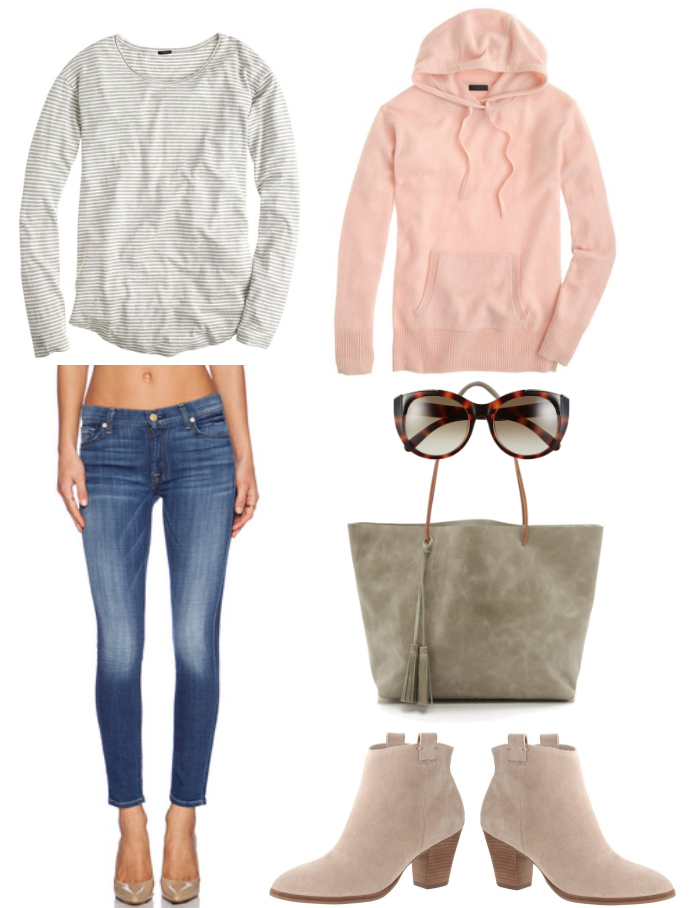 In my recent denim overhaul, I found these great ankle length skinny jeans that fit just perfect so when I saw them come up in a new wash, I immediately grabbed them.  Again – find the perfect fit that you know you're going to wear and feel comfortable spending a little bit extra for the quality.  In other news, this suede tote is just gorgeous!
Striped Tee  |  Cashmere Hoodie (from today's post!) try this, on sale and promo!  |  Denim : Skinny Jeans, next on my list dark rinse  |  Sunnies  |  Suede Tote  |  Booties
Be sure to check out today's post from this morning, too!