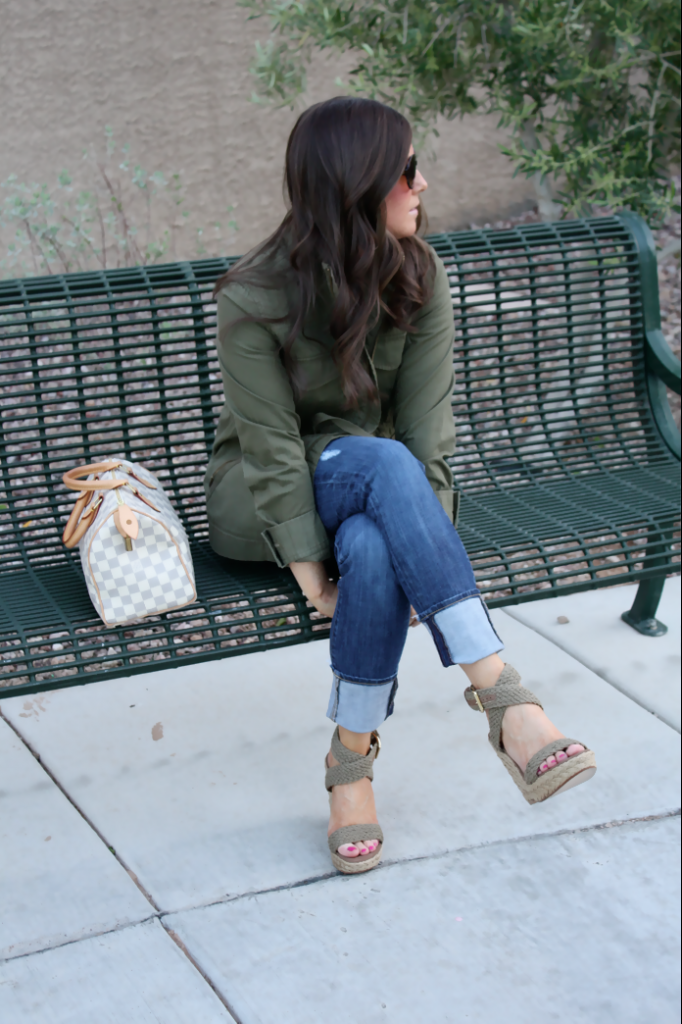 I wish I could start by saying that my Mac has given up it's desire to make posting as difficult as possible for me, but the truth is…this is an ongoing battle.  Great timing, right?!  Thankfully, my brother in law is on the case and we're in the midst of a major update and hopefully sometime tomorrow I will reign victorious.  You can probably tell that I had to screen shot my images from iPhoto in order to upload them…and for that I apologize!  To be continued…
Back to business!
Spring is what I like to call, temperamental.  Is it hot today?  Raining?  Cool?  Cool in the morning, blazing hot in the afternoon?  Spring is just a ball of emotions and it just so happens that I love jackets…and jackets are the answer to all your weather related problems.  They are the perfect way to keep warm in the morning and shed a layer in the afternoon.  This safari-esque jacket is from J.Crew Factory and while I wore it open for the pictures, it zips up nicely and has a tie around the waist if you want to cinch in the sides for a more fitted look.  I've worn it both ways and honestly, I think open or closed it's very flattering!
I paired my jacket with a basic white v-neck tee and a long tassle necklace which keeps the look casual and easy.  While I love the jewelry, I tend to wear my pieces like a minimalist.  That's not to say I might not surprise you with a nice stack of bracelets, but, I have a 4 year old and running all over town covered in jewels just isn't comfortable to me…at all.  I also decided that wedges were the perfect way to bring my very spring look together because they are easy (for me) to walk in and keep me cool for when the heat turns up.  I am in Las Vegas, after all.  If you're not down with the wedges, you could easily substitute some flats or gladiators sandals to pull your outfit together!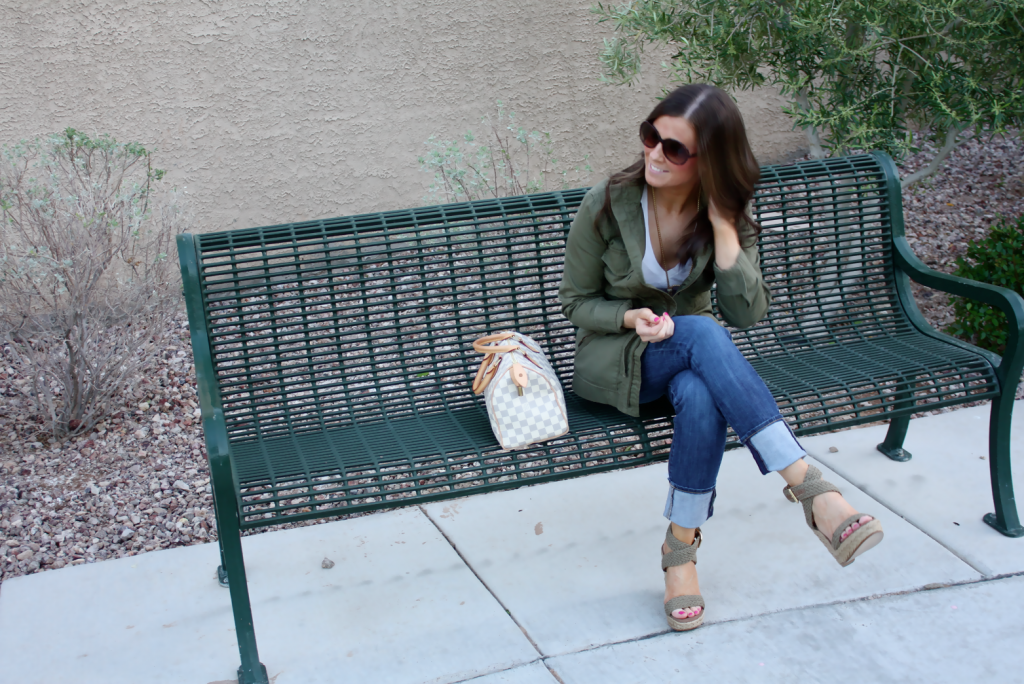 J.Crew Factory Jacket, similar here / Paige Jeans, similar here / Tee / Necklace / Wedges, similar here / Louis Vuitton bag, similar / Kate Spade Sunglasses, similar here