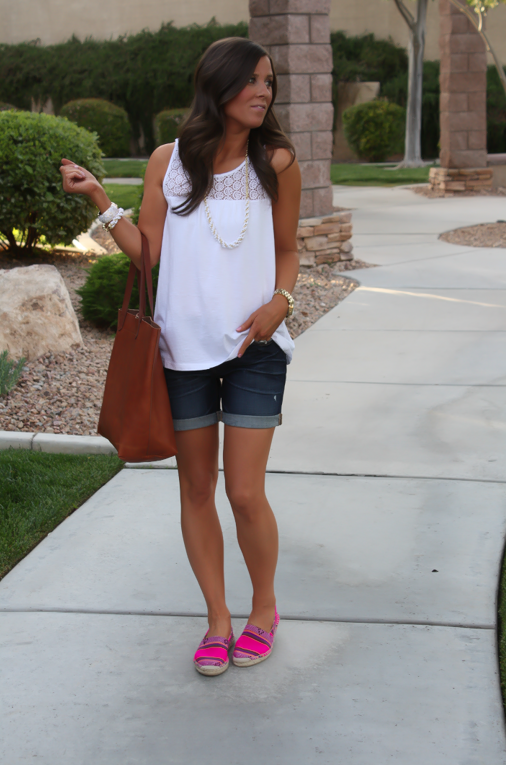 Words I tend to use a lot?  "Perfect".  But, hey, I can promise you that when I use it, I mean it!
Let's be honest with each other about denim shorts.  Here I am, in my early 30's , and all I want is a cute pair of denim shorts to wear in the summer.  They can't be too short or too tight but I also don't want them to be falling off with every step I take.  Oh, and budget friendly would be nice, of course.
Ladies, meet your new favorite denim shorts, summer '14.  Why?  Because these little beauties fit all of the said requirements I was mentioning up above.  Not too short, not too tight, and easy on change purse.  The inseams are 5″ and while that initially strikes me as a tad too long, once I had the on I knew it was exactly the length I was looking for here.  They come in a couple different washes which I'll surely pick up eventually as well.  We know how it goes…  As for sizing, I'm usually a size 2/4, 26/27 but for some reason or another, I preferred a 25 here.  I know, keep dreaming, right?!  When you see the model wear them online you'll notice that they are meant to be a little bit looser but I didn't want to wear a belt (for once!) and I didn't want them to be so loose that they fall down constantly.  So, 25 it is.
But, before I run off, I've been watching these espadrilles for quite some time and it wasn't until they were "out of stock" last week that I really wished I bought them!  Well, lucky for me (…and you!) a re-stock has these fun and comfortable shoes back up for the taking.  Yes and please.  They definitely steal the show with the otherwise predictable outfit and it was just the punch of color I had envisioned.  Hot pink, ftw!
Have a wonderful Thursday, everyone!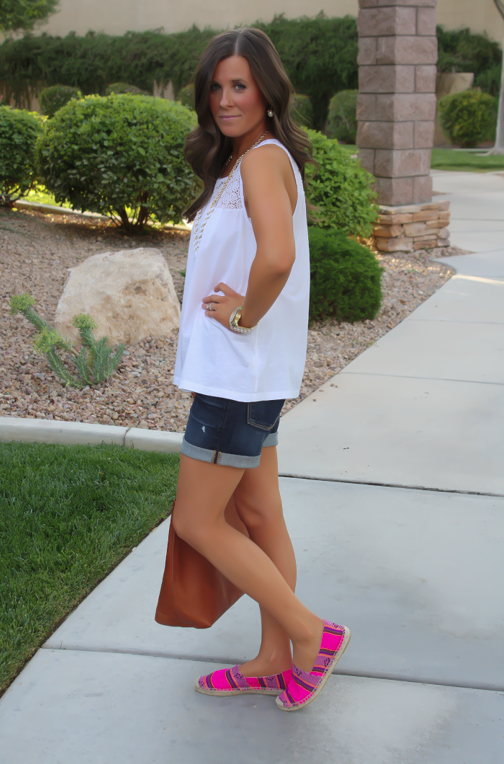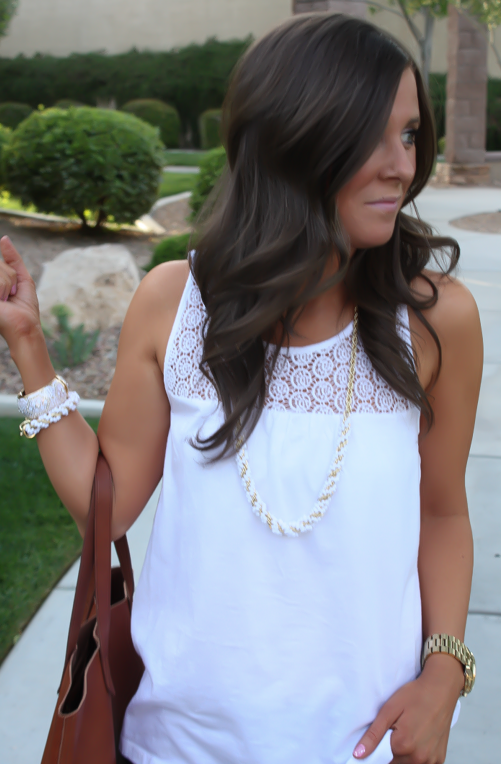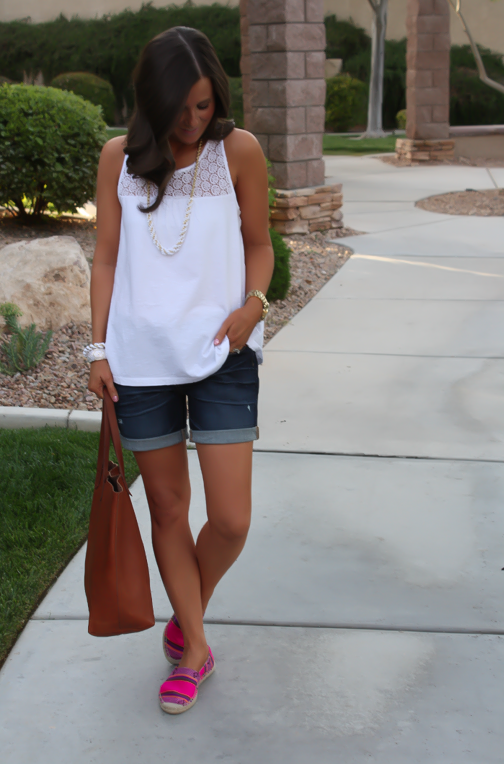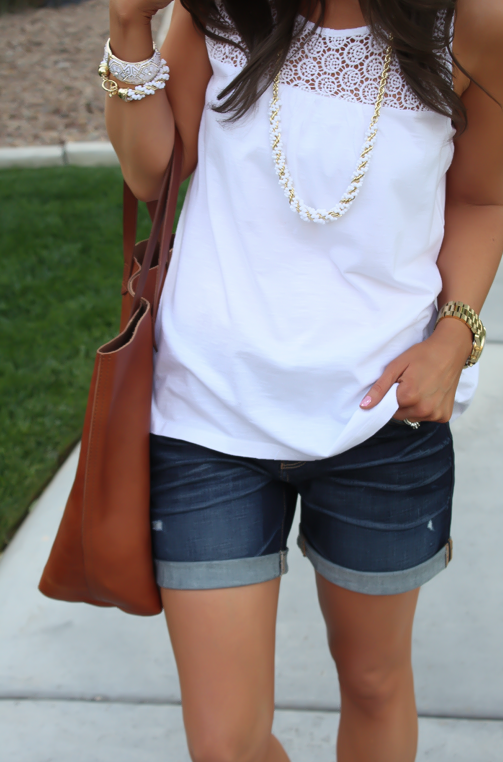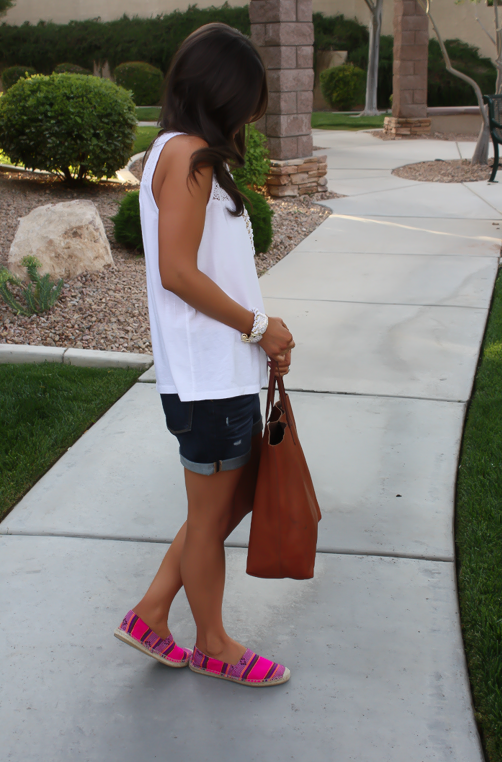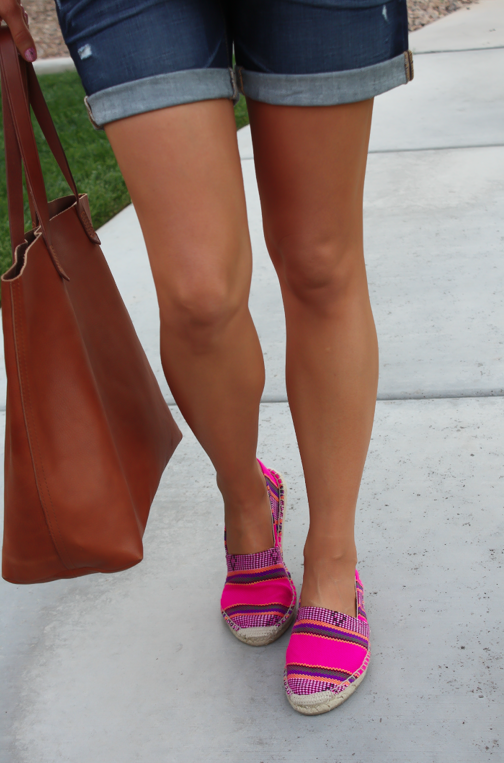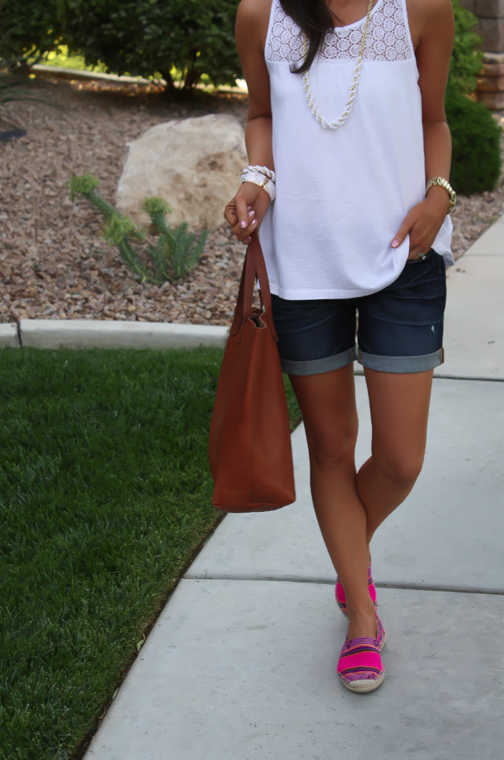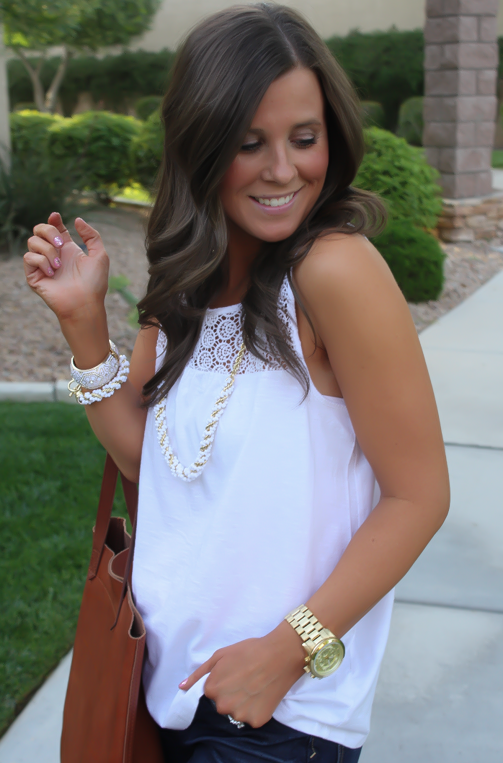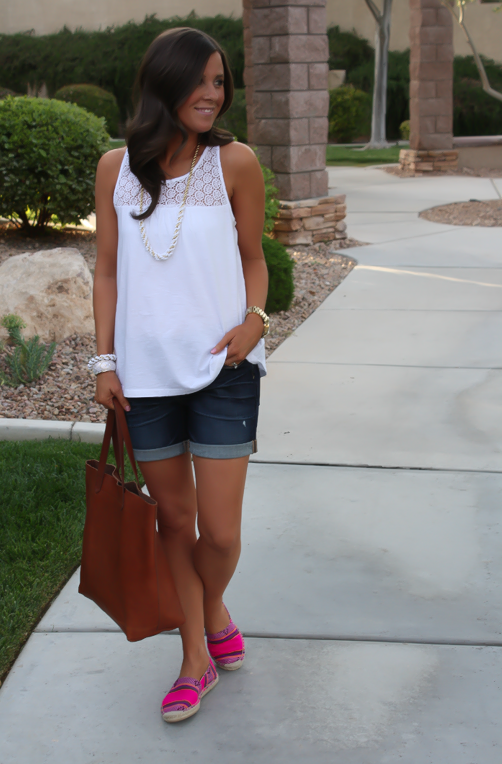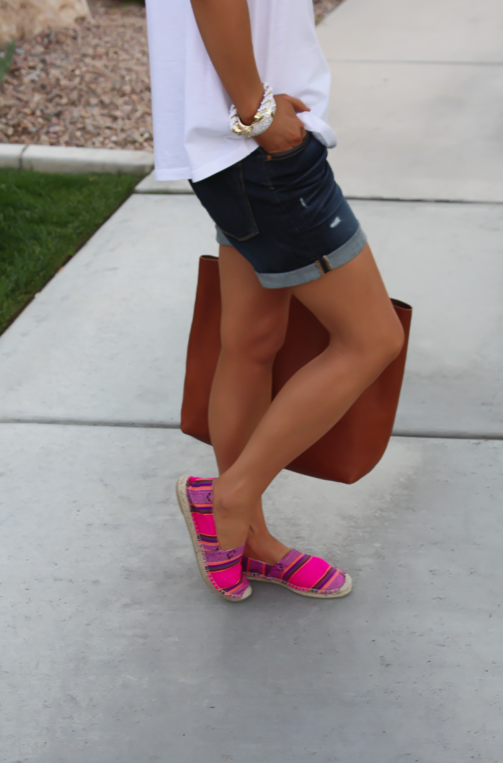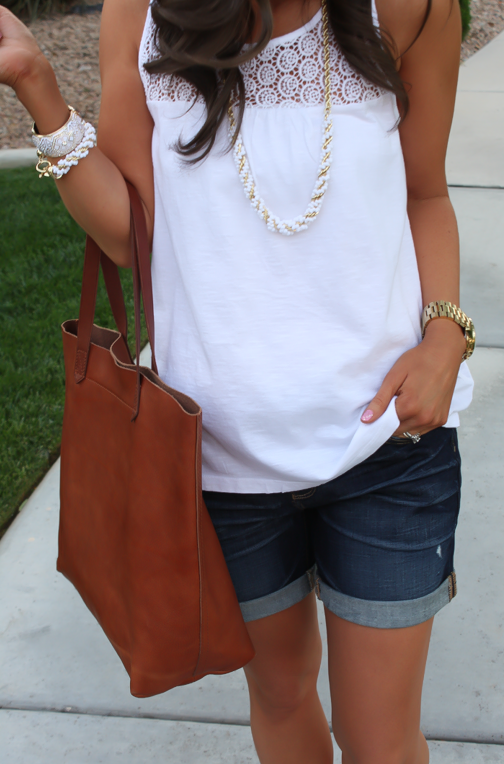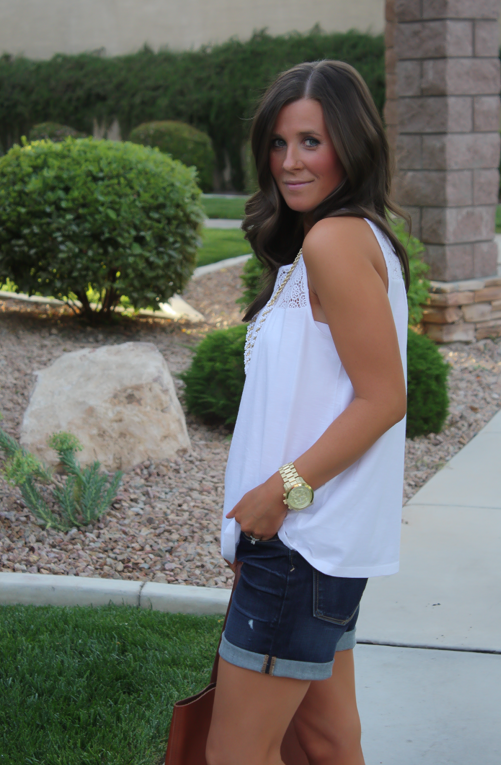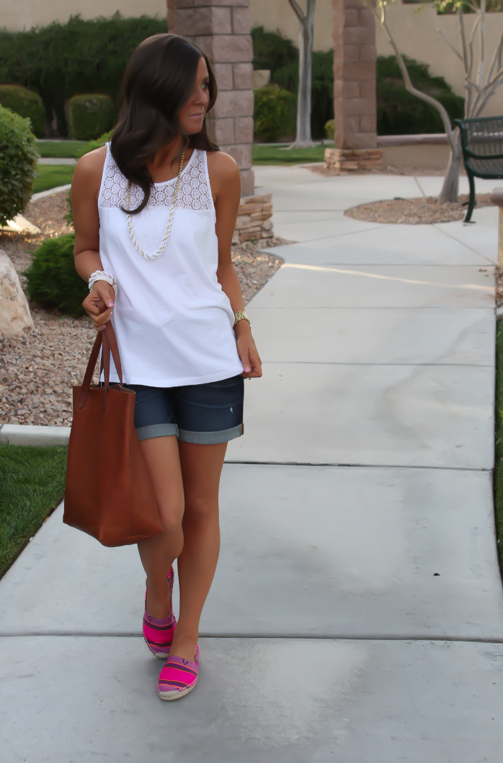 Gap : Denim Shorts / Old Navy : Crochet Tank / Victoria's Secret : Bandeau Bra / J.Crew : Pink Espadrilles / Madewell : Tote / Banana Republic : White Necklace, Bracelet, Bangle / J.Crew : Pearl Earrings, loving this option / Michael Kors : Gold Watch 
J.Crew dropped a few new arrivals yesterday and I have a few things already in my shopping cart, especially with the promo (SOME items qualify for 30% off! using code "GOSHOP")!  I am in love with these red sandals.  Get in my closet, please!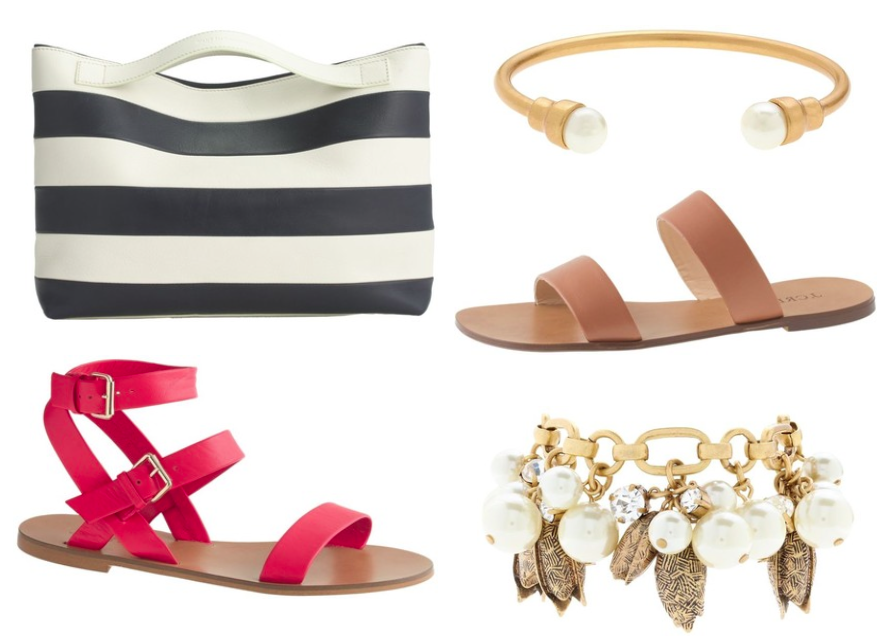 Striped 2-Way Tote / Pearl Bracelet / Brown Sandals
Red Sandals / Pearl and Leaf Bracelet