I maybe could have called this "Tuesday Wants" since I'm so awful at posting that on Wednesday…but, if you really think about it, isn't everyday a "Wednesday Wants" here on my blog?  So, in reality, I'm still keeping up with my promise, right?  Right.
This board is a tad random but I think it's a great reflection of what's going on in my head right about now.  I'm getting ready for work, getting Ava ready for school, and preparing for a move to a new house.  No, we're not "moving" as in heading to a new state but more like a bigger house that doesn't make me feel like our household goods are taking over (mainly Ava's toys…).   So, things are a bit crazed around here but I'm not one to ever sit in the idle state, so it's all good!  Busy = good.
Down below you'll see some goodies that I'm really loving right now.  My thoughts and links below the picture!
Have a great one, friends!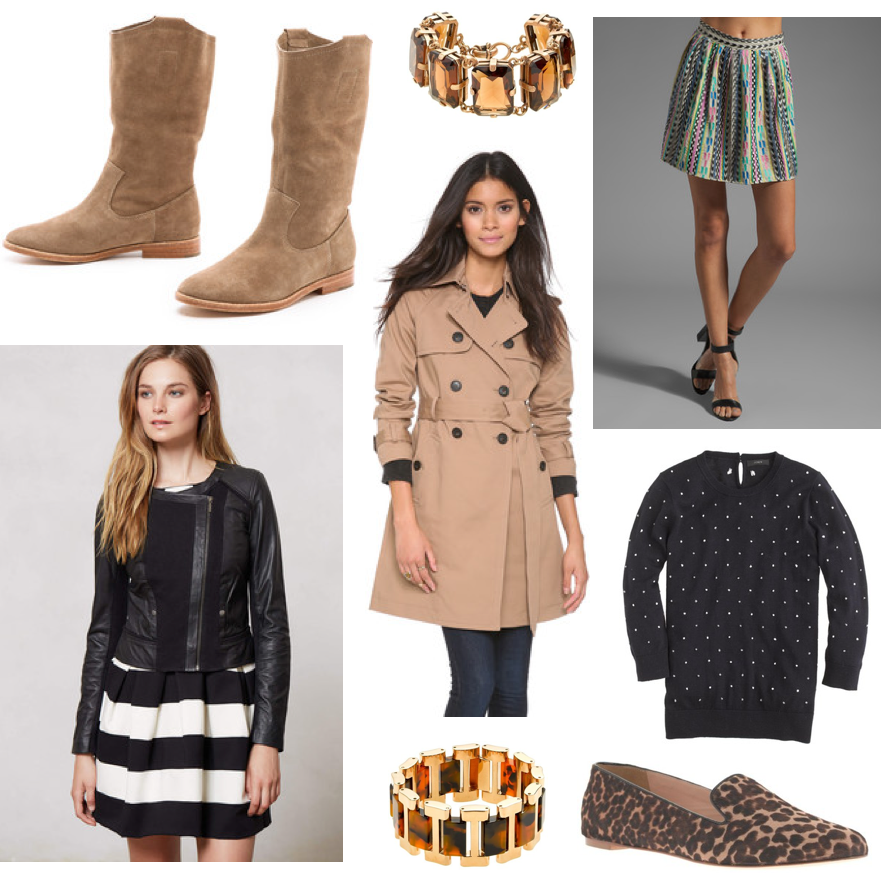 Slouchy Booties or here  : During my morning browse at Shopbop, I saw this really cute advertisement pop up for Joie (See below!)  and as always, my eyes were immediately drawn to these slouchy boots.  Consider them ordered.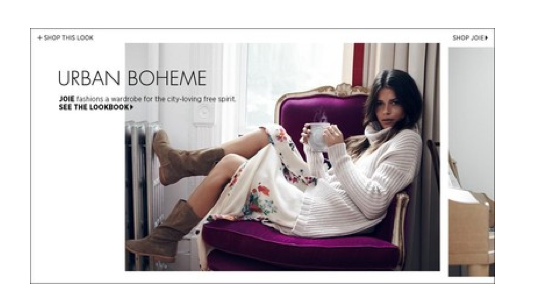 Stone Bracelet  : I have a stone bracelet that I bought from J.Crew last year that I absolutely love and this one needs to make it's way into my jewelry box, stat.
Beaded Skirt or here  : I love "bugle" beads on skirts.  They're not super sparkly and almost feel a little bit smoother than most "sequins"?  I can't really explain it…but what I can explain is how much I love this neon skirt.
Mixed Leather Moto  : A girlfriend of mine just bought this jacket and I'm afraid I need it now too.  We enable each other like that.
Trench Coat : Why do I not have a trench jacket?  Um, I preach about buying quality classics all the time and I don't have a trench jacket?  Shameful.  I just love this one but because I'm so petite, I would need to find on that doesn't overwhelm.  I will keep this one on watch!
Polka Dot Sweater  :  I love polka dots and I love the tippi.  This little sweater is a match made in heaven.
Tortoise Link Bracelet  : While I have massive amounts of tortoise in my costume jewelry collection, I can't shy away from this gold link beauty.  It's a need.
Leopard Loafers  : I've worn a pair of leopard loafers from J.Crew for the past few years and while they're still in excellent condition, I really like this pair.  Perfect for work, too!