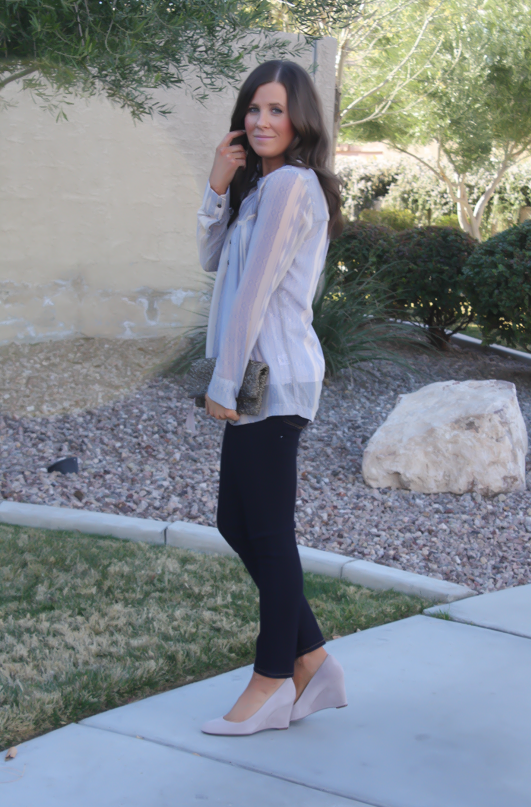 I feel like more often than not, I am always pretty happy wearing things that might be considered "matchy, matchy".  Meaning, when my bag and my shoes are the same exact color brown or, like this look, the shoes are the same exact color as the blouse.  Now, don't get me wrong…I also like to make those opposites attract, but there's something about a well put together outfit that makes me feel complete (wardrobe wise, of course…).
I'm still completely head over heels (no pun intended) with these Martina wedge heels.  Last seen here, here, here, here.  They're so unbelievably comfortable and whether you like it or not, those heels will always give your legs just those added inches you need to make your legs just go on and on.  I'm in love with this shoe!  So, when this pretty suede color was on super-sale, it took my about 8.5 seconds to complete my online order.  Thank you, express check out!
Did anyone else pick up these basic denim leggings yet?  Such a great deal for a quality pair of jeans.  After many wears and a few washes, I still highly recommend.  Last seen here, here.
Thanks for swinging by on this beautiful Tuesday!  Have a great day!
Anthropologie : Pale Blue Blouse / Gap : Denim Leggings / J.Crew : Suede Wedges / Banana Republic : Beaded Clutch, similar here
I'm a plaid shirt JUNKIE and all I can say is this: My heart just about skipped a beat when I saw this Factory summery madras print shirt and equally adorable pair of shorts.  DONE and DONE!
(Oh, and there's a few other things I'm debating as well…per the usual!)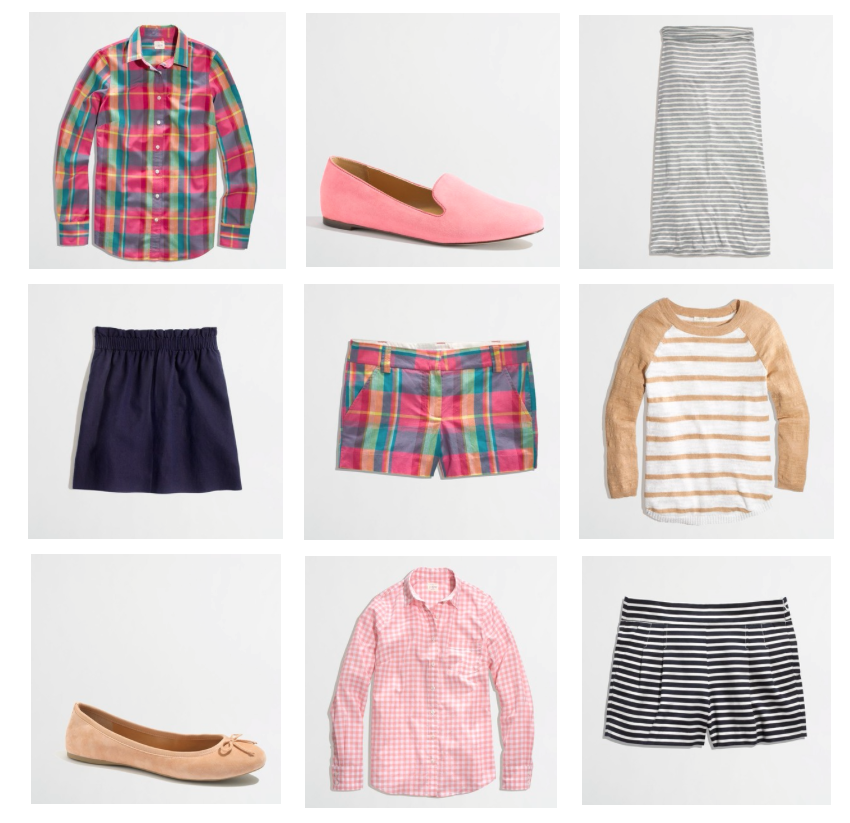 Madras Plaid Shirt / Pink Loafer / Striped Maxi Skirt
Navy City Mini / Madras Plaid Shorts / Striped Sweater
Suede Bow Flats / Pink Gingham Shirt / Navy Striped Shorts